by B.B. Pelletier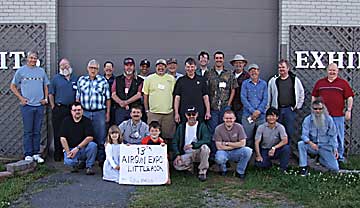 The dealers at the 2008 Little Rock airgun show.
Every airgun show is unique and has one or more themes going on. This year's Little Rock show was exceptional, in that it was a tiny show with a ton of undercurrent themes. First, the size.
Little Rock was the second largest airgun show at one time, but this year I bet there weren't more than 40 dealers. Organizer Robin Parks thought it was gas prices, and I'm inclined to agree. However, a small show made for some tremendous opportunities.

It wasn't all airguns, either. My Buck Custom Shop bowie failed to spark any interest.
Benjamin Discoverys
They were piled high on D&B Airguns table! They were full kit that includes the pump, and in both calibers. It was fun to watch the dynamics of people who professed the desire to own one, then suddenly confronted with the possibility of buying 10! I know of 3 that sold for sure, and I think the number was more like 5, but Dave Franz took some home with him, too.
I've also heard some talk about the stocks not all being pretty, and this time I got to see what they were talking about. Guys, do you even KNOW what unfigured walnut looks like? That's what these guns have. They aren't selling burled walnut on a $250 rifle. Come on! The stocks are beautiful when taken in the context of what they are. They certainly put those Asian monkeywood stocks to shame. If you don't like the semi-gloss shine, take 0000 steel wool and break it back to dull. Two of our readers got one and I expect to hear reports.
I met readers!
Five of you readers came up and introduced yourselves. That made my show. At least 2 of you were attending your first airgun show, and I was eager to hear what you thought. This was a small show, but a rich one, for those who took the time to look.
Vintage target rifles
If older target rifles turn your crank, this Little Rock was a treasure trove! There were Walthers, FWB 300s, HW55s of all flavors, an Anschutz 380, a Daisy model 60…and I'm probably missing a few. A Walther LGV for $380 is a steal. So is an HW55 for $350. I managed to steal that one, myself, and it turned out to be a super-scarce variation I've never even heard of. More blog fodder! A working Diana 60 never sells for $300! And those were just the ASKING prices!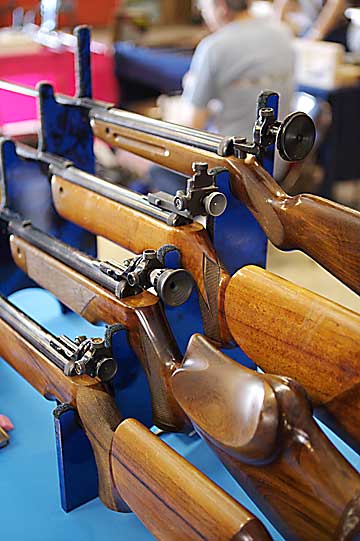 Vintage 10-meter target rifles like these Walthers were a steal at this show!
Don't cry to me, big bore shooters!
I tell people that Dennis Quackenbush often brings guns to these shows to sell. They have flaws and he can't sell them for full price. This time it was two .308s and three pistols! And, for the first time since I have known him, Dennis WENT HOME with two of the pistols. That just ain't right! Gas prices, I guess.
Dennis Quackenbush sold two .308 rifles, but went home with two of the three pistols he brought!
Jeff Castleman was there and brought his 9mm select-fire rifle. He also brought a .69 caliber rifle that looked like it belonged to Paul Bunyan's older brother. On Saturday, Big Bore Bob Dean arrived with a 20mm rifle that dwarfed Castleman's monster. I suppose Quackenbush will now have to rifle a length of sewer pipe and call it a Pi-caliber Missouri Magnum, just to maintain his status in the community.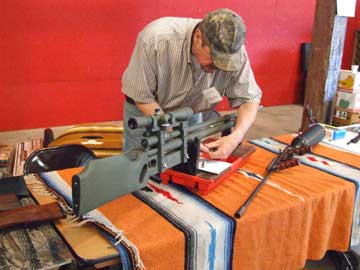 Jeff Castleman works on his .69-caliber monster. They tell me the other horse carries the shooter!
Stuff you never see
Another theme at this show was the exotic stuff. How about TWO Giffard rifles and a Giffard PISTOL! Giffards aren't exactly rare, but when the rifles are priced under $2,000, they are. That wasn't all. A well-known collector had a MATCHED pair of 19th century .12-caliber guns that used percussion caps to power the shot. Shades of the Wham-O Kruger or the Western Haig pistol 75 years earlier!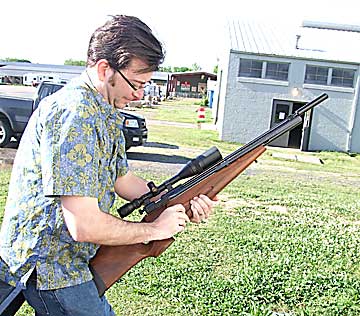 That's a Parker-Hale Dragon single-stroke pneumatic sporting rifle! There are as many of them as there are moonrocks in private hands.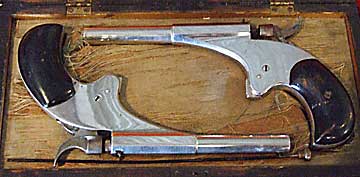 These .12-caliber dueling pistols are powered by percussion caps and were described as duelers for people who aren't that mad at each other.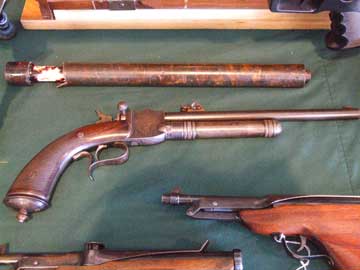 When was the last time you saw an 1870s Giffard CO2 pistol at an airgun show?
The one that got away
I know several of our readers' wives wish I would stop writing, because I'm driving you guys to buy a lot of airguns. Well, it affects me the same way! Remember the BSF S55 I wrote about recently? Well, the first gun I noticed at this show was a like-new BSF S70 with the hang tag still on the triggerguard. My S55 has had a lot of use, but this rifle was pristine. I really thought I was going to come home with it, but that HW55 appeared and I needed it more. I couldn't afford to buy both unless something overpriced on my table sold (nothing did), so I had to watch as a young boy bought the rifle at the end of the show. I was glad for him and sad at the same time.
I told him to get on this blog and I really hope he does, because I want to show him how to care for the rifle that I wish had been mine. He didn't know what it was, but he has a good eye for quality and I think he picked the best deal of the show. So, S70 (I told him to use that handle) are you out there?