Improve your shooting with the two-bag rest technique
by B.B. Pelletier
Troubleshooting
Today, I'm helping a couple readers with some problems. First is Frank B., who owns a Marksman model 70 that he asked a question about. Seems his rifle is missing the trigger adjustment screw. So, Frank, I pulled the screw from my BSF 55N rifle, whose trigger unit is very similar, and I photographed it. For you photographers, I painted the screw with light. I didn't get a perfect exposure, but it's good enough for this job. Also, this is a macro done with my nicer camera.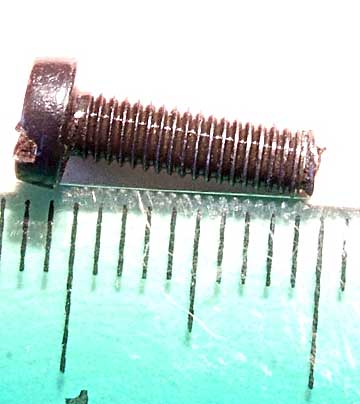 The shank is 10mm long.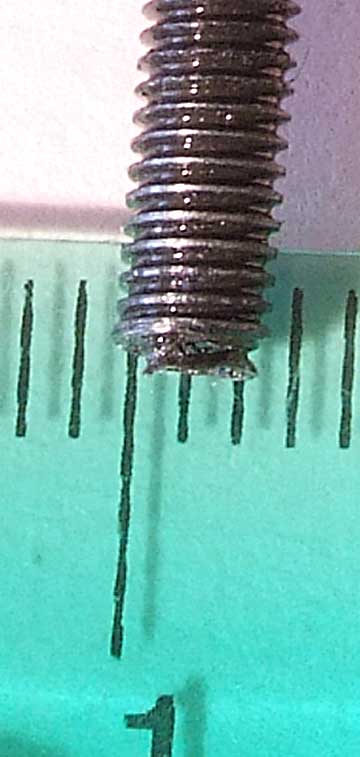 I told Frank the screw was 2.5mm, but seeing it enlarged like this I think it's a 3mm screw.
I hope this helps you locate a screw for your trigger. Remember, the BSF trigger that your rifle has is very prone to slipping off when cocked, so never let go of the barrel when its broken open.
Discovery problems
Today's blog is really an emergency report to help our reader, Andreas, who is having an accuracy problem with his new Benjamin Discovery. Normally, that wouldn't be so bad, but Andreas lives in Cypress and doesn't have the same airgun opportunities that we have here in the states. He bought the Discovery after reading my reports, and I want him to enjoy the gun to the fullest.
Room to improve
On Saturday, Andreas sent me the links to some groups he'd fired with his rifle. They look okay, but since they were shot at just 18 yards, they do have room for improvement. Andreas doesn't have access to JSB 10.2-grain Exact domed pellets, which my tests showed were the best in the .177 caliber he owns, so he is shooting 10.5-grain Crosman Premiers, which are pretty close.
Premier benchrest technique!
I want to share with him and all of you the best technique for shooting a firearm or a pneumatic rifle to get the most accuracy. This technique was developed in the late 19th century. It's called the double bag technique. To use it, you need two shooting bags.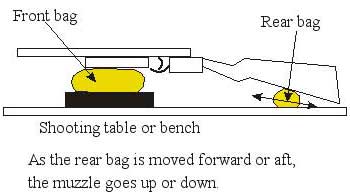 Look at the arrow that indicates how the rear bag is to be adjusted. Sliding it back and forth raises and lowers your aimpoint. You never have to touch anything but the trigger.
The front bag should be long enough that the rifle, when rested on the bag, won't fall off. A rolled blanket or towel usually isn't good enough. A bag with "ears" is always best for this, though if it is too long it won't allow the rear bag to work its magic.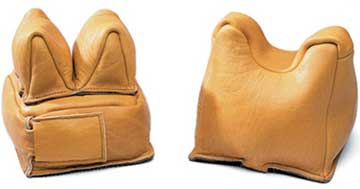 These Beeman benchrest bags are perfect for the two-bag technique. The front bag is on the right.
Rear bag controls the gun
The real secret of this technique is the rear bag. It stabilizes the rifle so you don't have to hold it to your shoulder. I've watched several of you caffeine-hyper shooters on the range, and I know that not holding the rifle can be a real plus! The rear bag also adjusts the muzzle of the rifle, ever-so-slightly, because of the angle on the bottom of the butt. You can raise and lower the crosshairs by very small amounts by sliding the bag forward and back. That's how you center the sights, and since you aren't touching the rifle anywhere other than the trigger, the sights stay on target. Your breathing and heartbeat cannot move the rifle when you use a two-bag rest.
I should have shown you this type of rest long ago, but so many of you shoot spring guns. You can't use this rest with a springer because it has to be handheld.
Andreas, please let us know if this helps you with your Discovery.
Tom Gaylord is known as The Godfather of Airguns™ and has been an airgunner for over a half-century, but it was the 
Beeman
 company in the 1970s that awoke a serious interest in airguns. Until then, all he knew were the inexpensive American airguns. Through the pages of the Beeman catalog, he learned about adult airguns for the first time. In 1994, Tom started
The Airgun Letter
 with his wife, Edith. This monthly newsletter was designed to bring serious reports about airguns to the American public. The newsletter and
Airgun Revue
, a sister magazine about collectible airguns, was published from 1994 until 2002, when Tom started
Airgun Illustrated
-- the first American newsstand magazine about airguns. Tom worked for three years as technical director at
AirForce Airguns
, the makers of the 
Talon, Condor, and Escape
 precharged air rifles. Today, he writes about airguns and firearms for various publications and websites. He also makes videos, and you'll find short clips embedded in some of his artices on Pyramyd Air's website. Tom is a consultant to Pyramyd Air and writes under the name of B.B. Pelletier.