by B.B. Pelletier
Merry Christmas!
I was interviewed on the Arizona radio program, America Armed and Free last week. You can listen to that interview here, if you like. It will be available for one more week.
Today I'll share a couple of my favorite gifts with you, and maybe you readers can let us know what you got. For those who don't celebrate Christmas, you can either tell us about your most recent acquisition or just sit back and enjoy the party!
The man who has everything
What does Tom Gaylord's wife give him for Christmas–the man with the entire airgun world at his fingertips? While that's not entirely true, a lot of people think it is. They think I can have anything I want.
The truth is, I'm a lot like the rest of you. I do get to test a lot of exotic airguns and related stuff, but my own collection is based more on reality.
However, this year I asked for firearm reloading equipment. Now that my wife and I are shooting 100-200 rounds of .45 ACP every month, I can no longer keep up with my Lee 1000 turret press. So I asked for and received a Dillon Square Deal B press that makes 400-500 cartridges an hour without rushing. Instead of three hours of reloading I will now spend one hour at most to get better ammo than ever before! I also got a bunch of accessories that weren't included in with the press.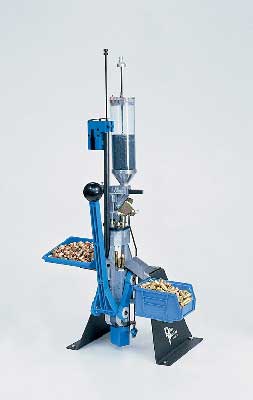 Dillon Square Deal B progressive reloading press makes up to 500 cartridges per hour with minimum effort.
Airgun gift?
I didn't receive any airgun gifts from the family this year, but I did get a peach of an aperture sight from reader Kevin, who wanted me to try it on a Diana 27. I plan to test it for you in a special report, but I wanted to show it to you today, because it is my one airgun gift this year. And isn't it sweet? My thanks to Kevin for this beautiful sight.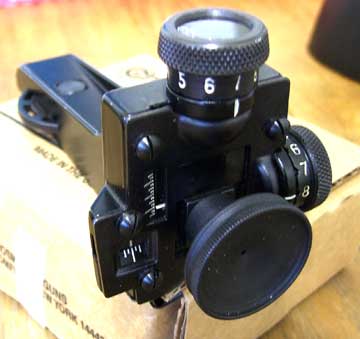 Kevin sent me this beautiful Diana aperture sight that will fit on a Diana model 27. It has a neat feature about it that Diana owners should know about. I will review it for you in detail.
I'm stopping here, but I want you guys to take over and tell us what you got. I'll be back tomorrow.