Hi, guys. I DID have a blog for today…but, when Edith showed me this one, I realized this was the perfect Friday "get the gab started" piece. For those who don't remember, Edith is Mrs. B.B. Pelletier, and she's giving me the day off.
by Edith Gaylord (Mrs. B.B.)
Tom used to be the match director for the field target club we helped start at our Izaak Walton League in Damascus, Maryland (often called the "Dam Ikes"). I didn't participate in the matches but was happy to register the shooters, collect the money, recheck the score sheets and post the match results on our website. Well, I was uninterested in shooting field target until they invented the Wacky Match!
No rules…just right
The Wacky Match was a field target match that had no rules. You might say it was an unmatch…or even a mismatch.
It didn't have a lot of participants because most field target shooters are serious about the sport. They'd invested a significant amount of money into their guns and gear, and some had spent several hours on the road to get to the match. It wasn't a time for silliness.
The targets were set up the morning of the match, which was a half-size match. We wanted to finish early enough to enjoy the cookout provided by the club. It was their way of thanking the shooters for supporting them during the match year.
My weapon of choice
A shooter could use any airgun (20 ft-lbs or less…to preserve the targets), scope, sight or support he wanted. I selected a Sharp U-SL CO2 rifle with a thumbhole stock. I'd shot it before in our basement and really liked how it felt, it came easily to my shoulder and it was more accurate than I was (not a great feat, but still important). I used open sights because I don't especially like scopes (more on that in a future blog). I had spare CO2 cartridges in my pocket and kept my pellets in a pouch hung around my neck. I traveled light and was ready for anything. Oh, yes, there was one more piece of equipment.
I brought a chair, because I wanted to sit while shooting. This was a special chair…one that I'd used while shooting BRV (which I'll write about at another time). It's comfortable, collapsible and steady on uneven ground. The first Wacky Match was held in October, and the ground was moist. I don't like sitting on icky, wet ground covered with creeping critters I can't identify and who-knows-what hiding under the damp leaves.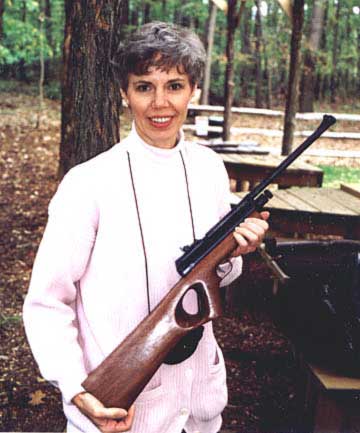 Here I am holding a great little airgun. I LOVE this Sharp rifle. It's lightweight, not very long, powered by 12-gram CO2 cartridges and–most importantly–quite accurate.
No one's keeping score
The foundation of the Wacky Match was that everyone was a winner. This was about fun, not results. Yet, I remember what I shot. I smacked a number of target faceplates, which didn't count as hits, and knocked down only two targets (yes, I had a score of 2 out of 30). I bet I could have done better if I'd thrown rocks! Thank goodness I'm a better shot when it really counts…with my .45 ACP.
I didn't shoot in all of the Wacky Matches because CO2 isn't cold-friendly. One Wacky Match was held in January, with a fresh layer of snow…and then it started snowing during the match! Come to think of it, I should have shot that match…it would have been the perfect excuse for such a low score. I guess I really am an airgunner–always blame the equipment!