by B.B. Pelletier
I remained at SHOT two more days, so one report just isn't enough.
Daisy
I already reported on Daisy, but I didn't touch on their 1888 commemorative gun. They've recreated the wire-stocked first model BB gun they made back in the 1880s, when they were still the Plymouth Iron Windmill company. These fully functioning BB guns will be produced in one lot of 1,000 guns–making them as rare as the originals. An original Iron Windmill gun brings $10,000 and up today.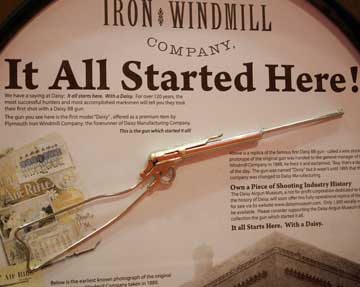 First Daisy BB gun is reproduced in this limited edition replica.
To reserve one for $300, you have to join the Friends of the Daisy Museum and reserve a gun. This will be an instant collectible when it's issued.
Umarex USA
I shudder to report on the Umarex booth because they have so many brands it would make a report in itself. But I shall make an attempt. They have a new Makarov CO2 pistol, called the PM, that's a 16-shot BB gun. I'll test it as soon as possible, but the velocity is reported to be 380 f.p.s., so there are probably lots of shots per cartridge.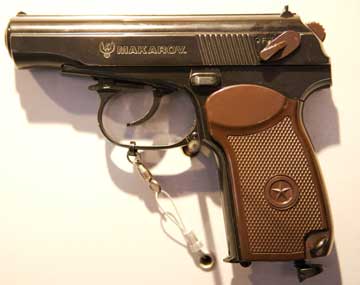 New Makarov is a looker.
They also have a new HK P30 BB pistol and a USP pistol that I'll try for you. Both are highly realistic and both shoot in the 360 f.p.s. range. The P30 holds 15 rounds, while the USP has 22.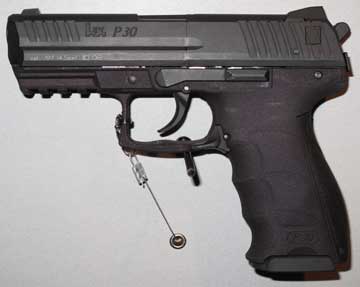 HK P30 pistol is very realistic.
Walther
The Walther SG9000 is a tactical BB shotgun that shoots single shots and 3-round bursts. This one uses an 88-gram cartridge. It resembles an airsoft gun, but this one shoots steel BBs. Loaded with tactical mounts for accessories and no buttstock–just a rear pistol grip.
Ruger
Ruger added the new Blackhawk rifle, an Air Hawk in a black synthetic stock. Shades of the RWS 34 Panther!
Hammerli
The Hammerli Pneuma is a new single-shot PCP rifle that delivers over 1,000 f.p.s. in .22 and 1,200 f.p.s. in .177. The styling is modern (black and tactical), and I got the impression that it might compete on price. As soon as I can, I'll test one for you.

New Hammerli is a powerful PCP sporter.
Browning
Browning's model 800 pistol is a breakbarrel single-shot that offers smashing power (up to 700 f.p.s. is what the ad says). It has an anti-recoil system, so it's either recoilless or has less recoil. I hope to test it soon.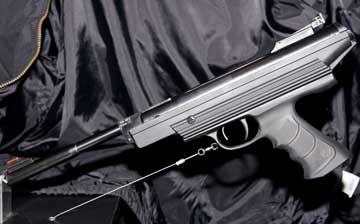 Browning 800 is a powerful new springer pistol.
RWS
RWS has a new breakbarrel pistol as well–the LP8 Magnum. It's another smasher that comes in both both .177 AND .22 (hurrah!). Like the Browning, it's rated to 700 f.p.s. in .177, so it's not slow by any means.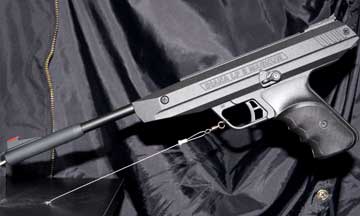 RWS will bring out another screamer called the LP8.
Also, the RWS droop-compensation sight base was shown. While it has been out for a while now, I have held off reporting because there were some design issues. I was told they have been resolved, so there's another log for the fire!
All things considered, Umarex USA wore me out! But there was more show to see.
Leapers had a ton of exciting new products, including a host of new scopes, tactical flashlights, green lasers and M4 platform airsoft guns with upgrades. I saw a pistol scope they say we'll see the middle of this coming year! And they have a new type of scope knob that's quickly lockable and resettable. There's a lot to test.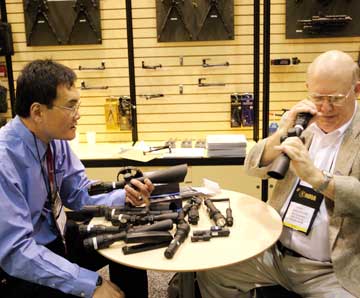 Leapers president, David Ding, shows me his new lineup.
They're now selling a green laser for under $100! They sold for over $300 a few years back. Green lasers are bright enough to be see in the daytime at long distances and have been the traditional lasers of law enforcement. I'll put it to the test for you.
Their tactical flashlights are a real bargain price. The ones I saw will force compliance at night, giving you time to run or to swing a baseball bat. Anytime you can do that for less than $100, it's worth exploring. I'll try to convince Pyramyd Air to carry them, because I think they'll make a wonderful addition to a carry gun.
Russian PCPs
You know those Russian PCPs that everybody has seen on the internet? Well, they were there, and they appear very well made. But they're not ready for production yet. It seems the company is having difficulty finding shops who can hold their tolerances in manufacturing quantities, which is the same problem we find everywhere. When they do become available, though, they'll be something to see! They had several models, as well as very nice cutaways to show the inner workings. I hope to see them again next year.

Russian PCPs appear well-made and attractive, but they're not ready for production.
Air Arms
Air Arms had a new EV2 stock on display, and I wanted you to see it. Both the buttplate and cheekpiece are mounted on a ball swivel so they can be positioned anywhere and locked down. Great idea. Wish'd thought of it.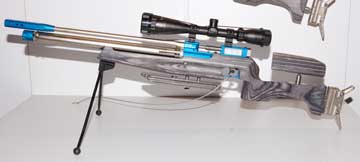 EV2, which won the world FT championship, has a new stock.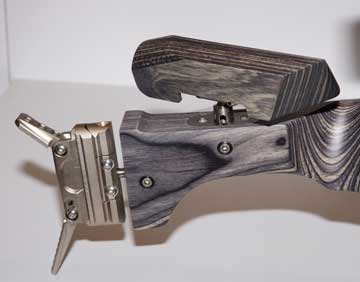 Cheekpiece and buttplate are mounted on a ball swivel.
The show was so much larger than what I have shown you here. I'm sure there were new airguns there I didn't see. I estimate that I saw only a third of the show, so that's a safe bet. The Airgun Breakfast was a wonderful start and the show blossomed before us with the talk of the new television program. I was running too fast between appointments to take it all in. This year is going to be a landmark for airguns.