by B.B. Pelletier

So many of you commented on how attractive my 2200 is that I thought I would show you this larger photo. Isn't she a beauty?
Today, we'll learn what Rick Willnecker has been able to do to my Crosman 2200 Magnum. You'll remember that he rebuilt the powerplant after I had a problem with a hardened pump seal.
I'll also draw upon the numbers reported by Joe G. from Jersey. He has a brand new 2200 Magnum that he bought in 2004, so his velocities are right for the gun when new.
First, I pumped my rebuilt rifle 8 times and fired several .22-caliber Crosman Premiers to see how it was shooting. The results of that exercise were very enlightening.
Shot Velocity
1       660
2       578
3       562
4       548
5       538
6       527
7       527
8       529
9       531
10     538
11      548
12      545
13      549
14      559
15      559
16      552
Yes, those are the velocities as I recorded them from the newly rebuilt rifle. All were from 8 pump strokes. Make what you want of the data, but never think for a moment that an airgun is straightforward!
Now for velocities on 10 pump strokes.
Crosman Premiers
Before rebuild:
440 f.p.s.
After rebuild:
591
I also tested the rifle with RWS Meisterkugeln before rebuilding. They're a little lighter than Premiers, so they go a trifle faster.
RWS Meisterkugeln
Before rebuild:
500 f.p.s.
After rebuild:
600 f.p.s.
By comparison, Joe's new 2200 gets 590 f.p.s. with .22 Premiers on 10 pumps. So, our two rifles preform remarkably alike. Or at least I thought they did at this point in my test.
I must also comment that the first few shots on 10 pumps were not that fast. Shot one with Premiers was only 581 f.p.s. Shot two went 584. After that, no shot was below 587 f.p.s. This multi-pump needs a little warm-up. The string I used for the average went from 587 to 597.
Pump efficiency
I did a test of the velocity with increasing pump strokes. I started at two strokes to avoid sticking a pellet in the barrel. This test was done with Crosman Premiers.
Pumps Velocity
2 354
3 421
4 478
5 524
6 558
7 577
8 608
9 630
10 613
Strange numbers, in light of the average velocity with 10 pumps posted above. I obtained the average of a second string with 10 pump strokes. I'm showing you all the numbers in the string so you can marvel with me.
606
597
638
603
606
601
608
605
605
602
The average of that string is 607.1 f.p.s. Something is happening to the gun. Either it's warming up with all the shooting (very possible) or it's breaking in (also possible). Here's what I'll do. After the accuracy test, I'll test another string of 10 on 10 pumps. The gun will be more broken-in by that time, so the average velocity shouldn't be as prone to vary as it is now. We'll see.
Complaint department
The two-stage, non-adjustable trigger on this rifle is very stiff–breaking at between 8.25 and 8.5 lbs. Loading is also difficult, as the loading port isn't directly accessible. The pellet has to roll down a ramp and invariably gets turned around backward unless you load it that way. Then it remains backwards. It requires a learned technique to get it right. Finally, the stock is plastic and hollow. If it were foam-filled, it wouldn't be so objectionable, but as is, it seems cheap and toy-like.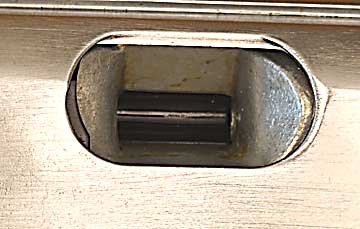 The pellet loading port is deep and inaccessible to the fingers. You must learn to squirt a pellet into the trough and half the time it ends up backwards.
The first version of the 2200 Magnum was supposed to be hotter than those that followed. That's what the seller told me when I bought the gun. Back then (2006), the gun wasn't working right so there was no way to tell if that was correct, but perhaps it is. We'll see!