Before I turn today over to Josh, I have two announcements. First, I'm traveling to Phoenix today, to attend the NRA Annual Meetings. You can read the particulars on their website. Will you veterans please take over answering comments for me? I'll be home next Tuesday. Of course, Edith will monitor the comments.
The second thing is a reminder that the Pyramyd AIR moving sale will be held at their location at 26800 Fargo Ave, Unit L, Bedford Heights, OH, on Saturday, May 30. Click for full details about local hotels, a map and more. I'll be there to meet anyone who can come, and remember, this isn't just a yearly garage sale. This is a once-in-a-lifetime moving sale! They gotta get rid of the extra stuff so their move goes smoothly.
Now, let's hear from Josh.
by Joshua Ungier
My first hands-on experience with a firearm was shortly after I turned six. A MIG-15 pilot, Vitalii, a tall young man with a great smile, shared a house with my family for a few months until he moved into the barracks permanently. He lived on the first floor, and we had the second floor. My family adopted the young lieutenant.
 
Mother had a little food stand at the market where she sold vegetables gleaned from the fields after the pickers went through. My dad was a photographer. His photos appeared in the local newspapers and magazines. He photographed high schools, military parades and other festivities.  Occasionally, he candidly photographed people. When he found time, he photographed beautiful vistas surrounding my town. I still have those photos. 
 
As I recall, the time was the middle of summer. School was out and there was nothing left to do but read. My friends were all away with their parents on summer vacations, and they weren't coming back any time soon. My dad used to take me on his IZH 49 motorbike. He took me on short trips for his photo shoots. For longer rides, he mounted a sidecar. I loved that.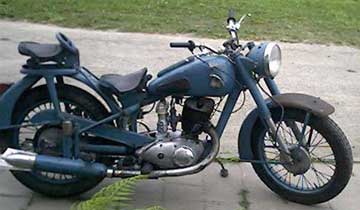 IZH 49 motorcycle.
One day, the lieutenant saw me sitting on the steps and called me over.  "How would you like to go target shooting with me?"  he asked.
"Yes!" I remember yelling. "Yes!" 
 
He had a Mauser rifle. Eto devianosto vosem. "It's a '98," he said. His father captured the "souvenir" after dealing with its owner. I remember the rifle vaguely. It was a bit shorter than I was. I wasn't tall at that age, so it must have been a K model–probably a 98K.  

Mauser K98 rifle. Its 8mm cartridge is slightly more powerful than the American .30-06. The recoil is heavy for an adult man. Punishing for a 6-year-old kid!
At the military range, he spread a green blanket on the ground, took out a bunch of ammo from his side pouch, loaded the rifle and BAAAM! Bolt back and forth and BAAAAM! BAAAAAM! I was in heaven!! Then, he said, "Lie down. I will teach you to shoot from the prone position." And with that he handed me the rifle. I lay down, chambered the round as he instructed and BAAAAM! I felt like my whole body was hit with a 100 ton sledge.
"How about one more time?" he asked. 
"Uh-huh!" I said, despite the pain…BAAAM! I'd enough.
 
We got home in the evening in time for dinner. There was actually meat on the table. Very rare occasion. 
Apparently, Vitalii "borrowed" some meat from the field kitchen and smuggled it out to us. We were very grateful to have something to eat.
 
In the morning, my mother woke me up for breakfast. She was visibly upset.
  
"Yuri!" she said, "the whole right side of your body is black and blue.  What did you do to yourself?"
 
I lied and said I fell off the bike into a ditch. If I'd told her the truth, I didn't think I would live long enough to write this story.
 
"Did you find this in the ditch also?" she asked, holding up a spent 8mm casing. I did not answer.
My father looked at me, shook his head and smirked. He must have talked to Vitalii.
I'm coming to the story of how Pyramyd AIR was started, but I wanted to tell you a little about my shooting background first. I'm a life member of the National Rifle Association and I urge all you U.S. readers to join that organization. They were founded in 1872 to teach basic rifle marksmanship skills to American boys and men, but for more than half a century they have been defending our Constitutional right to keep and bear arms. Given the current political situation, they have become our best defense against total gun confiscation.
If firearms go, airguns will soon follow. You can see that happening all over the world, so you know it's planned for America, as well.
If these stories of mine are of no interest to you, please tell us and I will get right to the creation of Pyramyd AIR.