by B.B. Pelletier
Guest blogger
This is CJr's first guest blog for us, although he's already been very active and helpful by contributing to the blog comments. As many of you know, the IZH-61 is a rifle that any shooter can appreciate and enjoy, and CJr shows us some ways to modify the its open sights.
If you'd like to write a guest post for this blog, please email me.
Bloggers must be proficient in the simple html that Blogger software uses, know how to take clear photos and size them for the internet (if their post requires them) and they must use proper English. We will edit each submission, but we won't work on any submission that contains gross misspellings and/or grammatical errors.
by CJr
I was interested in configuring my IZH-61 rifles with sights that are compatible with competition shooting regulations. I don't intend to use them for competition, just to gain experience shooting with the different optical devices. That means no magnifying lenses are allowed, so I purchased some diopter peep sights to see if they would work for me. I also want to have one IZH-61 configured with a scope for general target practice and plinking. Since I do all of my shooting indoors on a 10-meter range, I must be able to sight in any optical device at that distance.
I have four IZH-61 guns. One is scoped with the UTG BugBuster 6×32 scope, another has a Beeman Sport Aperture sight, the third has a Daisy Avanti Precision diopter sight and the fourth has the original open sight. Here's what the three guns with altered sights look like: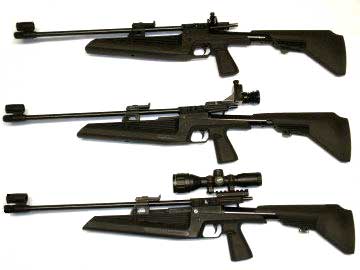 Top to bottom: Beeman Sport Aperture, Daisy Avanti Precision diopter and UTG Bug Buster 6×32.
I tested the Mendoza diopter sight but couldn't get it to compensate for shooting too high. I don't show it here because I returned it to Pyramyd Air and replace it with the Beeman. More on the Mendoza later.
Scoping the rifle
The IZH-61 is a short rifle with a very short scope rail. The only scope that made sense to me was the UTG 6x32AO Bug Buster Compact, and it's an excellent fit when used with the UTG 11mm to Weaver adapter. The Weaver adapter prevented scope creep and allowed me to position the scope further forward, giving me better eye relief. Look at the following picture to see that a shorter scope is necessary, especially if your body requires a shorter pull.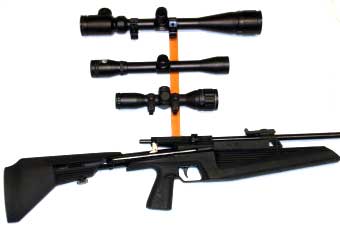 This shows the relative positions of various scopes if they were mounted without the Weaver adapter. The stock of the gun is at its fullest extension. The front scope ring of the Bug Buster (bottom) is positioned just short of the back of the magazine-release button. The other scopes shown are a BSA 4-16x40IR at top (15.5 inches) and a Ruger 4×32 (11.5 inches). The Bug Buster is just 8.25 inches long.
The Weaver mount, because of its construction, lets me position the scope far forward while still giving me access to the magazine-release button.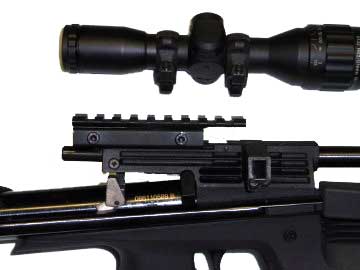 Note the magazine-release button under the mount overhang. Also note how the scope is all the way forward in the rings in order to move the scope as far forward as possible.
The Weaver adapter's rear mount screw is actually hanging off the back of the gun's scope rail. It's constructed in such a way that tightening it provides a positive grip on the rail, aiding in the prevention of scope creep.
I had to shim the back scope ring to compensate for a lot of barrel droop. In hind sight, I wish I'd used the B-Square 10101 1″ Interlock Adjustable Rings. I did use them later on a Daisy Powerline 953 TargetPro with very good results.
Watch for part 2, which will appear in tomorrow's blog.