RWS Model LP8 Magnum – Part 2WOW!
by B.B. Pelletier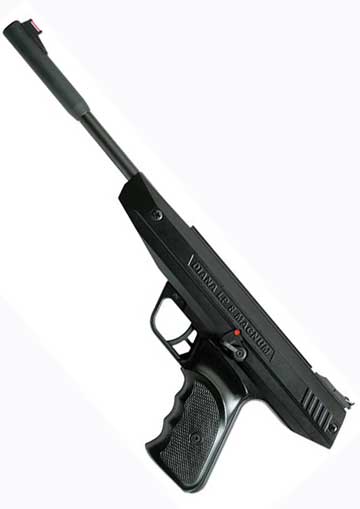 The .177 RWS LP8 pistol is a big, beautiful spring pistol.
Today is the velocity test, so I reckon you've guessed why I added the WOW! to the title. If not, read on. You're about to read the test of the fastest spring-piston pistol I've ever tested.
Trigger
The two-stage trigger, which is not adjustable, breaks at a reasonable 3 lbs. 5 oz. The safety is automatic, coming on as the pistol is cocked. It's ambidextrous, like the rest of the airgun. Finally, there's a "Keepa you hands off" screw located at the bottom rear of the triggerguard. I don't know what it's for, and the manual doesn't explain it. The location would seem to make it a trigger screw of some sort, but I'm warning you to leave it alone. I'll have no pity for those who experiment and wind up with a broken gun.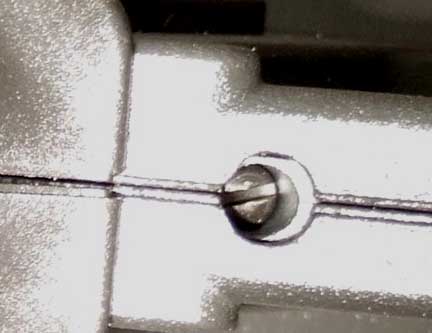 Leave this screw alone!
Sights
The sights are fiberoptic, front and rear. That's almost a given these days. The front sight is exposed, so you have to grab the barrel below it to avoid damage to the delicate plastic fiberoptic red tube. Normally, I'd say that fiberopotics are incapable of precision, but the huge separation between front and rear on this pistol, which is 16.25 inches, overcomes that to a great degree. The rear sight is adjustable in both directions, and I mentioned the 11mm scope groove in Part 1.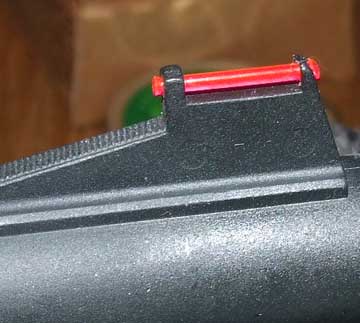 Front fiberoptic sight tube is exposed, so hands off during cocking!
Crosman Premier 7.9-grain pellets
Let's just dive right in, shall we? After two shots to wake up the powerplant, I first tested 7.9-grain Crosman Premiers in our test RWS LP8 Magnum pistol. They averaged 528 f.p.s. with a spread from 523 to 533. Ten f.p.s. is a pretty tight spread for a new springer, so these are probably good pellets for this powerplant. Whether or not they're also accurate remains to be seen. The pistol develops 4.89 foot-pounds at the muzzle, on average.
I knew from these numbers that the LP8 I had was a performer. But the next pellet showed me just how hot it might be.
RWS Basic
The RWS Basic is an economy lightweight pure lead pellet. It's a few cents cheaper than the RWS Hobby that used to be the default pellet used to test velocity, but it weighs an identical 7 grains on the nose, so I try to use either it or the equally economical RWS Club for velocity testing. The average was an astounding 581 f.p.s., with a spread from 575 to 591. This was the highest average velocity I have ever recorded to this point from a stock spring-piston air pistol. And the tight 16 foot-second spread is a good indication that the gun isn't detonating. That was quite a surprise, but it didn't earn the WOW.
Gamo Match
Are you aware Gamo Match pellets now come in two different weights? The light ones weigh 7.5 grains and were the ones I used in this test, but there's a heavier 7.71-grain version as well. They averaged 561 f.p.s. through the chronograph, with a spread from 553 to a high of 571. Even that is only an 18 foot-second spread, and had I chronographed them first, they would have been the all-time fastest pellet I've tested in a stock spring-air pistol. Move over, Beeman P1, there's a new kid on the block and it's the LP8. But we're still not at the WOW.
Crosman Silver Eagle hollowpoints
You can't buy these non-lead pellets anymore. I saved mine for tests like this one, because they out-perform Gamo Raptors by a considerable margin when it comes to velocity. And in this test, they produced the WOW, with an AVERAGE velocity of 755 feet per second! WOW! The LP8 not only met its advertised velocity of 700 f.p.s., it exceeded it by a wide margin. Reminds me of the day Bob Beamon extended the long jump world record by almost two feet in the 1968 Olympics.
Diana and RWS, you've done it! You've broken the 700 f.p.s. barrier for spring pistols, and you didn't have to cut down a rifle to do it. The LP8 is easy enough to cock, needing just 32 lbs. of force to cock the breakbarrel. It won't be easy for younger teenagers, but adults should find it reasonable. Again, I say, "Wow!"
Tom Gaylord is known as The Godfather of Airguns™ and has been an airgunner for over a half-century, but it was the 
Beeman
 company in the 1970s that awoke a serious interest in airguns. Until then, all he knew were the inexpensive American airguns. Through the pages of the Beeman catalog, he learned about adult airguns for the first time. In 1994, Tom started
The Airgun Letter
 with his wife, Edith. This monthly newsletter was designed to bring serious reports about airguns to the American public. The newsletter and
Airgun Revue
, a sister magazine about collectible airguns, was published from 1994 until 2002, when Tom started
Airgun Illustrated
-- the first American newsstand magazine about airguns. Tom worked for three years as technical director at
AirForce Airguns
, the makers of the 
Talon, Condor, and Escape
 precharged air rifles. Today, he writes about airguns and firearms for various publications and websites. He also makes videos, and you'll find short clips embedded in some of his artices on Pyramyd Air's website. Tom is a consultant to Pyramyd Air and writes under the name of B.B. Pelletier.