by B.B. Pelletier
The history of me and Chinese airguns isn't that old. Ray Apelles and his father, who were subscribers to The Airgun Letter, were experimenting with them and they were leaning on me to test them. I said no, but other readers picked up the thread and before I knew it I was in the middle of a huge plot that had me not only testing Chinese guns but also modifying them.
Then, I encountered the late Paul Landrith at the Little Rock Airgun Expo. Paul, a semi-retured barber, sold and repaired airguns in his shop in Arlington, Texas. He was well-known for his work with vintage Benjamin guns, but he also sold some early models of Chinese spring guns. Among them was a rather good-looking sidelever called the TS-45. I had already tested a TS-45 for The Airgun Letter by this time, but the rifle Paul was selling looked nothing like what I had tested. It was both sleeker and better looking.

Older-style TS-45 sidelever was an attractive air rifle.
Paul had been selling these rifles for years before hearing of a beartrap accident with one. He stopped selling when he learned of it, and then disassembled each one and made certain the anti-beartrap mechanism was functioning before he sold it. That slowed his sales quite a bit, so he sat on a pile of rifles for many years before bringing them to Little Rock. I bought one after learning of its possible faults and promising never to let go of that sidelever while the breech was open. Through this strange twist of fate, I was able to buy a 20-year-old air rifle as new-old stock.
General description
The rifle is mid-sized, at 40.5 inches long and 6 lbs., 12 oz., total weight. It's a sidelever spring-piston rifle that uses a sliding compression chamber, so the access to the breech is large when the compression chamber is slid all the way back. The rifle has a ratcheting anti-beartrap mechanism, but it's entirely dependent on springs and is not controlled by the shooter in any way. If the springs were to bind or fail and the sear were to slip while someone is loading a pellet, severe damage would be done to one or more digits that got caught in the way.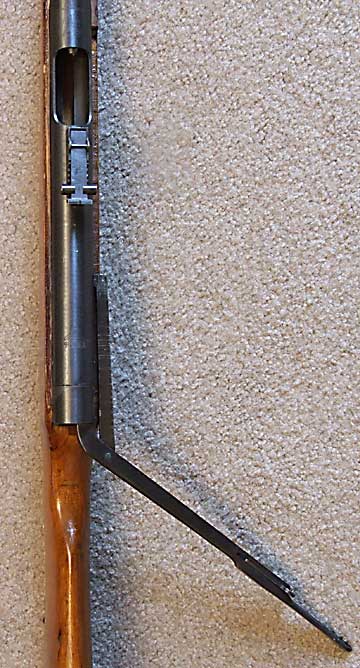 When the sidelever was pulled out, the gun cocked and the sliding compression chamber went back out of the way for loading.
The wooden stock is made from some kind of hardwood and covered by a tough shiny finish that doesn't completely cover all the exposed wood. Sling swivels are mounted on the stock, so you can add a sling–and a one-inch strap will just fit.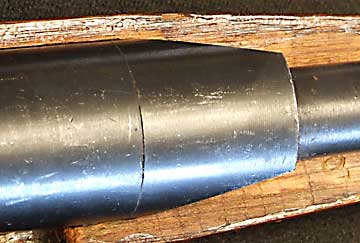 Should we finish the wood–or not? Apparently that was the question.
The metal finish is a thin black oxide (conventional gun "blue") over metal that appears to not be prepped in any special way. Perhaps, the parts were tumbled, but that's as far as things went. There's no plastic to be found anywhere on the outside of the rifle, which helps confirm the early manufacturing date.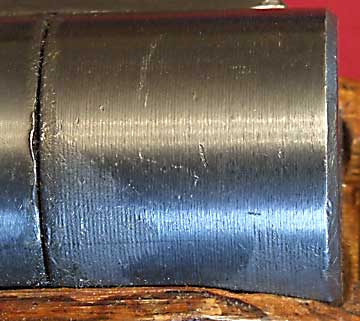 The metal got finished by itself, if it wanted to–or not.
Being Chinese and from the 1970s, it's almost guaranteed that the bore will be large for most pellets. The Chinese manufacturers started rifling their barrels with overbore buttons they could hone and re-hone over time and still be able to rifle the bore. I've never encountered an undersized Chinese airgun barrel, but I've seen plenty that were too large.
Sights
The rear sight, which is spot-welded to the spring tube, is adjustable for elevation only, using a stepped elevator. No horizontal adjustment is possible. There are also no provisions for a scope, though I believe there was an active aftermarket business of scope mount installation going on.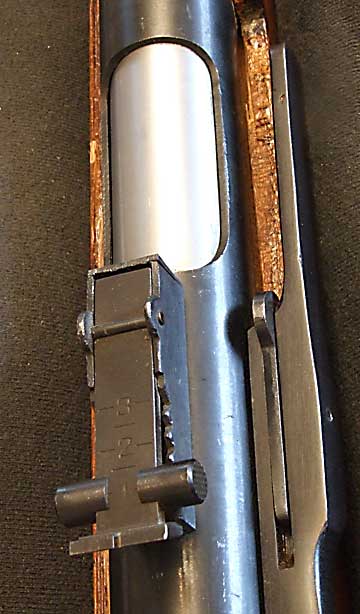 Rear sight adjusts for elevation only. But that seems to be all the rifle needs. Note the release catch on the sidelever. Must be pressed down to unlock the lever.
Trigger
The trigger is single-stage and as crude as a trigger can get. It breaks at 9 lbs., which makes the rifle difficult to hold for precision shooting. There are absolutely no provisions for adjustment, so anything you do to make it work better will have to be done by gunsmithing. Incidentally, that's a guess about the breaking weight, because my RCBS trigger-pull scale only goes up to 8 lbs. I have to interpolate the extra pound from where the indicator is when the gun lets go.
When the gun fires, the impulse is quick and relatively free of vibration. Of course, the rifle isn't that powerful, but it's more pleasant than I would have imagined. I have owned this rifle for about 12 years now, and this is the first time I've really tried to see what it can do.
Velocity
This rifle averaged 519 f.p.s. with Eley Wasps, which are too small for the bore. The spread was from 503 to 535, indicative of a couple diesels in the string. Gamo Match fit the bore a little better and averaged 539, with a tighter spread from 526 to 545. But Crosman Premier 7.9-grain hollowpoints fit the bore well and gave an average of 502. The spread was the tightest, ranging from 495 to 510.
Accuracy
Don't hope for much and be surprised if you get any. That's my motto with older Chinese airguns. I shot from a bag rest using the artillery hold. The distance was 25 yards.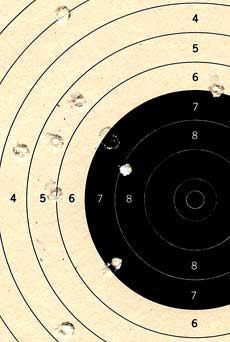 Ten Crosman Premier hollowpoints sailed through this loose group at 25 yards. Open sights.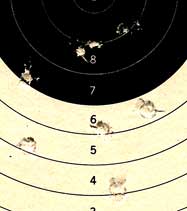 Ten Beeman Ram Jets went into this 1.766″ group. Not bad for an old Chinese air rifle and open sights.

Six Gamo Match pellets went into this group measuring 0.909″. This was the smallest group of the session, though I shot only six times instead of ten.
What's the verdict?
Well, until I shot those Gamo Match pellets, this rifle performed about as I thought it would. But that group is tight enough to warrant further investigation. This may be a nicer gun than I thought!