by B.B. Pelletier

Air Arms S200 sporter.
Let's look at velocity today. Remember that the Air Arms S200 Sporter is a 12 foot-pound gun, and that's how I'll test it. I'll look at velocity with a couple likely pellets, and I'll test the useful shot string for you. There was a lot of interest in this rifle after the first report, so let's see where today takes us.
Crosman Premier 7.9-grain pellets
It's hard to think of a more classic round for this rifle than the Crosman Premier 7.9-grain pellet. Why shoot the 7.9 and not the 10.5, which is normally chosen for PCPs? Simple. This is a 12 foot-pound gun, which means that it cannot legally exceed 12 foot-pounds with any pellet. That's only for the United Kingdom sales, of course, but when the Brits make a gun for 12 foot-pounds, it follows those rules. Even though it's sold in the U.S., you have to expect it to deliver less than 12 foot-pounds with all pellets. In that power range, you need lighter pellets to get some velocity to flatten your trajectory.
I wanted to show you the power curve of this unregulated gun, so here are the shots that followed a 190-bar fill:
Shot…Velocity
1……….773
2……….769
3……….776
4……….773
5……….779
6……….782
7……….782
8……….784
9……….786
10………772
11………781
12………778
13………785
14………783
15………788*
16………788
17………782
18………788
19………777
20………778
21………781
22………783
23………779
24………782
25………779
26………781
27………779
28………775
29………776
30………768
31………768
32………766**
*fastest shot
**slowest shot
I stopped and computed the average speed after shot 32, because I could see the power curve had ended. The start of the string informs me that 190 bar is indeed the correct fill pressure for this rifle. The average velocity for those 32 shots was 779 f.p.s. That works out to an average muzzle energy of 10.62 foot-pounds. From what I read on the internet, that's right on the money.
Why did it not get up to 12 foot-pounds? After all, I said this was a 12 foot-pound rifle. Yes, but 12 foot-pounds is the upper limit the rifle may achieve by law. It won't do that with every pellet. I'll show you what I mean in a moment, but let's look at what happened to the velocities after a few more shots with the same pellet on this same fill.
Shot…Velocity
33………767
34………762
35………754
36………754
37………753
38………751
39………747
40………739
These additional eight shots show clearly that I stopped recording (at shot 32) right at the point the gun had fallen off the power curve. I just wanted to show that to the new readers, lest they think the gun might get a "second wind."
Now we know something about the performance, which is very important for a precharged rifle. If we are willing to accept a total velocity spread of about 24 f.p.s., then there are about 32 shots per fill. That should be a good spread for 50-yard shooting. If you are just plinking, or shooting at distances of 35 yards and less, there are about 40 shots in a fill with this particular rifle.
Air Arms 8.4-grain domes
Next I tried a string of Air Arms 8.4-grain domes. Although this pellet is a half-grain heavier than the Premier, it is softer, being made of pure lead. It was no surprise, then, when it recorded an average of 787 f.p.s. for 10 shots. That computes to 11.56 foot-pounds– a heck of a lot closer to that legal 12-foot-pound limit. And the limit is for a single shot from the gun–not for the average, so the fastest shot recorded with this pellet, at 792 f.p.s., generated 11.70 foot-pounds. That's even closer to the limit. The total spread for this pellet was just 10 f.p.s., which is tight, though you need to remember that this was just a 10-shot string.
Over the limit
But the law doesn't stop with medium-weight pellets when testing the power of an airgun. The government examiners have learned, just as you have, that in pneumatics, heavy pellets will usually generate the highest energy. So, what If I tried a 10.6-grain Beeman Kodiak, or it's European equivalent, the H&N Baracuda? The average velocity was 714 f.p.s. with a high of 715. Taking the high and computing the energy, we get a muzzle energy of 12.04 foot-pounds. Ooops, you just broke the law (if you live in the UK and this rifle isn't registered with an FAC). No problem here in the U.S., though.
But I went even further, just to take this to the illogical conclusion. I pulled a 16-grain RWS Ultra from my pellet stock and shot it at a maximum of 580 f.p.s. That works out to 11.95 foot-pounds, so no harm done, there. Of course your rifle is still illegal from the one shot with the Kodiak/Baracuda, so you're still in trouble.
I have used this little explanation to illustrate the thinking behind 12-foot-pound guns. In the UK where many airguns are made, it's no laughing matter, just as silencers are a problem here in the U.S. UK makers are under intense government scrutiny and they have to make every effort to not step over the line and draw attention to themselves.
But none of this has any bearing on the rifle I am reporting about today, because we are considering it for U.S, shooters. I hope, though, that you now have a better understanding of what the 12 foot-pound limit means to you when it applies to pneumatic airguns.
Firing performance
I found the S200's report so loud in my office that I put on hearing protection. I use protection all the time when testing more powerful pneumatics like the Benjamin Katana and such, but this rifle shoots at one-third the power and I thought you needed to know that it isn't quiet.
There is also a noticeable rocket-like push at firing. I think it has to do with the air valve remaining open longer. The light cocking effort reminds me of the weaker hammer spring, and that reminds me that the S200 valve stays open longer. The trigger pull is adjusted to 2 lbs. 4 ozs. and is decently crisp.
Good reason for the removable reservoir
I said in the first report that I saw no reason for the removable reservoir on this model. Well, now that I've filled the rifle a couple times I see a very good reason for taking it off. The Air Arms fill adaptor is so odd and so hard to position correctly that it's much easier to fill the tank when it isn't attached to the gun.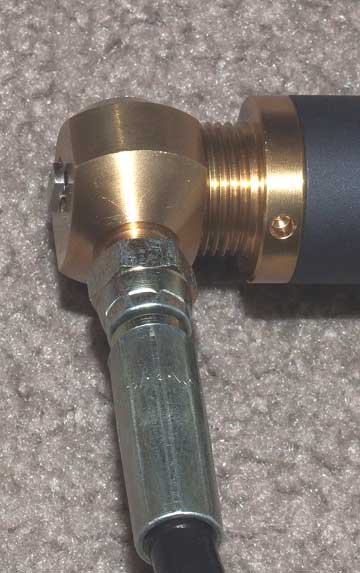 The Air Arms fill adaptor makes the position of the air reservoir very critical, so being able to separate the reservoir from the gun is a plus.
Maybe some of our readers who own S200s will comment on my findings today. I suppose you will want me to experiment with power adjustments, because several of you talked about it last time.