by B.B. Pelletier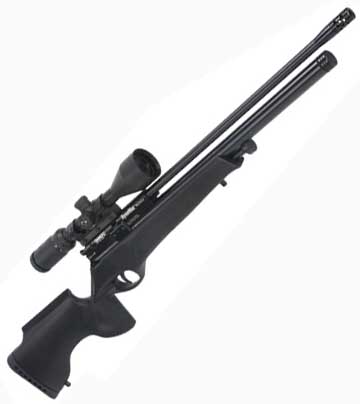 The new Gamo DynaMax repeater. Gamo product photo.
Before I start today's report, I have a couple bits of news to pass along. The first regards pellet packing. I learned what is causing the problem many readers have reported this past week. Pyramyd Air ran out of pellet packing materials for their special packing process about a week ago and have been packing pellets with brown paper as cushioning. Now, most shipments made it through just fine, but some were damaged by rough treatment during shipping. Pyramyd Air has replaced all damaged pellets that were reported to them, as is their policy, but the sudden change in operations caused a lot of discussion on the web.
They are aware of the problem this has caused and have a rush order for more packing materials so they can get back to their special way of packing, but several hundred orders have already been affected. The volume of pellet orders they process in one week's time is larger than some other dealers' quarterly output. I, myself, have an order in for about a dozen tins of pellets, so I'm in line like everybody else.
The shipments packed this way are still in the pipeline and may be for the next week or more. Pyramyd Air ships over a thousand packages on a slow day, and a lot of those packages contain pellets, so the effect is widespread.
If you receive a shipment from Pyramyd Air that contains damaged pellets, report it and they will take care of it for you.
Now, on to the next topic. I see that I did a thorough four-part report on the IZH 61 in 2007. There really is nothing new I can say about that rifle, unless you readers can think of something I left out the last time.
What I have not tested is the single-shot IZH model 60. So, that one is due a test, and I plan of doing it for you.
Now, let's get back to the Gamo DynaMax PCP test. Today, we'll look at velocity and the operation of the DynaMax powerplant.
Filling the gun all the way
You will recall that I mentioned that the DynaMax fill pressure is 232 bar, which is 3,365 psi. Only three hand pumps currently on the market go that high– the Hill pump, the Air Venturi G4 hand pump (which delivers lower pressure, but only by a hair) and the pump that both Benjamin and AirForce use. The Hill pump and the Air Venturi G4 pump both come with 1/8″ BSPP threads on the ends of their hoses, so the DynaMax fill adapter screws right on. For those with either the AirForce pump or the Benjamin pump, an adapter will be required to connect the pump to the DynaMax fill adapter.
I filled the rifle to 232 bar and began the test. The first thing I was interested in was the number of full-power shots I could get from a fill. Remember, the Gamo literature said there were about 30 shots per fill. I used H&N Baracudas (the same pellets the old Beeman company sold as Kodiaks) and got the following results.
Shot #…Velocity
1…………..918
2…………..931
3…………..DNR
4…………..937
5…………..938
6…………..DNR
7…………..945
8…………..944
9…………..943
10………….DNR
11………….937
12………….953
13………….DNR
14………….942
15………….945
16………….941
17………….944
18………….932
19………….943
20………….941
21………….942
22………….938
23………….941
24………….924
25………….924
26………….931
27………….926
28………….919
29………….918
30………….921
31………….919
32………….900
33………….895
34………….908
35………….898
36………….878
37………….881
This performance curve is very close to what I expected, except the high point was higher than anticipated. At 953 f.p.s. the Dynamax is generating 21.38 foot-pounds. Taking a more central figure, like 935 f.p.s., the rifle generates 20.58 foot-pounds at the muzzle with 10.6-grain H&N Baracudas. And there are almost exactly 30 shots, as promised. So, shoot three magazines and then refill with air if you're using a 232-bar fill.
Filling the gun to 3,000 psi
Since not everybody can fill to 3,365 psi or 232 bar, I promised to also test the DynaMax at 3,000 psi and test another string. I told you that the velocity would not be less, but the number of shots you could get at full power would decrease. Sort of like putting less than a full tank of gas in your car doesn't affect how fast you can go, only how far. Once again, the H&N Baracuda pellet was used.
Shot #…Velocity
1…………..947
2…………..950
3…………..945
4…………..945
5…………..944
6…………..969
7…………..954
8…………..966
9…………..954
10………….943
11………….938
12………….943
13………….932
14………….919
15………….923
16………….926
17………….915
18………….906
19………….910
20………….908
21………….911
22………….888
23………….879
24………….876
The way I read this, the rifle gets about 16 good shots on a 3,000 psi fill, but there's no harm with going to 20 shots unless you're hunting sparrows at 65 yards.
Did you notice that this time the rifle shot four shots that were faster than the fastest shot fired when I filled to 232 bar? Please don't take this one test and construct a whole new religion from it! Instead, look at what might be causing this result. The rifle may be breaking in. The rifle may be loosening up after sitting dormant in my office for several weeks. If I were to run the test again, the results would probably be different, and we couldn't draw conclusions from that, either.
The velocity drop-off at the end of the power curve seems to be the same in both tests, which is characteristic of what some powerful PCPs do. The rifle tapers off near the end, then suddenly drops velocity by a large amount and does not rebound from that. Every PCP has its own performance curve, and it seems this is what the test DynaMax does.
Let's test some other pellets.
Continuing the test
The first pellet tested was the Gamo Raptor. This non-lead pellet has a deserved reputation for going very fast, and I wanted to see how close the DynaMax came to its advertised velocity of 1200 f.p.s. Pretty close, it turns out. The average was 1183 f.p.s., with a high of 1191 and a low of 1169. At the average velocity, this 5.4-grain pellet generates 16.78 foot-pounds of energy at the muzzle.
The Crosman Premier 10.5-grain pellet was next. It averaged 945 f.p.s., with a spread from 931 to 950 f.p.s. It generated an average of 20.83 foot-pounds.
Next, I tried Crosman's Destroyer 7.9-grain pellet. It averaged 1052 f.p.s., with a spread from 1041 to 1064. That's an average energy of 19.42 foot-pounds.
Finally, I tested Air Arms domes, which are made by JSB and closely resemble Exacts of the same weight. They averaged 1032 f.p.s., with a spread from 1024 to 1037 f.p.s. That's an average energy of 19.87 foot pounds.
Other observations
The DynaMax magazine was sticky in the beginning. As I shot the gun more, it loosened up; by the end of this test, the magazine was functioning fine. And this is the easiest magazine I've ever taken out of a PCP. There's nothing that holds it back. Once the bolt and mag release are out of the way, the mag comes out easily.
All pellets fit the chambers of the magazine loosely. So much so that I had to load the gun when it was level if I wanted the last pellet to stay inside the magazine.
Cocking the rifle as a separate operation after loading will take some getting used to. I forgot to pull back on the cocking button several times during this test.
The two-stage trigger-pull is light and crisp. It breaks with just 22 oz., most of which is in stage two, but some of which is in the first stage. That makes stage two feel even lighter. It's a good trigger.
I'll test accuracy next. Given the power the gun generates, I'll go out to at least 40 yards if not 50.