by B.B. Pelletier
I get burned out on airguns from time to time. When it happens, I can remember being excited over this or that gun in the past, but nothing I see, touch or shoot at this time evokes the slightest measure of appreciation. You could hand me an HW55 Tyrolean with a full bas-relief stock worthy of the renaissance–and I would yawn.
When that happens, I have to do something else. For years, something else has been shooting firearms, reloading and casting bullets. Anything to break the connection with pellet guns for a time. Unfortunately, a number of circumstances–the weather, a heavy work schedule and my recent illness–have all conspired to keep me from going to the range since before Christmas. I'm ready to pull my hair out, if I had anything to grab onto.
Then, I happened to mention that I rode a BMW R26 while in college in the 1960s. A thoughtful reader sent me a link to a You Tube video of a prima R 26 that the owner starts and runs while walking the viewer around on a tour. Seeing that video was a mini-holiday for me.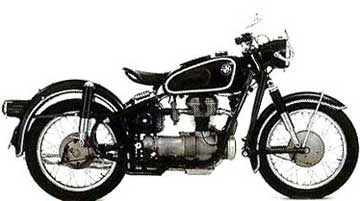 The BMW R26 single-cylinder motorcycle is like an HW55 on wheels.
That got me looking at all the vintage Beemer motorcycle videos on You Tube and there are quite a few of them. That got me searching eBay Motors for what one of these treasures might cost–not that I would ever buy one. Five thousand $US seems to be the going price for a refurbished bike from Indonesia. Another $1,500 transport to the U.S. and who knows what to clear customs would get you a restored bike in beautiful condition–if it all worked out, that is.
That got me searching for a vintage motorcycle sales here in the U.S. and, lo and behold, I found one. A great one! Walnecks.com has lists of vintage and antique motorcycles that will astound you. There are many old R12/R26/R27 bikes to choose from. But if you're an Indian fan, and I'm talking about the original Indian motorcycles now, then there are Chiefs, Scouts and even a couple straight fours. I didn't find a Scott Flying Squirrel or a Sunbeam, but who knows what'll be there next week?
What does this have to do with airguns? Nothing–yet. But you know that it's coming.
And here it is. When I absolutely cannot look at one more synthetic thumbhole stock wrapped around a bucking, buzzing thousand-foot-per-second .177 breakbarrel with a beer-can trigger, I go to the American Vintage Airguns Forum. I call it my quiet place. Here the guns are old and so are the contributors. If they're young, they sure don't act it. Everyone respects the vintage stuff made in the days before the velocity races began. It's like an airgun show on the internet.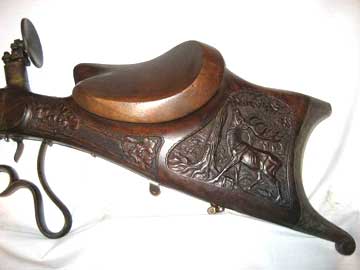 A bas-relief Tyrolean stock. This is an Aydt schuetzen rifle, but that isn't the point. This beauty is what puts me at rest when I'm bummed out.
The nice thing about this place are the friends you make. They're willing to bend over backwards to help a fellow airgunner. I think they're as nice as the readers of this blog, if you can believe that! If you have a question, they'll try to find the answer for you. And some of our most notable readers are also over there, so you won't feel lonely.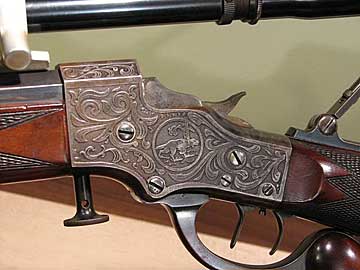 Here's a tastefully engraved Stevens scheutzen rifle. When I see work like this, I can't take my eyes away.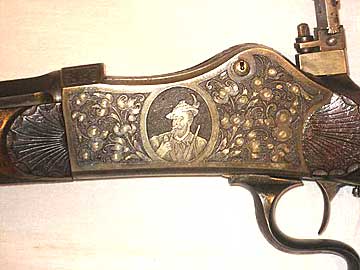 This Martini Swiss schuetzen rifle has traditional Swiss engraving and carving. You don't even have to shoot guns like these to enjoy them.
Anyway, that's how I'm feeling today. I'm gonna get out to the range next week and bust some caps to get my sanity back–or what passes for it.
And THAT, my friends, is why I'm glad I don't judge beauty contests.