by B.B. Pelletier
Well, I wanted to post the velocity results of the Benjamin Trail NP XL1100 today, so the first thing I did was measure the cocking effort for you. No more than 32 lbs., according to my bathroom scale. Wow, I thought. Crosman has found a way around the laws of physics. I'll take three, please!
Then, just as I returned to my desk an email arrived from Crosman informing me that the cocking effort I had inquired about was supposed to be around 38 lbs. Oh, oh! A few shots through the Chrony confirmed that this test rifle was not up to that spec.
The bottom line is this one has to go back to Crosman. They will expedite shipment of a replacement, and I must retract everything I said about the cocking effort until I test that rifle. I still am wildly impressed by what I see, and now I'll get to see a second one.
Sometimes it even rains in Camelot. And when it rains, we make mud pies and splash in the puddles until mother calls us to dinner.
So, casting about for alternative fun, my eyes fell on the Crosman Silhouette PCP pistol, which reminded me of their claim that it would give 50 good shots with a 7.9-grain pellet at 450 f.p.s. So, I decided to do the velocity test today. Actually, I'm doing only the first half of the velocity test, because I was reminded by one of our sharp readers that the Silhouette PCP has a power adjustment. Yes, besides all the wonderful things you already know, you can also adjust the velocity–up to 550 f.p.s. with a 7.9 pellet, says Crosman. That needs to be tested, as well. But, today, I'm doing the yeoman's work of testing the gun as it comes from the factory. Fifty shots at 450 f.p.s. with a 7.9-grain pellet.
Airing up
The pistol arrived with a caretaker charge of about 1,000 psi, and it needs to go to 3,000 for a full fill. This time I used my carbon fiber tank and filled until the needle was centered on the 3,000 mark. The pistol's internal gauge read 2,900 at that point, so the two disagree by 100 psi. Good thing I'm not anal!
How many shots?
Most of you regular readers know the drill by now. I start shooting and record every velocity that comes. If the Chrony misses one, I put in a line to indicate there was a shot that wasn't recorded. That's important, because that unrecorded shot uses just as much air as one that was. After the string is over, we'll look at it to see what we can learn.
Here we go. 3,000 psi fill, Crosman Premier 7.9-grain pellet.
Shot…Velocity
1………..439
2………..442
3………..438
4………..437
5………..446
6………..445
7………..—-
8………..444 (Start useful string at 2,800 psi onboard)
9………..447
10………449
11………451
12………446
13………454
14………449
15………446
16………455
17………455
18………456
19………453
20………451
21………454
22………453
23………460
24………460
25………462
26………459
27………455
28………459
29………460
30………464
31………462
32………466
33………463
34………462
35………465
36………469*
37………464
38………466
39………469*
40………462
41………464
42………463
43………460
44………463
45………465
46………459
47………461
48………464
49………457
50………459
51………457
52………460
53………460
54………456
55………458
56………460
57………461
58………459
59………458
60………460
61………—
62………455
63………460
64………454
65………457
66………452
67………444
68………447
69………448
70………447
71………442
72………441(end useful string at 1,600 psi)
73………438
74………440
75………434
76………435
77………423
78………424
79………424
*Fastest shot in string
With a shot string laid out like that, we can determine a few things. For starters, we can see that Crosman was conservative in their estimates of the useful number of shots. I put in a start point and a stop point on the string. Using the point I chose, which started when the onboard pressure gauge read 2,800 psi, and running to the stop point, when the onboard gauge read 1,600 psi, there are 65 shots in my string.
Another thing we know is the average velocity in the selected string is 457 f.p.s. and the maximum velocity spread is 28 feet per second. The claim of 450 f.p.s. was right on the money. You could cut this data string many different ways to accomplish other things, such as a greater number of shots, for instance, but it does demonstrate that the Silhouette PCP is everything Crosman has claimed and more.
My final comment about today's test is that I am, once again, impressed with Crosman's grasp of a metered valve in a precharged airgun. They're using a fill pressure spread of 1,200 psi to get 65 shots within 28 f.p.s. of one another. That's exacting performance on just a trifle of air.
More on how the gun shoots
I must comment that the bolt on this pistol is far smoother than any I have seen. It's made from hardened steel, and the bolt shaft is a wider diameter; when you pull back on the handle, there's never any binding or hesitation. The action simply cocks smoothly as a non-airgunner would assume that it should. Many years of experience with similar bolt-action pistols that were not this smooth have distorted my perceptions.
And the promised look at the trigger
This time I removed the sideplate for a look at the trigger. As you can see, it's a simple, one-lever type. Some smoothing of the sear that engages the hammer would probably pay off, but don't use a file! Use a hard stone and don't go too far. I doubt these parts are case-hardened any deeper than about 0.15″–if that. Follow up with moly grease. You're interested in stoning a smoother surface–not a perfect mirror finish, which would probably ruin these parts by cutting through the hardened shell and allowing the part to wear.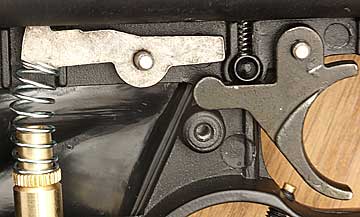 Not much to it. The trigger blade pushes the front of the sear up against the spring tension you set. The rear of the sear pivots down and away from the hammer, releasing it.
The trigger has a spring shim on the back side to remove slop in the pull. All the pins could take the tiniest bit of grease.
Next, I'll try the Silhouette PCP with an optional peep sight Crosman sent with the gun.