To Hop-Up or Not to Hop-Up…It's Up to You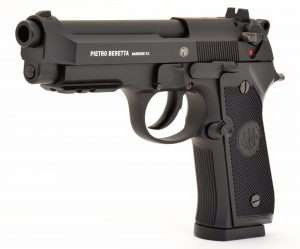 Every so often a reader brings something to my attention that I am unaware of and in the case of the new Umarex Beretta M92A1 it is an internal feature that "technically" should not be there, a "hop-up" device.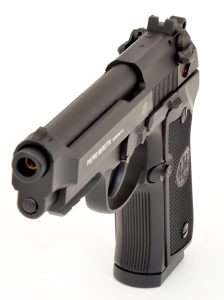 One of the features of blowback action semi-autos that I have been talking about for some time is their authentic design, not only externally, but internally (with the exception of the components needed for CO2 operation), and that also entails how the airguns disassemble for cleaning just like their cartridge-firing counterparts. But here's the rub, I never took the Beretta M92A1 apart for an article….until now.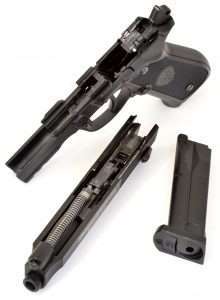 A reader wrote to ask if the hop-up device in the M92A1 BB model actually worked. To the best of my knowledge the BB model didn't have a hop-up, and as it turns out, no one actually knew that the BB version had a hop-up device in the barrel.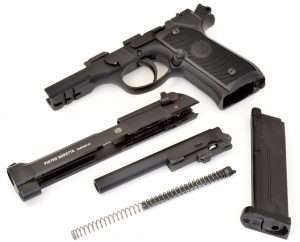 The Basis for the Hop-up in Airsoft Pistols
A hop-up is used to apply backspin to an Airsoft BB in order to change the dynamics of its flight path and increase range and accuracy. While this works on a lightweight 6mm plastic Airsoft BB, which is much lighter than a 4.5mm (.177 caliber) BB, the effect would not be same due to the greater grain weight.
For the Airsoft version of the Umarex Beretta the hop-up device is adjustable and uses a rotating wheel on the underside of the barrel. The adjustment alters the normal force of air behind the plastic BB causing it backspin as it leaves the muzzle. Backspin is actually sports terminology and is used in tennis, golf, and other sports where the ball's travel can be effected by backward rotation. Learning to hit a tennis ball or a golf ball to produce backspin does not come easy (but if you play table tennis you've probably done it). Backspin is intended to create an upward force extending a ball's length of travel, but backspin has other properties. You'll see this in golf when a ball lands on the green, stops for a moment and then rolls backwards on its own. When an Airsoft BB exits the barrel its flight path will be altered as the backspin opposes the pull of gravity. With Airsoft this causes the 6mm plastic BB to have a flatter trajectory and extend its range, but not velocity. It is adjusted by watching the path of the Airsoft BB, which will change with the adjustment. Too much backspin will cause the BB to rise too much, so you need to adjust it until you get the flattest trajectory. Putting this into practice with a BB firing pistol or rifle is different. First, it is hard to watch the path of a .177 caliber steel BB traveling at 300 to 400 fps. Airsoft plastic BBs are also easy to see and only weigh around 0.20 gr. (ideal for pistols) and as much as 0.23 to 0.28 gr. (for rifles), whereas a steel BB is usually 5.1 grains in weight. Putting backspin on a heavier BB with a blowback action CO2 pistol will not have an evident effect at close range.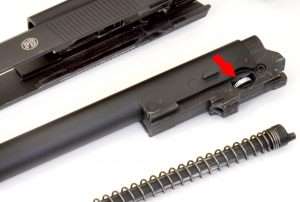 To put it more succinctly, the hop-up in the Beretta 92A1 BB model works and functions almost the same as an Airsoft gun, but since it is difficult to see the flight path of a steel BB it is much harder to make adjustments. The biggest issue is that blowback action .177 caliber air pistols have an optimum range of 21 feet for pinpoint accuracy. A steel BB would have to travel almost 100 feet to show any effects of backspin, at which point blowback action pistol accuracy is no longer a constant. The hop-up works but is not very practical for a .177 caliber (4.5mm) BB pistol, which begs the question, "Why is it in the Beretta 92A1 .177 caliber blowback action semi-auto air pistol?"
For this answer I queried Umarex and here is the official word. "…the hop-up is not effective in achieving close or long range accuracy [with the Beretta 92A1 BB model]. The Airsoft variant [of the Beretta 92 blowback action model] was developed first, which is why the hop-up is present in the barrel's design. It was originally requested that the hop-up be removed from the .177 caliber 92A1 version but it was decided to leave the hop-up for efficiency and to prevent an unnecessary [manufacturing] change since it did not have a negative effect on the pistol's performance."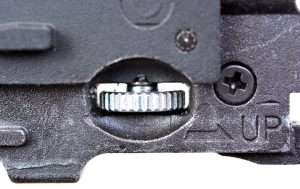 For those of you who have disassembled your M92A1 and found the hop-up device wheel (pictured), making adjustments will produce no appreciable change in accuracy or velocity at close range.
To put this to the test I set up a large cardboard target 100 feet from my shooting bench and fired the .177 caliber M921A1 from a rested position. With the hop-up dialed all the way up, at 100 feet, shots grouped wide (as anticipated) and hit about 20 inches below POA. The best group out of 10 (indicated by a circle around each shot) was an impressive trio measuring 0.75 inches with the entire 10-round circumference being a somewhat disappointing 11.5 inches, but then again this is at 100 feet for a blowback action air pistol designed to shoot its best at 21 feet.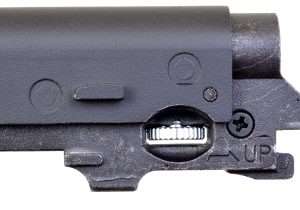 With the hop-up dialed back down to the original setting, shots initially hit below the bottom of the target board from 100 feet using the same POA. I determined that raising POA by 5-inches (right at the very top edge of the target board), groups would hit on target (indicated by an X in a circle) still low and wide, producing a best pair at 0.90 inches and a total circumference for 10 rounds of 14.75 inches, increased by two shots hitting at the extreme lower corners of the target. At 100 feet, accuracy with the M92A1 is marginal either way, but all shots with adjusted POA were still on the 19×27 inch target board.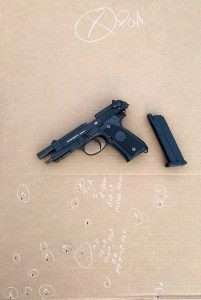 Why would you shoot a blowback action air pistol at 100 feet? For one thing you can understand the effects of gravity on a 5.1 grain .177 caliber steel BB traveling downrange at 330 fps, and how much to hold over to hit the target at that range. This test was not so much of a why, but rather a "what does the hop-up do for the .177 caliber M92A1?" Dialed all the way up, it shoots a little better at 100 feet, but overall, as Umarex says, the difference with the hop-up in the 1.77 caliber BB model is negligible.
A Word About Safety
Blowback action airguns provide the look, feel and operation of their cartridge-firing counterparts and this is one reason why they have become so popular. Airguns in general all look like guns, blowback action models more so, and it is important to remember that the vast majority of people can't tell an airgun from a cartridge gun. Never brandish an airgun in public. Always, and I can never stress this enough, always treat an airgun as you would a cartridge gun. The same manual of operation and safety should always apply.