Pellets Downrange from the Shortest Barreled CO2 Wheelgun on the Market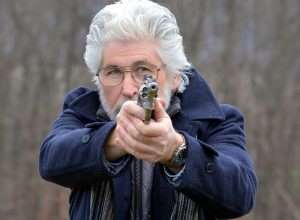 I have always liked short barreled revolvers and have carried them for more than 30 years so that makes the ASG Dan Wesson 2-1/2 inch snub nose 4.5mm model a very desirable airgun. I'm sure this is the same for many of you who have carried or own "classic" S&W, Colt and DW snub nose wheelguns. If revolvers were the anachronism that some people believe them to be in the 21st century, there wouldn't be hi-tech polymer frame models today from manufacturers like Ruger and Taurus, or S&W's scandium alloy frame 340 PD and other lightweight snub nose models, as well as the fact that S&W has maintained the production of its original Chief's Special (Model 36) after more than six decades! But, as the sole, rifled barrel, 4.5mm cartridge loading CO2 snub nose revolver on the market, the Dan Wesson Model 715 is literally in a class by itself.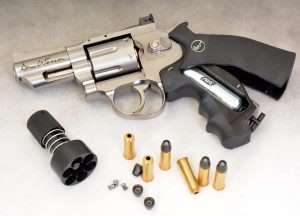 Hard to lose when there's no competition?
You have to treat the Dan Wesson CO2 model like a best in show dog in a national competition, the dogs are not being judged against each other but rather against their own breed standard. The ASG Dan Wesson has a lot of the best aspects of the real .38/.357 magnum pistol, so that is where you start. Fit and finish stand out, for an air pistol this is a good looking handgun. It has a solid fit, the cylinder release, albeit the wrong style for a Dan Wesson, works easily as well as serving as a reliable safety mechanism for the air pistol. The ASG Dan Wesson has a clean, very realistic look and all of the functioning features of the cartridge-firing model. Trigger pull averages 7 pounds, 15 ounces DA and 5 pounds, 14 ounces SA. As for weight and balance, the 2-1/2 inch revolver tips the scales at 29 ounces empty and is hand filling with the over-sized grips. A smaller grip profile would be preferable for this pistol, but it's not a deal breaker. Even the .38/.357 Dan Wesson is a hefty pistol compared to an S&W Model 36 or Colt Detective Special; the Dan Wesson is more the size of a Colt Python or Colt Diamondback.
For shooting practice at a normal combat distance of 25 feet, handling the ASG Dan Wesson is as close as possible to matching up with a real .38/.357 magnum snub nose revolver. And as for the absence of recoil, while not an asset to training with air, it still allows all of the fundamental aspects of proper handling, loading, reloading, sighting, and firing to be applied.
For the range test, it was once again too cold outdoors for CO2 pistols, so the test was done indoors at a distance of 25 feet, a good combat range for any 2-1/2 inch barrel length revolver, whether cartridge or pellet firing. The ammunition was 4.5mm, 7.0 gr. Meisterkugeln Professional Line lead pellets.
The ASG Pellet Cartridge Option
If you're tired of screwing around with the Dan Wesson pellet shells (and I mean that in a nice way) and the speed loader that comes with the Dan Wesson (extra shells are also sold in sets of 12), ASG has an alternative with their one-piece Dan Wesson brass pellet shells, which come 25 to the box, and load the 4.5mm lead pellets in the back of the cartridge, where the primer would normally go on a real .38/.357 magnum round. They're not as realistic looking and are not stamped DAN WESSON on the rims, but they are much faster to load. As for using them in the speed loader, that's a no go because the rims are too thick for the speed loader and they won't release. But, not to worry, the rims are close enough in size to a .38/.357 magnum cartridge to work perfectly in a Bianchi .38/.357 magnum Speed Strip, another faster and effective way to load a swing out cylinder. Speed Strips are also easier to carry than speed loaders. The Bianchi Speed Strips, (manufactured by Safariland) are readily available in most gun shops.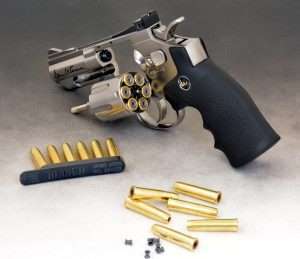 With an average velocity of 400 fps the 4.5mm Meisterkugeln pellets slammed into my baffle box target backer with a loud thump. For accuracy, all tests were shot using a two-handed hold, Weaver stance, and firing the Dan Wesson single action. I found no noteworthy difference between the threaded shells and the one-piece pellet shells for accuracy.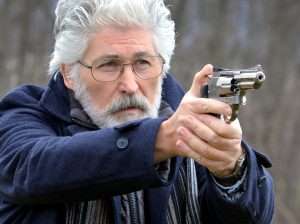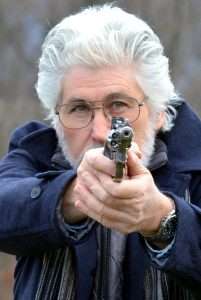 My best 12 round group (one reload on the same target) produced an overall spread of 2.0 inches in the 9, 10 and X rings, with 10 of 12 inside 1.75 inches and a best 5-rounds in the X measuring 0.75 inches.
Overall, this is not only a very good and authentic-handling copy of the Dan Wesson .38/.357 magnum revolver; it's also a pretty accurate handgun for target practice. Granted, if you're a snub nose revolver enthusiast it's the only game in town, but it's a pretty good game!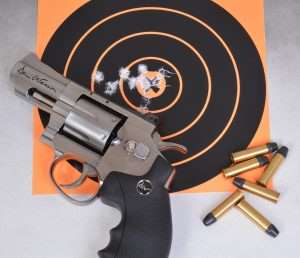 A Word About Safety
Double Action/ Single Action airguns provide the look, feel and operation of their cartridge-firing counterparts. Most airguns, in general, look like cartridge guns, this Dan Wesson 2-1/2 inch snub nose more so, and it is important to remember that the vast majority of people can't tell an airgun from a cartridge gun. Never brandish an airgun in public. Always, and I can never stress this enough, always treat an airgun as you would a cartridge gun. The same manual of operation and safety should always apply.