Best Options for an Entry Level Air Pistol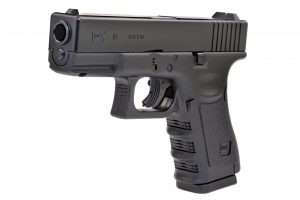 I like to think of myself as a "the CO2 cartridge is half full" kind of guy and hope that airgun manufacturers eventually get everything right. But I have learned that sometimes you just have to be overly optimistic. It's like major league sports; you hope your team is going to win the championship every year even though you know from experience they'll probably never make it to the semi-finals. But it does happen once in a great while, so there is always a glimmer of hope. I was disappointed with the first Umarex HK USP when it came out as a non-blowback model some years ago. After a long wait, in 2018 they hit it out of the park with the new blowback action USP, currently a serious contender for my Air Pistol of the Year. So, let's take a second look at another non-blowback with the promise of greater things to come, the Umarex Glock 19, a pistol that was actually less disappointing than it appeared. This mid 2018 offering was a big surprise in ways that other non-blowback models have disappointed. For one thing there is the potential versatility of this entry level air pistol to lay the groundwork for a follow up blowback action model, very much like the first HK USP. When that will happen is a little uncertain, hopefully not as long as the USP, but what can the current G19 model accomplish in the interim?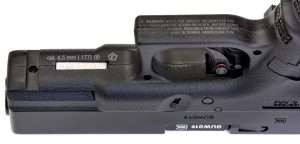 Everything is right but…
There is a simple Glock mantra; if you know how to handle one Glock pistol, you know how to handle every Glock pistol (unless, of course, you happen to get your hands on a select-fire G18). It is that consistency since 1982 that finally led to the much anticipated licensing agreement with Umarex to produce Glock's first CO2 training model. As basic as this non-blowback, stick magazine-fed offering is, it is so close in design and "basic" handling to an actual G19 that it is almost indistinguishable except for not bearing the caliber markings on the left side of the slide and having a slightly wider Picatinny rail and triggerguard, which makes it unsuitable to fit some Glock 19 holsters. That, more than anything else, is the most disappointing feature of the air pistol, it is only a fraction of an inch off but sometimes that's all it takes. What the entry level, (i.e. very affordable) new model delivers is a CO2 pistol that makes no other compromises in size and shape, sighting, trigger design or balance, with the exception of the mandatory manual safety, which is truly redundant given that the air pistol has a Glock-type Safe Action trigger. It even has an impressively clean right side free of bold faced white warnings and maker's marks. It is all discretely hidden on the underside of the triggerguard and dustcover in magnifying glass sized type.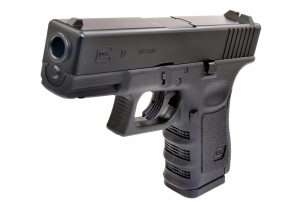 The fine attention to details in the CO2 model is evident in the slide which has the fit of a separate barrel, slide and extractor, and a slide lock (for disassembly of centerfire pistols). While none of these features function, they look correct. Same for the slide release on the left side. The air pistol even has the manufacturers mark panel above the right grip that reads: Officially Licensed Product of GLOCK. And the finish on the air pistol is about as close to the finish on a Glock as you can get. As a training gun it fulfills all of the entry level requirements at a price (around $70) usually associated with CO2 pistols of either generic design or lacking in the fine details of the gun they are based upon. The Umarex Glock succeeds in delivering the look and feel of a much more expensive CO2 pistol.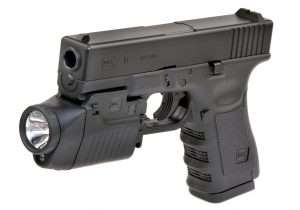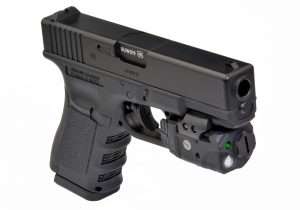 Dressing the Glock 19
As I pointed out in the original June review of the Umarex G19, it is accurate enough in design to mount the actual Glock tactical light and laser (GTL 22) from the centerfire pistols. Of course, unless you already have an actual centerfire Glock, odds are you're not going to spend $285 to put a GTL 22 on a $70 air pistol! However, there are more affordable tactical lights and lasers that can work on either a centerfire or CO2 model. For this review I am using a Crimson Trace Rail Master Pro (which also sells for over $200 but I happen to have one on hand), and a much more affordable LaserMax Spartan red laser which sells for about the same as the Glock CO2 pistol, and is available from Pyramyd AIR.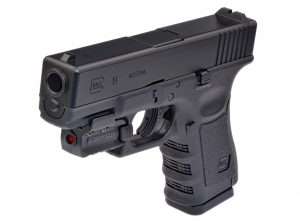 Using the Crimson Trace Rail Master Pro, the G19 CO2 model, which has already proven itself to be quite accurate at 21 feet, delivered 10 rounds, fired at 1 second intervals, into 1.56 inches with a best 5-shot group measuring 0.75 inches. Switching to the more affordable LaserMax Spartan the G19 put 10 shots at 1.06 inches with the best five steel BBs clustered into 0.56 inches. For training and affordability the G19 and LaserMax are a good team, and at a reasonable $160 for both.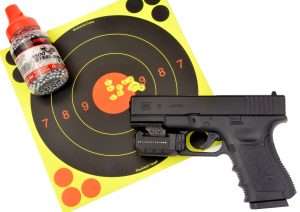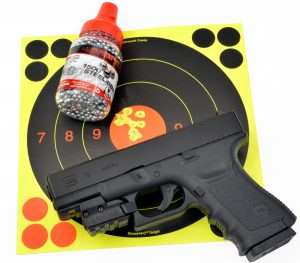 Packing a G19
The Glock 19 was designed as the compact version of the G17 and better suited for concealed carry use by law enforcement, military and civilians. As I noted, the air pistol is off a fraction in width, enough so that it won't fit some injection molded tactical holsters. One that it will fit is the ASG Strike Systems Tactical Gear Holster G. This rig is a Level 1 locking holster with about a $20 price from Pyramyd AIR. Toss this into the mix with the gun and you are under $100. A spare magazine for the G19 is about $10. See where I'm going with this? You can put a decent Glock 19 training gun package together for about $190; gun, ASG holster, Spartan red laser and spare 16-round magazine. That's an airgun experience just about anyone can afford.