by Tom Gaylord
Writing as B.B. Pelletier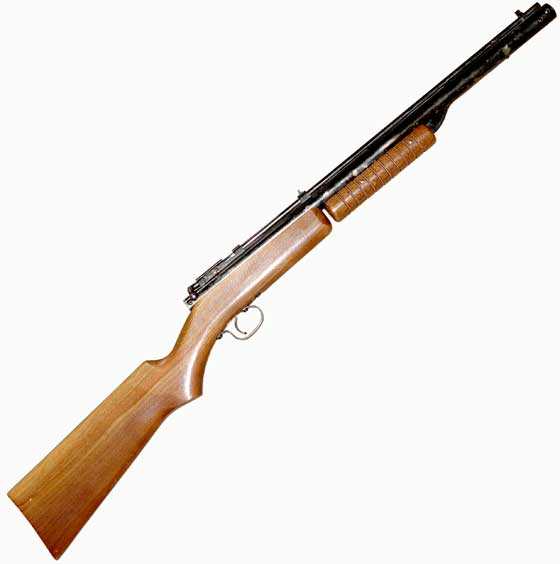 A Benjamin 310 multi-pump BB gun from 1952.
This report covers:
Point 1 — does it hold air?
Discussion 1
On to the velocity tests
Test 1
Test 2
Test 3
Test 4
Other BBs
Test 5
Test 6
Test 7
Test 8
Summary
This report is taking on a life of its own! I am going very slowly and thoroughly through the testing of this Benjamin 310 BB gun to record everything for posterity. In Part 3 I started the velocity test and today I intend completing the steel BB portion of it.
Does it hold air?
My last report is dated Friday, September 2, 2018. That means I tested the airgun on Thursday, September 20. While you are reading this report on Monday, October 8, 2018, I actually wrote it on Friday, October 5. That means the tests you are about to read were also performed on that day. First I wanted to see whether the gun is still holding the two pumps of air I pumped into it at the completion of the last test on September 20. A total of 14 days and several hours have passed and I have not touched the gun since the last time. Is it still holding air?
It is! That means that the automatic transmission sealant I used to repair the fast leak in Part 3 has fixed the leak, and the gun is now holding air indefinitely. So — the automatic transmission sealant I have been telling you about for many years really works as I have described. You can't argue with success.
Discussion
We heard from several readers, the first of whom was a new guy who calls himself Oldradioguy. He has a Benjamin 3100, which is a more modern version of the gun I'm testing. He said his gun shoots Daisy BBs at 705 f.p.s. on just 5 pumps. He also said that 2 or 3 pumps are good for the mid-500s with air remaining in the gun. So the performance I reported in Part 3 might be common to the model.
Reader thedavemeister research the Benjamin 310 online and found a report from Dennis Baker of bakerairguns that said a 310 he was selling produced velocities of 688 f.p.s. with steel BBs. No other data was given, but that does support the power we are seeing with my test gun.
Reader Halfstep wanted to know if the inside of the 310 breech was made to interface and seal the hollow bolt in any way. I said I would look. I did and saw that the bolt is sealed by a angled shoulder behind the hollow probe. I already showed that to you in Part 2 of this report.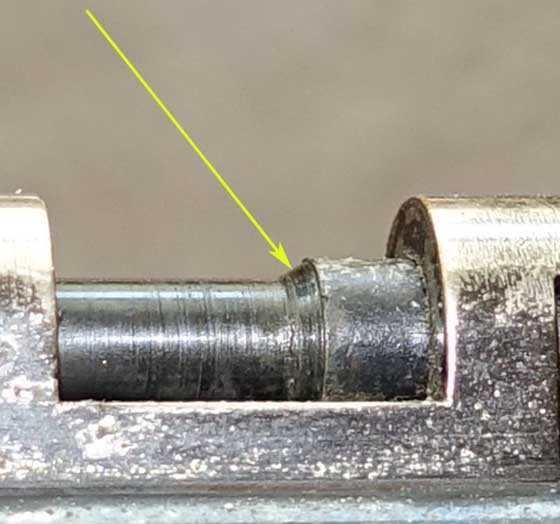 The angled shoulder on the bolt body (arrow) mates with the rear of the barrel to seal the air inside the gun.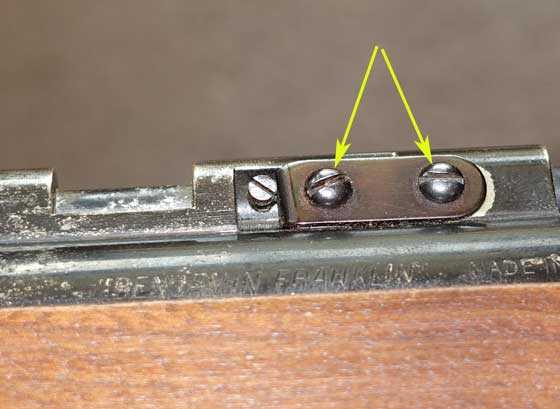 This cam plate on the left side of the receiver can be adjusted by loosening the two locking screws (arrows) and sliding the plate forward (to the left in this photo) As the bolt closes the screw on the bolt body rides up the cam plate, pressing the bolt shoulder forward into the breech and sealing the air inside.
Inside the breech that angled bolt shoulder mates to an identical and opposite angle in the breech to seal the bolt. There are no other seals of any kind, just these mating parts. The hollow bolt probe simply sticks up into the smoothbore barrel. I can't see in far enough into the breech to see if the end of the bolt butts against a shoulder in the breech, but I would think it is designed that way. I guess that's why it's important to seat the BB in the bolt nose during loading.
Reader Shootski asked what kind of velocity one pump would give. I will test that today.
On to the velocity tests
Now it's time to resume the velocity tests. Since others have reported such high velocities with their 310s, I decided to pump the gun 8 times to see what it will do. I shot a Daisy BB for this test. The gun was emptied of air then pumped 8 times before the shot.
Test 1
Daisy BB on 8 pumps
Shot…………Velocity
1………………509, 244
That was a surprise, since I'd gotten 655 f.p.s. with the same BB on 5 pumps in the Part 3 test. But when I read all of Part 3 I saw that I had also gotten as low as 561 f.p.s. on 5 pumps. I decided to rerun the test where I empty the gun then pump it two times, fire, and refill with one pump to fire again. I will do this until the velocity stabilizes.
Test 2
Daisy BB on 2 pumps
Shot…………Velocity
1…………….…477
+1 pump………446
+1 pump………420
+1 pump………399
+1 pump………387
+1 pump………389
+1 pump………393
The velocity seems to have stabilized around the 5th shot. And it's low enough to make me wonder what the gun will do on a single pump. That test was next.
Test 3
Daisy BB on 1 pump
Shot…………Velocity
1………………351, some air remaining for one more shot without power.
I emptied the gun and ran the same test a second time. Here are the results.
Daisy BB on 1 pump
Shot…………Velocity
1………………361, some air remaining for one more shot without power.
Based on those two tests, I think the rifle on two pumps followed by one pump is gradually loosing air pressure. It doesn't make it down to the velocity with a single pump of air though. That begs another test.
What will the velocity be if I pump the gun just one time and shoot, then pump once more and shoot and so on? I will try this for a few shots.
Test 4
Daisy BB on 1 pump
Shot…………Velocity
1…………….…357
+1 pump………386
+1 pump………393
+1 pump………389
Interesting! The gun builds to around 390 f.p.s. and then holds there. After the last shot there was still some air left in the gun, but not enough to power a BB. It seems the gun wants to stabilize at the same velocity, whether it's coming down from an initial two pumps or increasing from just one pump per shot. This might be the best way to shoot darts.
Other BBs
I Part 3 I said I would test other steel BBs in the 310. I think the results are going to be close to what we see with Daisy BBs, but if not I can always design another test.
Hornady Black Diamonds
Next up are Hornady Black Diamond BBs. I will use the test where the gun is pumped two times, followed by one pump and so on.
Test 5
Hornady Black Diamonds on 2 pumps
Shot…………Velocity
1…………….…493
+1 pump………454
+1 pump………419
+1 pump………395
+1 pump………393
+1 pump………393
+1 pump………385
+1 pump………392
Like I thought, Hornady BBs preformed very similar to Daisy BBs. Maybe they are just a touch faster is all.
Test 6
Daisy Match Grade shot on 2 pumps
The last steel BB I will try is the Daisy Match Grade Shot that is made specially for the Daisy 499 Champion BB gun — the world's most accurate BB gun. I will perform the same test as I did for the Daisys and Hornadys.
Test 7
Daisy Match Grade Shot on 2 pumps
Shot…………Velocity
1…………….…501
+1 pump………480
+1 pump………453
+1 pump………433
+1 pump………415
+1 pump………418
+1 pump………413
+1 pump………412
+1 pump………402
+1 pump………401
+1 pump………403
+1 pump………405
Another interesting result. I mentioned in Part 3 that we know Daisy Match Grade Shot is slightly larger than other steel BBs, so a slight velocity increase is expected. Since the velocity was remaining pretty constant I tested this one a little longer to see where it would stabilize. I looks like the Daisy Match Grade Shot will remain around the 400+ f.p.s. velocity.
These results made me want to try one final test. How will the Daisy Match Grade Shot do when we start with one pump and keep adding one pump after each shot? We can compare the results to Test 4 where I did the same test with standard Daisy steel BBs.
Test 8
Daisy Match Grade Shot on 1 pump
Shot…………Velocity
1…………….…354
+1 pump………399
+1 pump………407
+1 pump………406
+1 pump………402
+1 pump………404
+1 pump………400
Very interesting and enlightening! The Match Grade Shot rose in velocity faster than the standard Daisy BBs and then stabilized at around the same velocity that it did when it came down from two pumps. I think that means these Match Grade Shot, being slightly larger than other steel BBs and also more consistent in size, are best-suited to the bore of the 310. That tells me to expect the larger lead shot to perform well when we test it for velocity next time.
Summary
The Benjamin 310 continues to provide intrigue. It seems to be changing in power as the test progresses. By the time we get to the accuracy test I should know the gun quite well.