by Tom Gaylord
Writing as B.B. Pelletier
Today's report is another guest blog from reader Ian McKee who writes as 45 Bravo. He's going to tell us about a great find he made recently.
If you'd like to write a guest post for this blog, please email me at blogger@pyramydair.com.
A history of airguns
Over to you, Ian.
Vintage airguns and flea markets
Ian McKee
Writing as 45 Bravo
This report covers:
Helping BB
A good fit
Opportunity
Sold
Description
Operation
Editor's note
Better find!
Best find
Helping BB
While B.B. was roaming around the SHOT Show 2020 last week, collecting all the secret intel on the new toys we can look forward to this year, I am trying to take a little load off of him by writing a couple of guest blogs.
A good fit
My niche seems to be vintage airguns. B.B writes about their history; I write about how to keep them going.
He shows you how to repair the springers, I show you how to repair the gas guns. It's a win win situation. On to today's blog.
Vintage airguns and flea markets — I'll buy that for a dollar!
Opportunity
We were coming back from Fort Worth a while back and saw one of the perpetual "ESTATE SALE" signs on the side of the road. We weren't in a hurry, and I wanted to stretch my legs for a bit.
My wife and I walked around and just looked for a while. Then I spotted a Crosman 1008 8 shot pellet pistol in a bin. And then in another bin I found a still-carded Crosman Speed Loader Kit that included 3 pellet clips, and a carry case for the extra clips, for the same 1008 pistol.
The pistol seemed to work mechanically, and my curiosity got the better of me.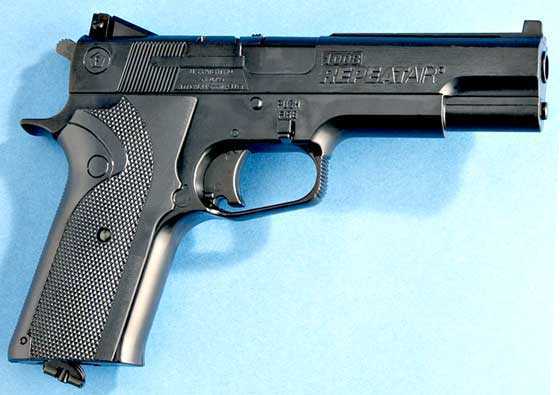 Crosman 1008 RepeatAir pistol.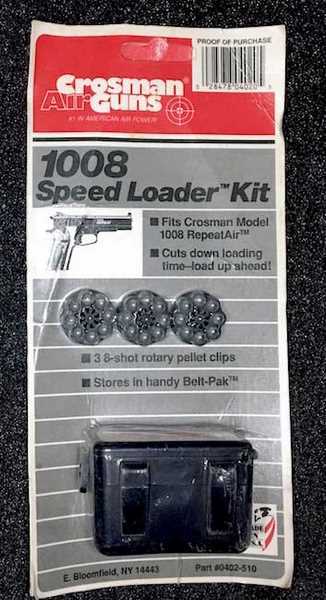 These clips have never been out of the card!
Sold
I asked how much, expecting to hear some inflated price. I was surprised when he said a dollar each. SOLD!
The 1008 was modeled after the Smith and Wesson 10mm caliber 1006 semiautomatic pistol made from 1990-1995. It looked enough like a S&W 59 that I had carried for years when I was younger that, if for nothing else, for one dollar, I would hang it on the wall for the memories.
B.B. did a 3-part review of the Crosman 1088 (the younger brother of the 1008) back in 2009, and a short review of this model as an airsoft pistol back in 2005. So this model has been around for a while.
Description
The 1008 is a 8-shot CO2 repeater made mostly of plastic. It uses 8-round circular pellet holders that I will call clips. These are inserted in the top of the gun that opens like a break-barrel shotgun.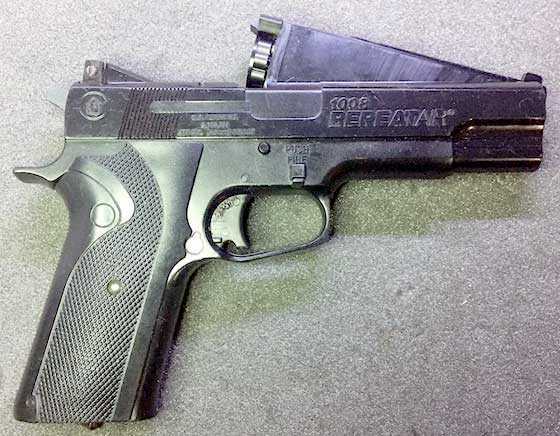 The pistol opens like this to insert a clip.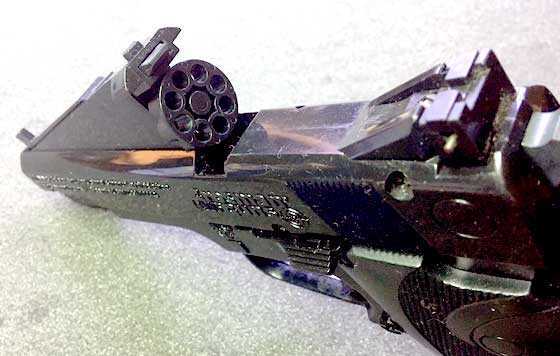 This is how it looks from the rear.
This pistol has a rifled barrel, I hope it will be accurate with the better pellets we have today, versus what we had available in 2005.
Operation
The circular pellet clips are advanced 1 position with each pull of the trigger. It can be fired either double action, or single action. But in the single action mode, when you cock the hammer, the pellet clip is not rotated until you pull the trigger.
The trigger in single action mode is surprisingly good. It has a lot of travel in stage 1, as it rotates the pellet clip. Then it hits a definite wall, and then breaks cleanly.
The CO2 cartridge is loaded under the right side removable grip panel.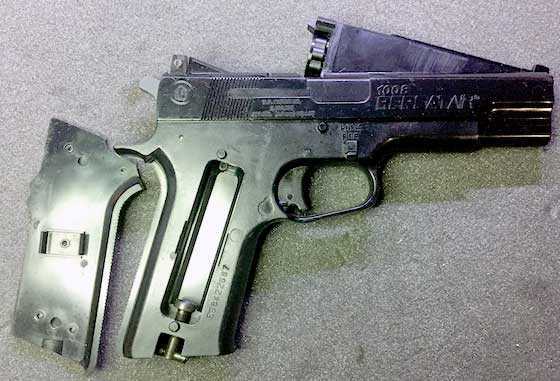 The right grip comes off to load the CO2 cartridge.
The pistol weighs 1lb. 2.5oz (526grams) unloaded. It has nice target style sights with no fiber optics, and the rear sight is adjustable for windage and elevation. The adjustments do not click, but they are firm.
This one does leak, I tried the ATF sealant, but it did not help the leak. So it appears it needs surgery.
A reseal kit is on the way so we will learn together how to resurrect this vintage airgun.
And yes I will test the velocities in both single action, and double action.

Ian
Editor's note
I can't resist! Many years ago (35?) I was at a local flea market in Columbia, Maryland and I saw a Crosman 111 pellet pistol on a vendor's table. The lady wanted $30 for the boxed gun, and I gladly paid it. It came complete with the 10-ounce bulk-fill tank that was still half full. Even the original owner's manual was still in the box!
When I got it home it was still holding gas for 30 powerful shots. I shot that gun for another year before I had it resealed.
Better find!
My wife, Edith, was so impressed by that purchase that she became my bird dog at that flea market. Over the years we both found a great many airguns. The last one that she found in a dealer's junk case was a gun I had passed by several times. But she really liked the look of it. The price was $10 but she bargained the seller down to $5.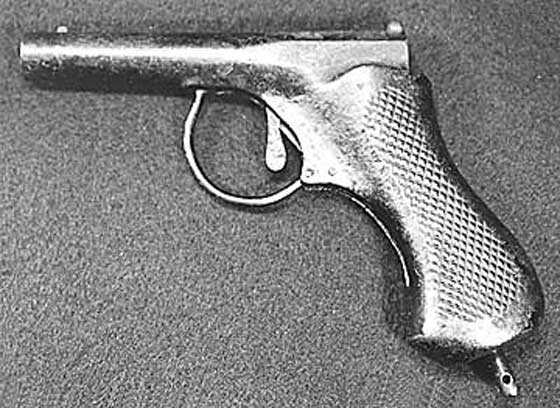 This "carnival squirt gun" is an 1872 Haviland and Gunn BB pistol Edith stumbled on for five dollars!
The vendor thought it was a carnival squirt gun that people shot at balloons to win prizes. But what it really turned out to be was a Haviland and Gunn BB pistol from the 1870s that Edie eventually sold for $450 when we closed down The Airgun Letter and needed money to refund subscriptions.
Best find
But the drop-dead best find I have ever seen was at the Roanoke Airgun Show a long time ago. A friend of mine named Wayne Fowler came down to the show, but on the way he and his wife, Karen, stopped at a small antique/consignment shop. He found a Daisy wire stock BB gun. Now that gun came in several versions and some are as cheap as $1,200 today. But Wayne's was one that didn't say Daisy on top. It only said Plymouth Iron Windmill Company. In other words, it was one of the first ones ever made. A top collector told him it was only the 5th or 6th one of that model he had ever seen and could be worth as much as $10,000!


Daisy made this replica of their wire-stocked first model several years ago. They are now increasing in value as collectors' items just like the originals.
So the buys are definitely out there and they always will be. One man's trash …