by Tom Gaylord
Writing as B.B. Pelletier
This report covers:
Umarex — Ready Air compressor
Fusion 2
Umarex Origin!
Umarex 850
Umarex Reign
Walther PPQ M2 pellet pistol
M1A Thompson
Glock 19X
ASG — Shadow 2 steel BB pistol with Hop Up!
B&T Universal Service Weapon (USW)
Crosman — semiauto Marauder
Havoc Prime dart blaster
Summary
Well, we are back at it and there is lots more to see today. We will start with Umarex.
Umarex — Ready Air compressor

Mark Davis from Umarex USA showed me this handy portable air compressor they call the Ready Air. It runs on household current or a 12-volt car battery, so it can be taken to the field. It has all the specs that new airgun compressors are coming with — light weight, set-and-forget operation, 4500 psi fill limit, reliable and durable construction. Blog reader Jim heard it run and says it is very quiet.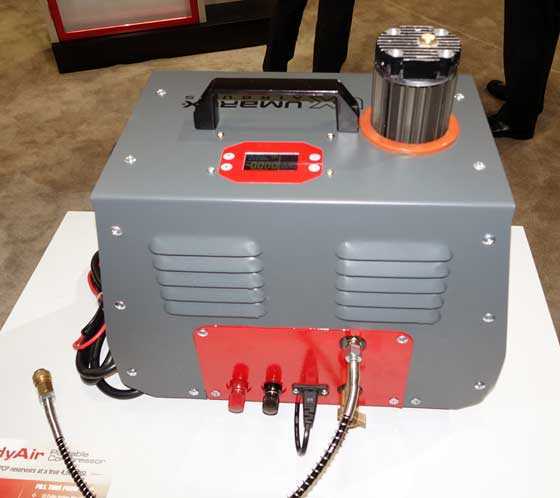 The Ready Air compressor seems light and compact. It's for guns only and can handle 35 cubic inches, which is the Umarex Hammer reservoir capacity.
Big deal
And here is the big deal. The RETAIL price will be $500! Yes, that's right — five hundred dollars. Is 2020 the year for Price Point Compressors?
Yes, of course it is made in China and of course you can get a Chinese compressor for less on Ebay, but your compressor hasn't been vetted by people who know about and care about airguns. Your compressor doesn't have a support center in Fort Smith Arkansas. That is the difference. And, if my reading on the forums is correct, buyers of those off-branded compressors are waking up to that fact.
Fusion 2
The new Umarex Fusion 2 is an upgraded CO2 rifle based on the original fusion that I tested back in 2013. It's still a quiet little tackdriver with a great adjustable trigger. But this new one uses 88-gram CO2 cartridges, so you get a lot more shots. Twelve-gram cartridges can still be used with an adaptor, so you have a choice!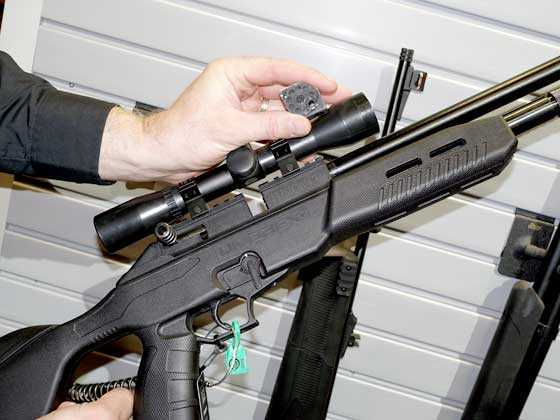 The Fusion2 is as good as the original with the added ability to take 88-gram cartridges!
Umarex Origin!
Is this the big news at Umarex this year? Well, they aren't hammering it into us, but I think it might be! It's a price-point PCP that comes WITH A PUMP for $350! Now — that is how it's done, folks! You offer a COMPLETE package at a reasonable price. This one features 10-shot magazine, sidelever cocking, pressure gauge on the side and it comes in .22!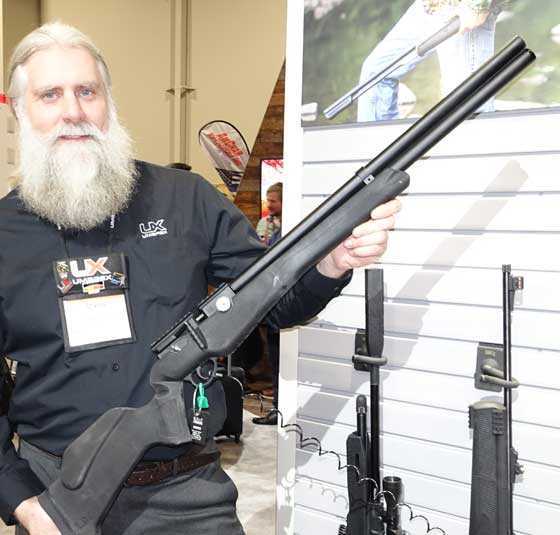 Mark Davis holds the new Umarex Origin.
If this one is accurate and reasonably quiet, Umarex won't be able to keep them in stock. Brother-in-law, Bob, watch this one!
Umarex 850M2
Someone asked me to check out the Hammerli 850 Air Magnum. Well — it isn't called that anymore. It's now the Umarex 850M2. It looks pretty much the same as always, but time will tell. It's been a long time since I tested the 850, so perhaps 2020 is a time to revisit?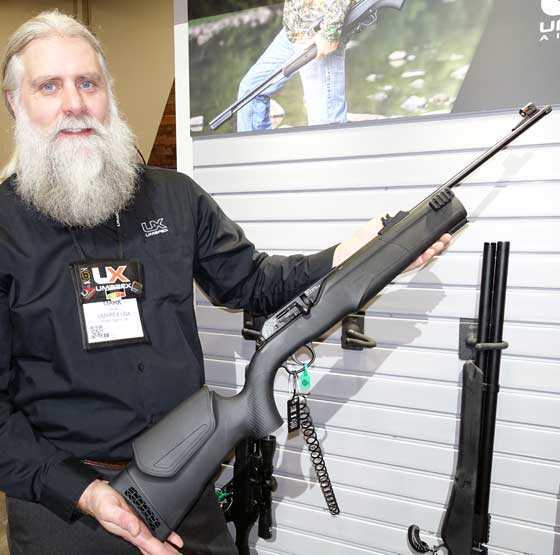 The Umarex 850M2 replaces the Hammerli 850 Air Magnum.
Umarex Reign
The Reign is a rifle I didn't get to test last year, so I have to test the upgraded one this year. It's a bullpup that's fully ambidextrous. The sidelever cocking switches from right to left without any tools! It comes in .22 and 25-calibers for hunters. And the regulator keeps it consistent, shot after shot.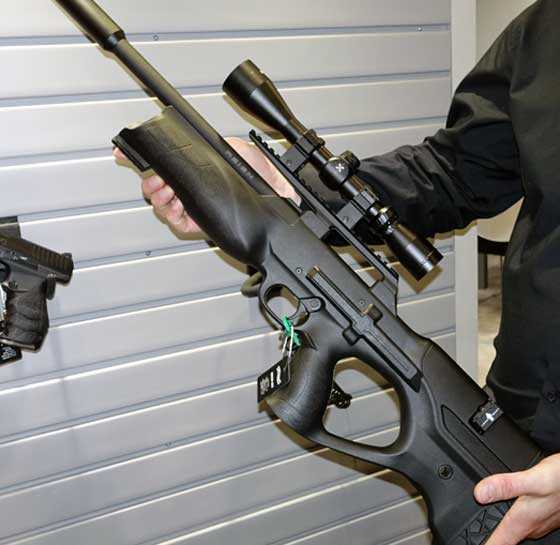 The bullpup Reign is regulated.
Walther PPQ M2 pellet pistol
Yeah, yeah, it's another lookalike CO2-powered pellet pistol. So what?
Well, this one has a BELT-FED magazine for pellets, guys! Yes, the world of 8 rounds has been advanced to 20 this year. That's the news!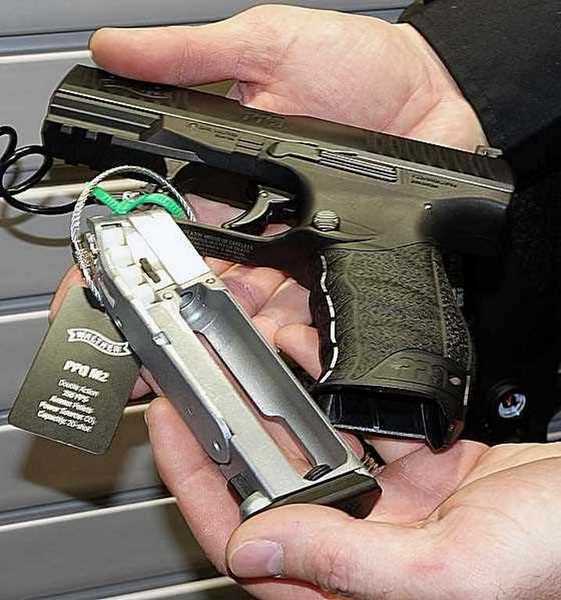 That's right! The new Walther PPQ has a 20-round belt in the magazine!
M1A Thompson
Remember the Legends MP40 that BB got so excited about (that he bought one!)? Here we go again. This time it's the Legends M1A — a military version of the famous Tommygun. They can't call it a Thompson for trade reasons, but I sure can!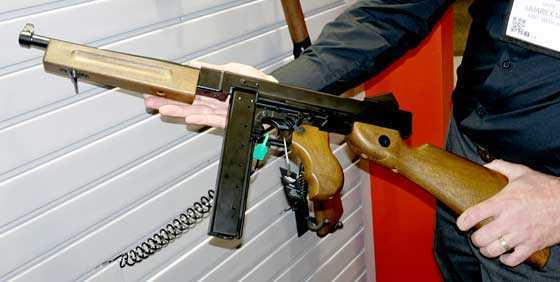 Here it is — the M1A1 submachinegun.
The .45 ACP firearm came with 20-round stick magazines in World War II and this one does too. It holds 30 BBs and fires from the open bolt. You bigger guys will appreciate the gun's very long pull! As compact as it is, you feel like you're holding daddy's shotgun when you shoulder it.
Glock 19X
Then Mark showed me the new Glock 19X BB pistol. It features half-slide blowback and looks very realistic. Of course, he said, the new AIRSOFT model is full blowback and extremely realistic. Then I told him that airsoft was back on my beat and we started talking!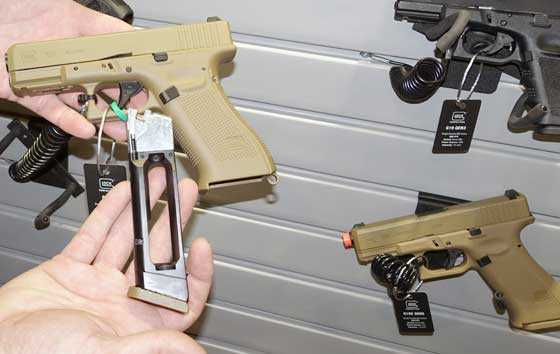 He's holding the Glock 19X BB pistol, but the airsoft pistol is at the lower right. It can use CO2 or green gas, depending on the model.
ASG — Shadow 2 steel BB pistol with Hop Up!
You read that right — a BB pistol with adjustable Hop Up! Talking to Action Sport Games (ASG) representative, Bob Li, I learned that the CZ 75 Shadow 2 airsoft pistol I have been testing will now come out as a steel BB pistol, too. And here's the big deal — it will be the first steel BB gun to have adjustable Hop Up! He told me to expect it in July.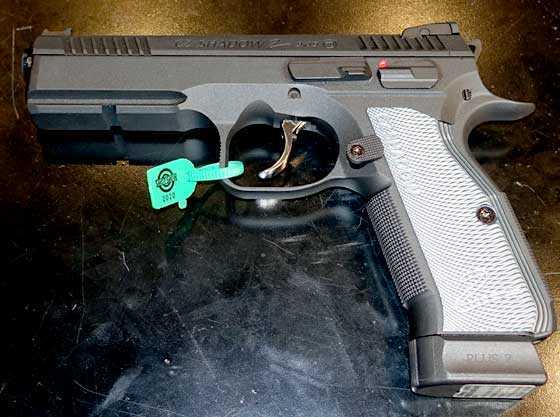 It looks like the Shadow 2 airsoft pistol, but this one shoots steel BBs and has adjustable Hop Up!
B&T Universal Service Weapon (USW)
The other gun I saw at ASG is an airsoft pistol — the B&T USW pistol. This looks like a fun gun to shoot and it has a collapsable buttstock that deploys in an instant.

The airsoft ASG USW is a cool-looking service gun. The buttstock collapses in an instant!
After looking at the USW I decided I needed to test one — even if Pyramyd AIR doesn't carry them. It should be out by July, as well. Would you like to see THIS one in as steel BB gun with Hop up? Wouldn't THAT be too cool for school?
Crosman — semiauto Marauder
I know you guys are interested in this rifle and have possible seen other quick looks at the new Marauder. So, when Crosman product manager Phillip Guadalupe showed it to me I looked with you guys in mind.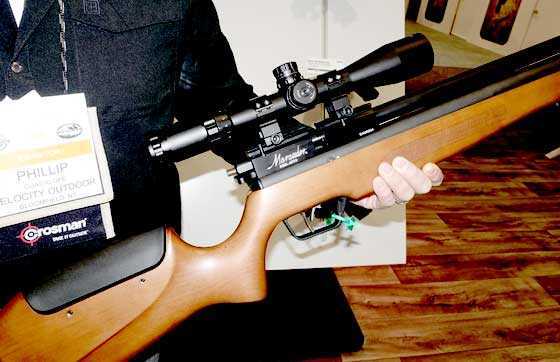 The new semiautomatic Marauder is attracting a lot of interest.
What about the trigger? Well, because this is a semiauto and the sear has to be caught on the fly, this rifle doesn't have the same trigger as the conventional Marauder. The first stage is very long and to tell the truth I could not feel stage two. The rifle just fired. The trigger is somewhat adjustable but not as much as the Marauder trigger you are used to.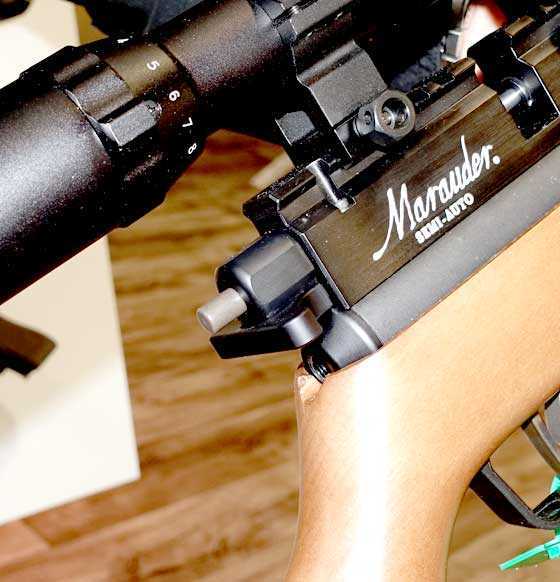 The semiauto Marauder is cocked with a charging handle.
The new rifle is a little more powerful than the conventional Marauder. Crosman says 29 foot-pounds in .22 caliber and the regulator helps you get 60 shots on a fill. I have to test one as soon as I can.
Havoc Prime dart blaster
This is Friday so I want to leave you guys with smiles on your faces. For that Phillip showed me the Havoc Prime dart blaster — a pump-action nerf gun that shoots foam "darts" at 130 f.p.s. Other nerf guns are only half that fast. And this one is rifled! Grandpas of the world, here is another one for you to make trouble with, and this one will probably get you in trouble with Grandma, so a second benefit!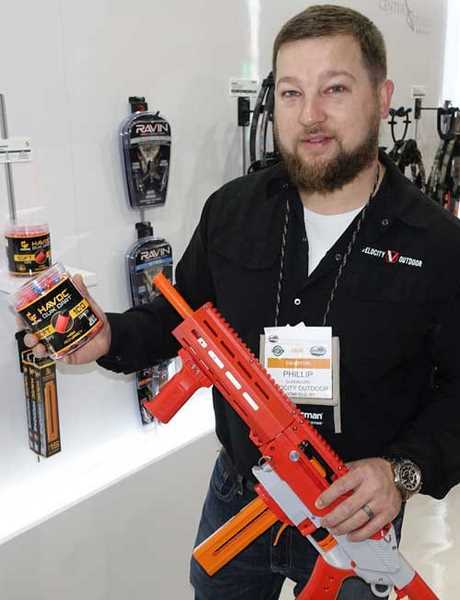 The Havoc Prime dart blaster looks like fun!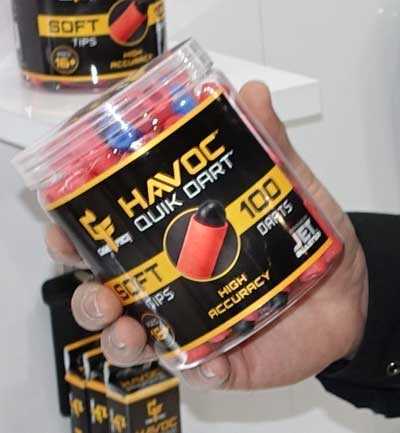 The Havoc darts are supposed to fly straight and far!
Summary
This SHOT Show stands out as the best one I've ever seen. I have a lot more stuff to show you but I'm going to give it a breather for a couple days and come back next week to finish up.
Oh, and Diana does not have a semiautomatic M1 Garand pellet rifle coming out this year. Sorry guys!
And so, in the words of the immortal Porky Pig, "I believe we've come to the end of our operating hours, ladies and gentlemen."