by Tom Gaylord
Writing as B.B. Pelletier
This report covers:
Traps
Jim Contos trap
Materials
Getting more use from a trap
Affixing targets to the trap
What else can you use?
Duct seal
Good news
Clean the trap
Reason for the steel plates
Putting the new stuff in
BB trap
Airsoft trap
Summary
Today's report is a basic one on pellet and BB traps. I thought it was time to cover this subject again because of all the new readers we are getting. You guys don't see it because they don't sign up for the comments, but we are getting 10-20 new subscribers each day, 7 days a week. That is over and above the fake ones I see that number even more. Well, those new folks need to know how to build pellet traps like the rest of us. And I know the comments to this report will be even more valuable to them than the report itself.
Traps
I use several different traps that I will mention today. But one trap gets used more often than all the others and that is the one I'll show you how to build. I'll start with that one.
Jim Contos trap
Blog reader Jim Contos came up with this trap and sent one to me in 2011. It is heavy, so I held off using it regularly for several years, though I did drag it out when I was testing a powerful airgun. Let's say anything producing over 30 foot-pounds at the muzzle is what I'm calling powerful for this report. I am not addressing traps for big bore airguns — that's a whole other subject of its own. I'm talking about traps for smallbore airguns today.
Materials
To make a trap like this you'll need the following:
One 7-inch Schedule 40 White Cap PVC Socket Fitting (it's really a little larger than 7 inches across)
Two 4-inch steel electrical junction box covers
Enough duct seal to suit yourself (around 5-6 lbs.)
A cardboard box to hold the trap
Make the trap
Step 1. Roll a golf ball-sized chunk of duct seal into a ball and place it in the center of the cap.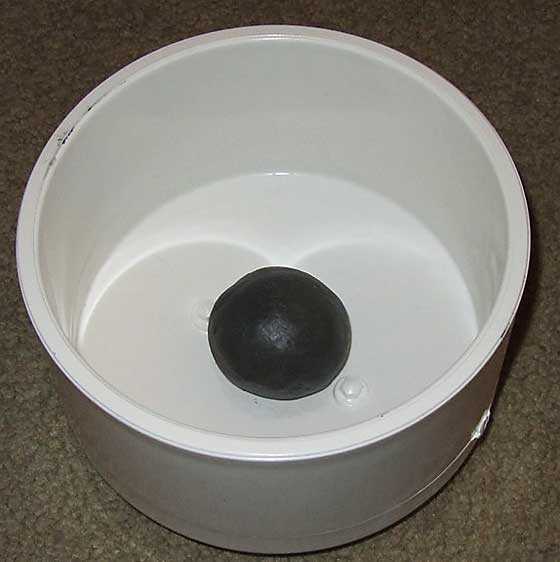 A ball of duct seal goes into the trap.
Step 2. Squash the duct seal ball with the two electrical junction box covers. Move them so they cover the most possible area inside the cap.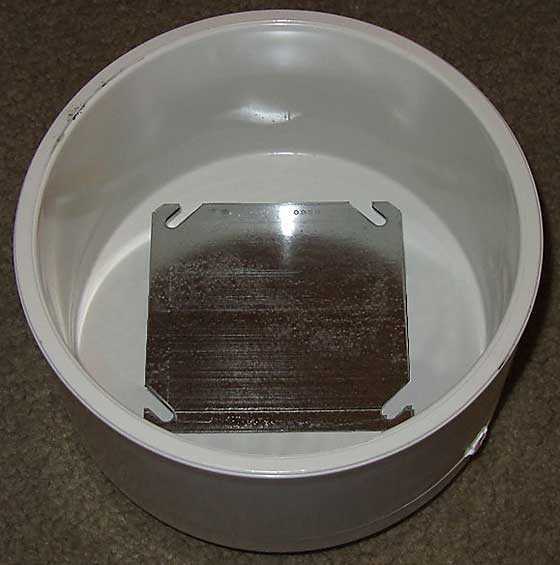 Squash the duct seal ball with the two junction box covers. Jim then arranges the two covers so they cover as much of the back of the PVC cap as possible.
The junction box covers are just there for their steel. If you can find a quarter-inch sheet of steel that fits inside the PVC cap somewhere else, use it! Just don't do what I once did and cut up your wife's old metal cookie sheets! I never heard the end of it — and they also didn't stop pellets, once the 30 foot-pound threshold was exceeded. The trap we are making today will withstand 75 foot-pounds easily. Jim Contos proof-tested his trap by firing a 200 foot-pound .45-caliber big bore into it at point blank range.
[DO NOT TRY THIS! It was just a test to see how much more energy the trap could stop.] Be safe and stick to smallbore airguns, only.
Step 3. Fill the trap with duct seal.
I used to recommend using up to 8-9 pounds of duct seal, but I no longer do for a very good reason. When the trap is filled to the brim with duct seal it looks fine for the first 200 shots or so. After that the pellets it now contains displace the duct seal that then starts oozing out the front of the trap. That is one reason why I recommend putting this trap inside a cardboard box. The second reason is this trap is round and wants to roll. The box will contain it, plus you can rotate the trap to get a fresher spot to shoot. And third, there will be some fallout of pellets, BBs and duct seal as you shoot. The box contains that nicely. In fact, I use two boxes — one to contain the trap and a larger second one to contain the fallout.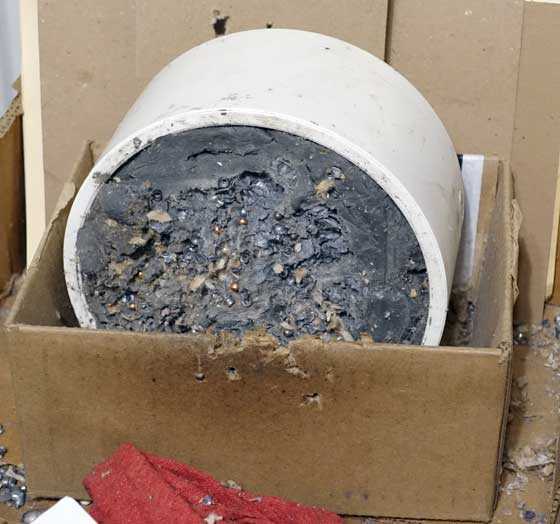 Here is my trap before I changed the duct seal. It has probably seen 25,000 to 30,000 pellets and BBs since last being resealed.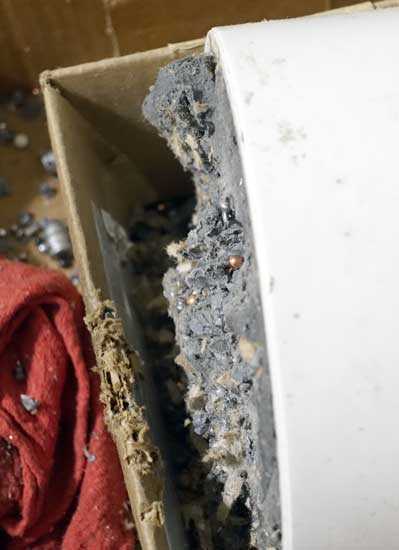 As I shoot the pellets displace the duct seal, making it slowly ooze out the front of the trap, as this top-down view shows.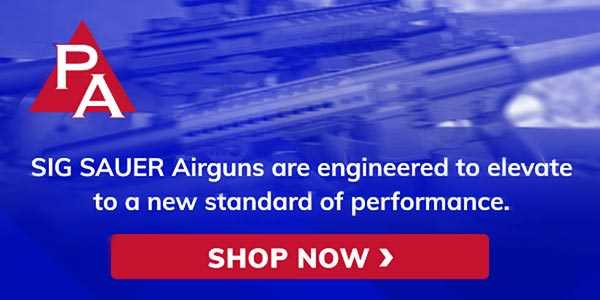 Getting more use from a trap
As the duct seal slowly oozes out the front of the trap I periodically cut it off flush with the opening. I have a sharp kitchen knife for the job. I have done this twice with this trap in the past three years. That gives me a longer time with the fill, because the top layer of pellets and BBs goes away and mostly fresh duct seal is exposed.
When the trap is in use I put a sheet of cardboard in front of it to slow the rebounding projectiles and duct seal. It just keeps things cleaner as I go. I always place the cardboard so I can see the trap on either side of it.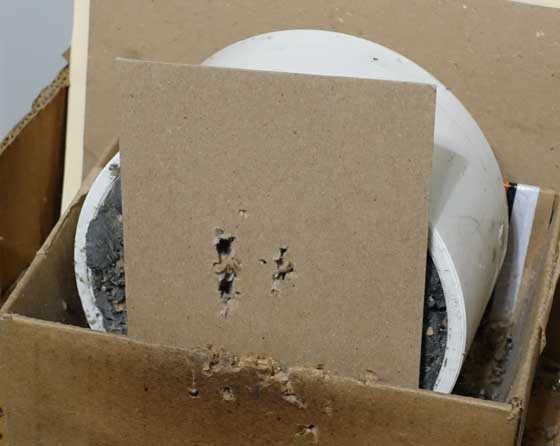 I put a cardboard sheet in front of the trap to keep the rebounds down. Notice that the edges of the round trap are exposed, so I know I'm always shooting into the trap!
Affixing targets to the trap
Jim showed me that he uses a pushpin to hold his targets against the duct seal. All I do is stand the paper target up in front of the cardboard sheet. The box helps with that. But since I mostly use my trap for conducting velocity tests, there is often no target at all — just the cardboard sheet.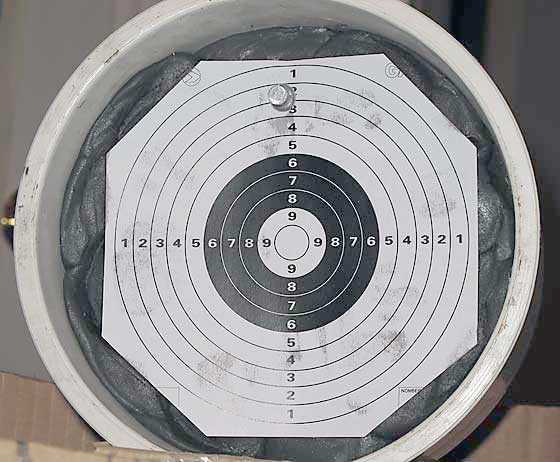 Jim Contos uses a pushpin to attach his targets directly to the duct seal. Notice the oil from the duct seal is seeping into the paper target.
What else can you use?
Of course you don't need to make your trap this way if you have other options. For example, strong electrical junction boxes (that hold circuit breakers for buildings) are a great possibility, BUT, buying them new is very expensive! If you can get one for free, go for it.
Duct seal
The one product you cannot skimp on is the duct seal. Take my word for it. I have tried modeling clay — it's too soft and doesn't stop the pellets that well. Duct seal is many times tougher. I have tried plumber's putty and it's horrible. It dries out when exposed to the air and you will have crumbs all over the place. Get duct seal. It's not cheap but it's the stuff that works the best. The cost is the bad news.
Good news
Now for the good news. The absolute best deal I have found on duct seal anywhere on the internet is — wait for it — at Pyramyd Air! I would not have believed it but PA has undercut the competition by several dollars per pug (the name for a brick of duct seal). I just paid someone else $59 for 15 pounds of the stuff and thought I was getting a deal. The duct seal cost me 15.70 for a 5-pound pug, and the shipping was $8.99. Tax came to $4.49, so my total was $58.99. It was the best deal I could find on the internet. Other product was cheaper elsewhere but after their handling and shipping charges were factored in they all came out around $70 and more for the same 15 pounds. I never thought of checking at Pyramyd Air.
I can't get 15 pounds of duct seal at Pyramyd Air because they sell it by the 6-pound pug. So I can get 18 pounds for $35.97, plus shipping. Okay, they don't call it duct seal, they call it Impact Putty, but duct seal is what it is. And, who cares where it comes from or where THEY get it? As long as YOU can't get it for less, that's all that should matter.
Clean the trap
I shoot into my trap a lot — probably 7,000-10,000 shots each year, if not more. That's both pellets and BBs at power levels from less than a foot-pound to over 70 foot-pounds. Jim sent me this trap in 2011 and I have cleaned it out twice since then. In the beginning I wasn't using it that much, but the last time I replaced the duct deal was about three years ago and I have been using it steadily ever since.
People will tell you that you can clean the pellets out of the duct seal, but that is like cleaning weevils out of flour that's gone bad. Yes, it is possible, but I have more important things to do with my time. Changing the duct seal takes minutes; cleaning out the pellets can take hours!
It took me 20 seconds to remove the old duct seal from the trap. I pried it out with a screwdriver. Then it took me several minutes more to put the new stuff back in plus take the pictures. In all the job took about 8 minutes, start to finish. Now I'm good for another three years.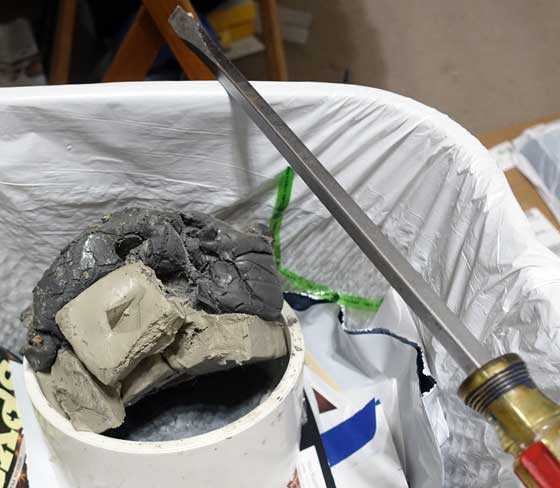 It took 20 seconds to pry the old duct seal out with a screwdriver. I did it inside a trash can that was partially full, so the trap rested up high and everything that came out remained inside the trash bag.
Reason for the steel plates
When the old stuff was out I examined the steel plates in the back. There was a single dent in one of them and it was deep. It could have been from a pellet, but I might have fired a .22 long rifle bullet into the trap at some point. I don't remember doing that and if I did I would not have done so inside my house. This trap is portable and goes outside with me as well. And I do have a legal silencer on my Ruger Mark II pistol.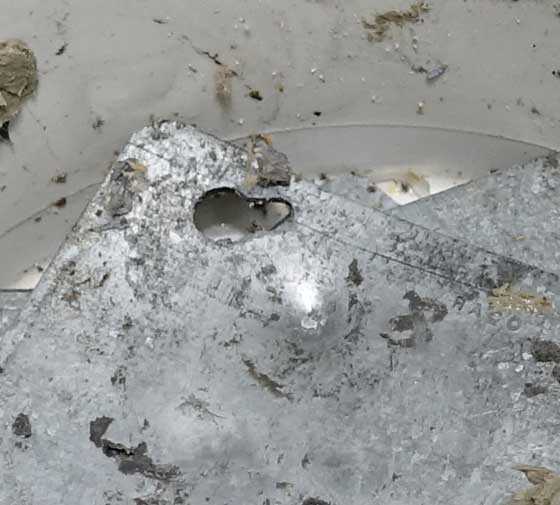 In nine years of use only one pellet or bullet has made a mark on the steel plates. Whatever it was, there was some power behind it!
Putting the new stuff in
It takes longer to put the new duct seal into the trap, because it has to be formed to fit inside the round cap. It's like working with very cold modeling clay. It does warm up about the time you are finished. That is what used up most of the eight minutes this project took.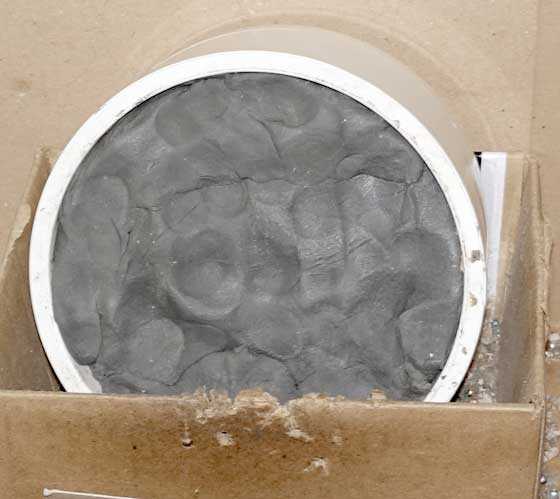 And we are back in business for another three years.
BB trap
The trap we just saw built is also ideal for BBs, but you don't have to go that far if BBs are all that you shoot. Let's look at the type of trap I use all the time for just BBs from lower-powered guns (under 400 f.p.s.). Mine is the UTG trap that doesn't seem to be available anymore. But you can make one out of a cardboard box and some denim fabric. Run a dowel through a box over which you can hang several sections of denim cut up from old jeans. Three is a good number, though two will do. Hang the fabric toward the front of the box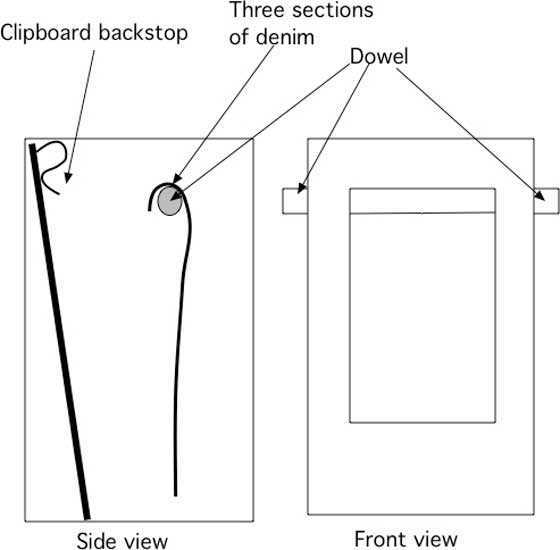 This is a simple and cheap BB trap to make.
Airsoft trap
I've been shooting a lot of airsoft lately, so there were lots of plastic BBs to catch. What do I use to trap them? Let me show you.
I cut a large hole in a tough empty cardboard box of kitty litter, then I tape the target over the hole. There is a second box of litter stuffed with wastepaper behind the first box. No airsoft BB has made it though the second box in over 300 shots. It should last for a thousand shots before I need to replace the boxes, but I always have more of them.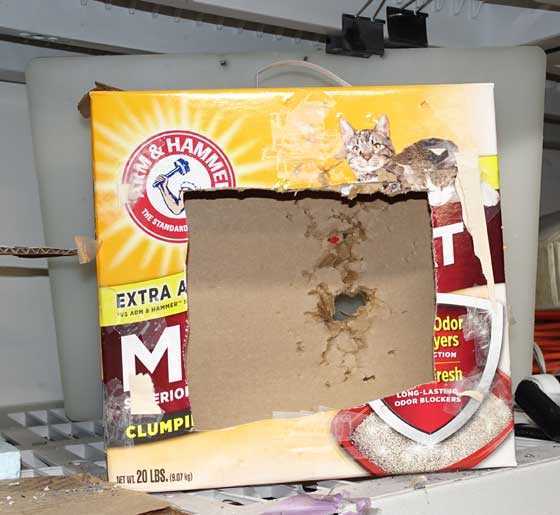 This is my kitty litter airsoft target trap box that I tape targets to. I tape the 4 corners of the target paper so the target is tight. As you can see, this trap has had airsoft BBs shot through it.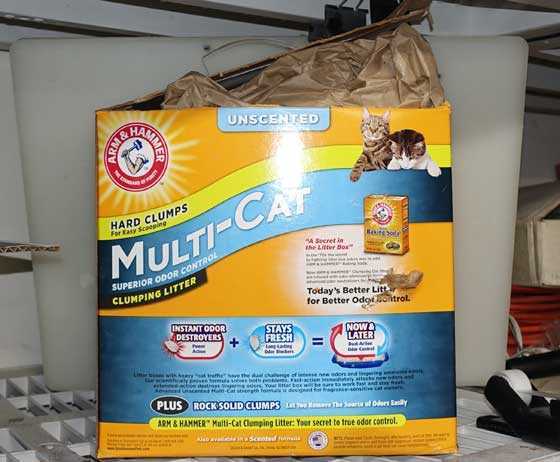 This is the second kitty litter box that has wastepaper stuffed in it. No airsoft BB has yet gone through this one, but there is a half-inch tough plastic cutting board behind it to protect the wall.
Summary
These are a couple cheap and simple traps you can make to enjoy your airgun shooting that much more. They are less expensive than commercial traps, yet they do the job just as well.