by Tom Gaylord
Writing as B.B. Pelletier


Diana 23.
This report covers:
The back story
Watch Ebay
Get ready
RWS Hobby
Crosman Premier Lights
JSB Exact RS
Cocking effort
Trigger pull
Summary
Today is the big day because today we discover what the velocity of my Diana 23 is. A couple readers have guessed it will be in the low 300s, and to keep the test fair I will shoot a couple lightweight pellets with perhaps one of medium weight.
The back story
I didn't tell you where I got this Diana 23 yet, did I? I held back on that in Part one. In fact I held back on a lot more than that! Some of you who have been readers a longer time may remember that this isn't the first Diana 23 I have tested. It is the second one. I tested the first one several years ago — from September 2013 to July 2015. The average velocity for that one was 381 f.p.s. for Hobbys and 452 f.p.s. for JSB Exact RS pellets. But I never completed that test, because the final thing I wanted to do was strip off the bluing and show you how well Blue Wonder cold blue works. Well, I stripped the metal in the early part of July, 2015, and that was as far as I got. Edith went to the hospital on July 14 and passed away on the 26 and I had projects laying everywhere that were never completed. The parts I stripped back then have now corroded again and I need to clean up the metal all over again.
Watch Ebay
Well, I watch Ebay, and from time to time something interesting pops up. Several years ago the Diana 23 I am now testing was listed and the seller was atypically honest by saying that in his description that there was some rust on the metal parts. That's atypical. Most sellers will post 4 dark out-of-focus pictures of the gun laying on a quilt and tell you that the photos are the description of the gun. I won't deal with those guys. This seller showed detailed photos of the rust and I saw that this rifle was in far better cosmetic condition than the one I had been working on.
His starting bid price was very reasonable, as was the shipping, so I bid and won it. There were no other bids than mine. I expected to have to rebuild it, but when it arrived I was surprised to learn that it worked. All I did was oil the piston seal and start shooting. That was a couple years ago. This little rifle has been standing in a corner of my office while I have tuned a Winchester 427, a Diana 27, a 35 and, most recently, a 27S.
Get ready
Today as I shoot the rifle through the choronograph I will be seeing how good the powerplant is, and we can compare it to the Diana 23 I tested many years ago. You will see the results just hours after I do!
To prepare for this test I oiled the mainspring with bicycle chain oil in Part 1. I removed the barreled action from the stock and oiled the spring through the cocking slot. When the stock came off I noticed that the two forearm screws were loose, but when I put the stock back on, I tightened them without a problem.
The final thing I did to get ready for this test was drop 5 drops of Crosman Pellgunoil down the barrel with the gun standing on its butt. I did that just after I wrote Part 1. This is one way of oiling a piston seal, and, in the case of the Diana 23, it is especially good because the leather breech seal is not around the rear of the barrel but around the air transfer port on the end of the spring tube. As the oil flows past that place, some of it is absorbed into the breech seal. Let me show you what a test shot from 12 inches away from cardboard looks like.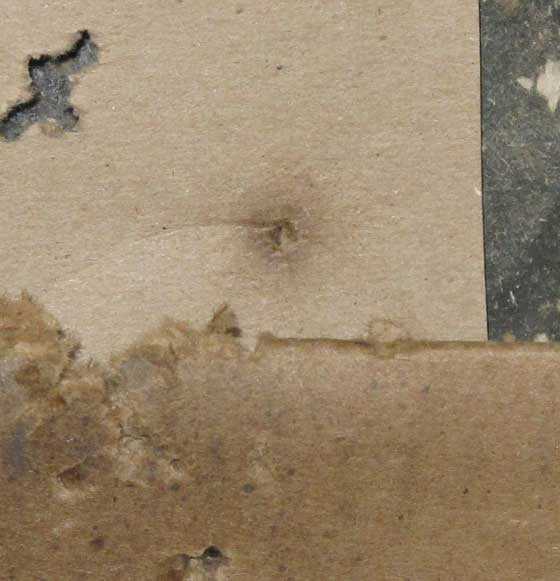 See the oil mist around the pellet hole in the cardboard? That's proof that the piston seal is well-oiled.
So I start today's test knowing that the piston seal and the breech seal are in as good a condition as I can get them without disassembling the rifle. That's what I wanted you to know. Now I can do the velocity test.
RWS Hobby
The first pellet I tested is the 7-grain RWS Hobby. In the other Diana 23 in 2013 the average velocity was 381 f.p.s. The low was 371 and the high was 401 f.p.s. so the spread was 30 f.p.s. In the current 23 Hobbys averaged 455 f.p.s., so this rifle is not in bad shape. But the oiling pf the piston was a factor, as the velocity ranged from a low of 418 to a high of 442 f.p.s. That's a spread of 24 f.p.s. So, even though the gun was probably dieseling from the oil, it's still in better shape than the first one. I noted the dieseling from the amount of smoke that was generated on each shot. There were no explosive detonations.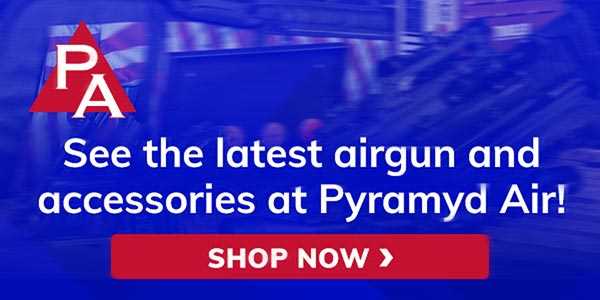 Crosman Premier Lights
The second pellet I tested was the 7.9-grain Crosman Premier Light. I consider this pellet to be middleweight, as it is so close to 8 grains. These domed pellets averaged 432 f.p.s. The first Diana 23 shot them at an average of 376 f.p.s. The spread this time went from a low of 422 to a high of 442 — a difference of 20 f.p.s. The first rifle's spread with the Premier Light was 25 f.p.s. I think the size of this pellet probably helped it seal the bore.
JSB Exact RS
The last pellet I tested was the JSB RS dome that in the first rifle seemed to be the performance champ. Even though at 7.33-grains this pellet is heavier than the Hobby, in the first 23 it averaged 452 f.p.s. That was the highest velocity recorded for that rifle. The spread was only 5 f.p.s. in that rifle.
In the current rifle the same JSB Exact RS pellet averaged 477 f.p.s. The velocity spread went from a low of 461 to a high of 485 f.p.s. — a difference of 24 f.p.s. I think the oil is causing some of this wider spread.
Cocking effort
The first Diana 23 cocked with 10 lbs. of effort. Maybe that is why I guessed that number or less for this one. This rifle cocks with 11 lbs. of effort. It's just a trifle harder, but still well within my arbitrary youth cocking effort maximum of 20 lbs. Apparently that mainspring I looked at in Part 1 is doing just fine.
Trigger pull
The first Diana 23 had a 2-stage trigger pull of 6 lbs. 14 oz., which is pretty heavy for a rifle so light. This rifle's trigger is also 2-stage and stage 2 breaks at 3 lbs. 6 oz. The break is crisp and clean and I can feel no creep in stage two. That is exactly what I want! This one should be very easy to shoot for accuracy.
Summary
Wow! What a test! I don't know what a pristine Diana 23 would do, but I have tested Diana 25s and 27s and this one seems to fall in line with them — especially given the shorter stroke and smaller piston. I doubt if this rifle is more than 30 f.p.s. off the peak of a new 23, and maybe it's even closer.
This is one time where I got a great deal by accepting a less-than-perfect air rifle. I did so because I knew I could probably fix almost anything that was wrong with it.
That reminds me of a story about reader RidgeRunner. When he showed up at one of the last airgun shows in northern Virginia, he saw a decrepit 1906 BSA underlever that was being offered at a fair price. It was so fair I was even considering buying it.
He was intrigued by its overly rugged construction and talked to me about it. I told him he could fix almost anything on that rifle, as long as the basic parts were there, and we both could see that they were. The seller told him things about the inside that he couldn't see, and he decided to take the plunge. If you have read this blog for any length of time you know the outcome of that adventure.
These older Dianas are a great way to dip your toes into airgunning. They are simple, rugged and many of the parts are still available. Couple this with yesterday's report and you will find a great entrance into the sport and hobby of airguns.