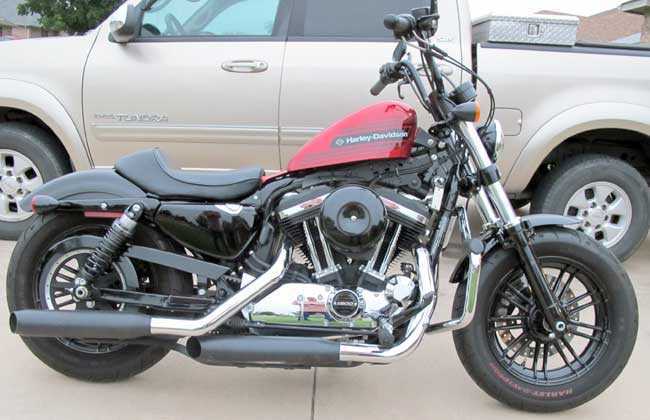 My new Harley Sportster 48 Special.
This report covers:
I wanted a motorcycle
Inseam-challenged
Found it!
Completely different!
So what?
Practice
The point
Summary
First, I want to remember all those servicemen and -women who gave their last full measure of devotion to keep our country free. Today is not a holiday; it's a day of remembrance.
This report will be quite different. Today you learn how BB made a mistake when purchasing a big-ticket item, and also how it was corrected. Although the subject is the purchase of a motorcycle, it does have an application for airgunners.
I wanted a motorcycle
Forty years ago, I rode motorcycles a lot. I enjoyed them for local riding — no cruising or off-road riding for me.
When I married Edith, she asked me to not ride motorcycles and I promised her I wouldn't. We were married in May of 1982, and I kept my promise. I once jokingly told her that when she died I was going to grow a beard and buy a Harley. My advice is to not make jokes like that, because they stay with you.
I decided to get a motorcycle
Fast-forward to today. I still wanted a bike for the same reasons I did forty years ago. But in that time motorcycles had changed dramatically. Harley Davidsons were now reliable. I promised several readers that I would report on the bike I bought, but the report has turned into a 10 times bigger story, so I decided to wait until now.
Inseam-challenged
Though I stand 5 feet 11 inches tall my inseam is only 28.5 inches. One of my sons used to call me a pot-bellied dwarf. Most motorcycles are too tall for me, and, if an 800-pound bike gets more than a few degrees off upright, my 73-year-old legs can't support it. I needed a lighter bike that was also lower in the saddle. Thus the Sportster. Today guys call Sportsters girl's Harleys, but in my day they were the fastest thing around. Until the Kawasaki triples came to the market, stock Sportsters were dusting off everything on two and four wheels.
Found it!
So I went into the local Harley dealership and found my bike. It is a 2019 Sportster 48 Special. The 48 refers to 1948 when Harley started building a 125 cc bike they later called the Hummer. It was a copy of a German DKW bike that Harley got the drawings for as war reparations. The Hummer had a 2.1-gallon gas tank that everybody called the peanut tank and soon after the Sportster came to market in 1957, the peanut tank became its trademark. The 48 Special was offered for 2018, '19 and '20 and the most distinctive thing about it was what Harley calls the Tallboy handlebars. They allow the rider to ride more upright for comfort.
When I mounted this 550-pound bike in the dealership both my feet were flat on the floor. Its mileage was low and, yes, it had originally belonged to a girl. I even liked how it looked. So I bought it.
I ordered several accessories to be added, but my motorcycle safety course (mandatory in Texas to add motorcycle to your driver's license) wasn't for a month, so I could wait.
Well, I waited, and waited and waited. I took the course and passed it and I got my driver's license updated — but still no bike. I went into the dealership asking about the delivery date and saw my bike sitting in a storage garage, awaiting parts. All the things I had ordered came in but then they required some other small parts on the bike to install the things I ordered, and those parts had not been ordered. I waited for a total of 6 weeks, and then I was called to the dealership to get my bike.
In fact was called to the dealership twice to get my bike, and both times no such luck. It was always something else that had been overlooked and had to be ordered. The second time I was called to pick up the bike, it wasn't ready for me again. I was told more new parts had to be ordered for it. And that's when the camel's back broke! I came home and calmly wrote an email message to the CEO of Harley Davidson, Mr. Jochen Zeitz. Here is that message.
—————————————————————
Mr. Zeitz,
I purchased a 2019 Harley Davidson Sportster 48 Special from Stampede Harley on April 14, 2021. I thought I'd tell you how that sale has gone.
For starters, the man who sold me the bike, (name removed), left the company the day after I bought it. He wasn't there long enough to have a business card, so Sales Manager (name removed), wrote the deal. I also bought a removable windshield, engine guard and removable saddlebags when I bought the bike and was told they would be installed when they arrived. Reasonable enough. I needed to take the rider course to get my motorcycle license, so I thought no problem. That was April 14 and my check for the down payment was cashed the next day. But since that time I have been treated like an orphan at Stampede. Today is May 26 — six weeks since I bought my motorcycle and I have yet to hear it run!
Fast-forward to today and the items I ordered came in, but the bike sat for a month without being checked out by service. I was called over twice in the past week to pick it up to no avail. I went over for the second time today and was told by the service department that the bike still needs other parts. The service guy pointed out a scratched right mirror stalk and a scuffed ball on the front brake lever and I was told those parts had to be ordered and replaced.
I could have bought any motorcycle, but I bought a Harley because of the reputation the Motor Company seems to have built up in recent decades. I owned a 48 panhead and a 46 knucklehead and neither were reliable. But they had been fooled with, and I understand why they were the way they were. I figured if I bought a newer bike with the Evolution motor and all the latest stuff, it would be reliable. I'm still hoping for that, but at this stage, who can tell?
I have owned a Suzuki 850, a Laverda 750, a Bultaco Metralla, an Ossa Pioneer dirt bike, a Honda 305 Superhawk, a Honda 350, a Kawasaki 175 dirt bike, a BMW R27, a BMW R50, a Benelli 125 and a Yamaha 500 single. Except for the Ossa and my two old Harleys, all those bike were reliable.
I hope the Sportster I bought will be the bike I want. If not I will sell it quickly and never darken Harley's door again. I have been treated like an orphan at Stampede and they are the only experience I have with the modern Harley Davidson Motor Company. Before now my only experience with Harley was with Sam Arena in San Jose, and I can tell you — he knew how to treat his customers.
A salesman is supposed to follow the sale through delivery. I know you know that, but Stampede seems not to. Whenever I call sales they try to buy my bike and sell me another one. Sure be nice if I could take delivery of this first one!
I was thinking of buying a TriGlide in a few years because I'm 73 and don't really need to be on two wheels much longer. I may buy a trike, but before I do I will shop all the dealers — for their service, not for what they have in inventory!
Tom Gaylord
The Godfather of Airguns
/blog/
__________________________________________________________________
I sent that email. An hour later I was called by the service department at Stampede Harley Davidson, telling me that my bike was ready. It was late afternoon and I had the Royal Rangers to teach, so I told them I would pick it up the next day.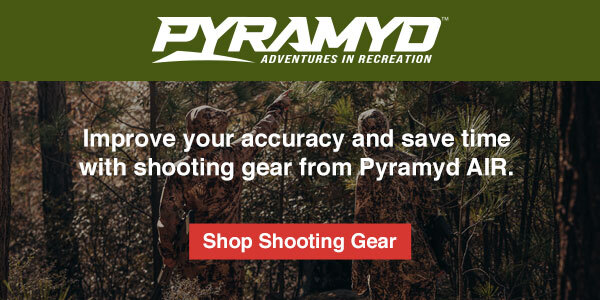 Completely different!
This time when I went in, things were completely different. The bike was ready to go. It had been washed and waxed and the gas tank was full. The sales manager came out with the registration and walked me through the particulars on the bike.
Not a word was said to me about that email I sent, but it was obvious the message had gotten through. Did the CEO of Harley ever see my message? I doubt it. There are numerous filters in a 4+ billion-dollar company, and I knew that when I wrote the email. But you notice that I put my television handle on the signatory line, along with a link to this blog. I wanted whoever in Harley corporate did deal with the message to know that I was a writer with a large following. In other words, I talk to a lot of folks. They wouldn't be able to ascertain how many readers I have, but a quick Google search on Tom Gaylord does bear fruit.
So I got my bike and so far I am enjoying it as much as I had hoped. I plan to follow up on my contact with Mr. Zeitz, to tell him the rest of the story when there is more to tell.
So what?
What does my story have to do with airguns or with you? Well, I think it has a lot to do with you. When it comes to airguns, I am awash in them! I can get almost anything I want to test and if I like it, I can often cut a special deal to buy it. You may be different.
You may have to save and save to get that one airgun you really want, and I am telling you here that I understand that. This motorcycle was way outside my wheelhouse, so I went through the normal buying process just like any other civilian. What mattered the most to me was service after the sale. Yeah, when you pull out the big bucks for something, everybody is your friend. But a day later, when things get cold and clammy and stuff isn't working the way you think it should, there needs to be someone there to hold your hand and open doors for you. That's what selling is all about.
The world-record automobile salesman is Joe Girard, who is in the Guinness World Records for selling 1,425 cars in a single year. Each was an individual sale, there were no fleet sales. In his books Girard tells his readers that sales is a matter of work by the salesman, before, during and after the sale. I know you all know this, but if you treat someone right, they will return again.
A salesman's adage goes like this, "You can cut a man's hair many times but you can only scalp him once." Joe Girard once said that every person influences 250 people, so good or bad, the stories go on. I think, with over 100,000 registered readers and perhaps a quarter-million readers worldwide, B.B. Pelletier probably reaches a few more than 250.
Practice
Yes, there are buyers who only care about the absolute lowest price, and yes, they will waste a salesman's time, only to buy from the cut-price place when all their questions are answered. My advice to salespeople about guys like this? I have a word that describes them. Bruce Wayne used the word in the Chinese prison when he was learning to be Batman. The word is — Practice. Consider the time you spend with the tire-kickers as time to refine your sales technique.
The point
In case it hasn't dawned on you yet, I am not really writing today's report to my readers. I'm writing it to the businesses who want to get more customers and to retain them. I see so many crazy things like repeated spammy emails that eventually turn people off, when all it takes to grow your customer base is to treat people like you want to be treated. How about that? The Golden Rule really works.
Buyers usually know what they want, and as the price of an item goes up, so usually does the buyer's knowledge of the item. Sure, there are kids who don't know the muzzle of an airgun from the butt, but they shop at discount stores and buy airguns based on the colorful boxes and the emphasized velocity. Selling to them is a whole different game. What I'm talking about are those higher-ticket items whose buyers are discriminating, either because they have to be or because they just are. And, if you treat them right, they will return, if only because they were treated right.
Summary
The bottom line to selling is to sell things you believe in to people you treat like friends. Put yourself in their shoes and sell it like you'd like it to be sold to you.