This report covers:
Show personality
Sleepy
What was there?
FWB 124
Queen Bee
BB runs a test
BUT…
We ain't done yet
The $100 PCP
But wait…
Starboard Rower
What walked in?
A Haenel model 5???
Last remarks
Today you will read about the Arkansas airgun show that was held last Friday and Saturday at Malvern, Arkansas. Let's get started.
Show personality
Every airgun show has a personality. It's a combination of who displayed at the show, who attended, the airguns that were for sale and the special things that happened. I remember a show at Winston Salem where I met Dr. Beeman for the first time. I remember the first Winston Salem show I attended in 1993, getting ready to publish The Airgun Letter.
I remember a show at Roanoke, Virginia where there was an auction in the aisles for three rare BB guns and $41,000 changed hands. I remember another Roanoke show where a Girardoni walked in the door and was sold for $3,000 to a wise attendee from England. Girardoni's sell for 70,000 Euro and up these days.
I remember a show in Little Rock where a doctor pulled up and opened the trunk of his car, revealing boxes of Beeman air rifles he had bought in the 1980s. He had the invoices for each of them (being an airgunner, he was also anal) and he sold each of them for what he had paid over a decade before. That was a day I wish I had some money!
Sleepy
The show at Malvern, Arkansas, this year was sleepy, to sum it up in one word. And I don't mean that in a bad way. First of all, very few people were aware that this show was being held. I bet fewer than 20 people paid to walk in. So, for two days it was the dealers buying, selling and trading amongst themselves. I've been to other shows where that happened and it wasn't good, but for some reason this show was different. It was slow-paced and people had the chance to sit and talk and reminisce about the state of all things airgun. One thing we determined is that the way things are going today, this is the new normal. Things will never go back to the way they were. But nobody seemed to mind — or at least if they did they kept quiet about it.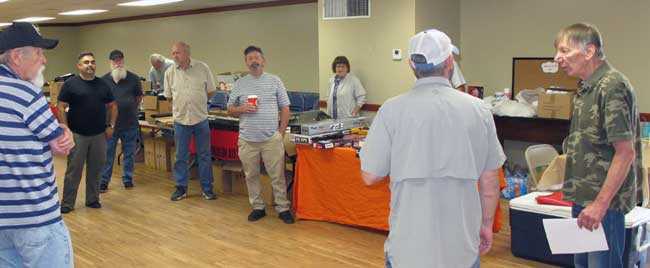 Dennis Quackenbush opened the show with a prayer.
What was there?
If you are new to airgunning you are most interested in what was there. If you are a veteran, you are more interested in who was there.
In past shows guys would walk in looking for that one certain breakbarrel pellet rifle they just had to have. It was always a Chinese buzz bomb, but they just knew it would change their world. They walked past table after table loaded with things you never see, searching for that Wal-Mart refugee. When they didn't find it they lamented that all the airgun retailers like Pyramyd Air weren't at the show, so they could buy from them instead of shopping online. It's like going to a car show and breezing past Jay Leno and his Stanley Steamer, searching in desperation for a 2005 Mustang with a lift kit.
That didn't happen at Malvern this year. People took the time to look and talk about airguns, and as a result we did resolve a few of the world's problems. They were mostly our own, but you gotta start somewhere.
FWB 124
One airgun people are always looking for is the elusive FWB 124. There were several for sale at this show.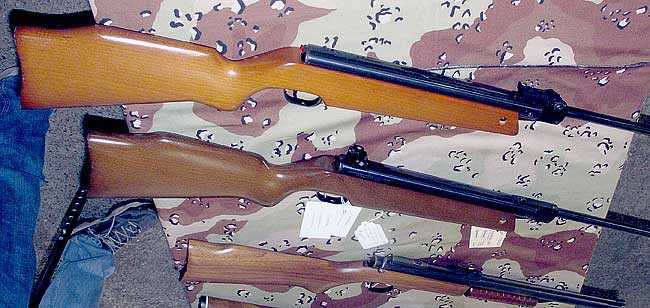 There are a couple FWB 124 Sporters (non-checkered pistol grips and no sling swivels) for you.
Another 124 was walking around the show, possibly looking for a new home. If not that then at least it needed a new piston seal. It had been picked up while cleaning out a basement!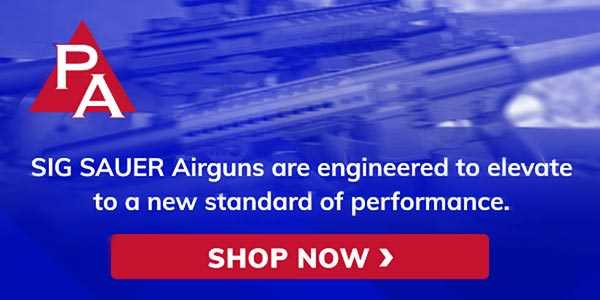 Queen Bee
But of all the FWB 124's on the planet, perhaps the best known and most widely celebrated is the Queen Bee — a rifle I was once briefly privileged to own!
Scott Pilkington now owns the rifle and has undertaken the quest to elevate it to the next level. Scott is a world-class engraver and he has inlaid in gold Toshiko Beeman's signature (the person for whom the rifle was made) and Pat Colins' signature (the woman Mrs. Beeman allowed the company to sell her rifle to), on the sides of the spring tube, along with a stylized bee. The letters QB are inlaid in gold on the bottom of the triggerguard.


Scott Pilkington displayed the Queen Bee FWB 124 in-process. He still has to blue the parts.


Toshiko Beeman's name is inlaid in gold on the spring tube of the Queen Bee.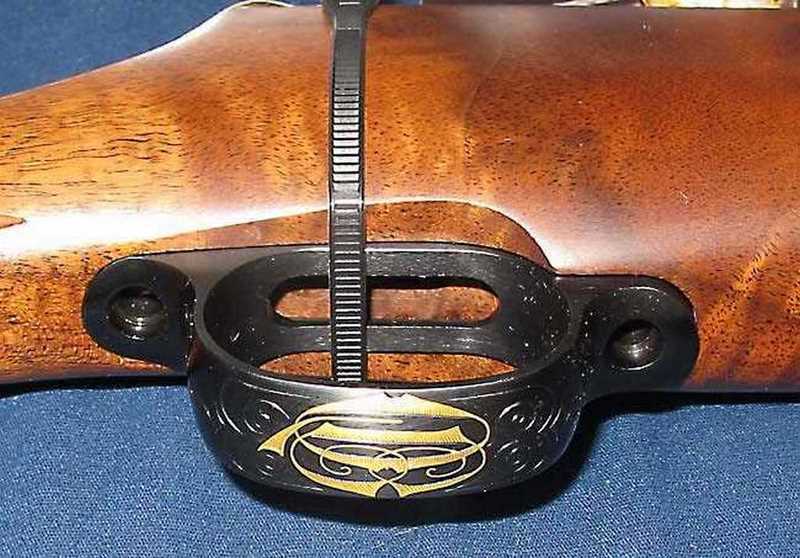 Scott did blue the triggerguard, so the contrast between the gold QB and the engraved steel can be readily seen.
BB runs a test
I knew Malvern would be a slow show, because it always is. So this year I decided to run a little test to see what would happen if I shook it up. If someone takes an airgun to a show and prices it by the Blue Book of Airguns, they take it home again, unless that one-in-a-thousand person who wants one happens to attend. When the gate at most larger shows is between 300 and 400 people, that doesn't happen at every show. And that is large airgun shows. Malvern doesn't see nearly that many folks.
If they price their treasure for 20 percent less, they usually take it home. Sometimes they break down in negotiations and get rid of the gun, but not at the price they had on it.
So I broke the rules. I priced my airguns at half of their true value — not necessarily what Blue Book said but what people really pay, which can be more or less — and I waited to see what might happen. I also had a table with $50 airguns that included a couple Crosman Mark IIs, an S&W 79G and a Daisy 790. Each one was priced at 50 bucks and no parts were missing. Did they leak? Of course they did, but my price was half what leakers sell for and for a few bucks on eBay you can buy all the parts to fix them. By the end of the show that table was entirely bare.
BUT…
But I also had a couple tables of high-quality stuff, like a Russian IZH 532 target rifle and so on. One of the guns I was selling was an FWB modell 2 target pistol that I bought from reader Carel. I priced it at about half what I had in it and I brought Scott Pilkington over to see it because he sells 10-meter guns. I knew there was money left on that gun for him. Oh, and I also included a partially full 20-pound CO2 tank with a siphon tube to fill the gun's two reservoirs. Guys — that was a deal!
Well, Scott looked at one of my tables of goodies and just kept looking. He liked this and he liked that. Like most folks he wasn't sure of the prices on several of the items, but he could tell they were all priced way below what they were worth. So, in the end, he bought them all. In the first 15 minutes of the first day of the show I sold about half of what I had brought! And, GunFun1, the Daisy 20th Century was among those guns that were sold. It went for $200. The Blue Book puts it at $400 for a 60 percent gun, which mine was.
Then I walked over to Scott's table to get his check and there I saw an FWB 600 single stroke target rifle. Yes — I said a 600 — not a 601, 602 or 603. I have wanted to test the 600 for a great many years, simply because it was the first single stroke target rifle FWB made. I have the Walther LGR and I wanted to pit it against the FWB 600.
Scott shocks me by giving me the same sort of deal on that rifle that I had just given him! Then I ask him if it shoots. Then, folks — then! After I made the deal! He tells me that he has just resealed it and oh, by the way, this rifle used to belong to Robert Mitchell, a member of the Army Marksmanship Unit, and the coach of the USA Shooting Team (that attends the Olympics) for about a decade. I just hope that rifle can remember what it's like to shoot well!
We ain't done yet
Then a guy stops by my table and we talk about lots of cool things. He tells me he shoots his Benjamin 132 in his shop at 10 feet and hits the chain hanging from the overhead light. Oh. wait, he has a video on his phone. Yepper — he can do it! He muzzle-loads the pistol with Q-tips (cotton swabs for most of the world) and pumps the pistol two times. Tony Branton from Texarkana has given us another blog! And still we ain't done.
The $100 PCP
Remember the $100 PCP? Well, Dennis Quackenbush brought it to the show to sell for — you guessed it — $100. Sold! That one came home with me. Remember that in 2016 Crosman brought out the Benjamin Maximus based on it! And I now own the original!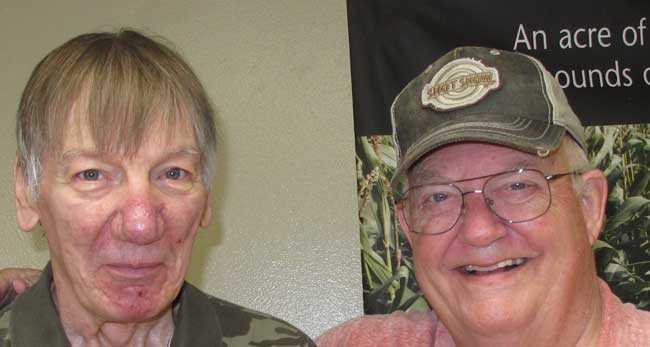 Dennis Quackenbush (left) was at the show. It was a pleasure to talk to him!
But that ain't all. Dennis handed me a mailing package with a Bug Blaster inside. That's the salt gun attachment that goes on a CO2 gun. Yes, friends, old BB will test one for you — finally!
But wait…
Yes, there is more. I didn't take a picture of it but on the table next to me sat a Marksman 55! Yep, it was a model 55 with the Perfekt trigger (which the guy says is terrible) and the safety on the left side of the gun (opposite of where my model 70 safety is). I guess I should have bought it, but before I could make my move the guy showed me a 100-shot repeating sidelever pistol from Germany. You heard me!— 100 shots. Of course they are balls; they would have to be.


The HS model 71 is a 100-shot repeating sidelever spring pistol.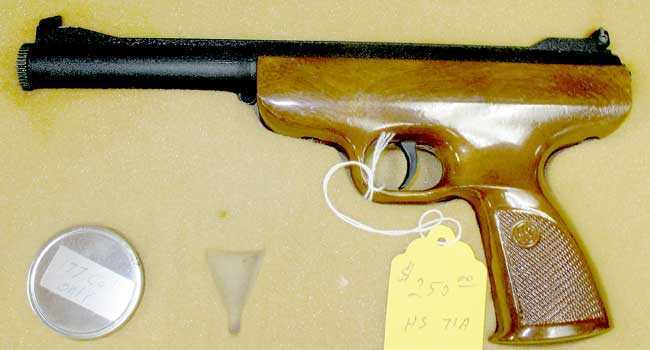 And there is the pistol. I couldn't find it in the Blue Book.
Starboard Rower
And then something happened that is very rare. A reader introduced himself and told me his blog handle — Starboard Rower. We talked for quite a while about the VZ 35 he bought for too much money (that makes him a card-carrying airgunner) and how beautiful it is. Would he consent to do a guest blog for us? He would? Hurray!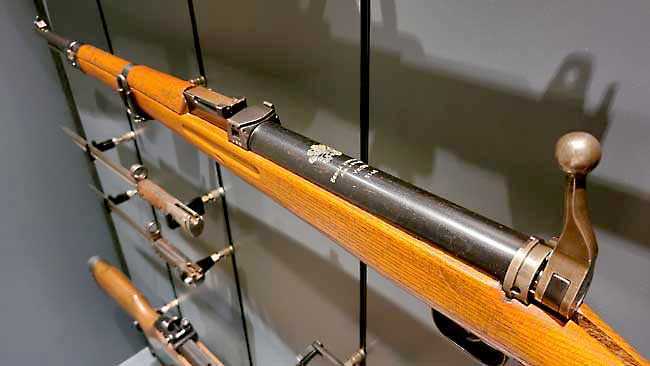 Reader Starboard Rower will be telling us about his beautiful VZ-35.
And where did the handle Starboard Rower come from? He told me that in college he rowed on an 8-man racing shell and he was on the starboard (right) side at the bow. The shell is extremely thin and he told me he could feel the bubbles under his bum when the shell planed. Yes — it planed! So that's where his handle came from.
What walked in?
Keep your eyes peeled because something always walks into these shows. This time it was a couple guns from World War II — a pair of MacGlashan aerial BB trainers. They left with another person.


These two MacGlashans walked in the door at Malvern. They went home with someone else.
A Haenel model 5???
Here is a rifle I don't believe I have ever seen — a Haenel model 5 single shot. I have seen a couple of the repeaters, but never this gun. This one has no finish left, but what a pleasure to see something new.


The Haenel model 5 is an underlever taploader.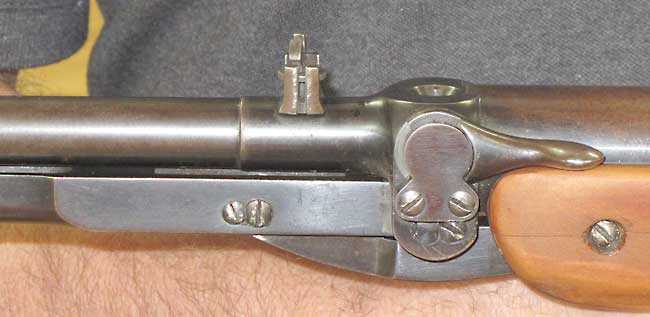 When I saw it I thought it was a Diana 50. RidgeRunner would love this one!
Last remarks
I left the show at 1:20 p.m. and arrived in Dallas at 6. Apparently there was some sort of American football contest at a place called the Cotton Bowl, so it took me 30 minutes to drive 10 miles through Dallas. But at least the setting sun was in my eyes the whole time, so I saw very little of what was there.
I'm glad I made it to the show this year. At my age driving to these shows is getting harder all the time, but these closer ones are at least within my reach. I talked to a guy about a different venue for the Texas airgun show next year, so if the details can be worked out, we may host another one. We shall see.