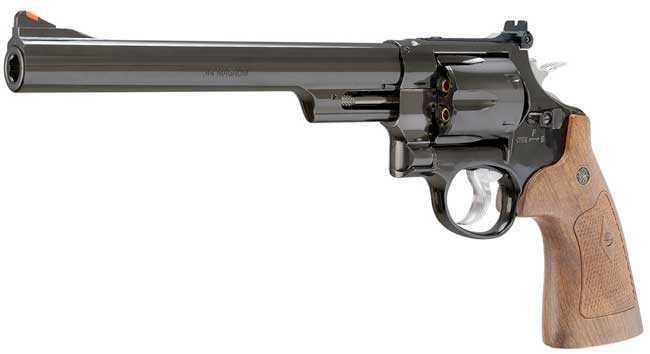 Smith and Wesson model 29 revolver.
This report covers:
History
How hot?
Remember toilet paper in 2020?
An important lesson
Desert Eagle
Trigger
Bluing
Dirty Harry
First photo?
Summary
Today we look at an iconic revolver that you can own — the Smith & Wesson Model 29.
History
The report will be all about the history of the Model 29 Smith and also the .44 magnum cartridge it's chambered for. The history begins with the cartridge. Elmer Keith was impressed with what Smith & Wesson did to the .38 Special cartridge in 1935, by turning it into the .357 Magnum. At that time it was the world's most powerful handgun cartridge that was made by a manufacturer. There were pistols that were more powerful, such as the Howdah pistols that often fired .577-caliber cartridges for killing tigers at close range. But, where the Howdah pistols were handmade and unique, the the .357 was available on the market and a box of 50 rounds could be purchased.
Elmer Keith thought .44 and .45 calibers were better for shooting larger game than the .357 Magnum. He liked the .357 Magnum for rabbits at long ranges but he especially championed the .44 Special cartridge. I believe he chose that caliber over the .45 Colt because in his day a .44 Special Colt single action had more metal around each cylinder chamber, and Keith was loading them hot. Also there were cartridge cases that were thin brass in those days and the .45 Colt was the weakest of the two.
How hot?
I won't tell his loads but Keith's .44 Specials were putting out 240-grain bullets at 1,200 f.p.s. That's well beyond what the .44 Special cartridge is supposed to do, which is just under 800 f.p.s. It is in the range of the early .44 Magnum rounds. Keith shot several revolvers with these loads, but two were double action — a Smith & Wesson Triple Lock and a Smith & Wesson model 1950. The Triple Lock looked large and strong, but the metallurgy of the early 1900s (1908 to 1915) wasn't really up to those loads.
Elmer Keith reported successful first shots on game at up to 400 yards with these loads. Smith & Wesson was obviously paying attention, because in 1955 they started serious work on a bigger .44 cartridge to satisfy Keith's needs, as well as many other handgun hunters like him. The cartridge they designed in cooperation with Remington and designated the .44 Magnum was housed in a strong brass case that was one-tenth-inch longer that a .44 Special cartridge, to avoid loading them into weaker guns. A .44 Magnum revolver will also shoot .44 Special and .44 Russian, an even shorter cartridge that is now obsolete.
Their Model 29 revolver, which is based on their large N frame revolver, was released to the public in 1956 with Keith being presented with the first one. And the race was on!
Remember toilet paper in 2020?
Hoarding and highgrading that we saw in 2020 isn't new by any means. After the .44 Magnum Model 29 came out many more people wanted them than Smith & Wesson was able to produce. So opportunists began buying them in bulk before they reached the public. By 1960, when BB Pelletier was getting into the game (somewhat — at the tender age of 13) a revolver that listed new for around $100 would easily sell for twice as much. That went on year in and year out until young lieutenant BB was serving in the Army, ten years later. At that time a used Model 29 happened to pass his way for probably more than the new gun list price at the time, but since new guns still weren't available at list prices it was a great bargain and he snapped it up. This one was in an old wooden box with green lining.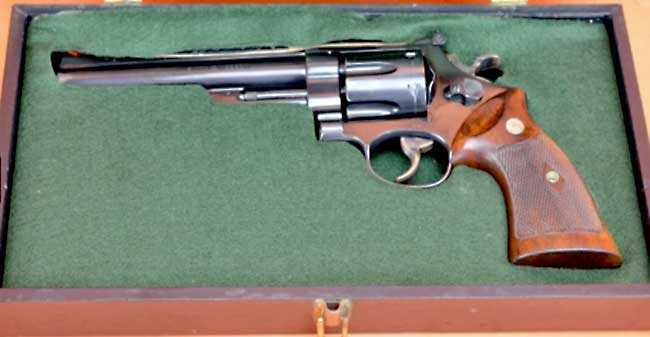 Early Model 29s came in wooden boxes.
An important lesson
When BB bought his first Model 29 it came with an almost-full box of cartridges. He wondered why his luck was so good until he fired the first full cylinder. The recoil split the web of his shooting hand and a blister on the thumb of the same hand after just 6 shots. That was his education to the Model 29. You have to know how to control that revolver.
This Model 29 was not BB's only .44 Magnum. He also had a Ruger Blackhawk with a 10-inch barrel that didn't recoil half as much as the Smith. That gun he shot a lot.
Later in his life he acquired a Thompson Center Contender with a 14-inch barrel, and he thought that as big as it was it would also be a pussycat. Wrong! It recoiled as hard as the Smith. That was when BB learned that the shape of the grip has everything to do with how a powerful handgun feels under recoil.
The model 29 doesn't recoil that hard, but the shape of the grip will make you think that it does unless you hold the gun right. Don't give it any slack to move in your hand! The Ruger Blackhawk rotates in your hand because of its rounded grip. If you aren't holding the Model 29's grip tightly the bump at the top will rotate back and whack you in the web of your hand. This is where the story of the .44 Magnum recoiling hard originates.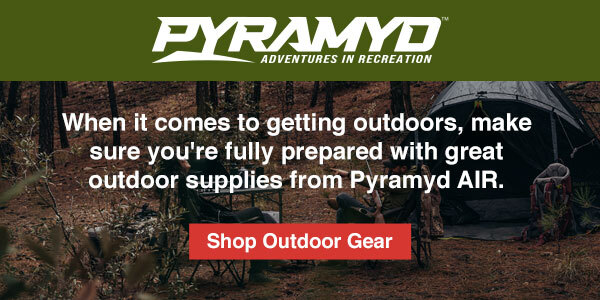 Desert Eagle
I have fired a Desert Eagle pistol in .44 Magnum and been surprised by how gentle it feels. The 4.5 pound weight of the pistol is a help, but I find the .44 magnum in that gas-operated semiautomatic to be a very civilized round. The muzzle blast may frighten everyone around you, but the wide grip of that pistol, coupled with its weight and the gas operation all serve to gentle things out.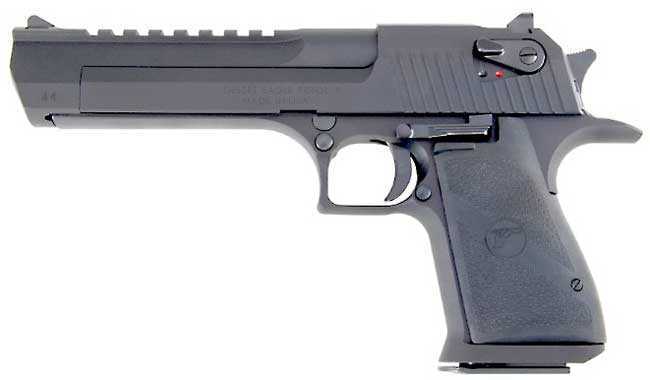 The big Desert Eagle tames the .44 Magnum.
Trigger
Though the Model 29 is a double action revolver, more than 95 percent of its shots will be fired single action, which means the hammer will be manually cocked each time. Once that is done the trigger of this big Smith has to be experienced. Smith revolvers have long had a reputation for smooth, crisp triggers and the Model 29 trigger could be the poster boy for all of them.
There was a trigger blade that was wider at the bottom than at the top. It was called the target trigger. Supposedly it made squeezing the trigger easier, though I find all S&W triggers to be superb. The target hammer also became wider in the back. Both model 29s I had carried the target trigger and target hammer.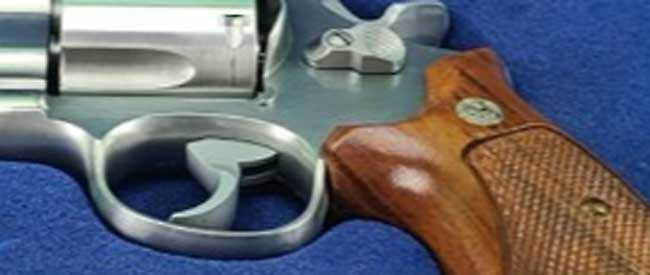 The target trigger swells wider at its bottom. You can also see the target hammer in this photo, and it swells wider as well.
Bluing
All S&W revolvers except stainless were highly polished and deeply blued. Only the Colt Python Royal Blue was brighter and deeper. I own a Smith & Wesson Hand Ejector, Military and Police second model that was made in 1908 and it still has 90 percent of its original deep blue — on a revolver that's over a century old. These revolvers last!
Dirty Harry
Can't talk about the Model 29 without someone bringing up Dirty Harry Callahan. In the 1971 movie of the same name he made the public aware of the revolver that was already an icon to the shooting community. His Model 29 had the popular 6-1/2-inch barrel that both of mine had.
First photo?
But the photo at the start of this report shows a model 29 with an 8-3/8-inch barrel. What's with that? Well, that gun is really a BB gun replica from Umarex that this report is all about. That's right! You see, dear readers, you can buy this Model 29 for $150 right now — until the current supplies are exhausted.
The realism is amazing, as it is with many Umarex replicas. You can see the deep bluing in the picture.
I knew about this revolver months ago, but kept quiet so nobody would want to buy one when they weren't available. Now they are. And BB is going to test one for you! I wanted to put it on my Christmas gift list, but didn't know when supplies would be available. If you want one for this Christmas you have to act quick.
Of course you can still buy a .44 Magnum Model 29 firearm from Smith & Wesson because they are still being made. That one lists for as little as $1,051.00, plus tax, but try to find a new one at that price. You see, the toilet paper guys are still at it more than half a century later. Check around. They are all backordered. The cheapest one I found on Gun Broker that was actually for sale was $2,500. Oh, there are lots of auctions that are less but who knows where they will end up?
Summary
We are starting to examine a real icon of a replica airgun. Stay tuned and try to feel lucky!