Today we have a guest blog from reader Ian who we all know as 45Bravo. He will give you his observations on first focal plane (FFP) scopes.
If you'd like to write a guest post for this blog, please email me at blogger@pyramydair.com.
Take it away, Ian.
Am I getting on the right plane?
This report covers:
First Focal Plane scope
Too much stuff
I LIKE IT!
Am I getting on the right plane? That is a question I am sure every traveler that has flown has asked themselves at least once. But today that question is not about traveling, it is referring to First Focal Plane and Second Focal Plane rifle scopes. Also called FFP and SFP respectively.
The most common scopes on the market are of the Second Focal Plane variety, meaning when you increase the magnification of the scope the cross hairs or reticle will stay the same size while the image seems to get larger.
The problem with this type of scope is that as you change the magnification, your dots or hold over points will change in relation to the target. If you are zeroed at 20 yards and you hold 1 mil dot higher for a 40 yard shot with the scope at 10x magnification, when you change to 14x you may have to hold over 2 or 3 dots to hit the same place on the target.
If you are using the reticle for range estimation, the instructions that come with the scope will tell you what magnification the scope is calibrated for.
Using an example of a scope that is calibrated at 10x, a piece of 8.5×11 inch paper may appear to be 4 dots tall in your scope. If you change to a lower magnification, then the same piece of paper may appear to be only 2 dots tall at the same distance when viewed through the scope at 4x.
I hope this makes sense, and is not as clear as mud.
First Focal Plane scope
The First Focal Plane scopes are different, in that the size of the reticle increases and decreases as you change magnification. So a piece of paper that is 4 dots tall at 6x will also be 4 dots tall when viewed at 20x.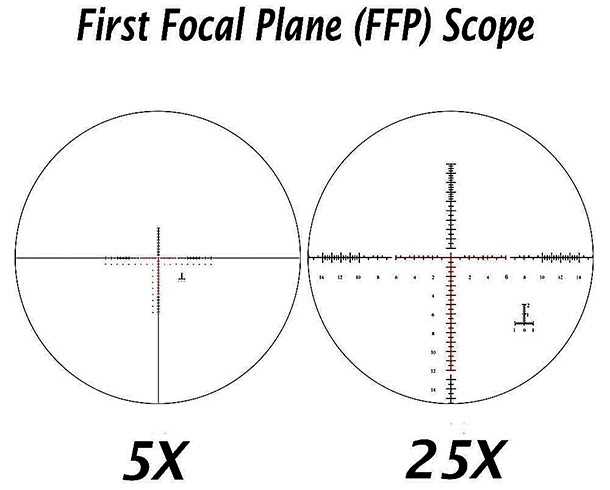 This is how the reticle of a First Focal Plane scope appears as you change magnification.
For a shooter this means if you hold over 2 dots at a given range, you will always hold over 2 dots when your target is that distance, no matter what magnification you use.
The downside of a FFP scope as you can see from the graphic above is if you are at a lower magnification, your cross hairs may be too small for some hunting purposes to make a fast shot at closer ranges. But the illuminated reticle seems to help nullify that drawback.
That brings us to the subject of today's blog. I bought a new First Focal Plane scope.
Until this purchase all of my scopes have been of the SFP (Second Focal Plane) variety, so I am entering uncharted territory.
I had pre ordered an Air Venturi Avenger Bullpup and wanted a nice scope for it. After a lot of internet searching and looking at entirely too many scopes, of all prices, there were just so many to choose from it made my head hurt, so I put it on a back burner until my rifle came in.
Too much stuff
While cruising a gun show there was a vendor there who was based out of Dallas that imports the Sniper brand scopes from China. I had seen this brand of products online many times and seen a few in person on airsoft guns and air guns I have worked on in the past. The scopes I had seen in the past from this company I felt were low quality gimmicks with too much stuff mounted on the scopes.
You know the ones with a small fixed 4x scope with an extra red dot, a laser, and a set of fiber optic pistol sights all attached to the scope, looking like the accouterments had hopped onto the scope for a ride to the range.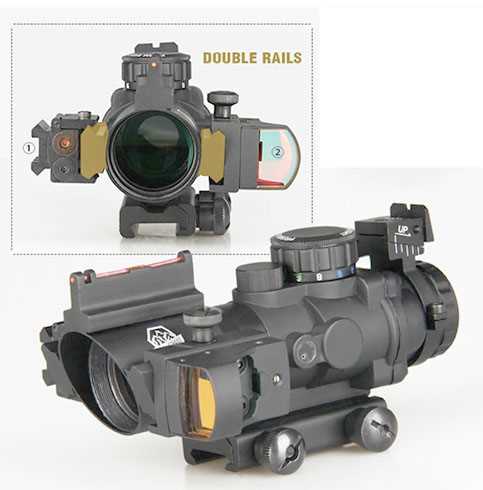 Yeah — like anyone is going to ever use a scope with all that extra stuff!
But on his table I saw many nice looking side focus 30mm tube FFP and SFP scopes with nice clear glass etched reticles, with red/green illumination, push pull locking turrets, a larger wheel for the side focus parallax knob, a sunshade, nitrogen purged, waterproof, fog proof, "shockproof" (more on that later) and a lifetime warranty!
We talked about scopes for a while and since he was the importer he was asking questions about airguns, we discussed specifically what an airgun does to them during the shot cycle.
I looked at several models, he even allowed me to take some outside to see how they were in natural light.
I eventually chose a side focus 5-25x50mm First Focal Plane scope with a 30mm tube, 1/4 moa adjustments, and resettable zero locking turrets. The scope retails for $320, as this was his open box display unit, he let me have it for $150.


Sniper 5-25X50 FFP scope. This is Sniper model number ZT5-25X50FFP.
I chose the 5-25 power scope because I sometimes like to shoot offhand, and a lower magnification doesn't show my wiggles and jiggles as much, but I still have the option to shoot from a bench at 25X. I like the fact I can shoot at different distances on 6x standing, 12x sitting or kneeling, and 25x from the bench and not have to have a scope holdover chart for each magnification.
I mounted the new scope on my .22 caliber wooden stocked Avenger with a known ability to shoot well.
The scope came with a Picatinny cantilever mount that fit the Avenger perfectly on the rear part of the scope rail, and still had room to clear the magazine.
So what do I think about a FFP scope?
I LIKE IT!
At all magnifications it has the ability to focus from 8 yards, out to infinity. The yardage markings on the side focus knob seem to match the distances shown with my handheld laser range finder out past 100 yards.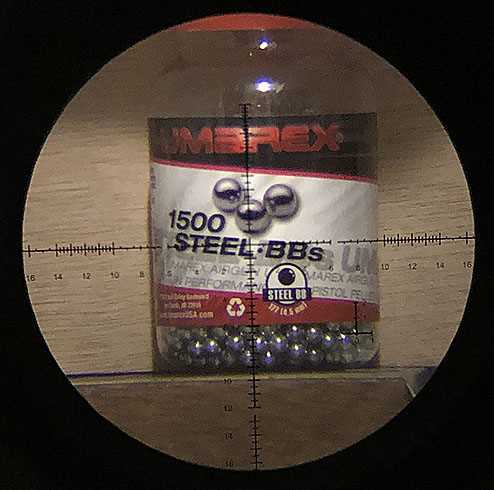 The image is perfectly clear at 8 yards with 25x magnification, with the text easily readable, the image of the target appears fuzzy in the photo because it is at the maximum resolution at which my cell phone scope cam is capable.
The reticle is graduated in 1/2 mil increments.

The A & B letters are not in the actual scope, just indicated here so you can see what parts of the reticle correspond to full and half mil dot spacing.
The scope has a clear image, even indoors under less than ideal fluorescent lighting, and the red/green illumination only illuminates the middle crosshairs and lower vertical scale, with no interior blooming or glare like less expensive illuminated scopes seem to have. [Editor's note: On less expensive scopes with wire reticles, when the reticle is illuminated you can see light reflecting off the dark interior surfaces of the scope. This is what Ian is calling bloom.]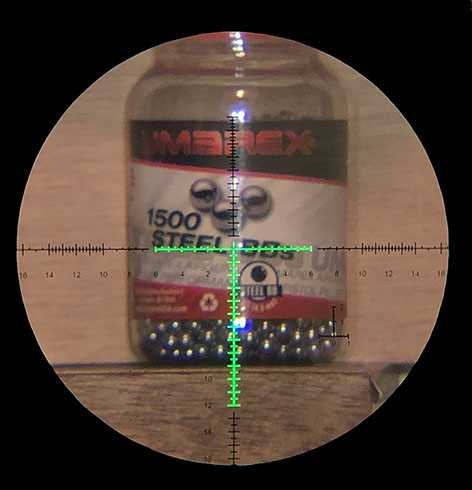 There is no internal blooming of the reticle.
I like the fact that I can hold the same aim point for a given distance no matter what magnification I am using.
I mounted the scope to a workbench, and using a 6 inch x 6 inch card at 50 yards, I set the crosshairs on the top left corner of the card, then adjusted the scope around the card from corner to corner. Counting clicks as I went, it returned to the starting place with no problems within 2 clicks of where it should have been. I did tap the turrets after every adjustment just to counter any stiction it may have.
Now for the bad news, it is shockproof, but not springer rated, the manufacturer says it is rated for a magnum centerfire rifle, but not a .50 BMG cartridge. So in the airgun world that will limit its use to PCP/CO2 or single/multi stroke pneumatics only.
The included cantilever mount is also decent quality and made of nicely machined aluminum, but it also has one feature that I was not surprised to see from this company….
There is a short piece of Picatinny rail machined into part of one of the scope rings. It is there just waiting for some accessory to hop onto the scope for a trip to the range…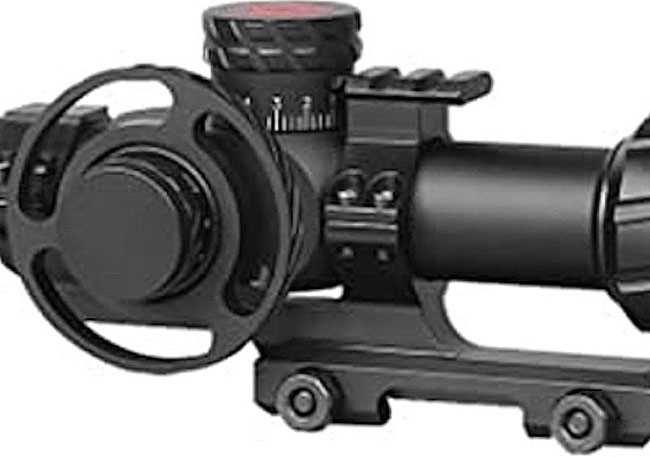 Be safe.
Ian.