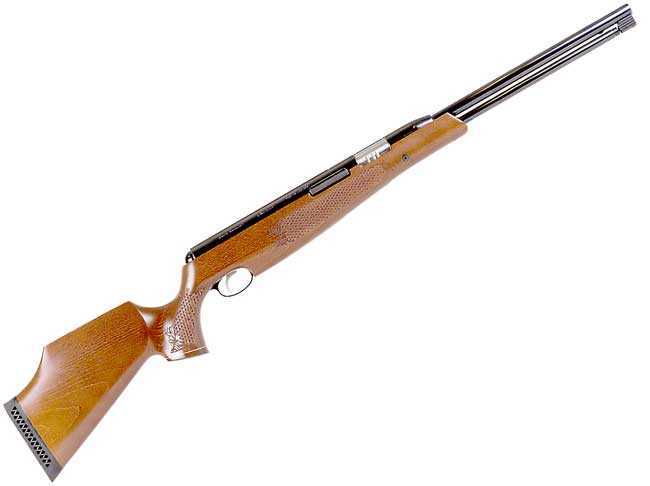 The TX200-MkIII is a legendary underlever spring-piston air rifle.
This report covers:
Background
The kit
The transfer port
Disassemble the TX
Cocking
Firing behavior
How smooth
Cocking effort
Velocity
Red 'N Tacky grease any good?
Behind the scenes
Where are we?
Summary
Today I install the 22mm piston kit made by Tony Leach (https://airguntech.com/) and report on the results. If you own a TX 200 Mark III or plan to, this report is an important one.
Background
A couple months ago reader Buldawg made a remark that a tuning kit made by Tony Leach that he installed in his TX 200 Mark III made it almost as smooth as a precharged pneumatic air rifle. That started me thinking, because I once shot a rifle that looked very much like a TX200 and it was almost as smooth as a PCP. That rifle was called a Venom Mach II — a two-thousand-dollar custom underlever that was handmade by Ivan Hancock. Well I couldn't afford it then (the late '90s) and they are no longer being made, so it doesn't matter anymore. Could the Tony Leach kit be as smooth as that?
I corresponded with Tony and decided to buy his kit. Here is what he told me.
"Regards the kit, I will drop it in my rifle here, and adjust stroke to push 8.44-grain JSBs out at around 770fps. Every gun is different however, so you may have to fine tune. Cutting the spring is not the way to do it for power drop. Adjusting the stroke by moving the piston nose up and down the rod is better. This means you have to break the Loctite with heat and re glue back on using high strength thread lock or bearing retainer. If this proves to be an issue I do have a fitter in the USA to whom you can ship the action and the piston. He is fully versed in the methods of setup. It may be real close as shipped, so test and see first. Adding a little preload is ok, but there are limits. These small piston conversions rewrite all the rules on airguns.
The kit will be a 22mm skirtless piston, a new compression tube with bearings with honed 22mm bore. The piston has a poly seal of my own design, bronze piston bearings and dual rotating tophat.
The mainspring is my own design — custom wound and it sits on a Delrin rear guide. The setup can in no way be pushed to make 12+ foot pounds, it will break the rear guide in short order (I know you said 11 foot pounds is fine but people will ask).
The pressure these kits create is huge, over 3000psi, all lubes will detonate, they do settle down though. Do not use Krytox or Ultimox, they are dangerous when they burn and they detonate in these kits, plus they don't last.
I supply piston seal lube, it settles out so shake the bottle thoroughly to mix and only use a drop, every 5k. Piston rod has to run dry or it will cause suction. For spring lube, use superlube grease or a good lithium or synthetic grease. Moly works but does attack Delrin (I just learnt that). I use Lucas Red 'N Tacky grease and apply it using a paint brush. You only apply enough to wet the guide and the coils.
Lots to take in. The set up is different than for the 25mm piston. There is no excess air; every drop has to be used to push the pellet. Over-springing can in small amounts help harder pellets such as FTT or RWS Superdomes make equal power to JSBs, however JSB performance will go down, especially Express. They let go and fly too early to get a full push."
The kit
The kit consists of a sliding compression chamber that's sized to the new 22mm piston, the piston assembly, a mainspring with front and rear spring guides, a small bottle of piston lube and some o-ring seals and three steel washers to adjust preload.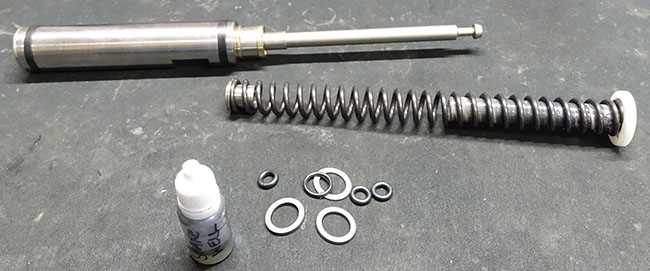 This is what came in the Tony Leach Kit.
The three steel washers vary in thickness and give a range of 0.5mm to 5mm preload, depending on how many washers and which ones are used. I decided to not use any preload when I set up the rifle because I am going for smoothness — not power. If I wanted more or less power the piston head can be adjusted in or out to give more or less stroke. This is exactly what we have been talking about on this blog for years! Forget stronger mainsprings or adjusting the preload.
I examined the fit of the Leach 22mm piston to the inside of the new compression chamber and it is tight! The machining on all the parts is top quality — as good as the Air Arms parts they replace.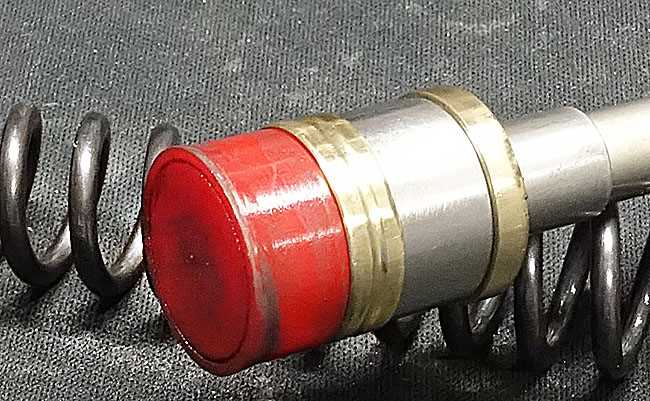 The piston has no skirt. The brass rings fit the compression chamber precisely.


The stock TX piston is below the Tony Leach 22mm piston.
The transfer port
The transfer port is a brass tube. It's recessed inside the end of the compression tube so the barrel breech stub will fit inside and seal tight.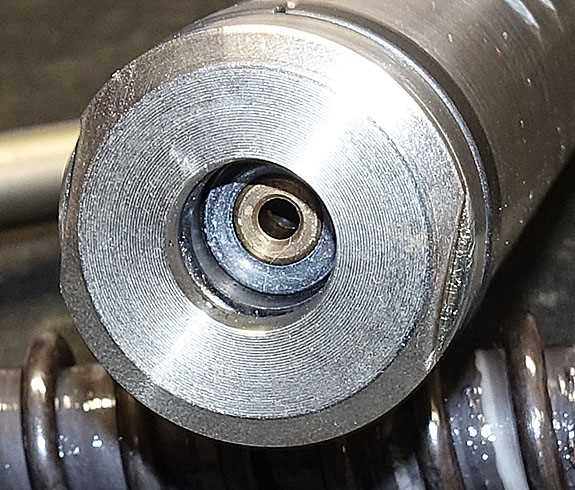 The air transfer port is a brass tube deep inside the end of the compression tube.
Tony also said he used Lucas Red 'N Tacky grease for the mainspring. That sounded similar to the Almagard 3752 that I have been using (we know it as Tune in a Tube) for my past tunes, so I ordered some.
This grease looks identical to 3752 and the good news is sells at about half the cost. I guess this test will tell us how good it is.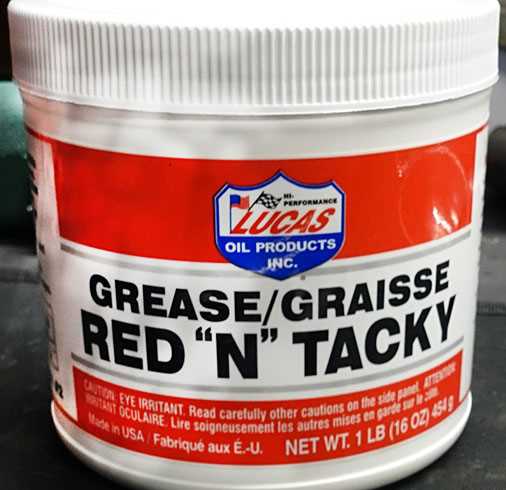 Lucas Red 'N Tacky grease seems to be good stuff.
Disassemble the TX
I now disassembled the TX, removed the sliding compression chamber and swapped in the new parts from the kit. That and taking pictures took about 30 minutes. Then I assembled the rifle.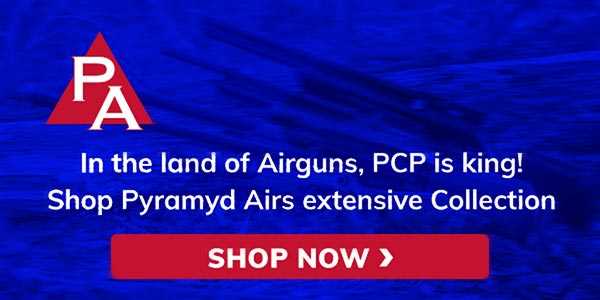 Cocking
The rifle cocks like it did before. But when the sliding compression chamber is closed the fit is quite a bit tighter. It almost feels like it doesn't want to close, and then it slides closed easily.
Firing behavior
The rifle is smoother than before, but it's not as smooth as a PCP. As best I can recall from 24 years ago, neither was the Venom Mach II. There is a definite pulse when the rifle fires.
How smooth
Vibration is now completely gone, not that there was much of it to begin with. But now, since I'm shooting into the rubber mulch box/trap, I sometimes wonder if the pellet has even come out of the barrel — that's how smooth it is. I suppose that is what people are trying to say when they say it's almost as smooth as a PCP. There is still a pulse upon firing.
Cocking effort
The rifle now cocks with 36 pounds of effort. That is identical to the effort required to cock the factory mainspring.
Velocity
Since Tony set the kit up with JSB 8.44-grain domes, that's what I used to test the velocity after installation. He said he expected the kit to deliver around 770 f.p.s. with this pellet. My rifle now averages 767 f.p.s. Here are all the shots in a 10-shot string.
Shot…..Vel.
1………767
2………767
3………764
4………765
5………768
6………769
7………771
8………766
9………764
10..……765
The spread is 7 f.p.s. At the average velocity of this pellet the rifle now develops 11.03 foot-pounds at the muzzle.
With the previous tune and a new piston seal the rifle averaged 929 f.p.s. with 7.9-grain Crosman Premiers. That was good for 15.14 foot pounds.
Why didn't I test it with Crosman Premier lights? Because Tony said the gun is set up for JSB 8.44-grain pellets. I know Premiers are harder to start because they are made from hard lead, so I felt it was right to stick to the pellet Tony recommended.
Red 'N Tacky grease any good?
I could have used Tune in a Tube (Almagard 3752), but since Tony mentioned the Red 'N Tacky grease I wanted to give it a try. As far as I can tell, it seems quite similar to TIAT. Since it is less expensive it might be something that you want to try.
Now that the kit is installed and the trigger is adjusted to perfection, I am ready to continue accuracy testing. Of course this rifle is different than it was the last time we tested it for accuracy. But you may remember that this JSB dome gave the smallest 5-shot group at 10 meters. It was just 0.098-inches between centers. That will be hard to beat.
Behind the scenes
I actually installed this kit three separate times. The TX 200 disassembles so quick and easy that you can do this. The first time was with no grease on the mainspring. There was some vibration with that. Then I put an ultra-thin coat of Red 'N Tacky on the spring and tried it. The JSB pellet averaged 782 f.p.s. with an 11 f.p.s. spread, but there was a bit too much movement at the shot. The vibration was gone but I felt the two-way recoil of the piston.
Then I put on what most people would consider a light coat of grease. That one was the charm and gave me the best velocity (767 f.p.s.) and spread (7 f.p.s.). That was the point where I thought the pellet might not be coming out of the barrel.
Where are we?
My TX200 Mark III now has what must be considered the ultimate tune. The trigger is adjusted to perfection and there is a Meopta MeoPro Optika5 4-20×50 RD BDC3 scope mounted. Only one thing more is needed to complete this ensemble — a new stock. When I bought the rifle it came with a beech stock, but now that I've invested the money to make the rifle as good as possible I think a beautiful walnut stock is in order. It's way in the future, but that's the way I am thinking.
Summary
Spring-piston airguns get no better than the TX200 Mark III, and now I have tested a kit that takes them to their limit. My rememberer strains to recall how smooth the Venom Mach II was 24 years ago, but I think my rifle is just as smooth.
You do give up power with Tony's kit. However, it has been successful in removing all vibration and much of the rifle's movement upon firing.
The good news is the rifle has not been modified in any way that cannot be returned if I want. Just reinstall the factory part and there you are. It takes all of 15 minutes to do.