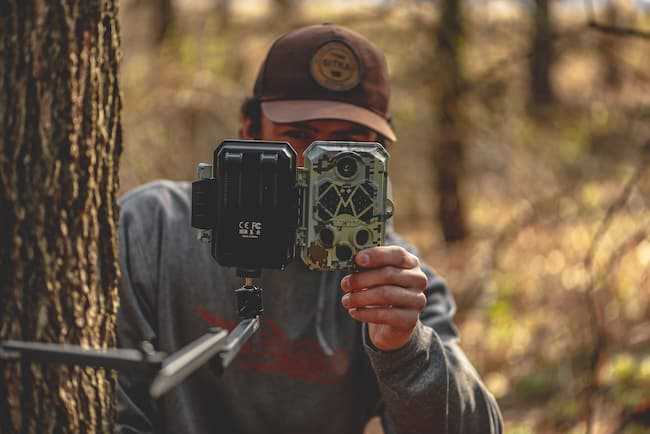 The summer months are perfect for finding new hunting property, taking inventory of deer nearby, and adding to your treestand arsenal.
Most bowhunters generally know what types of areas and sign to look for, but they don't always consider the mitigating factors that could kill an otherwise awesome opportunity. And finding hunting ground that checks all the boxes gets exponentially more difficult — and more important — for public land hunters.
Rather than making mistakes that could cost you come fall, do summer scouting right with these guidelines:
Break Out the Maps and Apps
Putting boots on the ground is incredibly important, but sometimes you need more intel before you even know where to get started. Take advantage of aerial maps and e-scouting tools to locate potentially promising areas, determine boundary lines, and gather landowner info for knocking on doors.
Use Trail Cams Wisely
Leaving trail cameras out — whether on public land or your own back 40 — always opens you up to theft. Minimize the risk by hanging them high, locking them up, and camouflaging them as good as possible. Resist the urge to trudge through and check cameras every couple days and instead limit foot traffic with less frequent camera pulls — or invest in a cellular trail camera for the off-season.
Avoid Pressure
While you're searching for scrapes, rubs, and bedding areas, also look for sign of other hunters — trail markers, trail cameras, treestands, etc. If the area already gets a lot of hunting pressure, keep moving.
Locate Low-Impact Entry Points
Rather than first looking for the perfect tree to set up a stand, focus on finding good entry and exit routes to your target area where you can travel to an ambush site with minimal deer disturbance. Determine how they're moving to and from the area and how you can get by undetected.
Give Yourself Options
Don't get so hyped up on a single spot where you found lots of sign that you neglect to secure a few alternative ambush sites. Give yourself options in case that primo spot underperforms, the wind is wrong to hunt it, or hunter pressure pushes you out.
Keep Expectations in Check
Get excited about the opportunities you find and the season ahead, but keep in mind that summer scouting only provides a limited perspective. Summer bachelor groups will break up, and bucks will move their home range so you may have to expand your hunting area. On the other hand, trail cameras can't show you everything, so the hunting might be even better than you imagined.