Webley Mark VI CO2 Pellet Revolver 2.5″: Part 2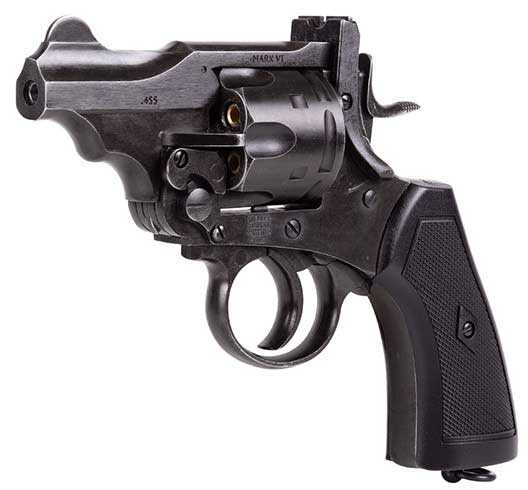 Webley Mark VI CO2 Pellet Revolver.
This report covers:
RWS Hobby
Easy way to load
Air Arms 8.4-grain domes
Sig Match Ballistic Alloy 
Shot count
Shooting behavior
Trigger pull
Summary
Today we test the velocity of the new Webley Mark VI CO2 Pellet Revolver with the 2-1/2-inch barrel. The factory claims 380 f.p.s., but with that short barrel I doubted it. Today we're going to find out.
RWS Hobby
The first pellet I tested was the 7-grain RWS Hobby. If any lead pellet is going to go 380 f.p.s., this would probably be the one. Since the revolver works in both single action and double action I fired six pellets in each mode. In the single action mode the Hobby averaged 396 f.p.s. The low was 392 and the high was 403 f.p.s. That's a difference of 11 f.p.s. — not too shabby. And shut my mouth — this revolver gets even more than the advertised 380 f.p.s.!
In the double action mode the revolver averaged 397 f.p.s. with Hobby pellets. The low was 392 and the high was 406 f.p.s. Single action and double action are about the same.
Easy way to load
This suggestion was sent in by a reader for a different revolver but it works even better with this one. Break the revolver open slowly and the cartridges will not pop completely out. When they fall back down they are easy to load.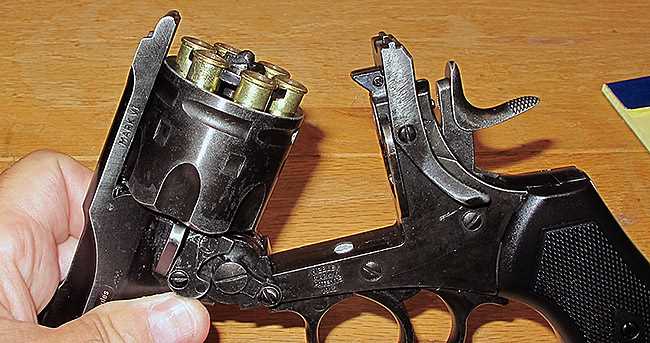 If you break the revolver open slowly the cartridges do not pop all the way out.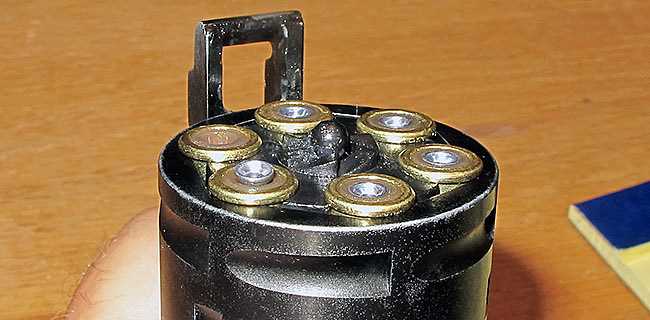 When the cartridges drop back down they are easy to load.
Air Arms 8.44-grain domes
The next pellet I tested was the Air Arms 8.44-grain dome. I tested it the same way — six in single action and six in double action. In the single action mode they averaged 370 f.p.s The low was 360 and the high was 377 f.p.s. for a difference of 17 f.p.s. For such a short barrel this revolver has great power!
In the double action mode six pellets averaged 369 f.p.s. The low was 364 and the high was 375 f.p.s., so a spread of 11 f.p.s.
Sig Match Ballistic Alloy
The last pellet I tested was the 5.25-grain Sig Match Ballistic Alloy wadcutter. Now, these pellets are much lighter and we expect them to go faster than the stated average. And they did! In the single action mode they averaged 457 f.p.s. with a low of 451 and a high of 464 f.p.s. That's a spread of 13 f.p.s.
In the double action mode this pellet averaged 450 f.p.s. The low was 437 and the high was 458 f.p.s. That's a spread of 21 f.p.s. And because the double action mode was slower than the single action mode I wondered if the gun was running out of gas. Because some shots did not register on the chronograph there were 38 shots on this cartridge since it was pierced.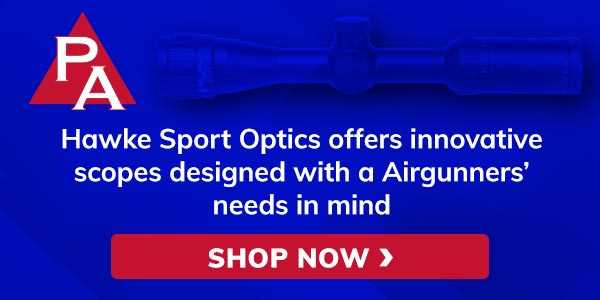 Shot count
Now, how many shots will we get? Given how fast these shots were going from such a short barrel I expected around 50 shots. So I went back to Hobby pellets and here are the results.
Shot……Vel.
40……….405
45……….399
50……….396
55……….391
60……….382
65……….didn't register. Shot 67 was 354 f.p.s.
70……….341
75……….309
I stopped at this point. I could tell from the discharge around shot 60 that the gas pressure was getting lower. I think any shooter will be able to discern this. Were there even more shots? Probably a few, but you risk sticking a pellet in the barrel if the gas suddenly gives out. Fortunately because of how this revolver breaks open it will be easy to clear.
Shooting behavior
This revolver is quite smooth shooting. The double action trigger pull doesn't seem to move the barrel sideways the way some DA triggers do. However I did feel the trigger pull through some slack as the cylinder advanced, and then it became slightly heavier. With practice I believe I could work double action as well as single action. I'll try some of that in the accuracy test.
The single action mode is very crisp. There may be some creep but it's not that much.
Trigger pull
In the single action mode the trigger breaks at 3 pounds 13 ounces. In double action the pull goes to 10 pounds, even. That might sound heavy but believe me, for a double action revolver it's not. People pay a lot of money to get their firearm revolvers tuned to shoot this well!
Summary
We have a good one here. If a Webley Mark VI revolver has ever been on your radar I think this is one to consider. Accuracy comes next.
Tags In
Tom Gaylord is known as The Godfather of Airguns™ and has been an airgunner for over a half-century, but it was the 
Beeman
 company in the 1970s that awoke a serious interest in airguns. Until then, all he knew were the inexpensive American airguns. Through the pages of the Beeman catalog, he learned about adult airguns for the first time. In 1994, Tom started
The Airgun Letter
 with his wife, Edith. This monthly newsletter was designed to bring serious reports about airguns to the American public. The newsletter and
Airgun Revue
, a sister magazine about collectible airguns, was published from 1994 until 2002, when Tom started
Airgun Illustrated
-- the first American newsstand magazine about airguns. Tom worked for three years as technical director at
AirForce Airguns
, the makers of the 
Talon, Condor, and Escape
 precharged air rifles. Today, he writes about airguns and firearms for various publications and websites. He also makes videos, and you'll find short clips embedded in some of his artices on Pyramyd Air's website. Tom is a consultant to Pyramyd Air and writes under the name of B.B. Pelletier.