Crosman 1322 American Classic .22 caliber multi-pump pneumatic pistol: Part 1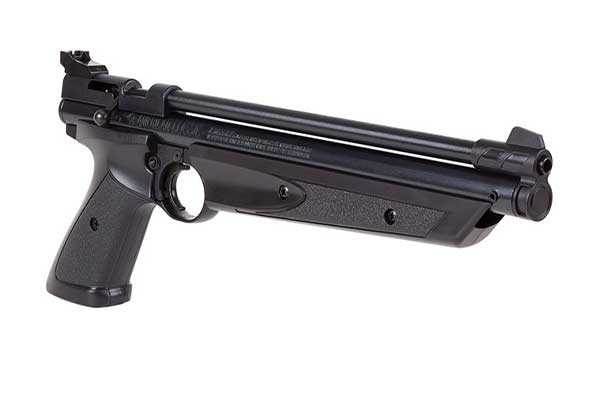 Crosman American Classic .22 caliber multi-pump pneumatic pistol.
This report covers:
Iconic
Multi-pump pistol
Oil the pump head
Don't have to cock to pump
Pumping
Description
Shoulder stock
Barrel
Sights
Adjusting the sights
Scope or dot sight?
What should I test?
Summary
Well, we start looking at a Classic today — Crosman's 1322 American Classic .22 caliber multi-pump pneumatic pistol. What a mouthful! It used to just be called the 1322, and most people will still refer to it that way, but Crosman has recently changed the name. A classic it certainly is!
Iconic
The 1322 is an iconic air pistol, having first been offered as the 1322 Medalist in 1977 and then gone through numerous iterations. In 2017 Crosman pulled it back in-house and only sold it directly for a while, but that's changed again and the Play Pack that was a bundled gun (with stock and pellets) seems to have gone.
Wow! If a company can be said to have a mercurial or fickle marketing department, Crosman is the one. Please just call it a 1322 like the rest of the world. Remember, New Coke almost destroyed their company in the 1970s and put Pepsi into the lead that Coke has fought for and still has not won back over four decades later. CROSMAN — it's a 1322! That said, BB will call it the American Classic because that's what is engraved into the metal on the gas tube, alongside a wee-teeny Model P1322 engraving.
Multi-pump pistol
This is a multi-pump that, according to the instructions, can be pumped 3 to 10 times. The user is warned not to twist the plastic pump handle while pumping or the handle could break. I will report on that in Part 2 when I test velocity. I have examined the underside of the handle and it seems to be braced properly, but it isn't a solid stick of wood.
Oil the pump head
I opened the pump handle and examined the pump head. It looked pretty dry and multi pumps seal with oil, so I oiled it. I used Crosman Pellgunoil on both the sponge wiper behind the head and also on the rubber head. I probably used 10 drops of oil and now when the handle is opened the rubber pump head is wet. That's what we want to see.


To access the pump head for oiling (arrow), put the pistol on its back and open the pump handle all the way. Just behind the pump head is a black sponge wiper that absorbs and holds oil.
Don't have to cock to pump
This pistol can be pumped without cocking and it will hold the air. That's old school and I like it. It makes it easier to store the pistol with a pump of air inside. Do that to keep the interior seals clean.
Pumping
I have to describe the pumping of this pistol because it feels different than I remember. When you pump the pump handle comes to a soft stop about an inch before the handle closes. I feel that stop for 4 or even 5 pump strokes. After that the pumping effort becomes so great that the handle closes involuntarily.
Crosman warns you in the instructions to watch out for pinched hands while pumping. I found that I had to hold the pistol grip with my hand that wasn't pumping. Five pumps were hard enough. I wonder what ten will feel like?
Description
The pistol weighs 2 pounds and is 13.63-inches long, so it's a big 'un. It has a rifled barrel and comes only in .22 caliber. That's why 1322 is the right name for it. Because the 1377 would be the .177 version.
It's a bolt action single shot with no possibility for magazines. And you don't want them or need them. This is a fundamental air pistol. Just let it be what it wants to be.
The grips, receiver and pump handle are plastic. The gas tube, frame, trigger blade, bolt, barrel and screws are metal. The frame and trigger blade are aluminum and all the other metal is steel. In short this pistol looks and feels exactly like it should for a $65 air pistol in 2022.
Shoulder stock
The model 1399 shoulder stock does fit this pistol once the grips are removed. I know many people like it with a stock, but it's not my cup of tea.
Barrel
The rifled barrel is 10.25-inches long. That means the pistol should be good for some serious power. The specs say to expect 530 f.p.s. Pyramyd Air suggests using it for plinking and target practice but I would add pest elimination to the list. It's ideal for ratting and dropping pigeons from the corn crib.
Sights
It's open sights only unless you change the receiver. The front sight is a blade without a ramp. The rear sight is adjustable but to do it you loosen screws and slide it to where you want it. One screw adjusts elevation and a different one adjusts windage.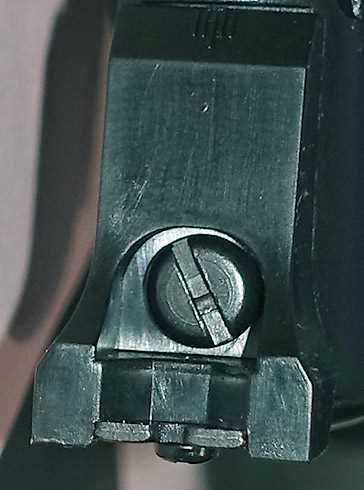 To adjust the rear sight left or right loosen the screw and push. Note the index lines at the top. A single line on top of the receiver provides reference.
1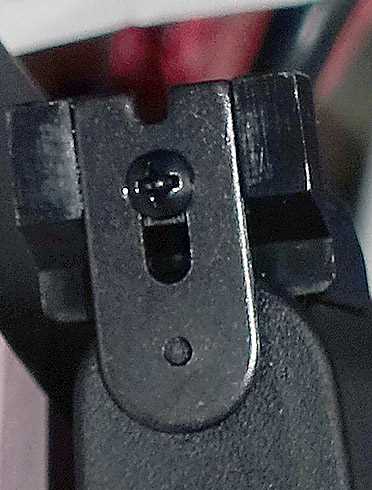 For elevation adjustments loosen the screw and slide the notch up or down. Notice the peep sight hole for use when a shoulder stock is attached.
Adjusting the sights
This rear sight doesn't have the channel that the Webley Senior did to keep it aligned up and down, but if you only loosen one screw at a time you won't loose the adjustment of the other screw. It seems simple; let's see if BB can do it.
Scope or dot sight?
You can scope the pistol or mount a dot sight by using the optional MT459 Intermount. It clamps to the barrel. I would keep any optical sight you use light to avoid shifting. I did see one owner's comment that when this Intermount is clamped tight, the weight of a scope can cause the barrel to unscrew, so watch for that. I won't be scoping this pistol.
What should I test?
I have a feeling there are many owners who want me to test specific things. Just tell me what you want and I'll try to do it — short of modifying the pistol.
Summary
The Crosman 1322 American Classic is an iconic air pistol that I'm sure many readers have. I expect to hear from you.
Tags In
Tom Gaylord is known as The Godfather of Airguns™ and has been an airgunner for over a half-century, but it was the 
Beeman
 company in the 1970s that awoke a serious interest in airguns. Until then, all he knew were the inexpensive American airguns. Through the pages of the Beeman catalog, he learned about adult airguns for the first time. In 1994, Tom started
The Airgun Letter
 with his wife, Edith. This monthly newsletter was designed to bring serious reports about airguns to the American public. The newsletter and
Airgun Revue
, a sister magazine about collectible airguns, was published from 1994 until 2002, when Tom started
Airgun Illustrated
-- the first American newsstand magazine about airguns. Tom worked for three years as technical director at
AirForce Airguns
, the makers of the 
Talon, Condor, and Escape
 precharged air rifles. Today, he writes about airguns and firearms for various publications and websites. He also makes videos, and you'll find short clips embedded in some of his artices on Pyramyd Air's website. Tom is a consultant to Pyramyd Air and writes under the name of B.B. Pelletier.