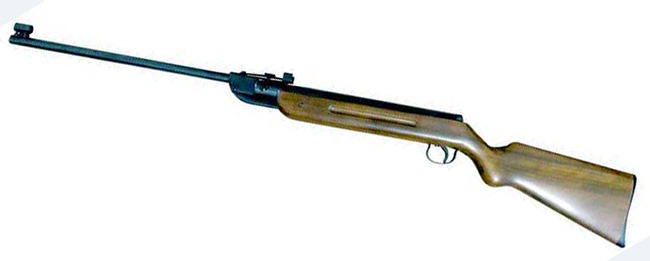 Diana 35.

This report covers:
Mockingbird
Which one?
If only
Crux
Save the lecture
Yogi
Summary
The old saying goes, "Beware of the man with just one gun." I now have a corollary. "Laugh at the fool with 100 airguns."
Today's report will be short because you readers are going to write most of it in your comments. What you write will be the most important part.
Mockingbird
Here in the part of Texas where I live we have fewer types of birds than I'm used to seeing in Ohio and Maryland. There they have a great many songbirds and the cardinal is the state bird of Ohio where I'm originally from.
Here in north central Texas we have lots of boat-tailed grackles, mockingbirds, hummingbirds and swallows. Right now the swallows are raising their chicks that are called gulps (that's a joke). They have two sets of chicks each year.
I have three swallow nests under the roof of my back porch and every year one or two swallow families raise their young. But years ago a cat came up on the porch and killed all the chicks in one nest. I now try to  scare away any cats I see. But the problem didn't end there.
Last year I found a nest destroyed with the remains of several chicks on the cement below. I thought it was a cat until this year I saw a mockingbird, sitting on the porch eyeing the nest that was occupied. Mockingbirds are extreme predators that attack bird nests and kill other birds. Even my cat, Punky, was attacked by a mockingbird mother after he killed one of her chicks. Okay, I thought, I'll just grab a quiet air rifle and make this guy history.
Which one?
And here, my friends, is the punchline to this report. Which quiet and accurate air rifle or pistol do I grab? And where is it sighted? At what distance? With what pellet?
The next few minutes looked like a Mack Sennett revival of the Keystone Kops, as I went from room to room and place to place looking for that one air rifle that could do the job. And I never found it. The mockingbird flew to the top of my fence and gave me a perfect 10-meter silhouette shot that could be made safely, if only I could find the one airgun to do the job.
If only
I realized I had no airgun, rifle or pistol, whose point of impact I knew with any hope of precision at any distance! I didn't even know their favorite pellets — even if I knew the other stuff! Gentlemen — the cobbler's children have no shoes!
This isn't the first time this has happened. And, if we want to get technical, I do have just one airgun whose favorite ammunition I know, and exactly where it is sighted and at what distance. My Daisy 499B BB gun is the one I know. Remember when I told you about killing a cicada in the report titled, An unexpected expedition?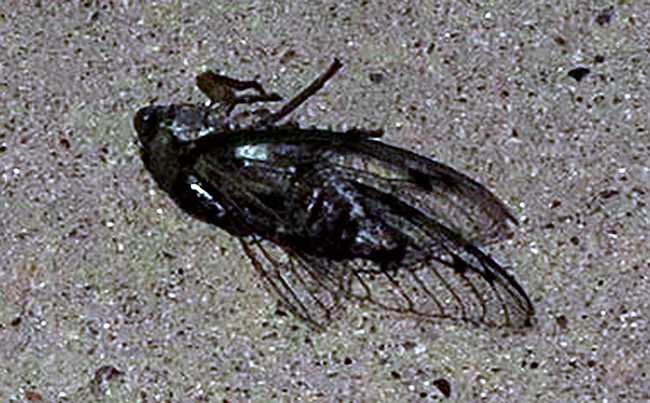 BB killed this cicada with a head shot from the Daisy 499B.
Well that Daisy is great but it will never take out a mockingbird at 10 meters. And I don't shoot at animals to scare them away. I shoot to kill, and ONLY to kill. For that I need a pellet rifle, which is why the vintage Diana 35 is shown at the top of this page. I'm considering it for duty as my go-to airgun, but I need to hear from you readers first.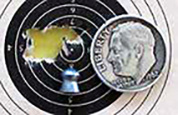 This is a five-shot group of Air Arms Falcons that was made by the vintage Diana 35 shooting rested at 10 meters. It measures 0.371-inches between centers. Apparently this rifle loves the Falcon pellet regardless of the hold.
Crux
And here is the crux of this report. Do you guys have a go-to airgun with go-to pellets and does it work for you? Tell me about it.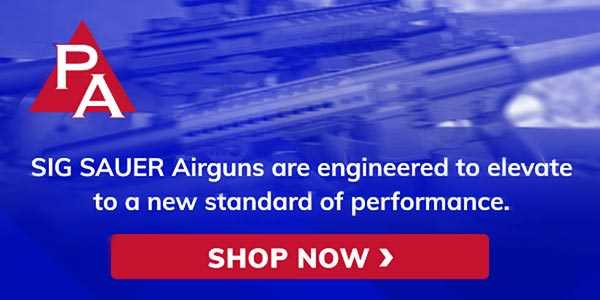 Save the lecture
At this point I can expect a lecture from several readers who say things like:
"BB, you shouldn't kill rattlesnakes. Don't you know they keep your yard free from armadillos?"
"BB, never kill a wolf spider! They kill black widows in your house!"
"BB, don't kill rabid dogs! They will kill all the skunks that live under your foundation!"
It has occurred to me that the mockingbirds are only doing what they must to survive. Therefore, if they want to get the swallows on my back porch, I will not shoot them. But that still doesn't relieve my need for an accurate go-to airgun that I know and can shoot well — OFFHAND!
And yes, I also realize that a pellet rifle that's suitable for smaller critters like birds is not suitable for larger animals like dogs. I am not looking for a universal airgun — just one to shoot common pests.
Yogi
Yogi, on a related and completely different subject I have made a breakthrough in my 10-meter target pistol practice. I have learned how to stop or at least attenuate the up and down wobble of the gun. I was always doing this, but as far as I know, I never wrote about it before nor did I even think about it consciously. On Monday I will report on the progress of my 10-meter target pistol training.
Summary
That's it. You tell me what you do, and some of you tell me what you think I should do.