This report covers:


FWB P44.
Today's report covers:
Training since last time
Yogi's gift
Rotating the arm
The pellets
The trigger pull
The test
First target
My final match
Second target
Stopped
Adjusted the trigger
Summary
Today we look at my attempt to shoot 10-meter pistol again. Yogi — this one's for you.
I have a lot to say about this today, but there are only two targets to examine. I will explain as we go.
Training since last time
What I said at the end of the last report was, "I plan to fire no less than 25 dry-fire shots each day. At least a week will pass before I shoot pellets again, so I should be slightly better, but we'll see."
My next distance to the target will be the full 10 meters, but I won't go there until I know I can do it. I remember enough about this sport that I don't need any intermediate steps. I just need to get the basics under my belt."
What actually happened was I set up a training "range" in my living room. I stood 12 feet back from a black Shoot-N-C target paster. You may remember that target appears to be the same size at 12 feet as the 10-meter pistol target appears at 33 feet (10 meters). And I shot between 10 and 20 shots per session. Why not 25? Because this is hard! And I wobble — a LOT!
Yogi's gift
I wobbled a lot in the shooting stance but I discovered late in my training what I could do to attenuate some of that. I wasn't wobbling from side to side as much as up and down. And, only days ago, I remembered that I used to lean back just a few degrees to stop the wobble. I lean from the waist and the lean isn't as much as 5 degrees. What it does is make my shoulders a structure and my shooting arm a cantilevered extension from that structure.
My legs and feet take up almost all of the side-to-side variation. By moving the feet a few inches in the needed direction and by rotating the toes on each foot inward or outward I move where I naturally point and, by extension, where the pistol points. I did find in the training that these days I need my feet planted a little wider than my shoulders, and that seems to be a result of getting older. So my advice to target pistol shooters is to either stop aging or to consider spreading your feet a few inches further apart.
Rotating the arm
Yogi, this one you asked for specifically. I was taught by LTC Bonsall to rotate my pistol as far to the right as possible when I raise it and then to relax the arm as I lower the pistol down to the target. What this does is rotate my elbow under my shooting arm instead of alongside of it. I have to do it every time I raise the pistol to shoot.
At first in this training session I thought this was just for shooting the 1911 and not a target pistol. But as the training progressed I started doing it more and discovered that it really does help steady that arm.
I am right-handed, so what I just described is for that hand. If I was a leftie, everything would be reversed.
The pellets
As I said in Part One I used Vogel pellets because in my testing back in 2016 when I purchased the pistol it showed a preference for Vogels with a 4.50mm head. But they were from a small package (100 pellets) I had purchased from Pilkguns. Based on what I saw in that test, I purchased 5,500 Vogel pellets in bulk. But these are not sorted by size. The price was good, but the head sizes can range from 4.48mm to 4.53mm, according to the information I was given at the time of purchase. I'm not a good enough shot for that to make much of a difference at this time, but back when I competed the pellet mattered quite a lot. I could gain or lose 3-4 points in a 600-point match, from just the pellet.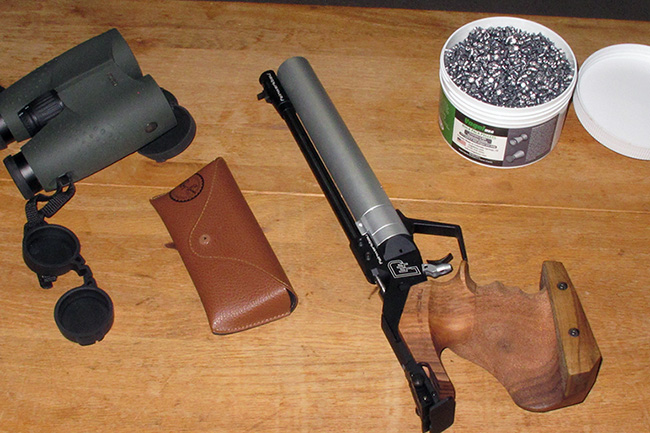 Shooting 10-meter pistol is so simple! The glasses case houses my reading specs that I use to see the front sight blade. The Meopta binocs are my spotting scope. The big tub holds close to 5,000 unsorted Vogel pellets.
That means that before I shoot for score again, I need to sort some of the pellets by head size. Then I need to test each head size for consistency. Thank you, reader Jerry Cupples, for the Pelletgage! Testing the Vogels is going to be the next report in this series.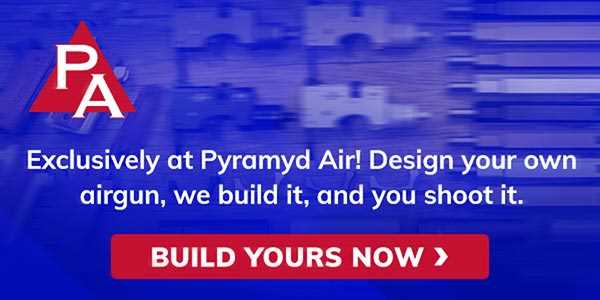 The trigger pull
Remember that I adjusted the trigger heavier in Part One? I discovered during training for today that I had set the trigger pull too high. I had measured it after adjusting it in Part One at 539 grams, but now it measures 588 grams. That is simply too high for me. I discovered that how the trigger pull is measured has a huge influence on how much it measures. So I need to take off the grip and adjust the trigger pull lower again. That will help me somewhat.
The test
Today I shot from 10 meters at a 10-meter pistol target. I shot exactly the way I would in competition, except the heavy trigger caused me to set the pistol down several times without shooting. That photo above looks like my shooting table in competition except, in place of the reading glasses I would wear shooting glasses.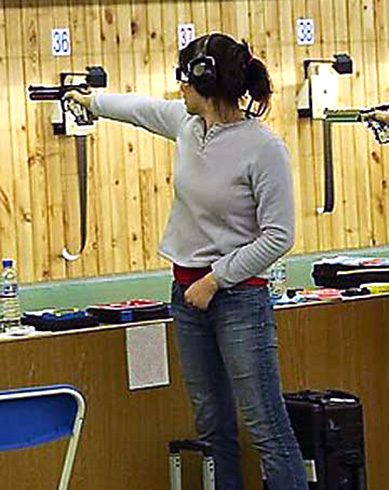 This woman is in the traditional 10-meter pistol stance. She wears earmuffs to keep from being disturbed by other competitors. They are probably electronic, so she can hear the range commands. Notice her upper body is bent backward at a slight angle. It looks sideways here. The targets are sound-scored with long black paper rolls that scroll slowly down, to present the shooter a black bullseye.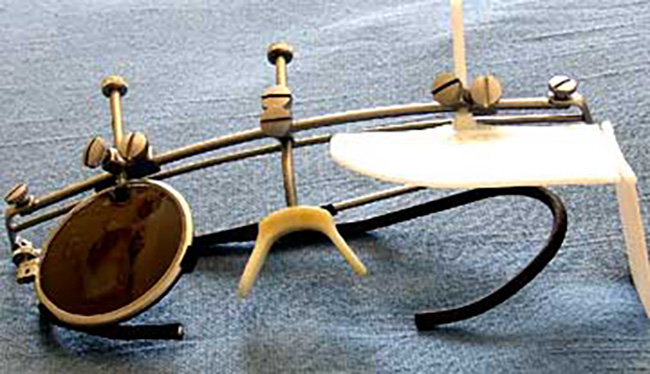 My shooting glasses contain a prescription lens for the right eye and a white translucent blinder for the left eye. The frames are extremely adjustable.
I shot about 10 dry-fires before loading a pellet and starting live fire. At matches that was how I adjusted my feet and after I was settled in, I never moved my feet again.
I'm not going to measure groups in this series. Instead I'm going to score targets. We need to learn how that is done.
The black bullseye is 2.345-inches (59.54mm) wide and the One ring is 155mm (6.11-inches) wide. The rings are numbered up to 8. The next smaller ring is the 9-ring and the 10-ring is inside that. There is one smaller ring inside the 10-ring. It counts as a 10 until the shootoffs for the top competitors, when it adds decimal points from 0.1 to 0.9 points to the score.
If the pellet breaks a score line, the higher score is awarded. If it touches the line without breaking it, the lower score is awarded. Since national class, world class and Olympic competitions all use sound-scored targets, the fractional scores are computed automatically.
First target
When I was competing I shot mostly 8s, 9s and 10s with an occasional 7. My average shot scored 8.9167 points. My match average was 535 out of 600 You'll see what that looks like on my first target today. When I got really hot I could shoot 48/50 for 5 shots, but the concentration it took to do that gave me a headache and I couldn't keep it up for all 60 shots.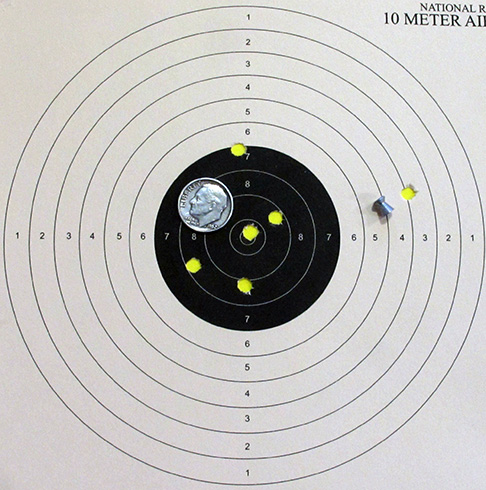 The five shots inside the bull score 43 points. There is one 10, two 9s, one 8 and one 7.
But the target above also has a shot that's a little high and way out to the right in the 4-ring. I mistakenly shot 6 shots at this target. In competition the top score would be removed and the score of the lowest shot would be added, making a total score of 37 points. In competition we shoot one shot per target, so there is no error when scoring.
That stray shot was a called pull. I was shaking and the gun went off with the sights pointed high and right. I'm blaming the too-heavy trigger for that one.
My final match
I remember the last match in which I shot competitively. My CO2 Chameleon target pistol ran out of gas in the middle of the match and a perfect ten became a 6. It took the wind out of my sails and I scored about a 520 in that match — much lower than normal. On the drive home the transmission in my Chrysler Town and Country minivan gave out on the freeway and the car had to be taken to the repair shop. Those two things happening on the same day ended my competitive shooting life.
Second target
On the second target I started coming apart. I got three nines, then another shot went off and hit high right again. The final shot was a snipe (deliberately pulling the trigger, hoping the gun goes off when the sights are aligned), because I couldn't wait for the heavy trigger to break. This target score is 31 points.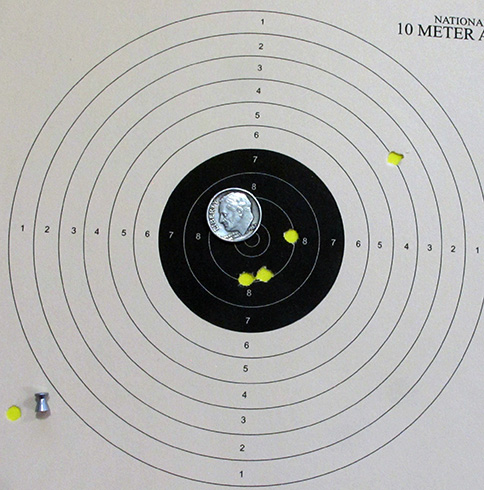 This is what it looks like when I blow up. I am finished for this session. Never before have I missed the scoring rings!
Stopped
At this point I stopped shooting, because I was going to start becoming unsafe. I used to wonder how anyone could miss a ten-meter pistol target. Now I know!
Adjusted the trigger
After shooting I adjusted the trigger so the first stage is 50 grams lighter and stage two (the important one) now breaks at 522 grams. That feels SO much better! From now on I will be dry-firing with the trigger adjusted this way and the next time I shoot for score I should do better. I may also be able to shoot more targets because my shooting arm should be stronger.
Summary
A few weeks ago I spoke to an Olympic shooting coach who asked me how long I thought it would take me to come back to where I had been. I said a couple months, but after seeing today's results I think it could be a lot longer.
I was also going to take a few shots with the Diana 35 at 10 meters, but I decided to just stick to one thing at a time. I do want to shoot that rifle, though.