This report covers:
Optical sights
Eyes not good
They knew their rifle!
Kentucky windage
Things got better
Buckhorn rear sights
Semi buckhorn
Where am I?
Is this enough?
Fiberoptics
Most important thing
Today we're going to talk about seeing your sights along with your target.
I shot the HW 30S again, and once again I had difficulty seeing the front sight. When I could see it I knew what I was doing and shot better. It didn't make me a better shot, just as a scope doesn't increase the accuracy of an airgun. But it made me better able to see where I was shooting, and that was a help. You will see more on that Monday.
Optical sights
I like optics as much as anyone. But there are times when they don't fit the situation. Yes, the tiny button batteries of the new generation of dot sights last for years turned on. But they HAVE to be turned on! And today they don't have positive switches, they have software switches. It can take seconds for the new optics to respond to an input. I want something that acts NOW.
Eyes not good
After my cartaract surgery I can no longer focus up close. That means I have difficulty seeing the front sight, which we all know is the key to accuracy.
It's a good thing that back in the days before scopes and dot sights everyone's eyes were 20/20 all the time. What? You mean they weren't? How did those shooters of the past ever deal with poor vision when there were no scopes? Well, they used open sights that compensated. Let's see.
Guns did not come with sights at first. There were several reasons for this. First, the guns were not accurate. Hitting a man 20 feet from the muzzle was only possible if the gun was fired into a phalanx of men. Guns didn't have triggers. They were like cannons attached to poles. In fact, they were called hand cannons.
But the design technology advanced rapidly to the point that guns started being held more or less like they are today. When that happened, sights were needed. At first there were only front sights, because the guns were still inaccurate, but eventually they added rear sights and it became possible to hit a man at 60 feet from the muzzle.
They knew their rifle!
Then the rifle came into being and the distance at which men could be intentionally hit stretched out to 600 feet — a tenfold increase almost overnight. Now sights became vital and this is when the open sight took off, because with rifles, shooters could rely on hitting in the same place every time.
The first practical sights were a combination low front sight and a wide shallow rear vee. These were found on Kentucky rifles starting about 1730. They were vast improvements on what had gone before, and shooters soon learned how to use them well beyond their design parameters. For example, if a rifle was hitting away from the target, the shooter could move the front sight, relative to the rear vee, and get a different impact point. This was called Kentucky windage.
Kentucky windage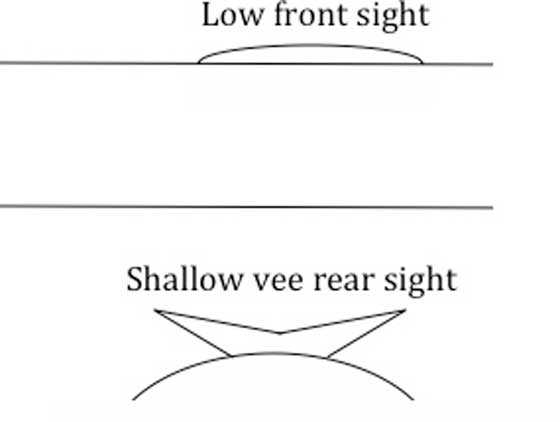 The front sight, seen from the side here, and the rear Vee of a Kentucky rifle were huge improvements in the development of sights.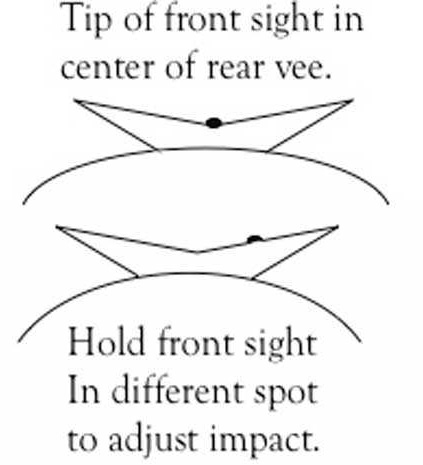 To move the impact of the bullet, simply hold the front sight in a different place, with reference to the rear sight.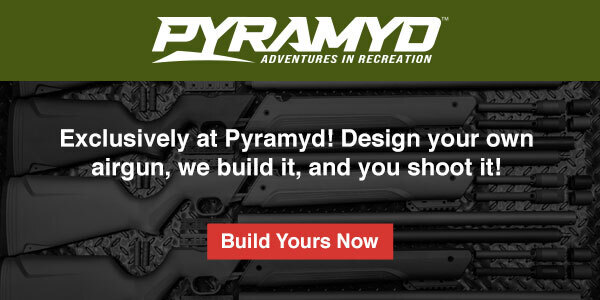 Things got better
As time passed and shooters realized just how accurate their new rifles were, compared to the smoothbores they shot before, the sights improved with them. Human eyes, on the other hand, did not improve. Let's now look at what could be considered the high-water mark into which those primitive Kentucky sights evolved.
Buckhorn rear sights
Buckhorn rear sights were actually popularized in the American West in the second half of the 19th century. But they became very trendy around the 1920s, and the trend lasted well into the late 1950s — past the time when they made any real difference to shooting and were more of an adornment that some shooters expected to see. Though they were originally mounted on single-shot muzzleloading rifles, they are perhaps best-known as the sights for Western-style lever guns.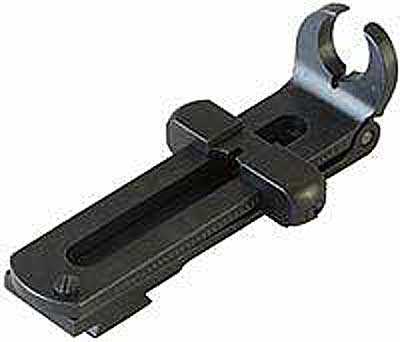 A buckhorn sight is very distinctive.
When you see a full buckhorn rear sight, you instinctively know it was created for some specific purpose, though there's very little literature that actually explains it. I'll now go out on a limb and explain the sight as I understand it.
A buckhorn rear sight is a ranging sight. What that means is that it's a sight that can quickly be "adjusted" to shoot at different ranges without touching the sight. All you do to change the point of impact is change the sight picture. There are three clear sighting options when you sight through a buckhorn. The sight is nearly always associated with a post-and-bead front sight; and when it isn't, I suspect someone has changed one of the two sights — either front or rear.
The bead can be held in the small notch at the bottom of the buckhorn for close shots. I would tell you that this is the 50-yard sight picture, but that would be misleading. On some guns, it might be exactly that, while on others the distance will be different. Suffice it to say this is the closest range at which the sight can be used without any adjustment.
When the muzzle is elevated until the front bead appears in the center of the hole described by the arms of the buckhorn (sort of like using a large peep sight), you have the middle range. Again, I can't tie this to a specific distance without referring to a specific gun. And when the muzzle is elevated so the bead is between the points of the horns at the top, you have the longest range at which the sight can be used without adjustment.
All three ranges are achieved without moving the rear sight — by simply elevating the front post in relation to the buckhorn. That's the purpose of the buckhorn sight as I understand it. If you have one on a 44/40, the three distances will be different than if you have one on a .22 rimfire. You should bear in mind that when the buckhorn was invented, men typically had just one rifle and they learned it well. It wouldn't take long to become accustomed to the ranges for which their own rifle was sighted.
Now for the bad news. Most riflemen dislike the buckhorn, finding it crude, obstructive and generally not useful. Townsend Whelen was very outspoken against it. And most shooters who own one simply use the lowest notch for sighting, so the extra capability goes to waste. But it looks very Western, hence my remark about it passing into the realm of a fad.
Semi buckhorn
Worse than the buckhorn is the semi-buckhorn, which is neither fish nor fowl. It was even more common than the buckhorn and appeared on most rimfire rifles of the 1940s and '50s because of its supposed popularity. It's not a ranging sight like the buckhorn — just a stylistic form that's supposed to look cool. Nobody asked shooters what they preferred. Companies just attached these sights to their guns and that was what you got — not unlike the fiberoptics of today.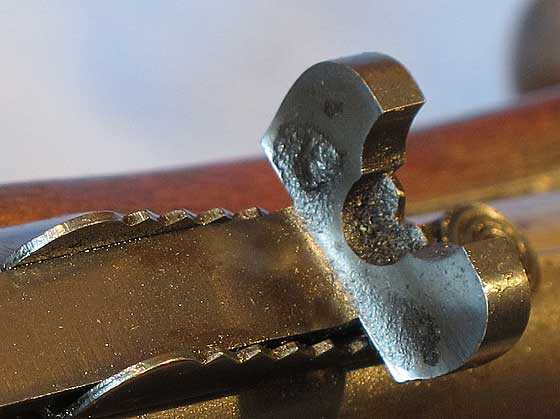 The semi-buckhorn rear sight is just a stylized rear notch with two long arms that add nothing to the functionality.
Where am I?
There are no buckhorn rear sights for airguns. And few shooters would choose them if they could for the reasons I just mentioned. So what do I do?
Well, my first choice is to try the sight inserts that came with the rifle. Remember them?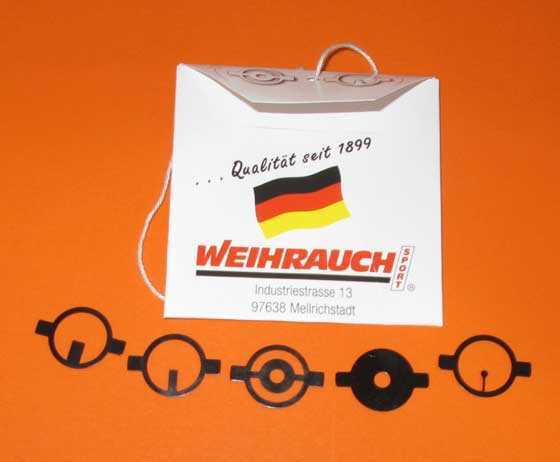 HW 30S came with these front sight inserts.
And the rear sight also has a choice of 4 notches that can be selected. Given the condition of my eyes I think I'll choose the widest front blade and the widest rear notch.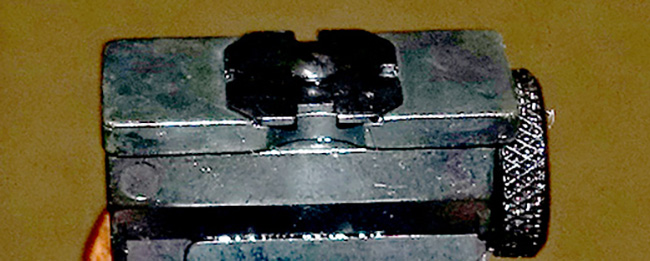 These four notches on the rear sight can be changed to match the front blade. They are simply pried up and rotated because the plate is attached to a spring-loaded pin and never comes off.
Is this enough?
I won't know whether this is enough until I try it. I have already tried shooting with the original open sights, so there's something to compare to. And you will see the results soon enough.
Fiberoptics
As Roamin Greco correctly surmised, sighting this way isn't aiming at the center of the target. It's aiming at the 6 o'clock position of a 10-meter air rifle target. At ten meters the pellet rises six-tenths of an inch (15.49mm) above the top of the front post. At 7 meters the rise is different, as it is at 15 meters and so on. Does that matter? Because if it does I may be forced to mount a fiberoptic front sight on my rifle. And even that won't be perfect.
The issue is, as the distance to the target changes so does the point of impact. At close range it may make the difference between blowing the head off a wasp or missing completely. At a longer distance it may throw your shot off by three-quarters of an inch (19mm). Will that matter? If you are shooting at a squirrel it could. If you are shooting at a Kodiak bear it won't, because with the bear you'll be dead either way.
My point is — yes a fiberoptic sight might be best in this situation and no, BB does not want to try one unless nothing else works. He would rather mount a dot sight than a fiberoptic!
And let's not forget the MOST IMPORTANT THING.
Most important thing
This takes us back to knowing our rifle. When we know where our rifle is shooting, shooting with sights becomes almost instinctual. And that is my summary for this report.