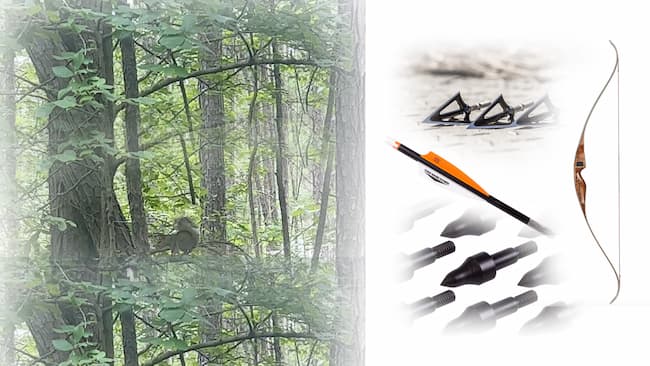 Is it ethical to hunt small game with a bow? What do you think? I know, it depends on which "you" I'm asking right? Some say, "Absolutely!!" While others say, "No, not ever!" Who is right? I guess you get to read my opinion and I'll let you share yours in the comment section below.
Why would you want to? Here's a few reasons…
If you love challenges
If you'd like to save the meat
If you don't want to disturb other game
If you like the idea of reusable ammo like the PSE Carbon Force HD Hunter 359 Spine Arrows
If you want to be the next Fred Bear or Howard Hill
What challenges?
The first one, your own mind, do yourself a favor and come back to the realm of reality. If you think you're already a Fred Bear who was the mastermind behind Bear Archery, like this Bear Archery Super Grizzly Recurve Bow or Howard Hill and you're going to arrow the tree rat perfectly every time, prove it!
On the other side of the coin, you lack confidence and archery is intimidating. If when you imagine yourself reaching for a bow fear strikes, causing you to never entertain the possibility of ever slinging arrows down range, let alone hunt. Shake it off, just shake it off because that is just fear. The proud shall be humbled and the lowly lifted up, whichever one you are, don't let pride or fear rule you, press on. Enough about you already!
Yet More Challenges
More challenges; the ability to hit a smaller target with a slower projectile is going to take practice to attain that skill. Don't be a jerk, practice on an archery target not a live animal, try the Big Shot Pro Hunter Broadhead Target. Then there's the necessity of learning how to produce almost soundless steps so you can reach the best effective range of fifteen to twenty-five yards.
The last challenge is, knowing when to take a shot and when to forebear. If a squirrel or a bird are in the canopy of a tree, the arrow may crucify the critter to the tree and your challenge is to reckon that meal and your arrow unretrievable and forever gone or you can start climbing.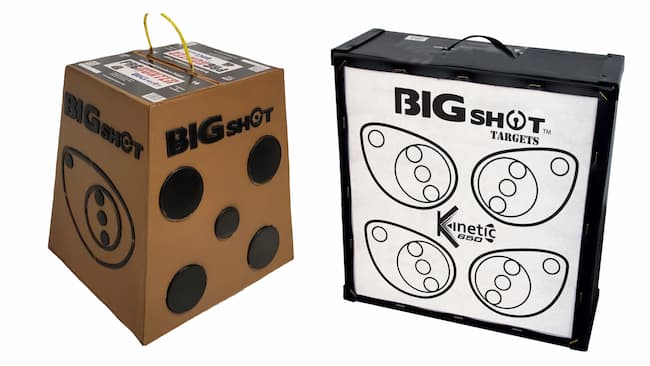 Crossbow, Compound or Traditional
Are you strictly small game hunting? If so, I would recommend the Bear Archery Super Grizzly Recurve Bow that I mentioned earlier. A Recurve or traditional bow is going to have more advantages for this type of hunting than a compound or crossbow.
The Recurve will allow the hunter faster target acquisition and snapshots, in other words a quicker drawback and release. The arrows are also moving a bit slower than that of a compound or crossbow and that means a better chance of retrieving an unharmed arrow when you miss your target. Did you get that, I said "when" because it is bound to happen.
Lastly, they're much lighter and easier to maneuver through thick brush or mountainous terrain. When you're lugging the fruit of your labors back to the freezer or the pan, the recurve bow fits naturally over the shoulder for an easier haul, leaving your hands free to wipe the sweat off your brow with the cottontail's fur.
Broadheads or Field Tips?
It depends on the game. Squirrels are tough, I would recommend the BearX F4 Broadhead for the most effective kill. The best time to shoot a squirrel is when they are on the ground or the low branches of the trees, that will increase the chance of a harvest.
Rabbits aren't quite as tough, field tips generally accomplish the goal. They are a slightly larger target than a squirrel and they don't climb trees, this may be the best starter animal for small game hunting with a bow.
What about flying small game like doves or grouse? Again not as tough as a squirrel, a field tip is sufficient. They're easier to shoot while on the ground, the main reason is because they're not moving. It is possible to harvest them in flight, (the bird not you) but that comes with a little more skill. Practicing and building confidence is key.
Are You An Ethical Hunter?
To answer the question first posed, "Is it ethical to hunt small game with a bow?" Absolutely, as it is with all hunting as long as you do your part. Face reality, are you practiced enough to take shots at live targets? Be honest are you? If not, do your due diligence and get there with practice. Commit to learning and growing in the sport, before taking a bow out for harvest, get to know the animal you hope to harvest, know their habits, their habitat and most important their anatomy so your shot placement is effective.
Hunting and harvesting can be done ethically with many different apparatuses, I guess the real question is, "Are you an ethical hunter?"