My largest flat screwdriver blades are too small for the stock screw on this HW-50S.
This report covers:
Screwdrivers
Phillips
Pin punches
Figured it out!
Yes, this is an airgun blog and yes, I want to talk about airguns, but as I worked on the HW 50S yesterday something came up that has bugged me off and on for years — the need for good tools. Specifically, I'm referring to my tools and I'm wondering why most of them aren't the right ones that I need when I need them. Please allow me to show you.
Screwdrivers
I'm going to ask you to do some online research today, or this weekend — your preference. Try to find a good source for large flat-bladed screwdrivers for large screws. Flat-bladed screwdrivers do exist for small things. I talked with Denny about this and he immediately went online and found me a set of micro-flat-blade screwdrivers. What he didn't realize is they were for eyeglasses and watches — not for the sort of screws we encounter on airguns.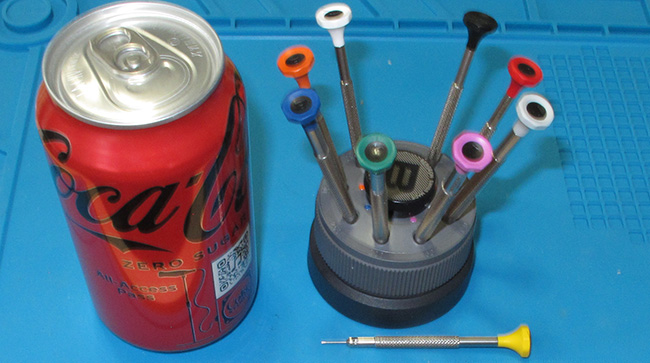 This Bergeon set of flat-bladed screwdrivers is made in Switzerland. The are great for watches and eyeglasses but not so good for airguns.
Then I thought — Amazon! If anyone has them Amazon surely will. Well, they don't! Was I searching for the wrong thing? Would a set of gunsmith's screwdrivers be more appropriate? Not only no — heck no! Their "gunsmith screwdriver sets" are the same Chinese sets I have three of right now. Dozens of littly bitty blades that attach to a magnetic driver handle that possibly has a ratcheting switch. And they all come in a nice plastic box. The set of 48 "screwdrivers" retails for $19.95.
Those are not screwdrivers. Like I say, I have three sets on my pegboard and several more with twisted and broken blades in various tool drawers. I expect to pay $19.95 for one screwdriver — not 4 dozen!
Wait a minute, BB. Amazon has an expensive set of gunsmith screwdrivers made by a company called Chapman. BB knows that because he owns them. Yes they are expensive and no, they are no good. I have bent and broken many of their blades. And — guess what? They don't have any LARGE flat blades! I've been there, done that, got the T-shirt and wore it out.
Phillips
You see, when you look for flat-blade screwdrivers what everyone wants to sell you are Phillips screwdrivers. Everybody has them and they are so eager for you to have them, too. Well, ever since reader JerryC told us about Vessel Phillips screwdrivers from Japan, I have a wonderful set that I use all the time. Well, then, BB, surely Vessel makes flat-blade screwdrivers, as well. They do and don't call me ….. nope, I'm not gonna go there. Their flat-bladed screwdrivers are all smaller than what I need.
Okay, sez I — eBay! That's where I usually find things I want when I can't buy them new. Since it seems no one is making large flat-bladed screwdrivers these days — at least not the sizes I need, perhaps they made them in the past.
And, I was right — sort of. In the listing of the vintage screwdrivers on eBay the tip of what they call a LARGE flat bladed screwdriver measures 3/8-inch, or 9.525mm across the tip. Folks, I have blades that size in piles! I need a LARGE flat-bladed screwdriver!
Denny told me nobody was making large slotted screws like that anymore. Well then, I guess Weihrauch is nobody!
I used to have what I consider to be a large flat-bladed screwdriver. The width of the blade was greater than one-half inch or 12.7mm. I used that one so much I broke the handle off and, like a dummy, I threw it away. Surely I can buy another screwdriver just like it? No, I can't and don't call me … nope, nope, nope!
However, while writing this report I discovered a pawn shop find that I was supposed to fix — a few years ago. Every time I go into a pawn shop I look for large flat-bladed screwdrivers. I found this guy in one. And I guess I need to order another case of round tuits to get that handle fixed.


Now, THAT'S a large flat-bladed screwdriver!
Pin punches
I just filled half a report on one type of tool I can't find — the large flat-bladed screwdriver. Tell us, BB — how bad does this get? Well, the only other hand tool I used for the HW 50S disassembly/assembly yesterday was a pin punch. A SOLID pin punch for pushing SOLID pins. Try to order a set of those! My Craftsman set is 40 years old and the tiny 1/16-inch punch has broken, as they will for all shade tree mechanics like BB Pelletier.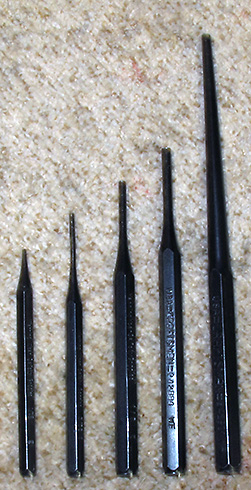 My set of Craftsman pin punches is 40 years old and the tip of the smallest one is broken.
So once more I venture out into the fray, only to discover that what "they" want to sell me are roll pin punches. But I don't want roll pin punches because most airguns don't use roll pins. I want solid pin punches.
Well, BB, if it's just your 1/16-inch punch that's broken you do know you can buy just one that size? Yes, I'm aware of that. But all the other punches in my set have mushroomed tips or they are bent (don't ask). I need a new set, and no, I won't throw the old punches away — not even the broken one. There's always something…
My point here is, if solid straight pins are still being used in manufacturing (along with slotted screws that have large heads) why aren't the tools to work on them more available? Yes, I'm aware that straight pin punches come in the sets that include punches for roll pins. That's what I had to order. I don't need those roll pin punches but who knows? Maybe someday I will.
Figured it out!
Then it hit me. The reason I can't find any vintage large flat-bladed screwdrivers or solid straight pin punches is because people aren't selling them. They are keeping their good tools, just like I'm keeping mine. I suppose when someone passes away their heirs might sell off the tools, but you have to be quick to get them, because everyone wants them.
I don't know. That's just what occurs to me. Do you guys notice the same thing, or am I just being a crybaby? Are you able to buy good hand tools these days?