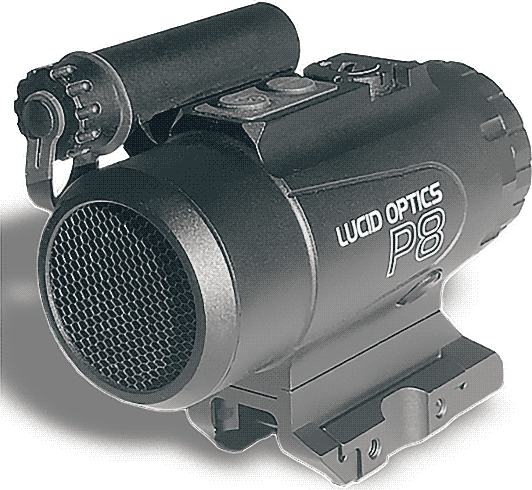 Lucid Optics P8 Prismatic Optic.
This report covers:
Turn on the illuminated reticle
The manual
Battery dead?
Rough sight-in
The test
llumination
Parallax
Summary
Today we take our second look at the Lucid Optics P8 Prismatic Optic. In the Part One I described the sight to you. Today I'm going to sight it in on the RAW MicroHunter in preparation to the start of accuracy testing.
Turn on the illuminated reticle
I decided to test using the illuminated reticle today. I can see the reticle on the target without illumination, but I wanted to see how the sight worked with illumination.
Oh, oh. There's a problem right away. The reticle doesn't turn on. I wondered if there was a different switch or button to turn on the reticle. I couldn't find one, but perhaps I didn't understand how it was supposed to work. Maybe I needed to push on a certain button for 5 seconds or to push two buttons at the same time or something like that. So I read the manual. Or I tried to.
The manual
The manual is one side of an 8-1/2 by 11-inch piece of paper. One-quarter of that page is devoted to operation instructions. Allow me to share with you the directions for operating the this sight.


These are the only instructions in the P8's owner's "manual."
Pretty sparse, no? Not even anything about reticle adjustments when sighting it. But that's okay. I'm a shooter; how much more do I need?
As you can see, there is a power button to turn on the illumination. They differentiate it from the brightness increase/decrease button (there are actually two — one for increase and the other for decrease), so it's a separate button that I just needed to find.
Five minutes later I'm scratching my skull because I can't find a power button. Did they really mean I should press the brightness button to turn the illumination on? If so, which one — increase or decrease? Here is what I'm wondering.
Should I:
Press the brightness increase button (+)?
Press the brightness decrease button (-)?
Press both buttons simultaneously?
Press and hold the brightness increase button?
If so, for how long?
Press and hold the brightness decrease button?
If so, for how long?
Press the brightness increase button, followed by the brightness decrease button?
I could go on, but you get the point.
I was on the team that wrote the manuals for the M1 Abrams tank and I was schooled how manuals have to be written for best comprehension. The Lucid Optics P8 Prismatic Optic "manual" is not even close to what a manual needs to be. It's perhaps a good cheat sheet for someone who has worked at Lucid for more than a day and has been shown how the P8 works.
"But it's obvious, isn't it? Everyone here at Lucid understands what the manual says to do." Yeah, and whoever wrote the Rosetta Stone knew exactly what they were trying to say, too.
Battery dead?
Another possibility was the new battery I installed on August 13, 2023 for the Part One report was dead. I thought I turned it off when I was done writing that part of this report, but I can't be sure. According to the specifications the battery is supposed to last for 25,000 hours. Even if I left the reticle switched on it should shine until sometime in the year 2026.
But wait — doesn't the "manual" say the illumination automatically switches off after 2 hours? So how can the battery be dead? Just to be certain I removed the battery and turned it around. Maybe I installed it incorrectly after the August 14th report was written? I can't imagine doing that, but I checked just to make sure.
The last step was to install another new battery. Bingo — it worked. It turns out the brightness buttons are also the power buttons — either one. I write that in case someone else needs this information because there is nothing about it on the Lucid Optics website.
Lucid Optics — you have been scolded. Correct this!
Rough sight-in
It took me 5 shots to sight in. The first three were from 12 feet and the last two were from 10 meters, which is where I shot today. The reticle adjustments are smooth and precise. The elevation screw is turned in the opposite way from most scopes. but I believe that's due to the prismatic design.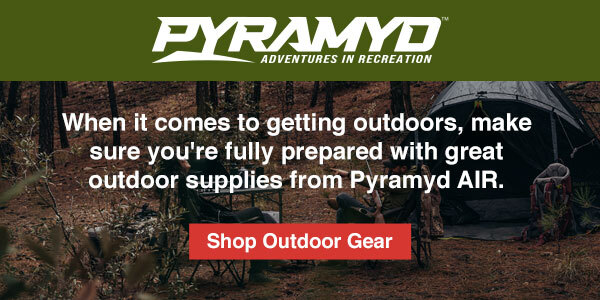 The test
The rifle's accuracy test will be presented tomorrow, because I'm spending so much time on this sight today. I will tell you that I shot 5-shot groups from 10 meters and I don't consider that to be a real accuracy test for anything made by RAW. It's more of an extended sight-in as well as a chance to test a lot of different pellets in the MicroHunter, so when I do back up to 25 yards, I can choose the pellets I know to be the most accurate.
I was concerned that, because this sight is more of a dot sight than a telescope despite four times magnification, that the groups wouldn't be up to snuff. The P8 is, after all, a hunting sight — not a precision optic.
That being said — I was wrong! I will show you groups smaller than 0.15-inches between centers. True they are five-shot groups and not ten, and they are shot at 10 meters, but they still show a proclivity to put all the pellets in the same place. While I wouldn't choose a P8 to shoot groups at 100 yards in a benchrest match, you will see tomorrow that it gives nothing away.
Illumination
I discovered that the illumination had to be reduced four levels to get the precision I was after. The paper target was indoors and illuminated with a 750 watt lamp, so that was surprising. 
I then took the rifle outdoors at almost noon on a bright Texas day. I could see the illuminated reticle against a bright background after two reductions in intensity and against a dark background that was still in full sun after three reductions.
The illumination decrease button takes the illumination in one direction only; it doesn't recycle. Same with the increase button. Holding either button down for three second turns the illumination off and when it's turned on again it comes back to the last setting.
Parallax
The P8 is parallax corrected at 100 yards. The image I see (a 10-meter air rifle bullseye) is slightly fuzzy at 10 meters (11 yards).  I thought that would be a problem, but as you will see tomorrow, it isn't. Remember that this sight is made for firearms. Airguns are just another possibility.
Summary
Today's report put me through a wringer. I had the silliness of the manual, followed by the incredible brilliance of the optic being tested. The bottom line is, the P8 is a hunting optic and I am still very impressed. I think you will be too.