Today reader Ian McKee, who signs in as 45Bravo tells us about his experiences at the 2023 Pyramyd Air Cup.
If you'd like to write a guest post for this blog, please email me at blogger@pyramydair.com.
Take it away, Ian
The 2023 Pyramyd A.I.R. Cup as seen through my eyes
by Ian McKee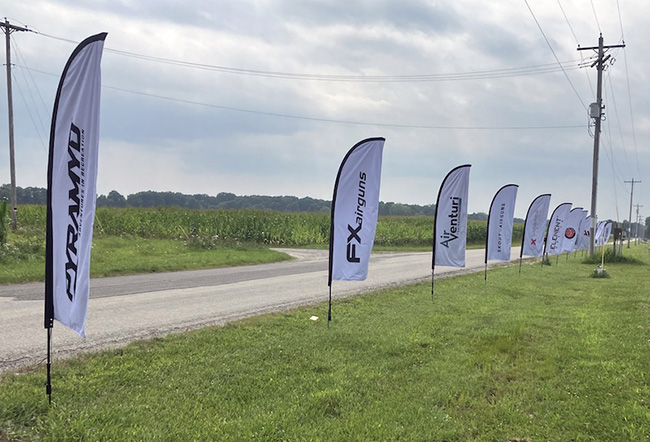 The road into the Pyramyd A.I.R. cup was lined with flags of the sponsors.
This report covers:
The trip
The Cup
Day 1: Registration and sight-in
Vendor's Row
Check zero
Greetings! Today we'll start with part 1 of the Pyramyd A.I.R. Cup as seen through my eyes. 
I have been a long time shooter of anything with a trigger — airguns, firearms of all types and many shooting disciplines. I have attended many competitions both small and large.
Growing up in Louisiana, there were few airgun-only opportunities to attend, and it wasn't until I started shooting at the Olympic Training Center in Colorado Springs in the late 1990's that I even knew there were dedicated airgun shows around the country.
When BB asked if I could help tend to the blog and answer any questions while he was attending this year's cup, I felt bad about telling him that I also had intentions of going. But we talked more and decided that since we were both driving from Texas it would be advantageous for us to make the trek in one vehicle and split the cost of the trip. 
The trip
I was nervous about making the trip and us not getting along. Would find myself on the side of the road trying to find a way back to Houston while dragging luggage and a rifle case? [Ed. I would have gladly taken the rifle case with me.] I am happy to say we share the same interests, and mindsets in many ways, and now are much better friends after the trip. 
We had many discussions about dozens of topics, airguns both new and old, firearms of all vintages as well, motorcycles, and cars. Here is a secret, BB likes orange Corvettes.
The Cup
I have helped organize, promote and run some smaller competitions, but none of this magnitude.
I have to give credit where credit is due, thank you Val Gamerman for sponsoring the event, it was a pleasure meeting you. You have a wonderful dedicated staff. Everyone I met was polite, professional, well informed and ready to help anyone that asked.
The staff worked long hours, they were there at daylight and were still there long after dark, getting the events staged for the next day.
I met so many of the staff I could not possibly remember all the names, but I do remember the faces.
I want to thank each of you for your contribution and dedication to making the event run as smoothly as possible. Tyler for your match direction, and leadership of the event, Emily for being his right hand for a lot of it, and Ruth for being his left hand, without you it could not have happened. Adam and Eric for being there when you were needed, it didn't matter what range I was on, or what event was happening at that time, every time I turned around, I saw one of y'all. I actually think they had been either cloned and there were more than one of you, or someone has developed teleportation.
Day 1: Registration and sight-in
The registration line was a who's who of the airgun industry, from manufacturers to television and YouTube "celebrities". Several people I knew from the airgun shows, and others I only knew of because of Youtube airgun channels.
Everyone was greeting old friends, and making new acquaintances or contacts.
EVERYONE knew Tom, and wanted their photo with him. I saw a youtube video from one of the competitors posted the Monday after the cup. He said he was walking to the line when a golf cart pulled up, and I quote, "Of all people, Tom Gaylord, The Godfather of Airguns, offered to help me get my things to the firing line. I can't believe it!"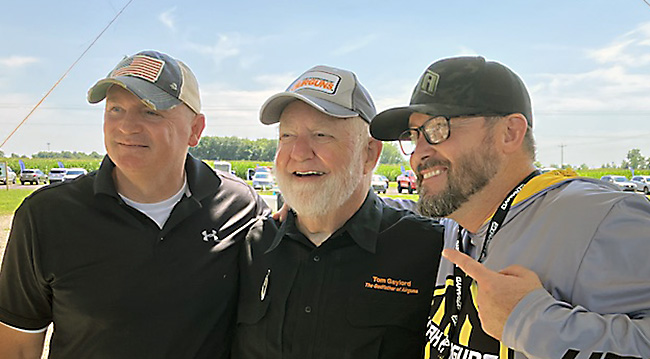 Rick Rehm on the left is a trick shooter who goes under the name Shooter1721, and Guinness World Record holder Chris Turek (Upnorth Airgunner) is on the right.
Vendor's Row
We made a quick lap down vendors row, and Tom introduced me to several of the manufacturers, David Ding from UTG/Leapers, I enjoyed meeting him and some of his family and crew, they are really nice down to earth people, I hope to start a working relationship with them that will last for a long time.
I had the opportunity to meet and speak with John McCaslin and Ton Jones from AirForce airguns again, and as always it was both a pleasure and very informative. Keep your eye on them, there are great things coming down the pipe from AirForce & RAW.
Tom Gore with Vortek showed us some of his new products, and what he is developing, the adjustable gas/air spring that can be put in an airgun and can be charged from 4 ft. lbs. up to serious small game power just by adjusting the pressure, will be a game changer and much desired accessory for springer shooters.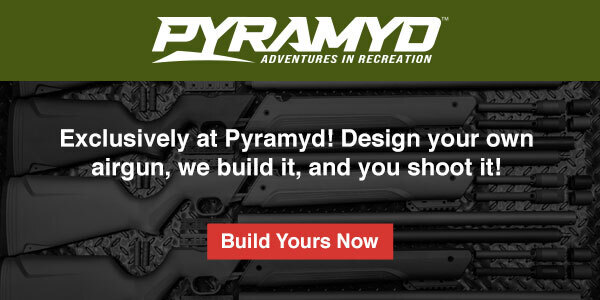 Check zero
We then went to the sight-in range to make sure nothing had happened to my gun during the trip. After rechecking my zero for 10, 25, 40 and 55 yards and running a few practice runs, I figured I was as ready as I will ever be for the next day.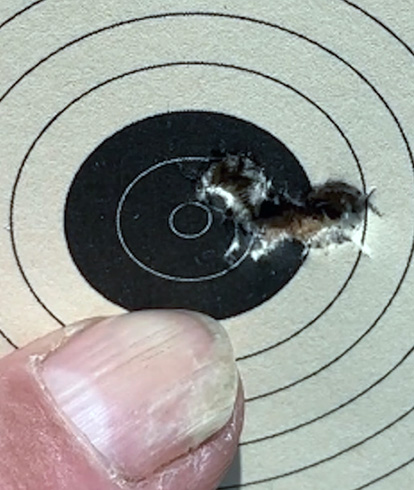 Five shots at 10 yards, as fast as I could acquire the target and pull the trigger on my semiautomatic rifle. 
I know I have called out a lot of names in todays blog, but I can not over-emphasize how polite, professional and accommodating everyone was, both the staff and the competitors.
Sure there were a few times where people may have butted heads or had a difference of opinion, but we are human and it happens.
As a whole, the airgun community is a great place to be and to make friends.
Shoot Safe, and Have FUN!
Ian McKee