Posts Tagged 'Spring-piston rifles'
by Tom Gaylord, a.k.a. B.B. Pelletier
This report covers:
• Lots of interest
• Crosman's quality inspection
• Velocity testing
• Cocking effort
• Trigger pull. and adjustment
• Firing behavior
• Quiet
• Evaluation so far
There has been a lot of talk about the new Benjamin Trail Nitro Piston 2 since it showed up three weeks ago. Some of that talk has been critical of certain faults. And some of it has been the pile-on of people who just wait to say bad things about a company.
After the first part of this report went live, I received the following email from Jennifer Lambert — Crosman's vice-president of marketing.
"Tom, I have been reading and appreciating your reviews, the comments, and debate on NP2.  I just wanted to write and clarify some of your comments around the origin of NP2. In your review you imply that the NP2 guns are not made here and that is not accurate.
While it is true that we use a mix of domestically made and imported components in the gun, I can assure you that every gun is built and quality tested right here in the U.S. in our Bloomfield factory. I will snap and send you some photos of the line and would be happy to take you on a tour and personally introduce you to some of the workers on it. And as sales of the Trail ramp up and we bring out more new guns in the NP2 platform, the number of jobs based here will continue to grow
If you have any questions or would like to discuss further please let me know, and keep the analysis coming."


This is the wording that lead me to make my comment in Part 1.
I told Jennifer I would restate my initial report. You can see the wording on the side of the gun. When something is worded like that rather than saying Made in the U.S.A., it draws attention to itself. We know that the parts can be manufactured outside the U.S., then brought in and assembled here. Many airguns are made that way, and I was pointing out that apparently this is one of them. However, after rereading what I said in Part 1, I see that I did go over the line.
I stand by my statement that the phrasing on the rifle means that some of the parts are sourced from outside the U.S. I did not mean to imply that the NP2 was assembled in another country. If I gave that impression, then I want to set the record straight. I do believe that the NP2 rifle is being assembled in the U.S. from parts and assemblies that are sourced from a variety of places — some of which are in this country and others that are not.
Crosman's quality inspection
What Jennifer told me that I did not know was that Crosman does a quality inspection after assembly on each gun in their plant. I remember when they were launching the very successful Benjamin Discovery in 2007, Ed Schultz set up an assembly line in their New York plant that included a 24-hour pressure test for every gun they built. He said he did that until he was certain they were sealing the guns perfectly.
No company can afford to spend that much time on every airgun they make — it would break them. But when you're launching a brand new product that has the potential for huge sales and represents an important step forward for the company, you take such measures.
We did the same thing at AirForce Airguns when we launched the new Condor in 2004. I personally tested and recorded the velocity of the first 100 rifles until we were certain that what we produced would always exceed the performance parameters we advertised for the gun. When you're betting the farm on something, you take extraordinary steps to ensure your bet is a safe one!
Velocity testing
The first pellet I tested in the NP2 was the .22-caliber Crosman Premier, a medium-weight pellet. Ten shots averaged 793 f.p.s. with a spread from 767 to 807 f.p.s. So, a spread of 40 f.p.s. At the average velocity, this pellet produces 19.97 foot-pounds of energy at the muzzle.
The second pellet I tested was the JSB Exact RS dome. Since it weighs 13.43 grains, you'd expect it to go faster than the 14.3-grain Premiers; but these pellets averaged 752 f.p.s. in the NP2. The spread went from 741 to 764 f.p.s., so 23 f.p.s. At the average velocity, these pellets generate 16.87 foot-pounds of muzzle energy.
The third pellet I tested was Crosman's own SSP lead-free alloy pellet. At 9.5 grains weight, these are the pellets you'd expect to go the fastest. Crosman advertises 1100 to 1200 f.p.s. with alloy pellets for this rifle, depending on where you look. [Note: The box states 950 f.p.s. with lead, 1100 f.p.s. with alloy pellets. The Crosman website states 900 f.p.s. with lead, 1200 f.p.s. with alloy pellets.] In the test rifle, they averaged 949 f.p.s. and spread from 939 to 964 f.p.s. A 25 f.p.s. spread. At the average velocity, this pellet produces 19 foot-pounds of energy at the muzzle.
I know there will be a cry of "foul" on these numbers because of the advertised velocity, but in my opinion, this is exactly where I want this rifle to be. If it shoots this fast and is also accurate, the NP2 is definitely worth consideration. I'm on record as saying the same thing about the Walther LGV Challenger when I tested it back in 2013, so at least I'm consistent.
Cocking effort
I measured the cocking effort after publishing Part 1 and found it to be 38 lbs. But during this velocity test, it seemed like I was growing stronger. So I measured the effort again, and it still measures 38 lbs. What's different now is much of the cocking friction has gone from the stroke. It actually does feel lighter now than it did before.
How does that compare to other gas-spring rifles? The powerful ones cock with between 40 and 60 lbs. of force, so the NP2 is definitely on the lighter side. To put it into perspective, it cocks about like a Beeman R1 after break-in.
Trigger-pull
I said in Part 1 that the trigger-pull was creepy. So, I adjusted the single screw located behind the trigger. I unscrewed it about 2 full turns and the trigger became exactly like the one I tested at the SHOT Show. It now has a long first-stage pull that measures 3 lbs., 4 oz., then a crisp second stage that releases at 4 lbs., 4 oz. You can take up the first stage and just wait at stage 2 until you're ready to fire. Then, just one pound more fires the gun. I really like this trigger!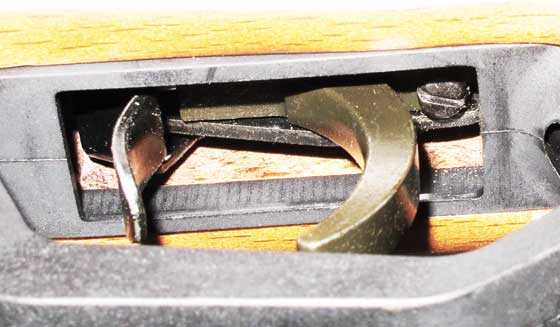 Turn the screw behind the trigger blade counterclockwise, and the first stage gets longer, while stage two becomes crisper.
Firing behavior
Experienced airgunners won't believe how smooth this rifle is. The pulse of the shot is strong (a strong two-way push), but there's no vibration. It's dead smooth! You would pay hundreds of dollars to get a coiled spring gun this smooth.
Quiet!
The test NP2 is very quiet! The shooter hears the noise through the stock against his face, but a bystander hears a much lower discharge sound. During velocity testing, I was also assaulted by the instant hit of the pellet in the trap in front of me. I suspect that when I shoot for accuracy, I'll get a better feeling for the sound.
Evaluation so far
I'm no longer at the SHOT Show. I'm in my office where I can control the testing and the evaluation. People are not telling me things — I'm finding them out on my own. And the Nitro Piston 2 I have is testing very well.
Sure you can make a big deal out of the velocity being lower than advertised. But I never wanted that advertised velocity to begin with. I wanted what this gun has — solid numbers in the 750-800s with practical .22-caliber lead pellets that I'll probably use.
The firing behavior and trigger are exactly as they were at SHOT, which is to say stunning for a gas-spring rifle of this power. Although the cocking effort measures higher than expected, it isn't bad for a spring rifle that shoots this fast.
Yes, there have been some quality problems in the first batch of guns that went out. There were cracks in some plastic parts and some scope bases fell off the guns. If that happened to you, you have every right to be angry; but the rest of the public should know that Crosman is doing something about it. Everyone who experienced a problem with their rifle will be taken care of by Crosman, and you can be sure that they're refining their in-house quality assurance program to correct future shipments. They want the NP2 to succeed because of how important it is to their business.
I want it to succeed for my own reasons. This is a $250 air rifle, and there aren't many of them around that have what this rifle has. We need a good gun in this price range, and I'm hoping the NP2 is it.
What remains to be seen is the accuracy. If this rifle is accurate, I will buy the one I'm testing because this is too important an airgun for me not to own.
by Tom Gaylord, a.k.a. B.B. Pelletier

El Gamo 300 was a low-priced, quality breakbarrel from the 1960s and '70s.
I'm out of the office for the next couple days. Will the veteran readers please help the newer readers with their answers while I'm gone? As always, I'll see the blog early in the morning and, again, late at night. Thanks! On to today's report.
This report covers:
• A little more history of the 68-XP
• Velocity testing
• Breech seal
• Retesting velocity
• Cocking effort
• Trigger-pull
• How my life has changed
Today, I'll test the El Gamo 300 velocity. I see that many of you were surprised to learn these were made in both Spain and Brazil. Furthermore, a number of newer readers had missed the 6-part report on the El Gamo 68-XP and were surprised to see it referenced in Part 1 of this report. Here's a little more on that subject.
There was a repeating version of the 68-XP that had the same mechanism as the El Gamo Expomatic. It was a tube above the gun that fed pellets into the breech one at a time as the barrel was broken during cocking. It didn't work too well, and Air Rifle Headquarters refused to carry either repeater. They tested them and found that they jammed too easily. I've tested other air rifles that have a similar repeating system, and that was my experience, as well. That must mean that the repeating version of the 68-XP is very rare because few were ever sold.
Back to the 300. According to the ARH catalog, a broken-in 300 should shoot about 665 f.p.s., and one that's been accurized gets up to 680 f.p.s. They don't mention what pellet was used in testing to obtain these numbers; but given that it was the 1970s, we know it had to be a lead pellet. Lead-free pellets were not on the market at that time.
Velocity testing
The first pellet I tested was the 7.9-grain Crosman Premier. They averaged 503 f.p.s. for 10 shots. The velocity ranged from 490 f.p.s. to 511 f.p.s., so a 21 f.p.s. spread.
I thought that was low, so I tried 10 more that were deep-seated with the Air Venturi Pellet Pen and Seater. This time, the average rose to 506 f.p.s., which is hardly worth the effort. The spread went from 496 f.p.s. to 519 f.p.s., so the spread opened to 23 f.p.s. Deep-seating doesn't seem to be worth the time and effort with this rifle.
The next pellet I tested was the 7-grain RWS Hobby. These averaged 539 f.p.s. The Hobby was the lightweight lead speed demon of its day, so this rifle is not performing to spec. And yes, I did oil the leather piston seal before testing. The spread for Hobbys was from 524 to 547 f.p.s., so 23 f.p.s.
The final pellet I tested was the 7.33-grain Air Arms Falcon. They averaged 519 f.p.s. with a spread from 510 to 523 f.p.s. So the spread was only 13 f.p.s. Falcons fit the breech loosely, where the other two pellets fit snugly.
Breech seal
That puts today's test into perspective. I don't think my test rifle has been shot very much, if at all, because it doesn't have the bluing wear that's usually found on guns that have been used, and the bluing is original. I looked at the breech seal, which looked okay, but it's very difficult to tell by just looking. There was no puff of air to be felt at the breech, but sometimes that isn't conclusive, either.
While the seal looks like an o-ring, it's really a tall synthetic seal that's proprietary. When I removed it, I could see that nothing I could make would work as well, so I made a spacer to fit under it, raising it for a tighter fit.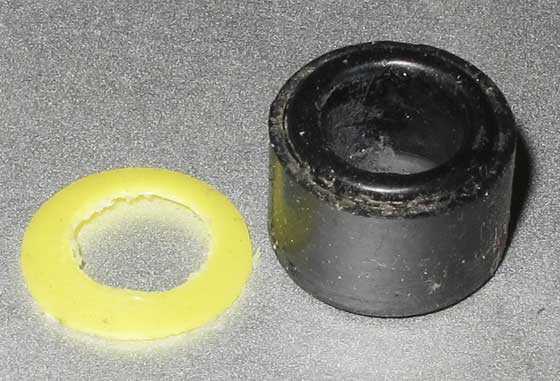 The breech seal (right) and the plastic shim I made to fit under it to raise it higher at the breech.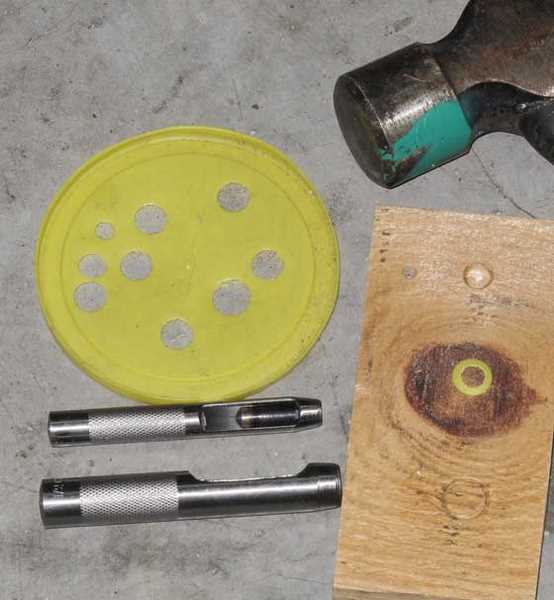 I made the breech seal spacer from a coffee can lid by using hole punches.
Re-testing velocity
The spacer did increase velocity a little. Premiers went from an average of 503 to an average 522 f.p.s., and the spread that had been 21 f.p.s. dropped to 15 f.p.s. Hobbys went from 539 to 568 f.p.s., and the spread went from 23 f.p.s down to 15 f.p.s. Falcons jumped from an average 519 f.p.s. to 553, and the spread that had been 13 f.p.s. dropped to 6 f.p.s.
While these are all improvements, I don't think they're large enough to warrant the work that was done. I would leave the rifle where it is; but now that the spacer is in place, I won't remove it.
Cocking effort
I measured the cocking effort on my bathroom scale. It topped out at 19 lbs., making the 300 a youth rifle by my criteria of a cocking effort of 20 lbs. or less. But the large size of the rifle means that it is for older kids or adults.
Trigger-pull
The trigger was releasing at 3 lbs., 2 oz., with the second stage being very creepy. I adjusted the one screw behind the trigger in both directions. Turned all the way in (clockwise), the first stage is removed entirely, and the pull remained where it was. Turned out as far as it will go, the first stage becomes light and stops positively at stage two. Stage two releases at 2 lbs., 14 oz., so a 4-oz. decrease from where it was.
The rifle is now ready for 10-meter accuracy testing. I may do something about the narrow rear sight notch so I can see some light around either side of the front post. If I do, I'll tell you and show you what I do.
How the blog changed my life
I initially published this section on the May 30, 2014, blog. I'm going to repeat it at least once a week during June and July so it doesn't get lost or forgotten.
From the comments many of you make, I believe the blog may have positively impacted your lives. I invite you to send me an email telling me about that impact.
Were you a firearms shooter who accidentally discovered airguns through this blog? If so, tell me how this blog has helped your understanding of airguns.
Were you already an airgunner, but you thought what you saw in the big box stores was all there was? If so, how has this blog helped you understand more about airguns?
I've gotten quite a few responses already, but I want to make sure you know that I'm not looking for "attaboys," pats on the back or personal recognition. I'm looking for real feedback on what you've learned so I can target my blogs to what you feel is important, what you'd like to know and what you're still unsure of. This blog is written for its readers, and I want to share your stories with others who may be where you were before you found this blog.
Pyramyd Air has created a special temporary email address for this. I'll be the only person to get these emails, and we're not going to generate any lists from the addresses.
My plan is to publish one or more blog reports with the more interesting comments. If you want, I will use your real name or blog handle; but you can be anonymous, too. I won't use your name or handle unless you give me written permission to do so.
This email address will be live for only a few weeks. We have tens of thousands of readers worldwide. Even if you've never commented on the blog, you can email me your message if you like. If you're reading this blog after July 2014, email submissions will no longer be forwarded to me, and you may get an auto-reply email stating that or your email might bounce back to you.
by Tom Gaylord, a.k.a. B.B. Pelletier
I asked you last week to send me an email about how this blog changed your life (see last subhead). The special email set up for that didn't work after that blog went live, but we've just tested it — and it's fixed. I look forward to hearing from you.
This report covers:
• History of the gun
• The rifle
• Firing behavior
• A poor man's R7

El Gamo 300 was a low-priced quality breakbarrel from the 1960s and '70s.
I told you that I bought an El Gamo 300 at this year's Toys That Shoot airgun show in Findlay, Ohio. And those readers who have been with me for a couple years know why I wanted this rifle — I said it was the conventional version of the El Gamo 68-XP breakbarrel that I bought from blog reader David Enoch at the 2012 Arkansas airgun show. I wrote 6 reports on that rifle, which today lives in my collection as a fine example of an airgun from an earlier time.
The recent passing of Robert Law caused me to read a 1979 Air Rifle Headquarters catalog yesterday, and I looked at the El Gamo 300 writeup very closely. Apparently, it isn't as much a conventional version of the 68-XP as a variation on that powerplant. The two rifles do share the same velocity and accuracy potential; and even though their styling looks different, I believe they have a lot of the same parts. When I examined the triggers, I could see that the 300 trigger is much simpler than the one on the 68-XP. So, what I said about their similarity needs to be better defined. The two rifles are closely associated, but the 300 is not just a 68-XP in a conventional stock.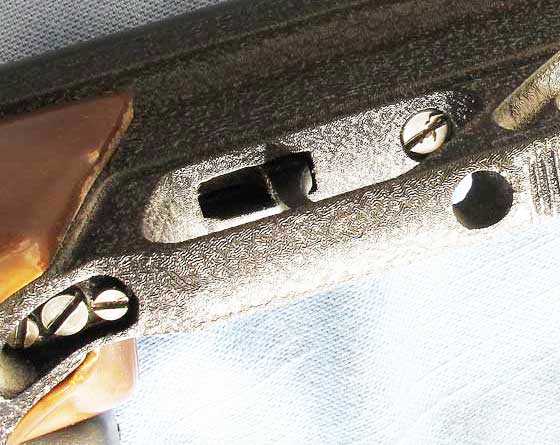 The 68-XP trigger has three adjustments (behind the guard).

The 300 trigger has a single screw behind the trigger blade for adjustments.
History of the gun
Robert Law, the owner of the original Air Rifle Headquarters, was the George L. Herter of the U.S. airgun world. He published a large black-and-white catalog in the 1960s and '70s that got thousands of people started in this hobby — including me! He wrote tons of descriptive information about each gun, and he made you salivate over the thought of acquiring them. Here's what he wrote about the 300.
"An opportunity to buy a match profile rifle at a price typical of the 1960′s era might seem a little too much to ask in this day and age. Yet that is just what the ElGamo people have accomplished in their remarkable 300 model! The remarkable price breakthrough has been made possible by eliminating expensive frills, using mass production, and the use of less expensive labor."
Let's look at that price a moment, for I have the price list that came with this April 1979 catalog. The 300 (he called it the 300 Target in the price list) sold for $82.95. The 68-XP brought $89.95. At the same time, a Weihrauch HW30S (the model with the Rekord trigger) was bringing $114.50, and a deluxe FWB 124 right-hand rifle went for $209.50. In today's dollars, the 300 would fetch around $225-250 because the HW30S is now bringing $329.99. But in 1979, Law felt that $100 was a price point that a rifle like the 300 could not top.
The rifle was actually discontinued in 1975 because of the increasing price, and then brought back when a large purchase was made by a single customer, dropping the production cost. The 68-XP and the 300 were made in both Spain and Brazil. When you bought one from ARH, it could potentially come from either country.
The rifle
The El Gamo 300 is a breakbarrel spring-piston air rifle in .177 caliber that I believe is the only caliber it came in. It's midsized, at 42-7/8 inches overall and weighing 6 lbs., 12 oz. The barrel is 17-1/2 inches long. The length of pull measures 14-1/4 inches.
Cocking is light and easy. I'll measure it in Part 2. The barrel is held shut by a chisel detent that's easy to open. For the modest power the rifle develops, the detent is sufficient to keep the barrel closed during firing.
The stock is a dark blonde-stained beech with almost no grain. The forearm is tall and narrow, having a boxy cross-section and pistol grip. The butt has El Gamo's "melted" look, where the raised cheekpiece barely stands out from the stock. And the comb has a Monte Carlo profile. The buttplate is hard plastic with some anti-skid lines and a bullseye mark and nothing else.
There's also some other plastic on the gun. The end cap, trigger blade, triggerguard, as well as some front and rear sight parts are made of plastic. The metal parts are blued steel that, by today's standards, is quite good. In its day, the 300 wasn't finished better than any other airgun in its price range.
The sights are a fixed hooded post in front and a rear notch that's click-adjustable in both directions. El Gamo made the notch too narrow, so the front blade fills it completely, making this rifle difficult to sight. A pair of 11mm dovetail grooves will handle a scope, but no provision for a scope stop. Remember, this rifle comes from a time when scoping an air rifle was considered a novelty.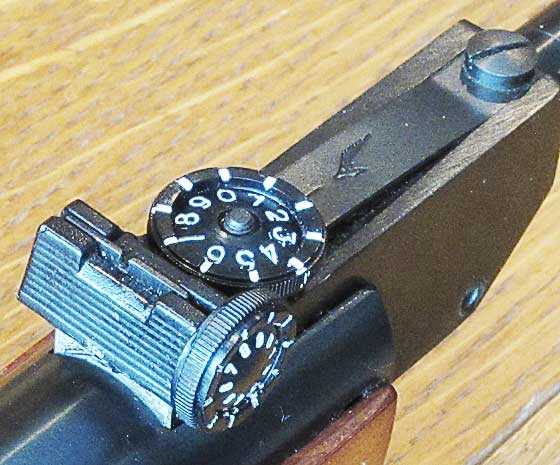 The rear sight adjusts in both directions with light, smooth clicks. The rear notch is too narrow for the front post.
El Gamo also put a hole in the spring tube that allowed the direct oiling of the piston seal. I guess they wanted to keep the leather seal supple. I have only seen that on the Mendoza rifles of a few years ago.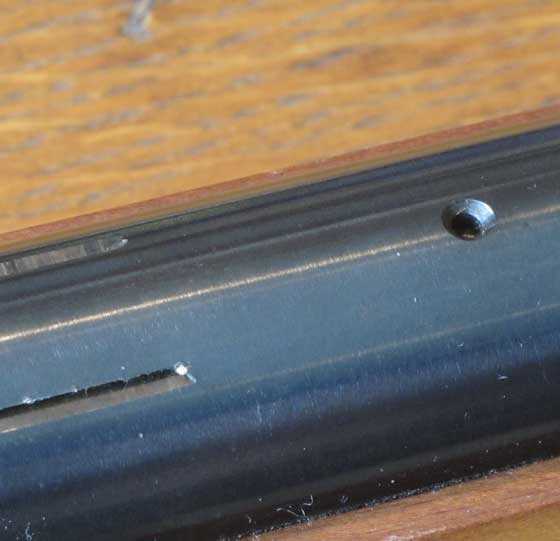 Two 11mm dovetail grooves allow a scope to be mounted. That hole is for oiling the piston seal.
Firing behavior
I've shot the 300 several times just to get a sense of how it feels. There's a little buzzing upon firing, but it isn't objectionable. Compared to my tuned 68-XP, though, I did notice the difference. The breech seems to fit most pellets well, so I hope that the accuracy Robert Law promised is achievable. He said I could expect to put 5 shots into 0.21 inches at 25 feet. I'll be shooting at 33 feet (10 meters), so I'm hoping that means I can expect a quarter-inch group. Then, again, I'll shoot 10 shots instead of just 5, and use today's super-accurate pellets. So, all bets are off.
Air Rifle Headquarters said to expect a velocity of 665 f.p.s. after conditioning, which is the combination of a break-in and initial lubrication. They said to expect 680 f.p.s. with their accurization. I don't care what my rifle does in the velocity department, but I do want it to shoot smoothly.
It isn't fair to compare this rifle to my 68-XP because I tuned and adjusted that rifle extensively. Maybe if I see enough potential from this one, I'll do the same.
At the time when the rifle was initially being sold, there was probably talk about whether or not a Brazilian model was as good as a Spanish model. I have no way of knowing whether there's any basis to that — both of my rifles were made in Spain.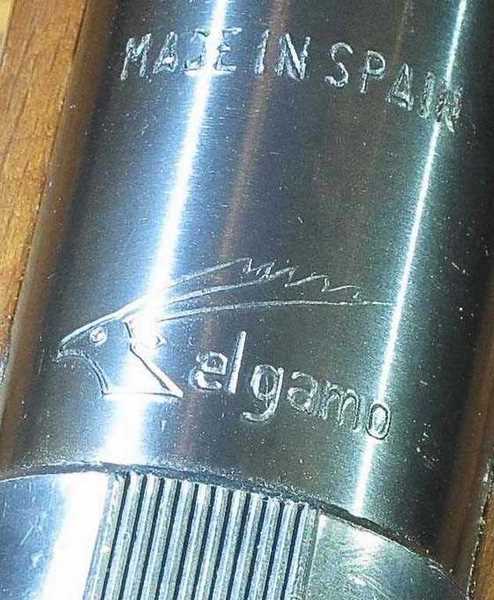 The El Gamo logo and the country of manufacture are stamped on the spring tube.
A poor man's R7
Whenever there's a rifle like this 300 that embodies a lot more quality than the price signifies, it gets labeled as a "poor man's something." In this case, given the size, accuracy and power, I think the Beeman R7 is the comparison. I do remember thinking back when this catalog was new that there was no way I would ever want either the 300, which looked cheap to me, or the 68-XP that looked like a kid's gun. But the long lens of time has a way of distorting things.
In light of the air rifles being offered today, the El Gamo 300 seems to offer a lot more than it did 35 years ago. I don't need the supersonic velocities being offered today, and will trade them in a heartbeat for a cocking effort that's lower. The questions that remains are how well the trigger performs and what kind of accuracy I can get.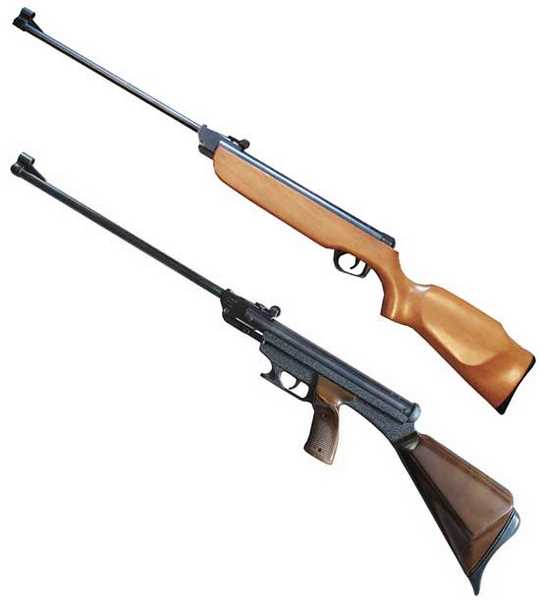 The El Gamo 300 (top) is a conventional breakbarrel, compared to the 68-XP.
by Tom Gaylord, a.k.a. B.B. Pelletier
We learned this weekend that Robert Law, founder of the original Air Rifle Headquarters, has just passed away. For those who are new to airguns, Air Rifle Headquarters was the first informative airgun importer in the U.S., preceding Beeman Precision Airguns. ARH was the rocket that lifted airgunning off the pad, and Beeman boosted it into orbit. If you want to know more about this early history, read a three-part blog I wrote about Air Rifle Headquarters and Beeman Precision Airguns and how they started.
This report covers:
• Time to evaluate the gun
• The rifle
• Where is it made?
• Initial impressions
The day has finally arrived. And it isn't what I'd envisioned. When I left the SHOT Show in January, Crosman and I were on the same page with this new Benjamin Trail Nitro Piston 2. I told them how important I felt this rifle was going to be, and they assured me that I would get one to review for you at exactly the right time. So, when the guns became available, my reports would have just started. They told me that would happen in April, but I assured them I knew things don't always work out as planned.
Well, it's now June and not only is the rifle hitting the market a little late, it appears that Crosman plans pumping them out as fast as they can. Pyramyd Air received a large shipment of rifles just a little over a week ago, and those arrivals have all been spoken for — but more are coming.
Pyramyd Air shipped me a wood-stocked .22-caliber rifle the next day, which is how I came to have the test gun. It's serial No. 414DAO482, but that may not matter because I promised to buy the test rifle if it turns out to shoot like the rifle I tested in Las Vegas.
Time to evaluate the gun
I was pleasantly surprised when I shot the NP2 at the SHOT Show this year. The rifle I fired seemed to do everything Crosman said it would. It cocked easily for a powerful rifle with a gas spring, the trigger was smooth, light and crisp on the release, the shooting sensation was dead calm — and from the spinners I was hitting on the range, the rifle appeared to be quite accurate.
Of course, there were things I couldn't evaluate under those circumstances. I was told the rifle's discharge sound was less than that of a Benjamin Marauder, but there were a thousand other media members on the ranges, all banging away with firearms. It was liken a war out there, and I was unable to evaluate the sound of a quiet air rifle. But I can do that now.
I can also evaluate the accuracy potential much more precisely with paper targets that show the results. And best of all, I can address those nasty doubts that some people are trying to put in the minds of buyers that the NP2 Crosman is shipping is somehow not as nice as the gun that was available for testing in Vegas. The whole point of this rifle is to eliminate all those drawbacks that inexpensive gas-spring breakbarrel rifles have had up to now:
Heavy cocking effort (40-60 lbs.).
Heavy and creepy triggers.
Painful recoil and vibration at discharge.
Mediocre accuracy.
Sharp crack at discharge.
Gas springs have so many potential advantages over coiled steel springs that cleaning up this punch list of flaws makes perfect sense. You see, gas springs:
Can remain cocked without spring power degradation.
Are less sensitive to cold.
Have less vibration (buzzing) on discharge.
Have an even cocking pressure all the way through the stroke.
Are lighter weight.
If the new Benjamin Trail NP2 rifle addresses those faults mentioned above, then it will be a major step forward in spring gun technology, in my opinion. The rifle I tested at the SHOT Show certainly seemed to address as many of them as I was able to evaluate, which is why I said in my 2014 Gaylord Reports chapter in the new Blue Book of Airguns that the NP2 is the standout airgun product for 2014.
I said that because the majority of airgunners still shoot spring-piston guns. If that were not the case, the new NP2 wouldn't be the story that it potentially is because tens of thousands of customers wouldn't be interested in it.
From a technological standpoint, the AirForce Escape rifles are every bit as novel as the NP2, for what they are and what they can do. But the majority of airgunners in the U.S. do not shoot precharged guns, and that is not likely to change anytime soon. So, the NP2 is positioned to have a major impact in how the majority of airgunners view their sport/hobby.
I've explained my thinking so you'll understand that this is not just another product test. It may seem like that; and if you are interested in this gun, you'll get all you came to find. But there's more at stake here than just one air rifle, or even a line of air rifles. This is a potential upgrade to gas-spring technology that has for so long been stalled because of the drawbacks mentioned above. If Crosman has truly solved all or most of these faults in gas-spring technology, then the future of this type of airgun seems very bright.
The rifle
As mentioned, I'm testing a .22-caliber rifle in a wood stock. This is from the first shipment of NP2s to hit the market, but there are 2 other versions of this model coming. One will rest in a black synthetic stock, and the other will be set in a Realtree camo synthetic stock.
The first rifles will be in .22 caliber, which I think is very wise. As powerful as this air rifle potentially is, you'll want the bigger bore and heavier pellet to extract all the power to be had from the Nitro Piston. If you want a different caliber, I believe both .177 and .25 calibers will follow because the accompanying owner's manual lists all 3 calibers.
Speaking of power, there seems to be some confusion about just how much we can expect. When I checked the Crosman website, it said this rifle will get up to 1200 f.p.s. with alloy pellets and up to 900 f.p.s. with lead pellets in .22 caliber. Pyramyd Air's website description faithfully repeated that. But don't memorize those velocities because Crosman has changed them. I expect they need some time for these details to settle down.
On the box the rifle is shipped in, it says to expect up to 1100 f.p.s. with alloy pellets and 950 f.p.s. with lead pellets. And the owner's manual, which is extremely generic, is entirely mute on the subject. There are always slip-ups like this when a new product is launched, so I'll test the rifle with both alloy and lead pellets and tell you what it actually does.
The test rifle has a wood stock. The wood is some unidentifiable Asian hardwood that looks like beech. It has a very straight grain, and the finish soaked into the wood in couple places, leaving dark spots or streaks. The wood is smooth with a matte sheen and has no checkering or stippling.
The stock is an ambidextous thumbhole design with a straight line to the butt that keeps the rifle high against the cheek when you mount it to your shoulder. It's well-suited for mounting a scope. It's a hunting stock that has a rear detachable sling swivel anchor installed and a front sling swivel located under the base block of the barrel. The cheekpiece rolls over to both sides, and the safety is ahead of the trigger, making the rifle completely ambidextrous.
The pistol grip is very vertical, making the trigger fall right where a shooter with medium-sized hands will want it. The feeling is very comfortable, though the styling doesn't appeal to me. I liked the synthetic stocked rifle I tested at SHOT, but this wood stock feels very similar and not a bit heavier.
The stock is thick in places, but slims down where your hands will go. It seems to have been designed by a shooter. The buttpad is dense, black rubber that attaches to the stock with two screws. The fit isn't perfect, but it's close.
The metal parts are finished to a satin black that they call a hunter finish these days. The end cap, triggerguard and a couple parts of the barrel shroud are plastic and the rest of the action is metal. The front steel sling swivel has been thoughtfully covered in soft rubber to protect the gun's finish in the field.
A Weaver scope base is permanently attached to the top rear of the spring tube. This is the best way to anchor scope rings on a recoiling rifle, and I wish other airgun makers would take notice.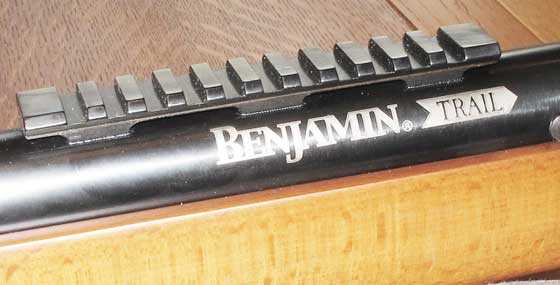 The Weaver scope base that comes on the rifle will stop all scope ring movement issues.
The rifle comes without open sights, but a 3-9X32 Centerpoint scope and rings are included in the box. All you need to do is mount it and start shooting. More on the scope after I mount it. I think Crosman is making a mistake by not at least offering an open sight option on these rifles. I hear a lot of requests for them from shooters.
The weight is given as 8.3 lbs., but that can vary with a wood stock. I weighed the test rifle, and without the scope it came in at 7 lbs., 12 oz. The scope and rings added exactly one more pound.
The barrel is one long shroud, making it look like a bull barrel but without the weight. Crosman mentioned integrated sound suppression and they showed me the guts of the shroud at SHOT. So, yes, there is some technology (baffles) in there.


The NP2 shroud has this technology inside.
Unfortunately, the shroud unscrews from the barrel, and the rear portion of the shroud is made from plastic. People may overtighten their shrouds, causing this plastic to crack.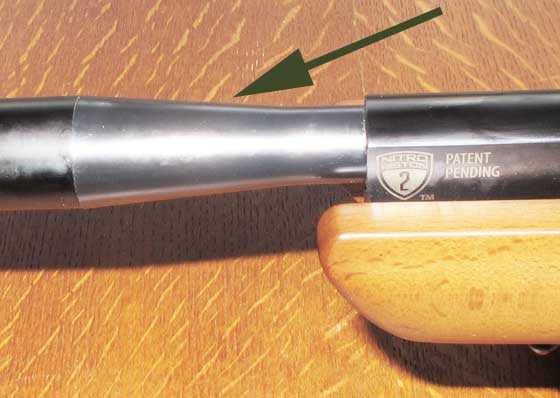 At the rear of the shroud, a plastic piece fits against the baseblock. This could be subject to crack if the shroud is over-tightened.
The overall length of the rifle is 46.25 inches, so it's very large. It will dwarf your Remington 700.
The specs say the rifle should cock with 28 lbs. of effort. This one feels like it's going to top 30 lbs. by quite a lot. I will tell you more about this in the velocity test that will come next.
Inside the box, there's a huge warning paper telling you never to dry-fire the gun (shoot without a pellet). They say it several different ways; and by the size of the paper and the size of the type on it, I would say this is something Crosman wants you to pay attention to.
Where is the NP2 made?
Lettering on the right side of the baseblock tells us the NP2 was "Designed, engineered and assembled in the U.S.A." Is there anyone who doesn't recognize those words as code for not made here? The wood stock is strong evidence of the origin, but these words confirm it. That said, we are going to evaluate this rifle on the basis of its performance — not the country of origin. I only mention this to address the inevitable questions.
Initial impressions
Here's what I see so far. The NP2 is relatively light and powerful. The trigger that Crosman calls the Clean Break Trigger is two-stage with a long, heavy first stage. But stage two is not breaking cleanly on my test rifle out of the box. There's a lot of creep. The trigger is adjustable, so I'll hold off commenting until I adjust it.
The test rifle definitely cocks with more effort than 28 lbs. That's something that differs greatly from the rifle I shot at the SHOT Show. There's little difference in cocking effort between this rifle and any other powerful gas-spring rifle. This one cocks on the light side, but it certainly does not cock with 10 lbs. less effort. Less effort than what is never addressed, but if they mean a powerful gas-spring air rifle, this one doesn't.
I'll check the cocking effort, again, after a hundred shots have been fired, just to ascertain if it's just due to the roughness of a new rifle. In fact, I'll bet that the one NP2 Crosman brought out to the range in Vegas probably had over a thousand shots on it, with everybody in the company trying it out. So, maybe I'll do something similar for you.
I'm pleased to report that the firing behavior feels identical to what I experienced in Las Vegas. It shoots dead calm. Of all the shortcomings of a gas-spring gun, that and accuracy are the two biggies.
As I end this first report, I'll address the discharge noise. I didn't notice it! What I mean is that this rifle is quiet enough that the sound of the pellet hitting the silent pellet trap is louder than the report. When I shot it the third time, Edith noticed that I was shooting in my office and asked if this was the NP2. I said it was, and she said it wasn't very loud. That probably says more than anything.
by Tom Gaylord, a.k.a. B.B. Pelletier
Let's look at the velocity of the BSA Supersport SE. The factory advertises 750 f.p.s. for the .22-caliber rifle I'm testing. I just hope that's with lead pellets.
Cocking effort
I mentioned in Part 1 that the rifle cocks a little on the heavy side. I estimated 40 lbs. of effort. On my bathroom scale, this one actually requires 39 lbs. to fully cock the rifle. My gut tells me that some of the effort is the tightness of the new gun and will probably decrease by a few pounds over time.
I cannot resist making a comparison with the Beeman R9, which is also sold as the HW 95. The size and power of this rifle seem to align with that classic, but shooting will tell us the whole story.
RWS Hobby
The first pellet I tested was the RWS Hobby – a lightweight lead wadcutter that's used to test the legitimate velocities of all airguns. By legitimate, I mean that there are many lead-free pellets that may go faster; but since very few of them are accurate, they probably won't be used by many shooters.
Hobbys averaged 717 f.p.s. from the test rifle. But the velocity spread was large — from a low of 695 f.p.s. on the final shot to a high of 731 on shot three. That's 36 f.p.s., which is a bit high for a springer — especially these days when many new spring guns come out so well adjusted.
At the average velocity, Hobbys generated 13.59 foot-pounds of muzzle energy. Hold your comments, however, because I noted in Part 1 that I thought this rifle might have a heavy piston (or top hat) that I said could make it shoot better with heavier pellets. So, let's try one.
Beeman Kodiak
The next pellet was the 21.14-grain Beeman Kodiak — a heavyweight if ever there was one. Kodiaks averaged 535 f.p.s. in the test rifle, and the spread was just 12 f.p.s. It ranged from 527 f.p.s. to 539 f.p.s. At the average velocity this pellet produced 13.44 foot-pounds of muzzle energy. Not as much as the Hobby, but very close. And the tight velocity spread leads me to suspect I was right about the piston. I think the Kodiak has earned a spot in the accuracy test.
RWS Superdome
We need to see what a medium-weight pellet can do in the Supersport SE, and the RWS Superdome is a fine one to try. At 14.5 grains, it sits right in the middle of the weight spread — especially in the range of pellets that should be considered for this rifle.
Superdomes averaged 661 f.p.s. in the Supersport. Since we know the "magic" number is 671 f.p.s. — where the weight of the pellet in grains equals the muzzle energy in foot-pounds — we are very close to that level. This rifle must therefore produce a shade less than 14.50 foot-pounds with this pellet. And it does! It produces 14.07 foot-pounds of energy at the muzzle — the highest energy of the three pellets tested.
The total velocity spread for the Superdome was 16 f.p.s. Therefore, the 2 heavier pellets did better (shot more stably) than the lightweight Hobby. I'll keep that in mind as I test the rifle for accuracy. Yes, I will test it with a scope; but since it comes with a nice set of open sights, I plan to first test it with them.
General comments
The rifle cocks smoothly and without the normal noises I associate with a new spring rifle. And when it fires, there's no objectionable vibration, as long as you hold it lightly.
The trigger is reasonably crisp. It breaks at 2 lbs., 14 oz., which is light but not overly so. I also really like the fact that the safety is manual.
Last comment. The Supersport SE feels very "old school" to me. It isn't overly powerful. It has a smooth cocking and shooting sequence. And the size and weight of the rifle feel very nice. I'm so tired of those oversized breakbarrels that make me feel like I'm a kid shooting dad's big shotgun for the first time. The Supersport SE feels just right.
by Tom Gaylord, a.k.a. B.B. Pelletier
Today's topic was suggested by Dennis Quackenbush. We were discussing the influence made by a few key firearms, and he wondered if I'd ever written about airguns in the same vein.
The title says it all, and I bet a lot of you can start a list right away. But which ones to pick? It's easy to speculate and guess, but is there a better way to choose the air rifles that really did make an impact? And what is meant by "impact?"
I find that an easy way to approach a monumental subject like this is to step away from airguns and choose something that many more people can relate to. Like automobiles, for instance. Which automobiles had an impact on the entire motoring universe?
Well, you can't go very far without recognizing the Ford Model T. In production from 1908 through 1927, the model T put America on wheels. It caused roads to be paved, businesses to spring up in unlikely places and the entire demographic fabric of the United States to change forever.
When the flivver (as it was also called) first came out, politics in the U.S. were most important at the county level, then the state and only grudgingly at the national level. When it finally passed from the market, national politics were forever changed and local elections were relegated to the status of "also ran." The Tin Lizzy got the farmer off his farm and into town as frequently as every weekend.
And, if the 15 million Model Ts were game-changers, what about the more than 21 million Volkswagen Beetles that swarmed over the planet from 1947 until the last one was built (in Mexico) in the early 21st century? Certainly, they had a major impact on personal transportation? [I know the Beetle is still being produced, but I'm talking about the original air-cooled version.]
See how easy this is when the topic isn't as important as airguns? Now, name an air rifle that changed the game.
BSA
How about the very first modern air rifle that was conceived in 1905? Built by the Birmingham Small Arms company, best-known for their military rifles, the first underlever air rifle that came to market was called the Lincoln; but BSA liked what they were contracted to build and they put their own name on the rifle, as well. That one rifle started the entire line of smallbore airguns we enjoy today.
There were pellet guns before the BSA, of course, but they were primarily smoothbores and made to shoot darts. Their construction wasn't robust like the BSA's was, and they were entirely unsuited to the type of shooting we do today.
One of our own blog readers — RidgeRunner — picked up a 1906 BSA at the Roanoke airgun show last year. Maybe he'll favor us with his impressions of this hugely important airgun?


This BSA underlever was the first modern air rifle.
FWB 124
It came along in the early 1970s and metamorphosed in front of our eyes. Originally it was nothing more than a well-made sporting breakbarrel, the 124 (or 121, as it was first known) had a longer piston stroke than any gun that went before. No doubt, the German engineers were just interested in keeping the cocking effort to a minimum; because in their country, the muzzle energy of airguns is limited to 7.5 Joules by law. A longer stroke meant they could use a less powerful mainspring and still get the velocity they were after, but it also meant the gun was primed to be hot rodded.
By the end of the decade, the 124 had become the first air rifle to break the 800 f.p.s. "barrier." Several other companies — notably BSF and Diana — followed suit; and by 1979, the airgun velocity wars were in full swing.


The FWB 124 started the airgun velocity wars in the 1970s.
Beeman R1
I'll never forget seeing the Beeman R1 in the Beeman catalog. I had just purchased an FWB 124 and thought I was king of the hill, only to discover that the new R1 had 140 more f.p.s. I was livid! And within a year, Beeman was offering a special tune that jacked up the velocity over 1,000 f.p.s. — the first spring gun to do so. In another year, the standard R1 was getting 1,000 f.p.s. out of the box, and the special tune got them above 1,100 f.p.s.
The R1 didn't stay on top for very long. Diana soon came out with their model 48 sidelever, which produced an honest 1,100 f.p.s. out of the box…and did so with less cocking effort than the big R1. But for as long as it reigned supreme, the Beeman R1 was like a booster rocket for the advancement of the spring-piston air rifle.


Beeman's R1 accelerated the velocity wars beyond the sound barrier!
Are there others?
Of course, these 3 rifles aren't the only ones to have a major impact on airgunning. I can think of several that belong in this group. What models do you think deserve this recognition? And why?
Tom Gaylord, a.k.a. B.B. Pelletier
Today, we'll begin looking at a .22-caliber BSA Supersport SE. This is a conventional breakbarrel spring piston air rifle in a beech stock. It's been some time since I've tested a conventional new spring rifle like this.
The serial number of the rifle I'm testing is SSE22-770789-13. The metal finish is unpolished but probably tumble-finished, giving all the parts a matte sheen. The only plastic parts you can see on the outside are both sights, the safety lever and the triggerblade. They blend into the overall matte black finish very well.
The stock is shaped well and has 4 panels of pressed checkering — one on either side of the forearm and one on either side of the pistol grip. The BSA stacked rifles logo (called piled rifles in the UK, and the BSA logo is called the Pylarm logo) is pressed into the base of the pistol grip. The wood is finished smoothly, and the only rough area is the point where the black rubber buttpad meets the wood. That transition isn't smooth, and there's glue around the joint.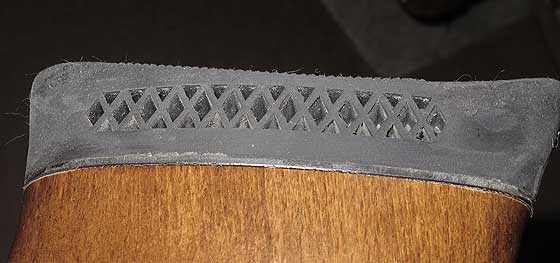 The joint at the buttpad is a little rough and has dried glue.
The barrel comes very far back when the rifle's cocked, making this a long-stroke piston. The cocking linkage is in 2 pieces that are jointed to keep the cocking slot in the stock as short as possible, which reduces the feeling of vibration. BSA says that the action is internally weighted to deliver top performance. I'm thinking they mean that there's a weighted top hat inside the piston, or the piston itself is heavy. Either way, the rifle should shoot medium and heavyweight pellets better than lightweight pellets.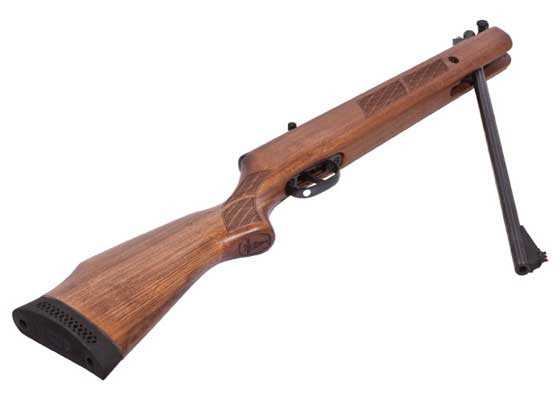 The barrel comes way back when the rifle's cocked. That means the piston stroke is long.
The rifle is supposed to weigh 6.6 lbs., according to BSA information. The rifle I'm testing weighs 7 lbs. on the nose. The difference is attributable to the density of the wood in the stock.
BSA advertises the muzzle velocity at 730 f.p.s. That would be with a lightweight pellet, but I'm hoping it's a light lead pellet. If so, that's a good velocity for a .22 spring rifle — not too fast, yet plenty of power. We'll find out in the velocity test.
The trigger is adjustable via an Allen wrench. The adjustment works on the second stage to lighten it or make it heavier. The safety is manual, which I must applaud. Only the shooter should be in control of the gun — never the design!
The sights are fiberoptic, front and rear. The rear sight adjusts in both directions, so I'll start the accuracy testing using the open sights.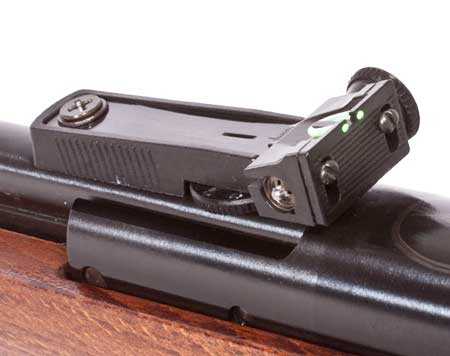 Rear sight is fiberoptic and adjusts in both directions.
There's an 11mm dovetail groove machined into the top of the spring tube, but BSA has long been noted for having its grooves set at the widest end of the size spectrum. For newer readers, 11mm is a nominal size for airgun dovetails. They actually range from 9.5mm out to almost 14mm, and BSA has always had the widest set. But it looks like the grooves are now 11mm apart.
I'm very pleased to see a deep, wide vertical scope stop hole in the middle of the dovetails at the rear of the spring tube. This provides a solid anchor point for a vertical scope stop that most of the conventional 11mm scope rings have.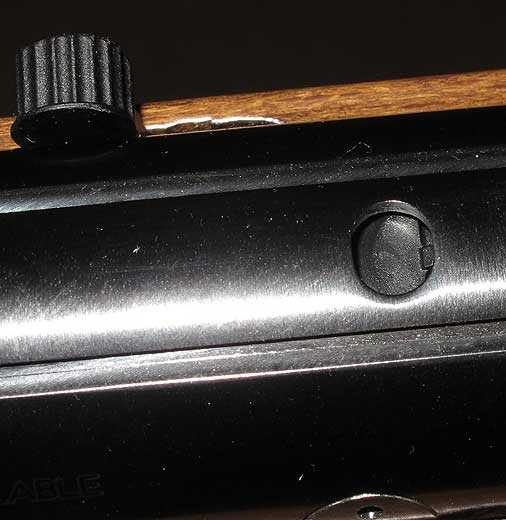 This deep, wide hole in the spring tube is for a vertical scope stop.
Solid firing cycle
I couldn't resist shooting the rifle a couple times to check the trigger and the firing cycle. The trigger is definitely 2-stage, with some creep in stage 2. I'll work on that for next time. The firing cycle is quite smooth. It's got a hint of spring buzz, but only a hint. The shot feels solid and there is no hurtful vibration at all. This is a very pleasant spring rifle to shoot!
I would add that, when I cocked the rifle, the stroke felt to smooth that I almost thought it had a gas spring. Ten years ago, I would have said this rifle has been tuned. It feels that smooth. The cocking effort is heavier — going up around 40 lbs., as a guess. In recent years, I've seen a number of breakbarrel air rifles that cocked as smooth as this one, so what I believe is happening is the manufacturers are paying more attention to the internal tolerances. The result is that the buyer gets a smoother air rifle; and at the price for which this one retails, that's quite a bargain. Five years ago, you got something much harsher for the same $250.
I have owned and tested BSA Supersport rifles in the past. In fact, in the 1990s they were a huge seller here in the U.S. They are no-frills rifles that offered good performance and accuracy at a good price. Let's hope BSA has continued that tradition in this latest offering.