by Tom Gaylord
Writing as B.B. Pelletier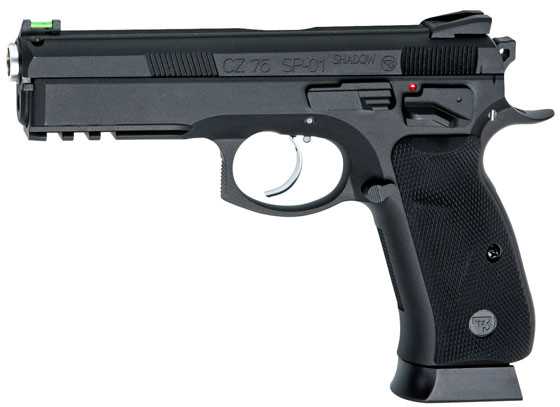 ASG's CZ 75 SP-01 Shadow BB pistol is large and heavy. The guns they are shipping have red fiberoptic sights in front, like those found on the firearm.
This report covers:
Why the firearm?
What is the Shadow?
Action
Trigger
Low recoil
Accurate
Accuracy
I am pleased
Today is the day I tell you about the performance of the CZ75 SP-01 firearm. You may remember I am doing an expanded series on this particular BB pistol because it resembles the firearm so closely. And many owners of the CZ75 have told me what a wonderful handgun it is. So, I bought one and plan to test it with the BB pistol.
Why the firearm?
This is something I don't normally do, although this year I plan to do it several more times. The reason I don't compare a firearm to a pellet or BB gun is there is so little to compare — until now. While talking to Bob Li from Action Sport Games (ASG), the importer and distributor of the ASG CZ75 SP-01 Shadow BB pistol, he told me he owned a 9mm CZ75 SP-01 pistol that he really enjoyed. Bob is in sales, and the Great Enabler met his match at this year's SHOT Show. By the time the show ended, he had me wanting the firearm. read more