Shooting sports began to develop in the 1800s. Several European countries had established rifle associations during that century. In 1896, the modern Olympic Games were established, including several shooting events. Since the beginning of modern Olympic competitions, there needed to be a way to qualify to be in the competitions. The International Shooting Sports Federation (ISSF) was established to oversee the qualifying for shooting sports.
Major competitions are held every two years and alternate between the ISSF World Shooting Championships and the Summer Olympics. The ISSF also holds national and international competitions, including the World Cup series, and the ISSF World Cup Final. The 10-meter Air Pistol Women's Event was added to the 1988 Olympic program of the Seoul Games. The Air Rifle event was added to the ISSF program in 1966. The Air Pistol event was added in 1970. And finally, in 2018 the ISSF World Cup reached a gender equality balance with six men's events, six women's events, and three mixed team events. The ISSF World Cup Series added three mixed team events: 10m Air Rifle Mixed Team, 10m Air Pistol Mixed Team, and Trap Mixed Team. In a further step to ensure gender equality, men and women now shoot the same number of targets.
The 10-meter competition is an indoor sport. In many clubs and ranges, electronic targets are used along with traditional paper targets. This allows for immediate computer read scoring. Totals are calculated as the competition flows, indicating eliminations immediately during elimination rounds.
Best 10M Air Rifles
Top Pick: Feinwerkbau 800X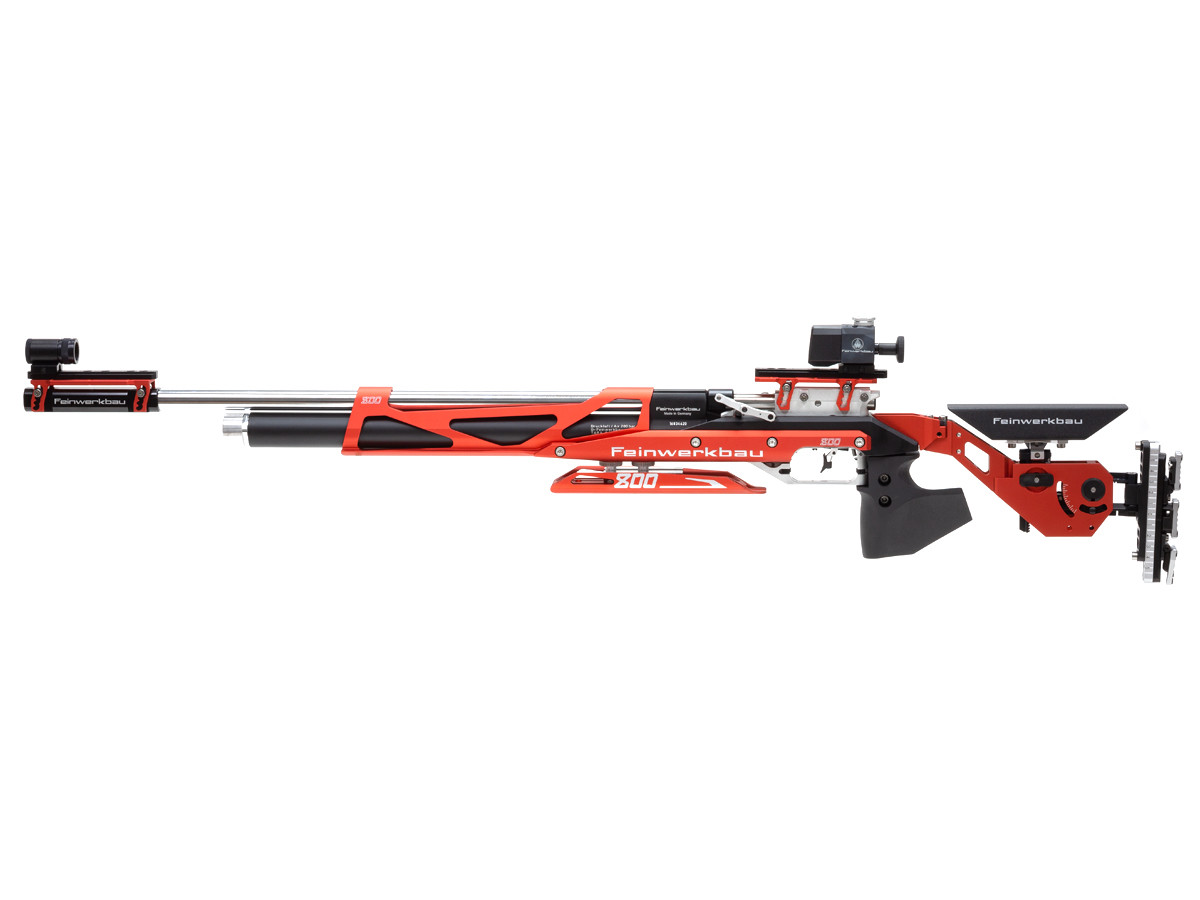 Product Details
The FWB 800X air rifle has world-class accuracy of 0.04" (center-to-center)! This is a rifle you'll never outgrow. You can even take this air rifle to the Olympics where you'll tower above the competition. Powered by a 3000 psi air cylinder, operating this rifle is a breeze. Cocking the action only requires 2 lbs of effort. You might even use the dry-fire mechanism to save on some pellets during practice.
German engineered by the famous Feinwerkbau factory, the Feinwerkbau 800X is suitable for all shooters of any size and age. It is infinitely adjustable. The butt can be adjusted in almost any direction. The medium grip will suit most shooters and is available in right-hand or left-hand versions. The user-friendly 5-way adjustable trigger is one of the finest in the world, allowing you to make changes quickly...even in the middle of a match. And the open sights are extremely precise and of the highest quality.
Why We Like It
The 0.04" (center-to-center) accuracy makes this air rifle a top contender for any match rifle. The limitless adjustability means you can use this one rifle from the beginning of youth 10M practice all the way through to winning Gold at the Olympics without ever needing to change or upgrade to a new rifle.
Things to Consider
Being at the top end of competition rifles, it costs more than most other rifles. And the fine-tuning may require you to try out many different wadcutter pellets to find the ones that shoot the best, even to sizing and weighing pellets from each tin. But to get the best performance takes dedication and precision.
Most Features: Anschutz 9015 ONE Target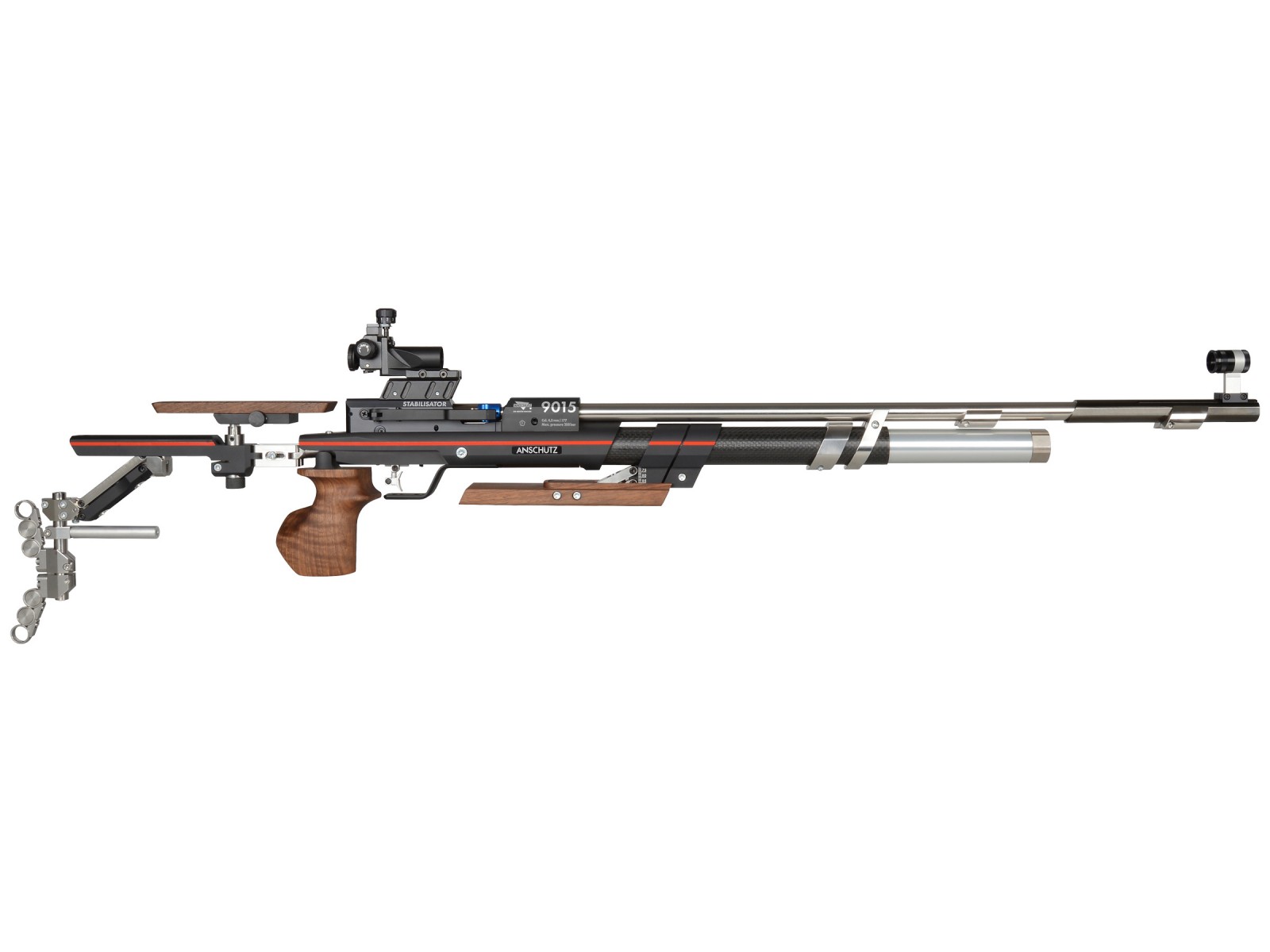 Product Details
The Anschutz 9015 ONE Target Air Rifle is an overall competition gun that can be used by the entire family. From junior to adult marksmen, senior bench rest marksmen, and bi-athletes can all practice their sport with this one air rifle. This rifle's versatile design makes it perfect for all shooting sports and it grows with the competitor.
The 9015 is as high-end as PCP match rifles come, and features optimized regulated air pressure control. The new trigger design incorporates ball bearings, an adjustable trigger blade, a stainless steel barrel, and coated stainless steel barrel extension.
The Anschutz 9015 is a maintenance-friendly system offering a revolutionary firing pin with a valve system that delivers an even calmer shot release. The patented trigger has an extremely short trigger release time and completely play-free trigger blade mounting. The stock is at the pinnacle of technological advancement. It is endlessly flexible and can be adjusted for any shooter quickly and easily.
Why We Like It
Its versatility allows you to perform in all shooting sports with one rifle, rather than having multiple rifles for multiple sports. The endless adjustability allows it to grow with the shooter, or be used for multiple shooters.
Things to Consider
The walnut used for the cheek piece, grip, and fore-end may require some special care to keep them in tip-top condition.
Best Entry Level: Crosman Challenger PCP Competition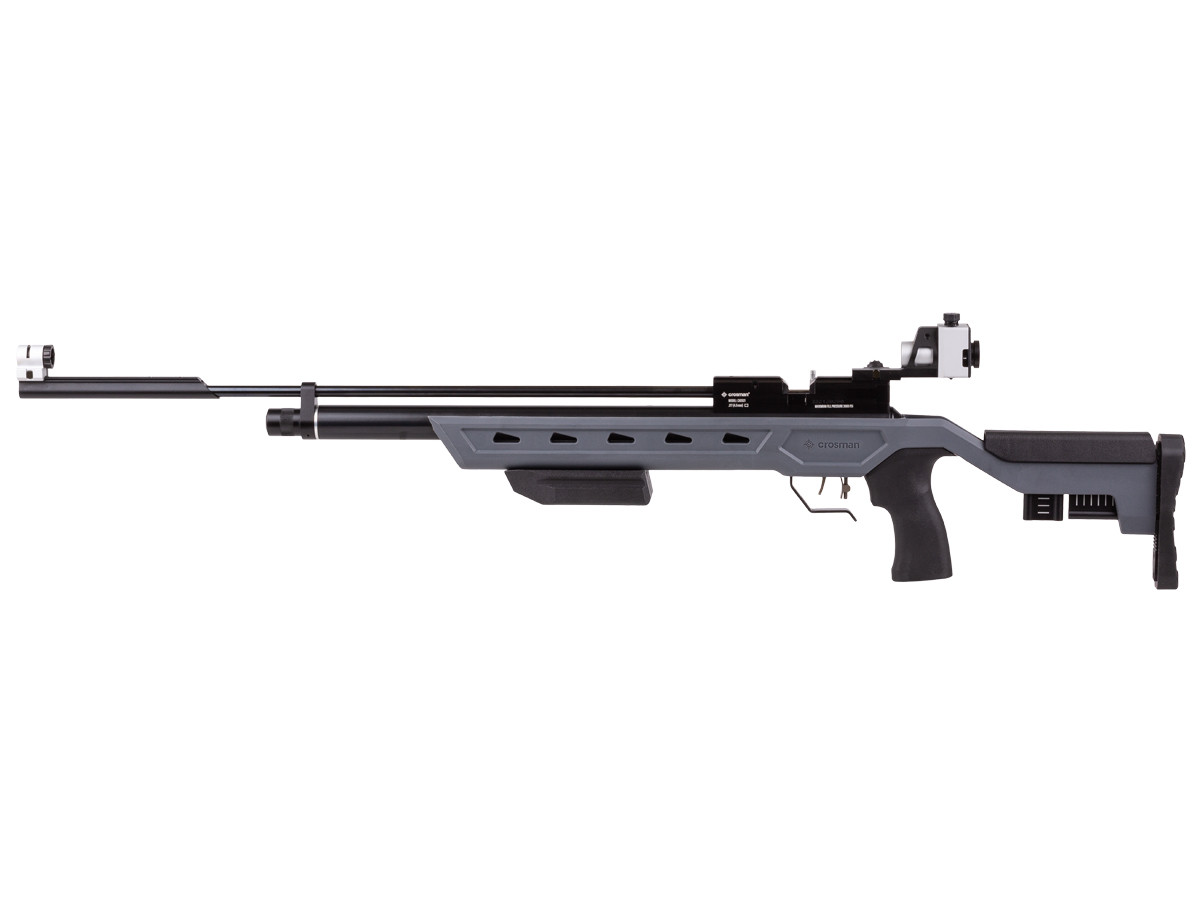 Product Details
The Crosman Challenger PCP Competition Pellet Rifle is a match-quality rifle that conforms to the National Standard three-position air rifle competition requirements. It serves as an ideal introduction to competitive shooting for all levels of airgunners. It can achieve up to 580 feet per second and has a wide variety of adjustable features to attain a competitive edge.
The Challenger features a free-floating Lothar Walther barrel that provides precise shots. It has a fully-adjustable synthetic stock with a precision-adjustable cheek piece and rubber buttpad, as well as a two-stage match-grade trigger with an adjustable shoe.
The 3000 PSI air cylinder provides over 200 shots per fill and is regulated to ensure that each shot leaves the barrel at a consistent velocity. The side lever is easy to operate and can be moved to either side of the stock, allowing for ambidextrous cocking.
This air rifle has a hooded front aperture sight and a diopter rear sight that adjusts for windage and elevation to allow the shooter to find the bullseye on each shot. The fore-end accessory rail features an adjustable sliding handrest and also accepts an optional bipod for added flexibility.
Why We Like It
It provides a lower barrier to entry and a great introduction to competitive shooting. Shooters can get started with the three-position competition and easily move up to more intense competitions.
Things to Consider
Though perfect for the National Standard three-position air rifle competition, it does not meet ISSF requirements and would therefore be a practice rifle for the other 10M competitions.
Best 10M Air Pistols
Top Pick: Morini MOR-162EI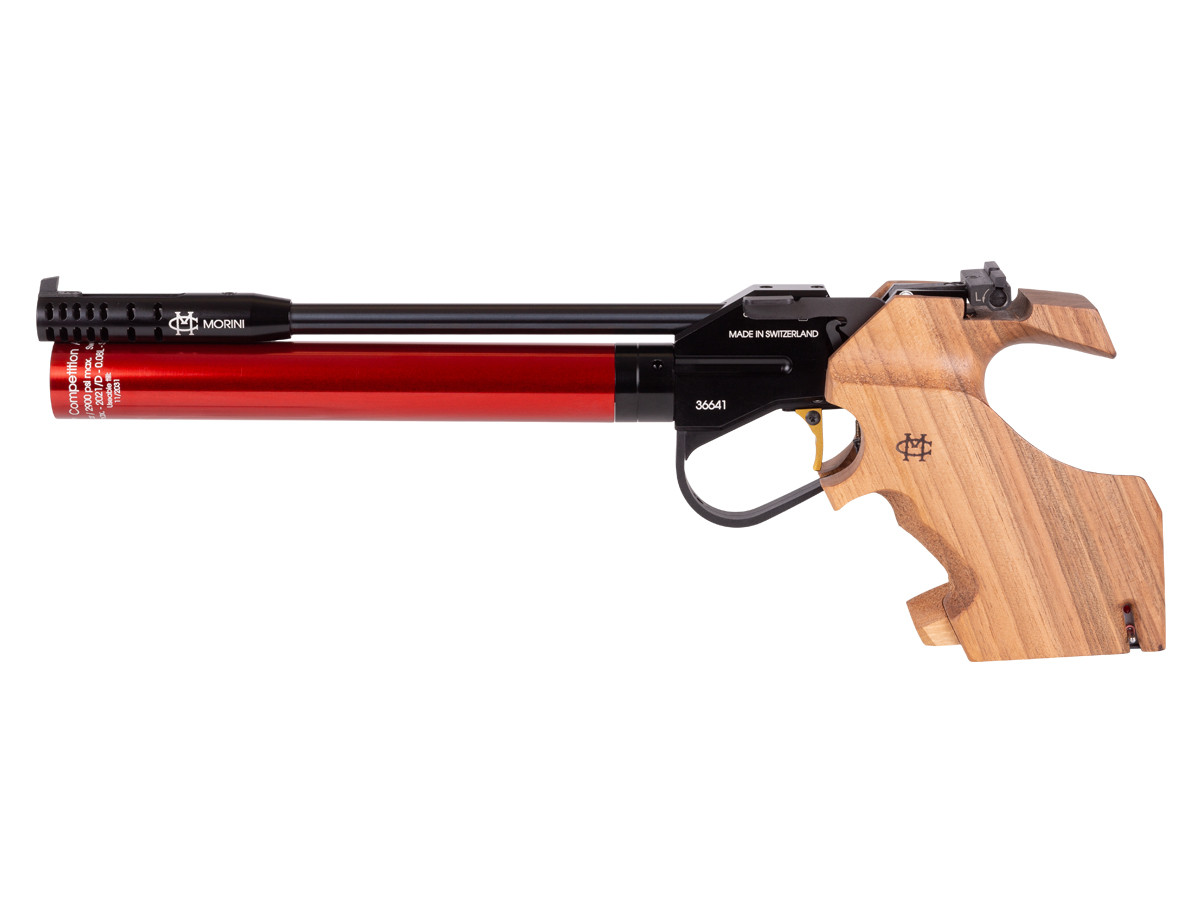 Product Details
The Morini CM 162El competition pistol comes equipped with a Lothar Walther precision barrel and anatomical adjustable walnut grips. Barrel flip is eliminated by the muzzle compensator, and the 5.0 mm foresight comes standard, though there are additional options. The pistol has two different color cylinders for ease of identification and charging.
The regulated pistol gets 200 shots per fill when charged to 3,000 psi. Pressure gauges are located on the front of the detachable cylinders so you can continually monitor your air tanks.
The trigger is electronic and features a ball bearing and dry-fire mechanism. Pulling the trigger operates a switch, and has no mechanical interlink. The factory adjusts the trigger to the ISSF regulations, so it is not something you need to adjust.
Why We Like It
The grip is molded to fit around the shooter's hand adding stability which increases the accuracy of your shots. The Lothar Walther barrel adds extreme precision for the best possible accuracy.
Things to Consider
Because the grip fits around your hand, you'll need to know your hand size to get the right fit. The wood grip needs special care.
Most Features: Morini CM 200EI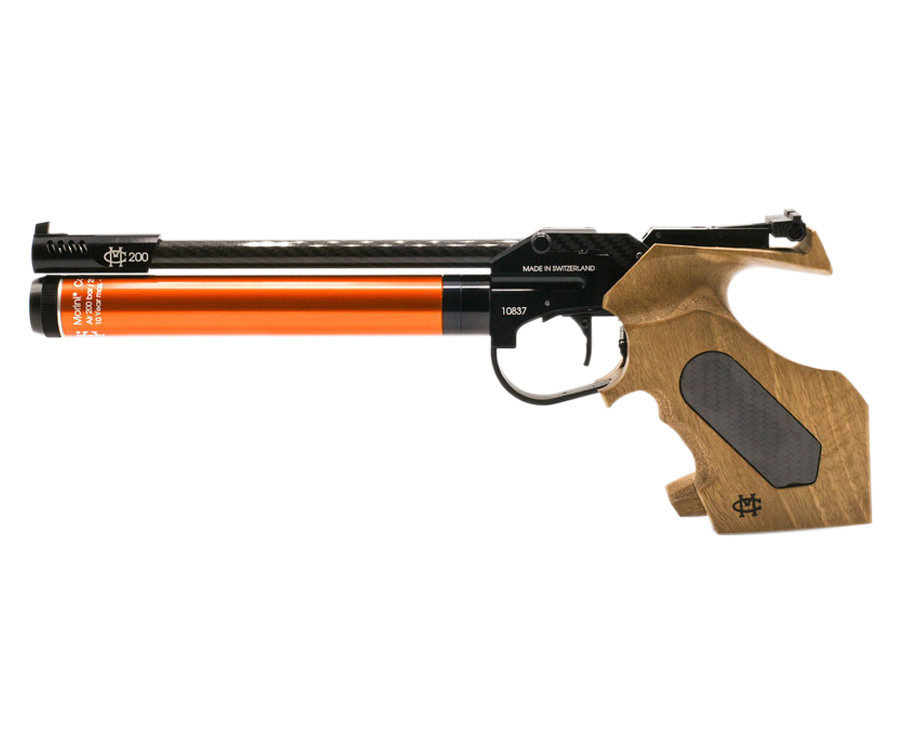 Product Details
The Morini CM 200EI is upgraded from previous models. It weighs 2.17 lbs, has a next-generation electronic trigger, and polygonally rifled and ventilated Lothar Walther barrel with a carbon-fiber shroud. The lighter weight and upgraded components provide a better experience with this pistol all around.
The CM 200EI redesigned features don't stop at the barrel and telemetry but continue to the carbon-fiber cocking lever to replace the previous models' bolt action. It also has two 200 BAR (2,900 psi) air cylinders included, each with digital manometers and automatic shut-off to conserve battery power.
The CM 200EI air pistol has an adjustable palm shelf for a custom fit and has small medium and large options in both left and right-handed orientations. And for all the fine-tuning you need to do, a small tool kit, adjustment screwdriver, fill probe, and degasser are included along with a hard-sided case form-fitted for the pistol and accessories.
Why We Like It
The upgraded components make this pistol top-notch. The training mode app helps you get the most from your training, almost like having a coach. The customization features are superb. And all the accessories make fine-tuning a breeze.
Things to Consider
You'll need to know your hand size before ordering, but customizing the fit will help keep your competitive edge.
Best Entry Level: Air Venturi AV-46M Match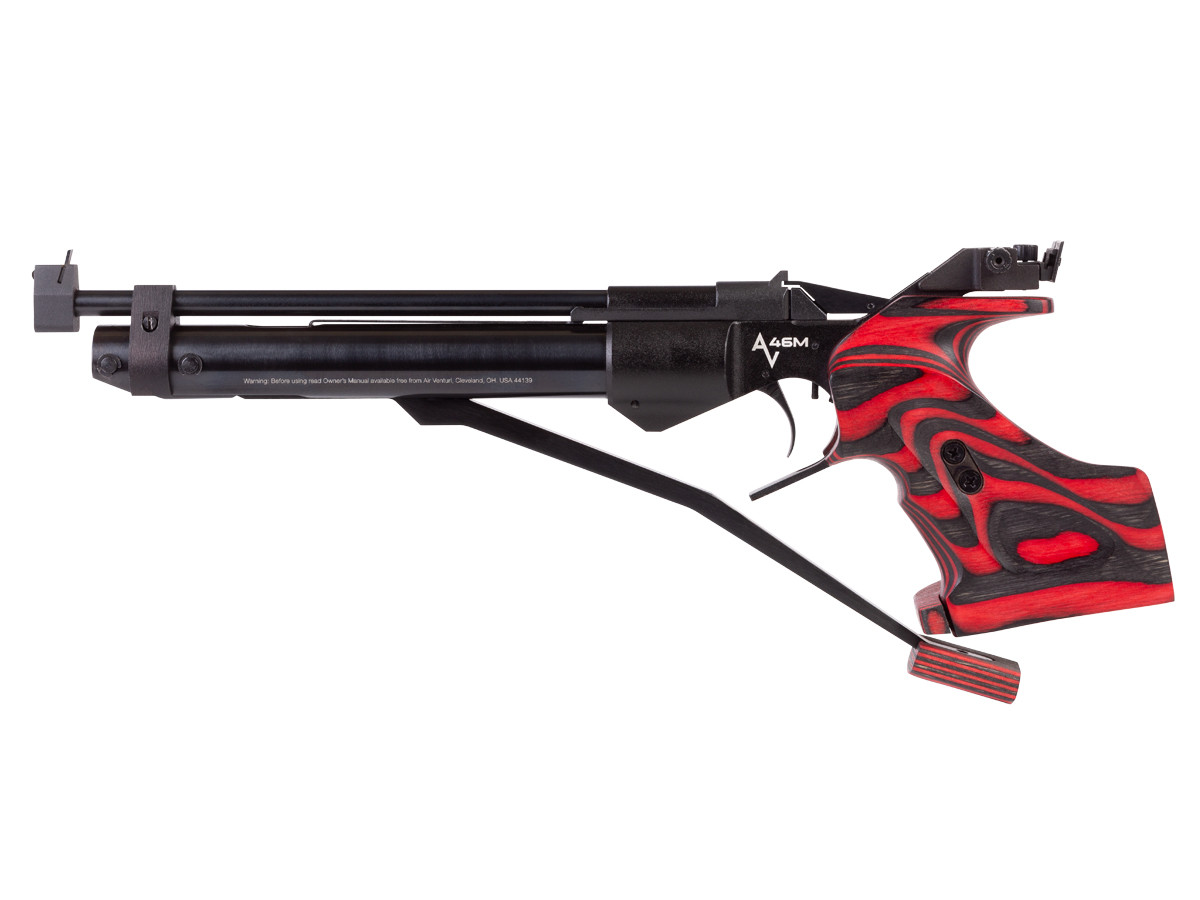 Product Details
The Air Venturi AV-46M Match Air Pistol reaches velocities up to 480 feet per second and has a light pumping effort of just 18 lbs. The precision barrel is at the heart of this match-grade air pistol. It is an excellent entry-level 10-meter training pistol.
This AV-46M has many of the same features as other competitive pistols, including a fully-adjustable 2-stage trigger. Length and pull weight are both adjustable. You can also dry-fire this pistol as needed, so you can practice important shooting skills without using pellets or pumping the lever.
It has high-quality target sights. The rear sight is fully adjustable for windage and elevation, and the front sight is fixed. The red and black laminate grip has an adjustable palm shelf for customization. All of these adjustment variables allow for the extreme accuracy of this air pistol.
Why We Like It
This is a competition-quality single-stroke pneumatic airgun with astounding precision and capabilities that competitive shooters need.
Things to Consider
It does not meet ISSF requirements. It is an excellent training pistol, but would not be suitable for ISSF competitions.
Common Questions
What air rifles do Olympians use?
The 10-meter air rifle has changed a lot over the years. Continuous development has led to the modern competition air rifle. Previous air rifles were single-stroke pneumatics. These rifles were somewhat cumbersome and required extreme skill to fire well. Today's competition air rifles use regulated pre-charged pneumatics, which have greater precision and accuracy and are easier to use.
Modern competition rifles minimize shot-to-shot pressure variations, muzzle velocity inconsistency, low shot development time (which pushes the pellet out of the barrel faster), are nearly vibration free, exhibit minimal movement and balance shifts, and can be tailored through the adjustable stock, sights, and other components of the rifle to suit the individual shooters' preferences to keep them comfortable and shooting accurately from a standing position. When shooters use the appropriate match pellets, these rifles produce a consistent 10-ring performance, making a sub-10.0 average result up to the skill of the competitor.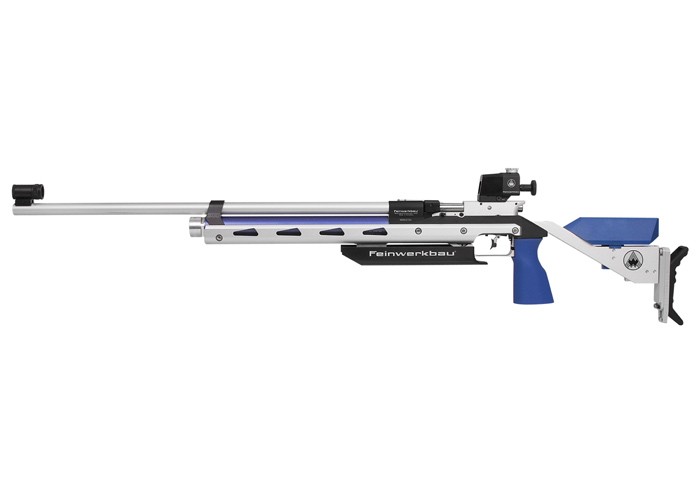 How is the Olympic air rifle scored?
The 10-meter rifle competition has competitors shoot at a paper target with 10 concentric rings. The objective is to shoot your pellet into the center ring, known as the "10 ring". The .177 wadcutter pellets (which have a nearly completely flat head) used for the competition are designed to leave a clean hole as they pierce the paper. This allows for easier scoring. The person who gets the closest to shooting only the 10-ring wins the competition.
Sixty shots are taken during the competition which lead to the highest possible score of 654.0 points. Starting in 2018, the ISSF finals rank the eight best shooters starting from zero, dropping the qualification round scores. The final rounds consist of 2 series of 5 shots each, to be fired within 250 seconds per series. Followed by 14 single shots each fired on command with 50 seconds for each shot. Eliminations begin after the tenth shot and continue after every two shots until the medalists are decided. A total of 24 final shots set the highest possible finals score at 261.6 points. In the event of a tie the lowest ranking athlete is eliminated, and the tied athletes fire additional tie-breaking single shots until the tie is broken.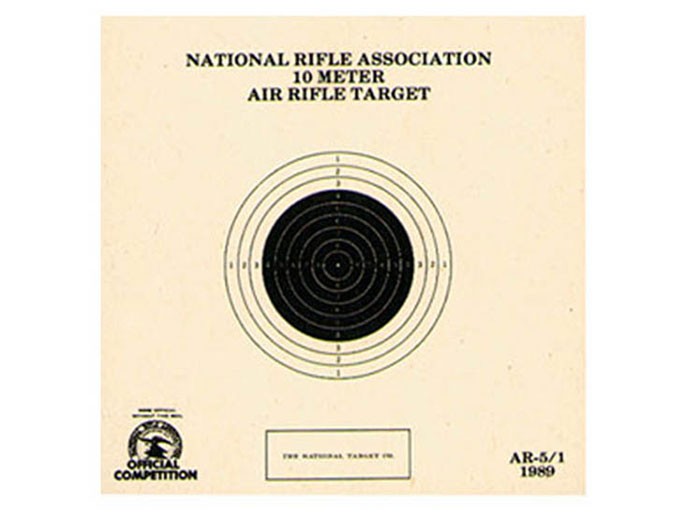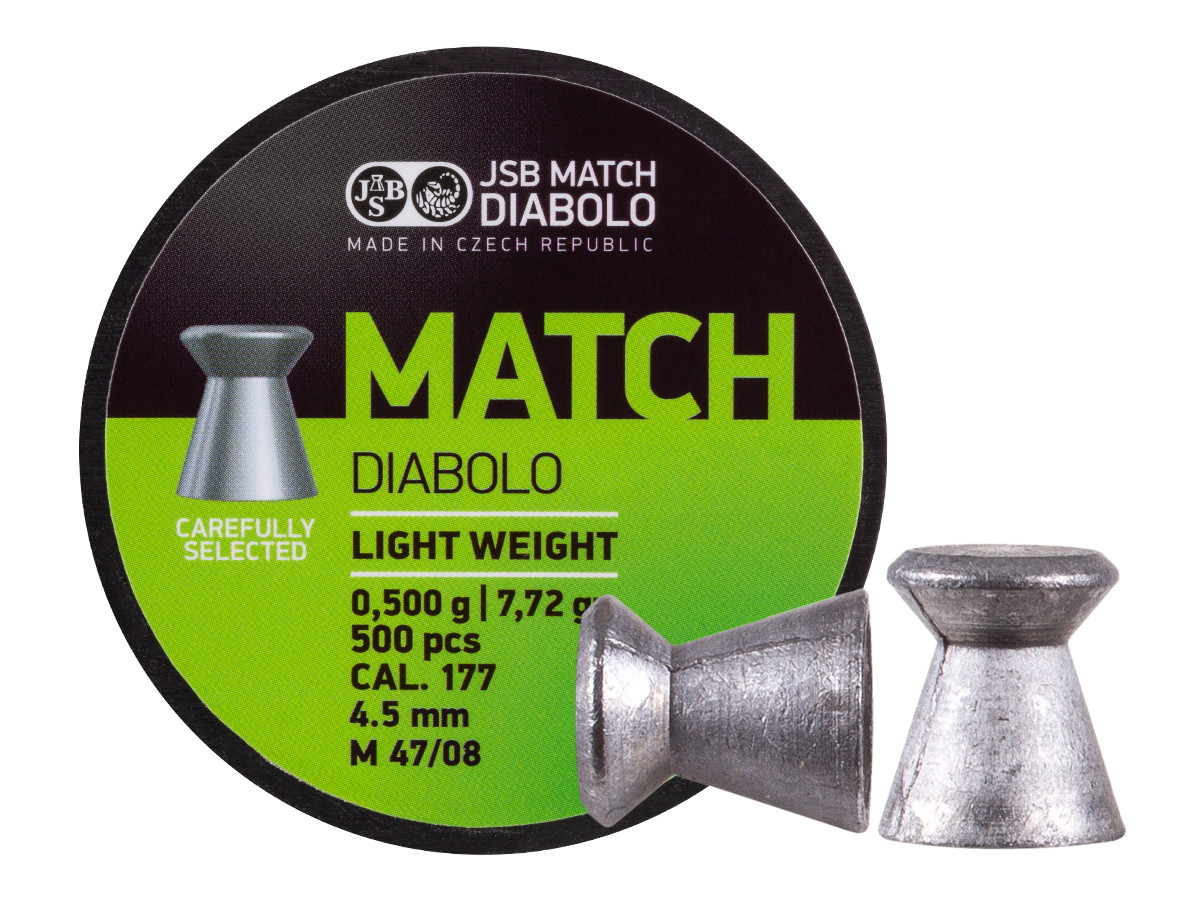 What is the best 10m air rifle?
The top 3 brands of 10m competition air rifles are Feinwerkbau, Walther, and Anschutz. More of the top Olympic competitors use Feinwerkbau than any other brand.
Shop for 10-meter Air Rifles and 10-meter Air Pistols