Not all pellet guns are created equal.
Pellet guns can run the gamut from an affordable pump-up air pistol to roll tin cans in the backyard to a high-end multi-shot pre-charged pneumatic rifle capable of engaging targets out to well over 100 yards away. What type you choose or need is a personal decision, what you want in a pellet gun is different from what someone else is looking for in a pellet gun.
If you are new to the airgun sport making an educated choice can be a daunting task. As you read reviews and watch videos you are overloaded with information, features, opinions, and claims. Making sense of that information overload can be difficult for anyone, even more so for someone just starting out.
We will try to make the decision easier by giving you the facts about several different types of pellet guns from short-range lower-powered backyard plinkers to super accurate powerful adjustable rifles that can be used for competition or even small game hunting.
Pellet guns are perfect for:
Small to medium game hunting and pest control with the more powerful models.
Gun handling and safety training in a safe classroom environment.
Teaching marksmanship training without the cost or dangers inherent in using firearms.
Recreational shooting in the backyard or basement with proper precautions and a good backstop.
Safely training muscle memory, if using a replica airgun of your self-defense handgun, and practicing drawing from a concealed carry.
With hundreds of options to choose from it's difficult to narrow down our top picks, but here is where we would start.
Top 10 Best Pellet Guns
1. FX Impact M3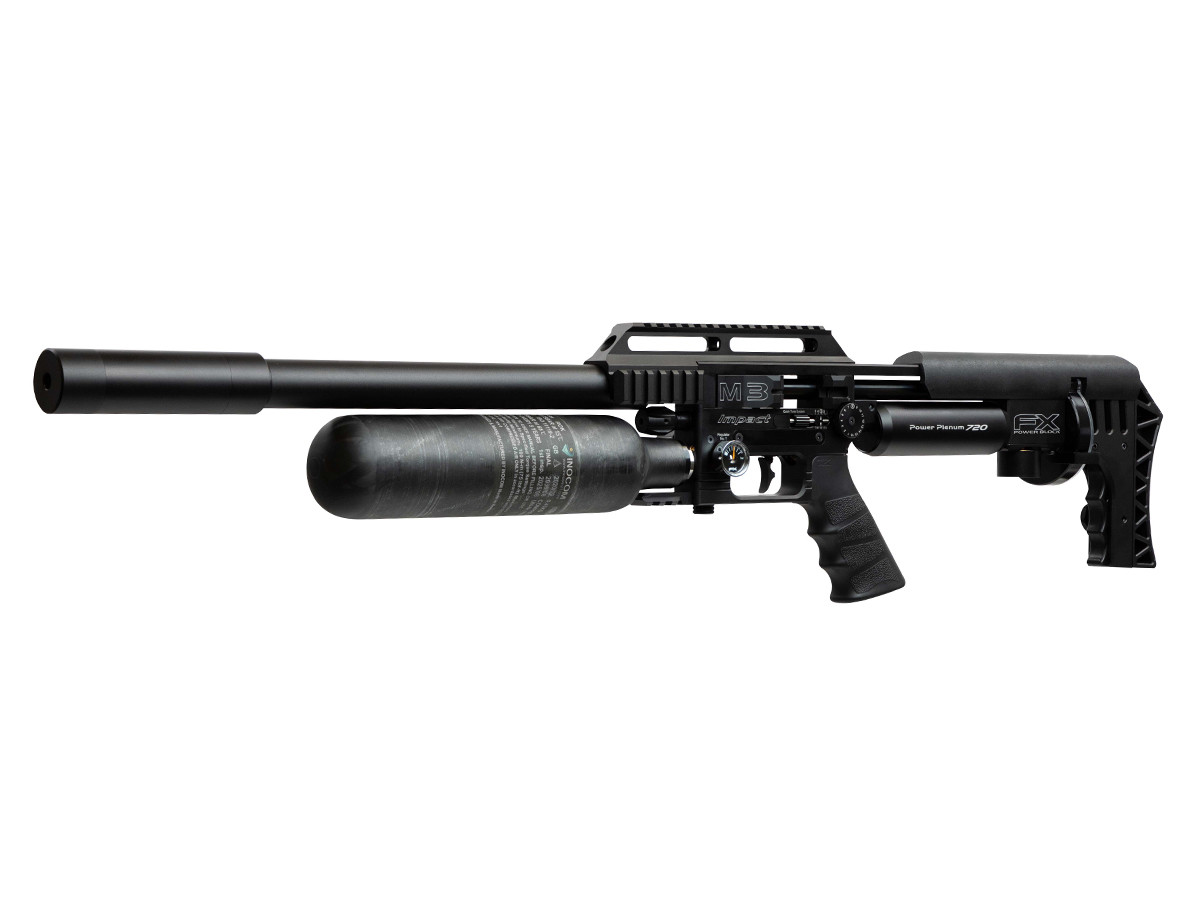 Product Details
When the FX Impact M3 was introduced it set a precedent for what a modern precharged air rifle should and could be.
The rifle is infinitely adjustable and upgradeable. From the factory in Sweden (the Swiss make more than just fine watches) the rifle is set up with a general-purpose mindset so it will do many things well, from target shooting to small game hunting and pest control.
It comes standard with a list of features other companies just dream of putting in a pellet gun. Dual adjustable match grade regulators for a very consistent shot-to-shot velocity, Externally adjustable hammer and valve adjustments and it can be bought with your choice of either a 600mm or 700mm STX (Smooth Twist X Superior) match grade shrouded barrel.
The upgrade potential doesn't stop there, you can interchange barrel liners to ones with different calibers and twist rates so you can shoot slugs at longer ranges, and tune the gun to the projectile caliber, weight, and design of your choice.
Available in .177, .22, .25, and .30 caliber, there is certainly an FX Impact M3 that fills your needs.
Why We Like It
The rifle is infinitely adjustable in both calibers and settings, from lower-powered plinking, to precision long-range target work with slugs and everything in between.
The dual AMP (Adjustable Match Precision) regulators, allow you to fine-tune the pressures the gun works with to allow for the ultimate control of the gun.
The FX Smooth Twist X Superior (STX) barrel system is currently state-of-the-art in long-range pellet gun accuracy technology, and the M3 makes the most of this new emerging technology.
The barrels have the ability to be indexed or "clocked" to allow the pellet to rise and fall in a straight vertical orientation.
The ability to change the barrel length and caliber in just a few minutes.
The rifle is backed by the FX 3-year factory warranty.
Things to Consider
FX quality doesn't come cheap, but you are getting the flagship of the FX brand.
Ultimate adjustability is a double-edged sword, some people will keep tuning, always chasing the ultimate in either accuracy or consistency.
It is a precharged pellet rifle, so you will need a way to fill the rifle to the 3625 psi (250 bar) fill pressure.
2. Air Arms TX200 MKIII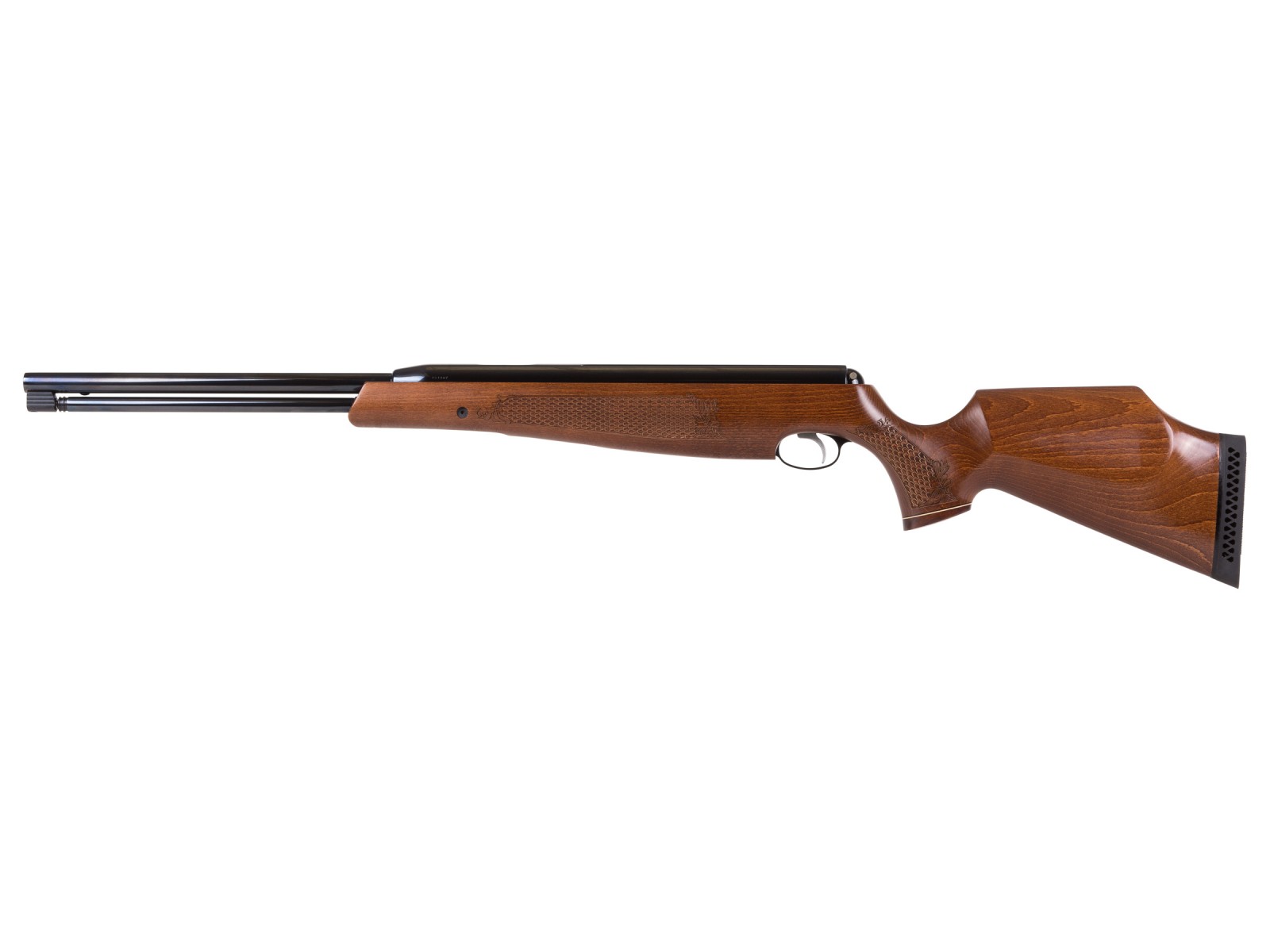 Product Details
What does a full 5-star review pellet rifle with over 275 reviews look like? It looks like an AirArms TX200.
Most people that have shot the TX200 agree that it is considered to be one of the finest spring-powered air rifles ever made. The TX200 is made in England and the quality of the deep rich bluing and woodwork is second to none in the industry.
The stock is made in Italy by Minelli, one of the world's finest stock makers. The rifle is available in walnut or beech wood and can be purchased in either right-hand or left-hand configurations.
But don't let the good looks fool you, the TX200 MKIII is a workhorse that is accurate, powerful and shoots like a tuned rifle right out of the box, this is the rifle all other spring-powered pellet guns are compared to.
The rifle comes with an adjustable match-grade trigger and a match-grade Lothar Walther barrel that is housed in a fixed steel shroud with a suppressor integrated into the shroud to make this rifle extremely quiet and backyard friendly.
The rifle has a smooth underlever cocking arm making the rifle easy to cock and load, for safety, it also has an anti-beartrap mechanism with a positive release conveniently located on the right side of the rifle.
The stocks are made in Italy by Minelli, one of the world's finest stock makers. The rifle is available in walnut or beech wood and can be purchased in either right-hand or left-hand configurations.
The TX200 has proven itself in the field target competition circles for years and in the hands of hunters and sportsmen that demand a high level of accuracy, power, and craftsmanship in their pellet guns.
Why We Like It
Being a spring-powered pellet rifle, the AirArms TX200 needs no support equipment, just the rifle and a tin of pellets for an afternoon of hunting or family recreation. The long underlever makes it easy to cock, and the shot cycle is quick and smooth.
The gold-plated adjustable 2-stage match trigger is light and crisp and the fully shrouded and baffled Lothar Walther barrel makes it a very accurate and quiet rifle.
It is available in .177 and .22 calibers and the choice of left or right-handed versions.
The rifle is backed by a manufacturer's limited lifetime warranty.
Things to Consider
The TX200 does not have open sights so you will have to provide a scope and dovetail mount.
With a rifle weight of just over 9 lbs, it will be about 10 pounds after mounting a scope.
The rifle is so beautiful, you may be reluctant to take it out in the field hunting but don't let the good looks fool you. This is a hard-working rifle.
The quality of the TX200 makes it an heirloom rifle, your grandchildren will be enjoying this pellet rifle years from now.
3. Air Venturi Avenger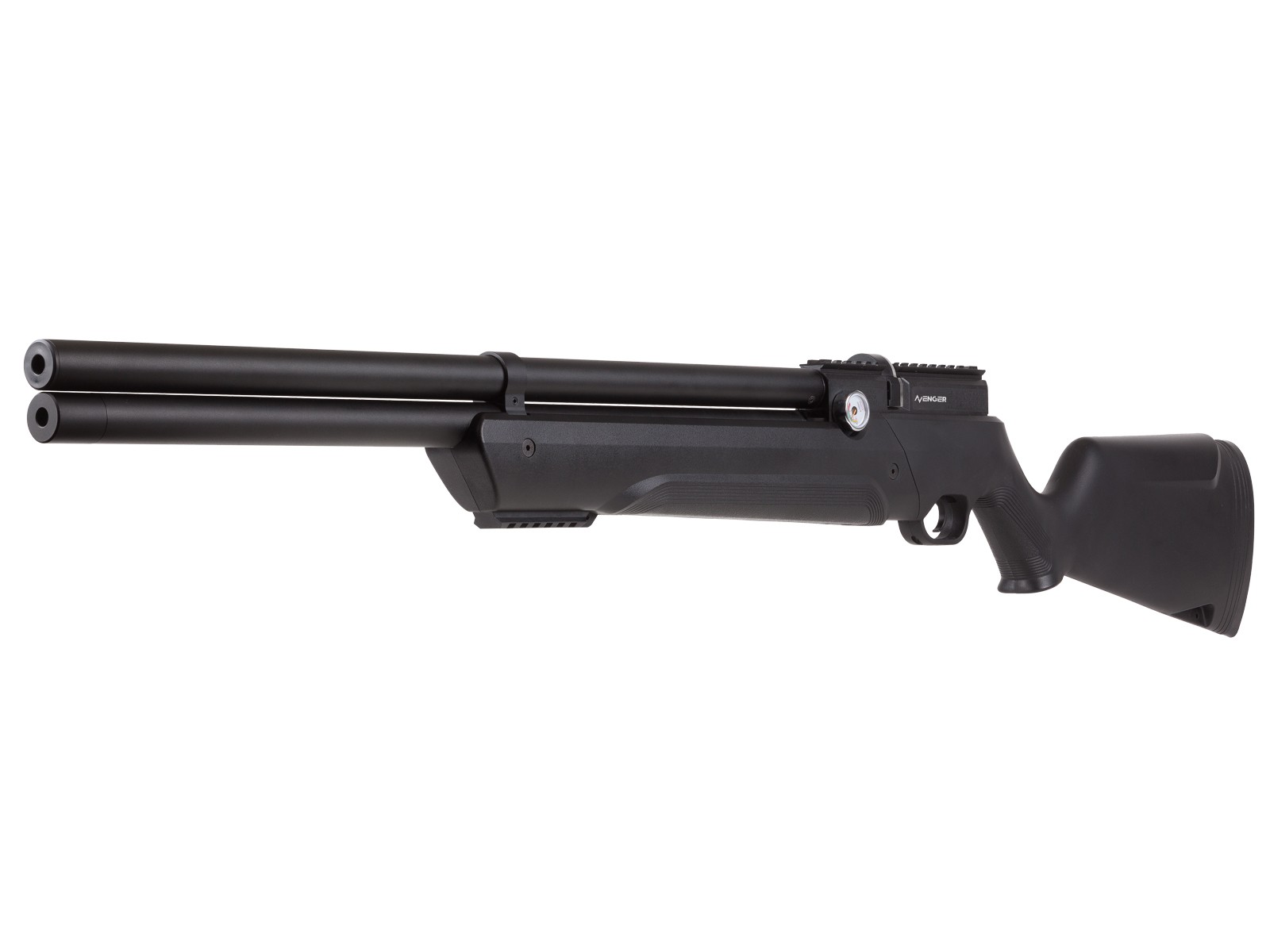 Product Details
The Air Venturi Avenger was introduced at the 2020 SHOT SHOW and has risen to the top of the entry-level PCP market by offering features that are normally found on rifles normally costing many times more than it does.
The Avenger is budget-priced, but its features are anything but budget, as standard equipment, it comes with an externally adjustable regulator that allows you to easily adjust the pressure gun operates while the main 180cc pressure tube fills to 300 bar (4350 psi) giving you many more regulated shots per fill than a gun that only fills to 3000 psi.
The list of premium features continues with a smooth side lever cocking system. It ships with 2 auto-indexing magazines, a single shot tray that is kept in place by magnets, an adjustable 2-stage trigger, an adjustable hammer spring, and a shrouded barrel.
It also features built-in sling attachment points, a Picatinny rail to mount a light or bipod, a combo rail that accepts either 11mm or weaver-type scope mounts, a standard foster quick connect filling system, and dual gauges. One for the regulator pressure, and one for the fill pressure of the gun.
The best thing about the Air Venturi Avenger is its accuracy, in the accuracy department, the Avenger will compete with guns that are much more expensive.
The Avenger is available in .177, .22, and .25 caliber, giving you the option of choosing the caliber for taking different sizes of game.
Whether you are hunting or target shooting, the Air Venturi Avenger has the accuracy and power you need to succeed, but at a cost that won't break the bank.
Why We Like It
The externally adjustable regulator gives you the ability to tune the gun to the power level you want for optimum accuracy and air efficiency. The Avenger is lightweight, and shoulders easy, while the side lever lets you smoothly and quickly load a second shot without losing your sight picture.
The scope rail fits both 11mm and weaver-type scope rings for more flexibility. You also get two auto-indexing magazines, and a single shot tray at no additional cost.
The Avenger is extremely accurate and powerful, and the shrouded barrel quietens the report of the rifle.
Things to Consider
The rifle does not come with a scope, so you will have to buy one. The all-weather synthetic stock seems a little plasticky to some owners.
The rifle fills to 300 bar (4350 psi) while it is able to be hand pumped, a small portable compressor would make your pre-charged pellet gun life much easier.
The Avenger can be used left-handed, but the controls are set up for a right-handed shooter.
4. Umarex Notos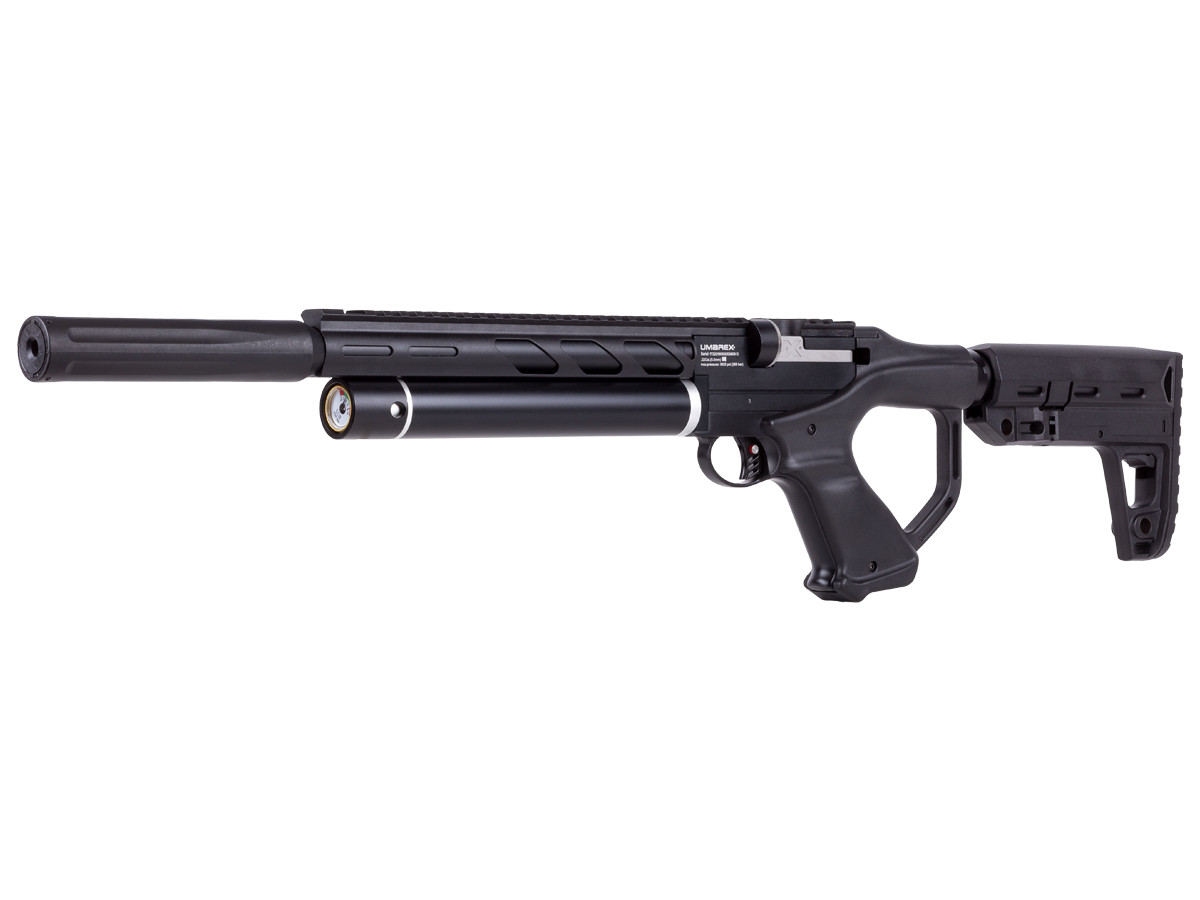 Product Details
If you were to make a list of features that would be the ideal hunting or pesting carbine, compact, accurate, lightweight, quiet, magazine-fed repeater, and side lever cocking, you just listed most of the features of the Umarex Notos.
The Notos is a side lever .22 caliber carbine that produces velocities up to 700 fps, it has a built-in SilencAir moderator that makes it very stealthy and a collapsible stock that lets you adjust the length of the stock for storage, or to accommodate different-sized shooters, or account for thicker winter clothing during hunting season.
The Umarex Notos Carbine is filled to 3,625 psi (250 bar) giving you up to 40 shots per fill, and it also has a regulator that is set to 1,900 psi to give you 21 of those shots at a consistent optimal velocity. It is fed from a removable 7-round auto-indexing magazine and is fitted with a full-length Picatinny rail so you may choose to mount red dots or larger scope.
If you are a small game hunter or need to eliminate some pests, or you are just a plinker, the Umarex Notos is the perfect compact, quiet, and accurate carbine for you.
Why We Like It
The Notos is packed with features, a SilencAir moderator and shrouded barrel, a foster quick connect for filling the gun with air, an adjustable stock, and conveniently located side lever cocking mechanism.
It ships with a 7-round magazine and a single shot tray. The full-length Picatinny rail will accommodate virtually any size optic you wish to mount on the gun.
The Notos gets 3 full magazines at the regulated pressure, which is more than a morning's hunting. Just in case something happens, the rifle is covered by a manufacturer's 1-year warranty.
Things to Consider
The side lever is on the left side of the rifle, while left-handed shooters will love this, some right-handed shooters may not as it is different from what they are used to.
The Notos does not come with sights, so you will have to provide a red dot or a scope for the gun.
The magazine only holds seven rounds, while that is fine for hunting, if you are shooting or recreation or from a bench, seven rounds go pretty quick, having an extra magazine on hand makes it more enjoyable.
5. Benjamin Marauder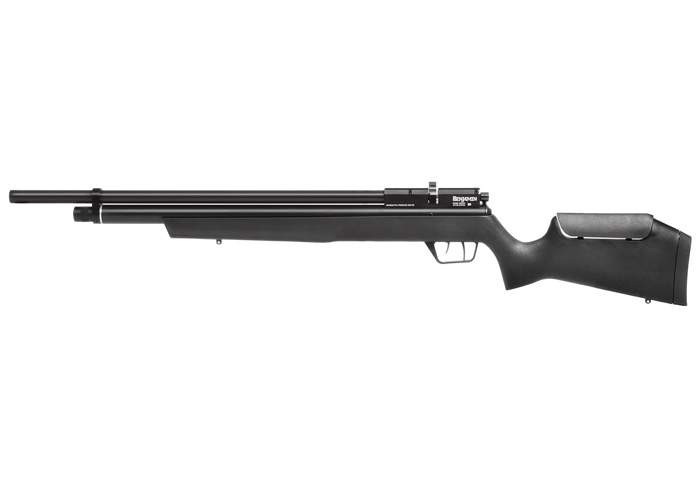 Product Details
Benjamin Marauder is legendary among airgunners and is the rifle that all other pellet guns are compared to in both being quiet and having the best trigger.
The Marauder has been around for a few years, and the engineers at Benjamin have been quietly upgrading the rifle over time as PCP technology has advanced, such as a factory-installed depinger to make the gun's firing cycle quieter, a simplified breech to make a more stable platform for larger scopes, and easier to service, an improved valve design to increase the shot count, and the trigger was moved rearward to provide better ergonomics and hand position.
The Marauder uses a barrel built in-house by Crosman (Crosman has been making match-grade barrels for decades) the barrel is encased in a full shroud that has baffles installed to make the rifle one of the quietest full-power PCP rifles available today.
Benjamin integrated the fully adjustable match-grade trigger that Crosman uses in their 10-meter competition rifle for the Marauder. The .177 and .22 caliber rifles use a 10-shot rotary magazine that has become the most duplicated magazine design in the airgun industry. The bolt of the rifle can be moved so it can be operated from the left side, but the safety and stock are already ambidextrous, making this a perfect rifle for southpaws.
The rifle is infinitely adjustable for velocity, shot count, and fill pressures up to 3000 psi. The Marauder is a proven design that other companies have tried to copy, but have never equaled. The Marauder excels at everything, hunting, pest control, target shooting, and informal plinking, you have to shoot it to believe it.
Why We Like It
Unlike other companies, The Benjamin Marauder is covered by a manufacturer's 5-year warranty. The trigger, the accuracy, and how quiet the gun is when fired is amazing. The pressure gauge is located on the bottom of the rifle in front of the trigger guard for safety reasons, not at the barrel end of the rifle like some other guns.
The durable black synthetic stock is ambidextrous and has "grippy" surfaces in the right areas, it has an adjustable comb and pre-installed sling swivel studs. The fill pressure is adjustable, as is the velocity, the hammer spring, the transfer port opening, and the trigger, allowing you to tune the rifle to your needs, from low-power indoor target shooting to a full-power hunting machine.
Things to Consider
As it comes from the factory, the Marauder is not regulated so as your pressure gets low, your velocity will drop as well. There are no sights on the rifle, so you will have to buy a scope and rings. The rifle ships with only 1 magazine whereas some rifles come with 2 magazines.
Being a precharged pellet rifle you will have to have a source of air to fill it to 3000 psi (200 bar). It is handpump friendly, but a small electric compressor will make your precharged pellet gun life so much more enjoyable.
6. Umarex Gauntlet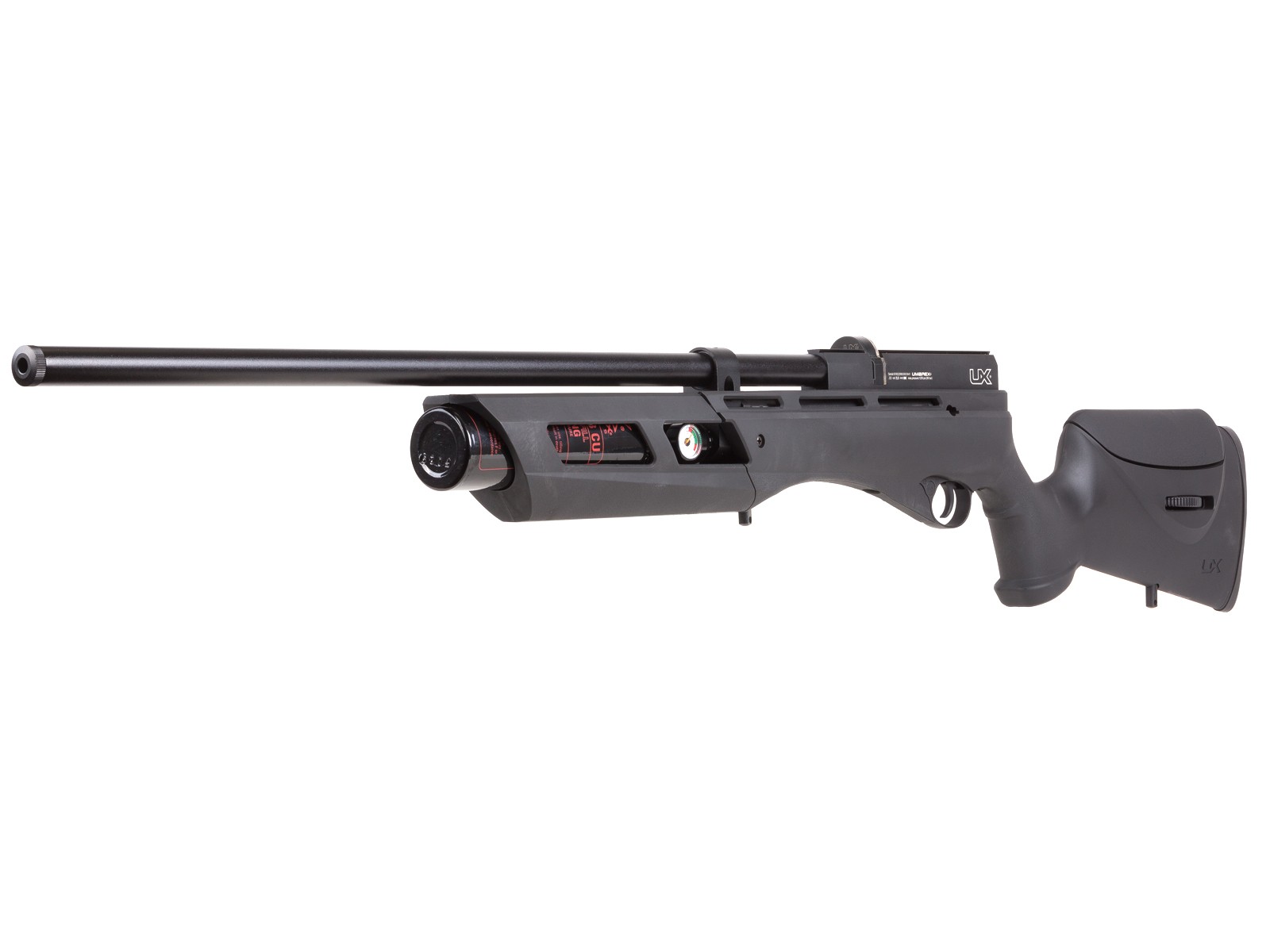 Product Details
In the PCP airgun world, when you used the words accurate and powerful in the same breath, it meant you were about to spend a lot of money, then Umarex introduced the Gauntlet and changed the game forever.
The Gauntlet is a Precharged bolt action repeating pellet rifle that uses a 213cc removable bottle that fills to 3000 psi but is regulated to 1100 psi in .22 caliber, and 1900 psi in the .25 caliber gun. Giving you about 60 regulated shots in .22 caliber, and 28 full power regulated shots in .25 caliber.
The .22 Gauntlet can produce about 22 ft-lbs of energy, making it perfect for small game hunting and pest control. Meanwhile, the .25 caliber rifle is capable of 45 ft-lbs of bone-crushing energy, so it is sure to put the smackdown on anything you are hunting. The regulator means the air going to the gun is metered for very consistent shot velocities which aid in better accuracy.
The list of features that come standard on the Gauntlet read like a wish list for a much more expensive pellet gun.
Shrouded and moderated barrel, magazine-fed, regulated air supply, adjustable trigger, an ergonomic adjustable stock, a single shot tray for target shooting, sling mounting points for hunters, the list goes on and on.
The .25 caliber pellet is heavier than the .22 caliber, so it is better at fighting the wind at the longer ranges that the Gauntlet is capable of.
Umarex changed the pellet gun world in 2018 with the introduction of the Gauntlet, they combined three words that normally can not be in the same sentence, Accurate, Consistent, and Affordable.
Get your Gauntlet today!
Why We Like It
The easy-load rotary magazine and Foster-type quick connect make for easy reloads and fills. The .22 caliber magazine holds 10 rounds, and the .25 caliber magazine holds 8 rounds. Unlike some companies, Umarex backs the Gauntlet with a 3-year warranty.
The 213cc bottle has a regulated output and only fills to 3000 psi, making it hand pump friendly while delivering a large number of shots per fill. The shrouded barrel does a good job of quieting the power this rifle generates. The sling mounts and adjustable stock make it comfortable for use in the field without fatigue.
Things to Consider
The Gauntlet only comes with 1 magazine and a single shot tray. In order to adjust the trigger, you must take the action out of the stock, and the trigger is a single-stage only, not a 2 stage.
Because of the power of the Gauntlet, some owners find it hard to cock the bolt, but with practice, you find that putting your thumb on the rear of the action gives you more leverage.
7. Beretta PX4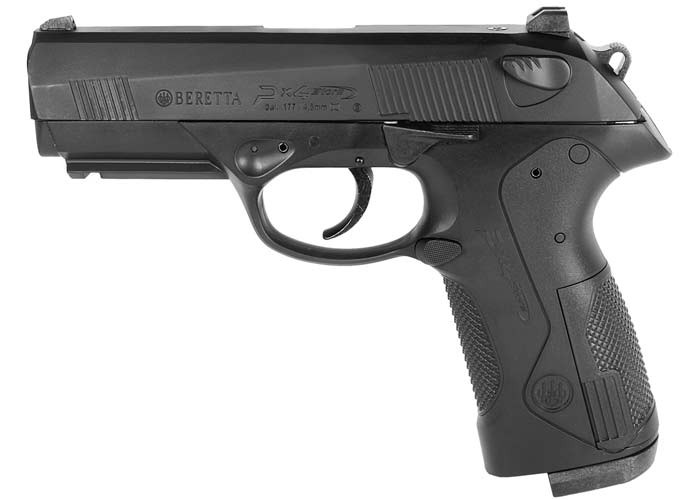 Product Details
The Beretta PX4 Storm is a pellet pistol that replicates the actual PX4 Storm firearm in almost every way, the looks, the ergonomics, the operation, just not the Beretta PRICE!
The PX4 Storm is a co2-powered blowback pellet pistol that is capable of shooting both BBs and pellets interchangeably, so you can shoot whatever ammo you have on hand.
The 16-round magazine has an eight-shot rotary clip on each end, you shoot the first eight, eject the magazine, flip it over and reinsert it, and shoot the other eight rounds. Extra magazines are available so you can spend more time shooting and less time reloading.
With a weight of 26 ounces and a maximum velocity of 380 fps, it is no flyweight in either the heft or the power department. With its rifled steel barrel, it delivers superior accuracy with pellets, it is equally at home on the target range or rolling tin cans in the backyard.
Why We Like It
The PX4 Storm pellet pistol replicates the action, ergonomics, feel, and function of the PX4 firearm almost exactly making it ideal for teaching someone safe and proper gun handling. The rifled steel barrel gives the pistol good accuracy with pellets so they may hone their marksmanship skills as well.
It can use either pellets or BBs interchangeably and it uses an innovative magnet to hold the BBs in the rotary clip. Extra magazines are available at a very reasonable cost.
Things to Consider
The rear sight is molded into the plastic slide so it is not adjustable, and the safety and the slide release are not functional. So the slide will not lock back after the last shot.
The PX4 Storm only has a 90-day warranty, but it is a well-made pellet pistol that should give you years of enjoyment.
8. Benjamin Trail NP XL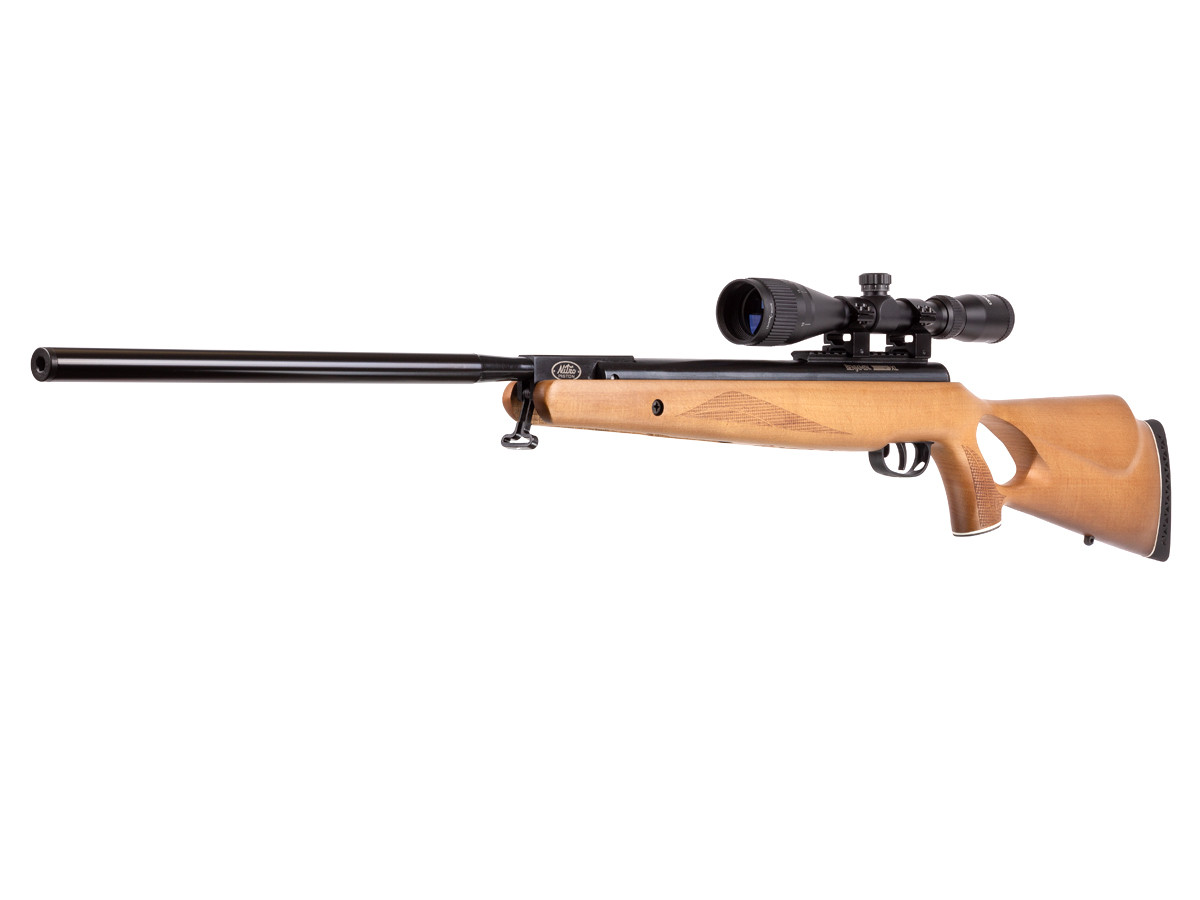 Product Details
The Benjamin Trail NPXL air rifle was designed from the ground up with small game pellet gun hunting in mind. It is available in .177, .22, and .25 caliber giving you three different power levels to choose from for your intended game.
The rifle uses a Nitrogen filled gas piston instead of a coiled spring to power the gun, it is still a single-shot pellet rifle, but it is smoother to cock, and can be left cocked for hours while hunting, and not have to worry about spring fatigue over time.
The kit includes a 3x9x40 Centerpoint scope with an adjustable objective to reduce parallax error, the scope mounts directly to a Weaver/Picatinny rail that is welded to the receiver.
The bull barrel is shrouded, so it is 70% quieter than most other break barrel air guns. The hardwood thumbhole stock is completely ambidextrous and comes with sling mounts already installed.
All you will need for a day of hunting or plinking is the Benjamin NPXL rifle and a tin of pellets.
Why We Like It
Since it is a break barrel rifle it needs no support equipment. The Nitro piston makes the rifle both smooth to cock, and quieter than spring-powered guns.
The included Centerpoint scope is a good match for this pellet rifle; it is an amazingly clear scope and has a mil-dot reticle to aid in holdover for long-range targets. The ambidextrous stock and controls are left-hand friendly, and the weaver rail scope mount holds the scope firmly in position.
The NPXL is powerful, quiet, and accurate, what more do you need in a pellet rifle?
Things to Consider
At 48 inches overall, it is a long pellet rifle, but the power generated by the 19.5-inch barrel and the effectiveness of the shrouded barrel is worth the extra length.
Like a lot of break barrel air rifles, it will take about a tin of pellets for the gun to break in and settle down to where it will shoot its best.
The Benjamin NPXL is a powerful pellet rifle designed for hunting, so it will be harder to cock than lesser-powered air rifles.
9. Seneca Dragonfly Mk2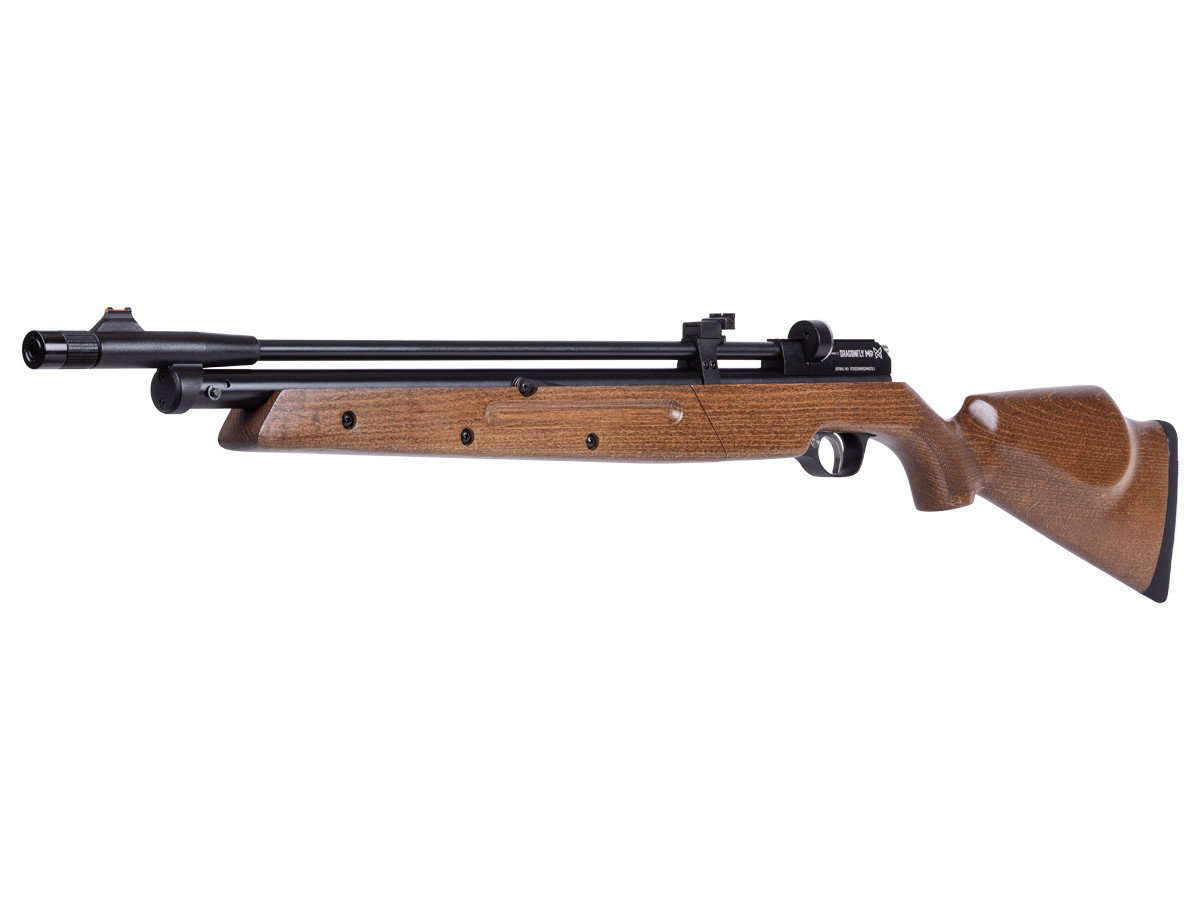 Product Details
The Seneca Dragonfly Mk2 is a Multi-Pump Air Rifle by Air Venturi and is an accurate multi-pump pneumatic pellet rifle that has many improvements compared to the original Seneca Dragonfly.
At first glance, this version of the pellet rifle looks a lot like the older model. However, the longer wooden forearm hides the upgraded technology. This new model has a patented butterfly high-efficiency pump system. This new system lowers the pumping effort by 50% compared to the original. Unlike the older model and every other multi-pump pellet rifle that gets harder to pump with every stroke, with the Dragonfly MK2, the pumping effort stays the same throughout the entire pumping process.
The Dragonfly MK2 is capable of full-power velocities up to 950 fps (with alloy pellets) in .177 and 800 fps in .22, it has the power for small-game hunting, pest control, and plinking.
The Seneca Dragonfly Mk2 is a multi-pump pneumatic, as such it allows you to vary the power level of the gun to suit the situation or intended target. With a usable range of 3-15 pumps, you can quietly plink with low power and not disturb the neighbors, immediately go to taking small game without any modifications to the gun other than just adding a few more pumps to the gun.
The Dragonfire MK2 comes with a fiber optic front sight and rear sight, the rear sight is adjustable for windage and elevation. The gun uses an 11mm dovetail rail for mounting your choice of optics.
Unlike almost every other multi-pump pneumatic pellet gun on the market, the Dragonfly MK2 has a x 20 threaded muzzle cap so you can mount your choice of sound moderator, or muzzle brake.
The Seneca Dragonfly MK2 stands out from the crowd of multi-pump pneumatics with a slew of features such as easy pumping technology, a nicely finished wood stock, and a threaded muzzle cap. This rifle is one you will be proud to own, and will enjoy hunting and plinking with for years to come
.
Why We Like It
The butterfly pumping system that reduces the pumping effort makes it perfect for younger shooters or shooters with a smaller stature who may not be as strong.
The threaded muzzle cap is a feature not normally found on a multi-pump pneumatic, giving you the option of adding a sound moderator if it is allowed in your area.
It is magazine fed, which is also something not found on most multi pumps. But it also comes with a single shot tray if you are more comfortable with that feed system.
The Dragonfly comes with a wood stock and checkered grip, and the rifle comes with a full 1-year warranty.
Things to Consider
The rifle may be a little heavier than other pellet rifles because of the wood stock, and the rifle and butterfly pump mechanism being made from steel, not brass or plastic.
The pump mechanism has an extra linkage that other multi pumps do not have, that slides up and down as you pump the gun, younger shooters should be aware of a possible pinch point until they become used to it.
The trigger is not adjustable, but it is a 2-stage affair, that while a little heavy, it is entirely predictable and usable.
10. Crosman Vigilante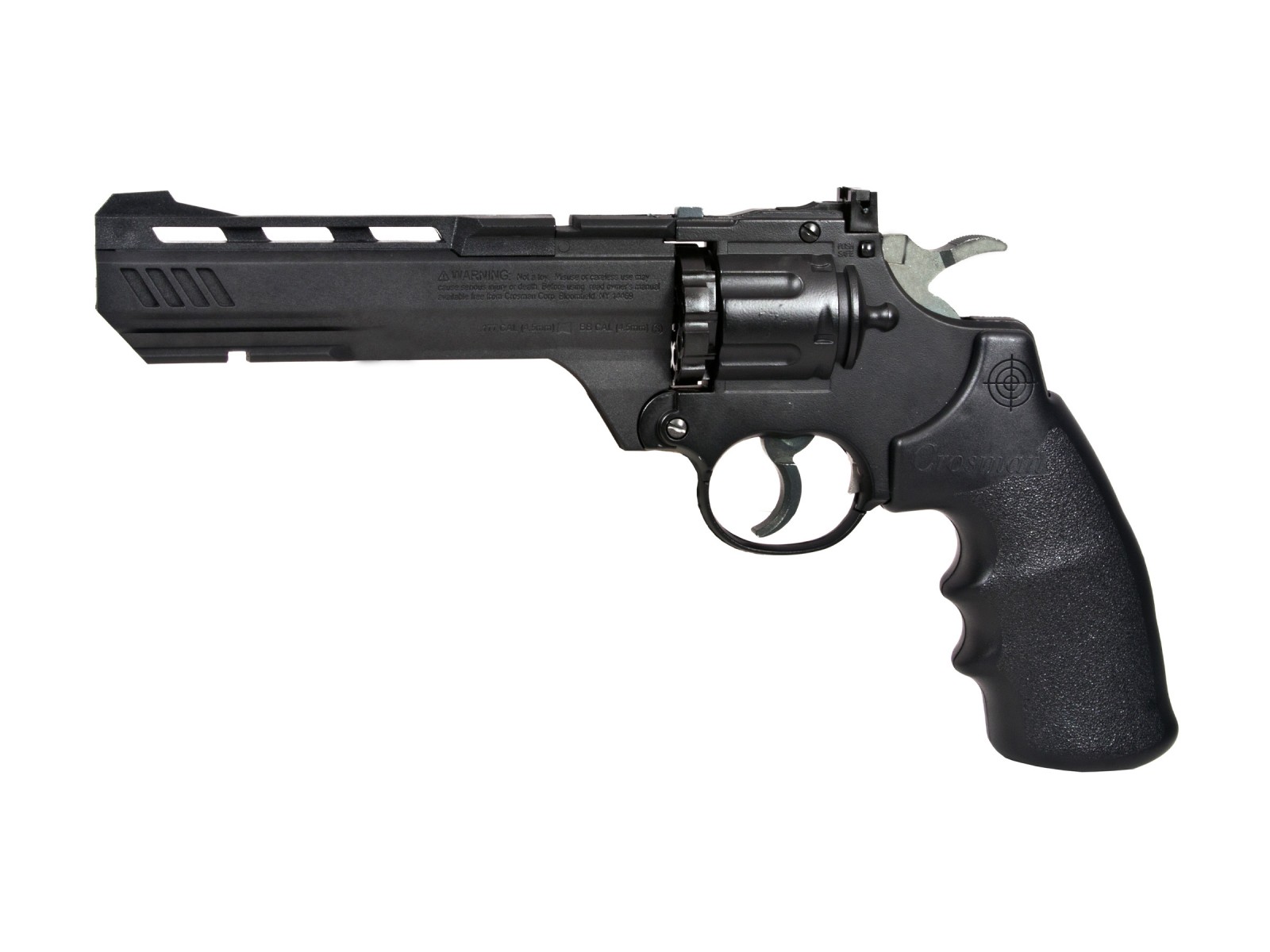 Product Details
The Crosman Vigilante is a .177 caliber top break co2 powered revolver that is capable of shooting either steel BBs or pellets.
The Vigilante weighs in at 2 lbs and as said, it is flexible in its ammo, it comes with both a 6-round BB magazine and a 10-round pellet magazine. The rifled steel barrel ensures great accuracy with pellets. Made with both metal and polymer construction, the Vigilante is built to last.
The Vigilante is capable of being fired double action, or single action, giving you the choice of speed or better accuracy. The rear sight is adjustable for both windage and elevation, but the Vigilante also sports a Picatinny rail on top of the barrel for your choice of optics, and another rail on the bottom of the barrel for lights, lasers, or other accessories.
The comfortable hand-filling molded black combat grips have finger grooves and stippling on them for a sure grip. The Vigilante has a manual safety and a break-open design that is easy and very fast to reload.
Getting over 70 shots per co2 cartridge, it is an all-day shooter that is sure to please anyone.
Why We Like It
The Crosman Vigilante has a 6-inch rifled steel barrel for accuracy but is also "dual fuel" as it can shoot both BBs and pellets, The Vigilante has molded grips for a good hold.
The pistol is covered by a 1-year warranty from Crosman and has mounting points for both optics on the top and other accessories on the bottom.
With extra magazines available from Pyramyd Air you can have some pre-loaded to keep the fun going.
Things to Consider
Some owners may find the finger grooves molded into the grips do not fit their hands well, so comfort will depend on the size of your hands.
The Vigilante comes with only 1 of each type of magazine, extras may be purchased at a nominal cost.
The gun does have a lot of plastic furniture but it has metal where it counts, coming from Crosman it is well made.
Common Questions
Can a pellet gun be lethal?
Pellet guns that fire a metal projectile can be lethal at close range, even .177 caliber pellet guns have the ability to penetrate soft tissue and break some thinner bones in the human body.
Larger calibers like .22, .25, .30, .357, and even still larger calibers have both the power and projectile weight to be just as deadly at close range as a firearm of similar caliber.
CO2-powered air pistols because of their short barrels, and lower power output can still be dangerous as they have the power to penetrate soft tissue at close range but lack the power to do noticeable damage to soft tissue, and the injury can go unnoticed that the projectile has lodged under the skin.
What is stronger a BB or a pellet gun?
That is an age-old question that doesn't have a short answer. People equate speed with power, but it is a combination of projectile weight and speed (velocity).
A longer barrel will produce a higher velocity than a shorter barrel, and a heavier projectile will produce more foot-pounds of energy than a lighter projectile propelled at the same velocity.
A steel BB has a maximum weight because of the bore diameter of the barrel and its being a round projectile, a lead ball of the same diameter will be a little bit heavier than steel, but not by much.
Whereas a lead pellet of the same diameter can be heavier because it is longer than the round BB, and because the soft lead skirt at the back of the pellet seals the barrel better, it will get a higher velocity than the BB.
Pellets by design lose their velocity quickly because of their shape, like a badminton birdie. The heavy head and large skirt make the pellet stabilize head first, where the skirt causes a lot of aerodynamic drag slowing it quickly compared to a slug of the same caliber.
In recent years, airgun slugs have grown in favor for long-range shooting, and hunting with airguns. They are heavier than pellets, and because of their shape, have a better ballistic coefficient meaning they don't lose their velocity as fast as a pellet so they can be more accurate at longer ranges where pellets tend to destabilize.
Is a pellet gun good for self-defense?
The short and honest answer is no. This is one of the most frequently asked questions by people new to pellet guns.
Firearms are powered by an explosion that generates more and more pressure in a confined space as the propellant burns, forcing the projectile down the barrel.
The lowly .22 long rifle cartridge that most people associate with hunting small game like squirrels and similar-sized animals, operates at about 25,000 psi and generates about 100 ft-lbs of energy.
Airguns operate most efficiently at about 1,200 psi to 2,000 psi, and that's at the moment when the valve opens, as the pellet goes down the barrel, the pressure behind the pellet drops as it was only maybe 2,000 psi, to begin with. Pellet guns can be filled to a higher pressure in the air reservoir, but the valve only uses about 2,000 psi.
People asking about self-defense with a pellet gun think they may be a viable alternative because some pellet guns replicate real firearms in looks, but using an airgun that looks like a firearm is nothing more than a bluff.
Most pellet guns that replicate a firearm are powered by CO2 and operate at about 800 psi. Most Co2 guns operate at well below 500 fps. When you take the weight of a typical steel BB of 5.1 grains and shoot it at a velocity of 500 fps, you come up with a whopping 2.83 foot-pounds of energy.
Now let's put this in perspective. Experts in the field agree that the minimum humane energy necessary for small game like squirrels or a rabbit is about 8 foot-pounds. If a BB Pistol only produces about 1/3 of the energy necessary to kill a squirrel do you think it would stop someone intent on harming you?
People ask "What about the new powerful PCP airguns?
The short answer for those is also no.
While they do produce more energy, most of them still produce less than half of the energy the .22 long rifle cartridge produces.
Firearm ammunition is a chemical reaction and is able to be stored for many decades without deterioration of its components. ALL airguns will leak sometime in their service life. What are the chances that when you need the airgun to defend your life or your family's lives, it will have lost its air pressure leaving you defenseless?
Shop the Best Pellet Guns