Pellet guns and BB guns are both types of airguns, which shoot projectiles powered by compressed air instead of chemical propellants. The ammunition used by both is what gives them their names. Pellets are typically made of lead and have many shapes and sizes, while BBs are often made of steel or other alloys and are round with only one size.
The differences between a pellet gun vs bb gun are numerous. While they both provide a lot of entertainment, one type might be better suited to your specific application than the other. For instance, if you plan to use it for target shooting, you'll want to go with the one that's most accurate. But if you are intending to use it for backyard recreation, you'll want the one that's most backyard friendly.
Benefits of Pellet Guns vs BB Guns
Pellet guns offer a range of benefits for shooting enthusiasts, from accuracy and precision to an incredibly strong muzzle velocity. Due to the pellet's aerodynamic shape, they are more accurate than bb airguns and provide a longer shooting range. They also have a greater muzzle velocity, especially in high-powered PCPs. This makes them good for hunting and pest control.
BB guns offer different advantages compared to their pellet shooting airguns. They are generally smaller, lighter, and less expensive, making them the perfect choice for beginning shooters. Their ammo is also less expensive and easy to find. And there are lots of accessories to make them even more enjoyable.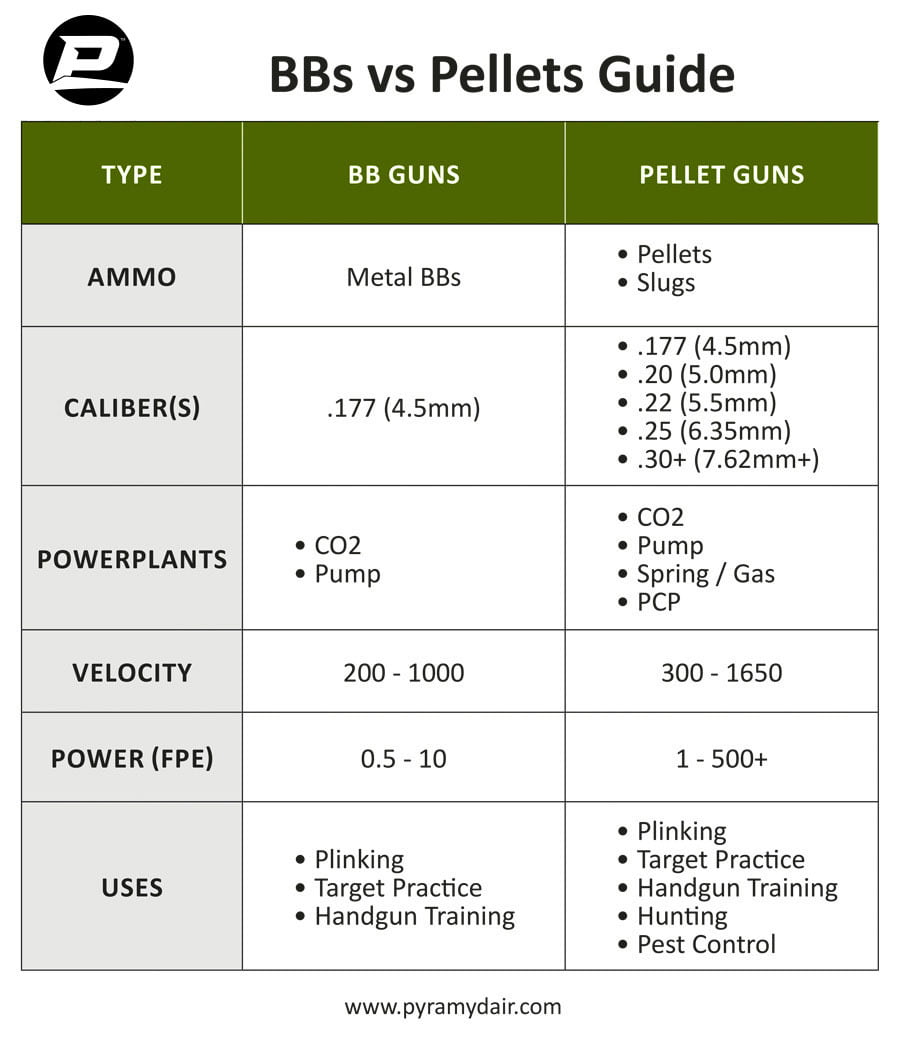 What is a Pellet Gun?
A pellet gun is a type of airgun that uses compressed air to shoot pellets.
Pellet Gun Preferred Powerplants
When you're in the market for a pellet gun, there are a few options to consider. Some of the most popular types are pump, springer, and PCP.
Pump pneumatics come in single pump and multi-pump. Single pumps are pumped once before each shot, while multi-pumps are pumped several times, increasing air pressure and power output with each pump.
Springers, which can be spring-piston or gas-piston pellet guns, use a piston to compress the air for each shot. They are easy to maintain and provide consistent accuracy, making them a popular choice for plinking, target shooting, and pest control.
PCPs, or Pre-Charged Pneumatics, use a cylinder or tank filled with pressurized air to propel the pellets. The ease of use has propelled PCPs to the top of the airgun market popularity. They are highly accurate, have the most power of all pellet gun types, and have very little recoil. Their biggest limitation is sourcing the air, but with personal compressors that can be used in the field or at home, that is quickly becoming a non-issue.
Pay attention to the manufacturer's specifications to ensure you get the right pellet gun for your chosen application. You can often find reviews from other users to get an idea of how reliable and durable the models you're interested in are.
Pellet Gun Preferred Uses
Pellet guns are often used for plinking, target practice, pest control, and hunting game from small to large.
Target Practice/Plinking: Lower caliber and lower pressure pellet guns are great for target practice and plinking. Most pellet traps recommend using .177 or .22 calibers at a minimum of 5 yards away.
Pest Control: Pellet guns are great for eliminating pests like rats, mice, and birds. The power and accuracy of most pellet guns make them an effective option for pest control. For most small pests, a .177 with 10 foot-pounds of energy is sufficient under 30 yards.
Hunting: Airgunners have been hunting small game such as rabbits and squirrels with airguns for generations. However, recent pellet gun developments have enabled airgunners to take medium and large game with pellet guns, too. Hunting pellet guns range from .177 all the way to .50 caliber. The more powerful pellet guns produce 400 foot-pounds of energy and are capable of taking bison at 75 yards. See our game guide for specific recommendations.
Drawbacks of Pellet Guns
Pellet guns are often larger, heavier, and more expensive than BB guns. While pellet guns are more accurate than BB guns, their accuracy will vary by the velocity and grade of pellets used. Match-grade and hunting pellets are much more accurate than hobby pellets. Higher-velocity pellet guns are more accurate than lower-velocity pellet guns. Accuracy is also affected by wind strength and range distance. The farther the distance the less accurate the pellet gun will be due to wind resistance.
What is a BB Gun?
BB guns have been around for a long time, though some people may be unfamiliar with them. BB guns are airguns that shoot a .177 caliber round projectile called a BB. They are commonly used for recreational target shooting and plinking, due to their relatively inexpensive price and low power which makes them backyard friendly. Many BB guns are made to resemble high-powered firearms, to give enthusiasts the opportunity to own a gun they wouldn't normally have the opportunity to own.
Many handgun models are made into the BB format for handgun training opportunities, which enables users to get more training in a more convenient setting economically. Rather than taking their live fire guns to the range every day, they can take some time to practice in the backyard with the BB gun version of their favorite sidearm. Since they don't have to travel, and BBs cost much less than cartridges, they save time and money.
BB Gun Preferred Powerplants
BB guns come in a variety of shapes and sizes, depending on the types of guns you are looking for. The most common powerplants are spring, pump, and CO2.
CO2 is the most common powerplant. They are powered by a CO2 cartridge. 12-gram cartridges are the most common for pistols, but BB rifles often use 90-gram CO2 cartridges. These are often made to be the most realistic.
Spring-powered guns use a metal spring to propel the BBs. This type of gun requires manual cocking with each shot and is the most affordable option for a beginner or casual user. They are simple to operate and don't require any additional fuel.
Pump guns are great for youth to learn shooting skills and gun safety. The low-powered pump guns are easy to operate and only shoot short distances, making them safer than other types of guns.
BB Gun Preferred Uses
These guns are a great way to have fun while learning the basics of shooting. They're also popular for recreational target shooting and plinking. Whether it's shooting cans, paper targets, or reactive targets, they offer hours of entertainment. BB shooting rifles and pistols are often used to teach youth gun safety classes. You'll even find companies like Daisy holding a youth shooting competition annually for BB guns.
Drawbacks of BB guns
BB guns are less accurate than pellet guns and BBs have a tendency to ricochet when they hit hard surfaces. So, safety is a major concern when shooting one. Eye protection is a must to avoid accidental injury. For best accuracy with a BB airgun, keep the distance short and keep the target soft. A cardboard box filled with foam and a target drawn or stuck to the front will easily collect your BBs as you fire them, keeping the fun going and your backyard clean.
Common Questions
Pellet vs BB
Pellets are metal projectiles (usually lead) with a round head and a conical skirt, shot through a rifled barrel. They look like a badminton birdie made of lead and functions in a similar way. The forward weight of the pellet gives it directional stability, even without the stabilizing spin imparted by the rifling. The skirt causes an immense amount of aerodynamic drag, which keeps the nose pointed straight forward to the line of flight. This is a second stabilizing feature, but it also serves to slow the projectile rapidly, as well as minimize its destructive power. A pellet is extremely light for its size. This lightweight, combined with the high aerodynamic drag, renders the pellet extremely safe at a very short distance from the muzzle.
BBs are metal round ball projectiles (usually steel), shot through a smooth barrel. They are lightweight and accurate at short distances. However, they are easily influenced by wind gusts and ricochet easily when they hit a hard surface.
Is a BB gun or pellet gun more powerful?
When it comes to power, pellet guns vs BB guns can vary drastically. Generally, pellet airguns are more powerful than BB airguns. Pellet guns typically fire heavier pellets and have higher muzzle velocities. However, the power of the gun depends more on the powerplant than the ammunition. In order from most to least powerful; PCP, Spring/Gas Piston, pump pneumatic, and CO2.
When you're looking for accuracy, pellet guns are generally more accurate than BB guns. This is because pellet guns typically have rifled barrels that provide a spin to the pellets as they travel through the barrel, improving accuracy and range. BB guns, on the other hand, tend to have smoothbore barrels that don't spin the ammunition.
Ultimately, when you're considering power and accuracy, pellet guns are a better option than BB guns. However, when power and accuracy aren't an issue, BB guns are an excellent choice.