Airgun Calibers (June 2003)
By Tom Gaylord
Exclusively for PyramydAir.com. Copyright 2003. All Rights Reserved
There are four popular airgun calibers today--.177, .20 (also called 5mm), .22 and .25. In this article, we'll look at each of those four calibers and see what it does best. We'll also see how BBs differ from the four pellet calibers.


The four popular smallbore pellet calibers are, from left to right, .177, .20, .22 and .25.
.177.5mm Caliber

The .177 caliber was probably created shortly after the start of the 20th century. It seems to have surfaced first in England, which was a hotbed of airgun development both then and now.

The advantage of .177 is a smaller pellet that uses less material--usually lead. It is widely used for general shooting and is the only caliber that can be used for bullseye target shooting anywhere in the world. The rules of all official shooting organizations mandate a .177 caliber gun for both pistol and rifle competition.

Because of this, the popular misconception is that the .177 is somehow more accurate than the other three calibers. This is not strictly true, but since all target guns are made in this caliber only, a lot of .177 guns ARE, in fact, more accurate than guns in other calibers. There have been .22 caliber target airguns made in the past in England, Germany, America and perhaps other countries, but today the only target guns made are .177.

The sport of field target is one competitive shooting sport in which a .177 places the shooter at a distinct advantage. The shooter must shoot a pellet through a small hole in a steel target to hit a paddle, knocking down the target and registering a hit. If the pellet touches the side of the hole, there's a good chance the target won't fall and no point will be awarded. The kill-zone holes range from 1" to 2" in diameter, but the smaller holes are by far more common in a match. So, the smaller size of the .177 pellet makes it the statistically superior choice in this sport.

A problem .177 pellets have is that their light weight allows them to go faster than the larger sizes. Once the speed of the pellet approaches the speed of sound (a variable speed of approximately 1,100 f.p.s. at sea level), the accuracy suffers. For powerful air rifles, shooters must select the heaviest pellets in .177 to keep the velocity down.

Sometimes, guns come in both .177 and .22 calibers. Which should you get? Well, consider this. Any given gun will shoot faster in .177 than in .22, if all things are equal. That same gun will hit about 20 percent harder (have more energy) in .22. The .177 pellets tend to be less expensive than .22 pellets, plus there are often more of them in a box. The .22 pellet is larger and some people find it easier to load than the smaller .177.

One final thought. The .177 caliber is by far the most popular today and will be the easiest pellet to find in a store.
.20/5mm Caliber
Did you notice at the start of this article that the .20 caliber is the only one also designated by its metric size? While all pellets are marked with both their English and metric sizes today, the .20 caliber was actually created that way from the start.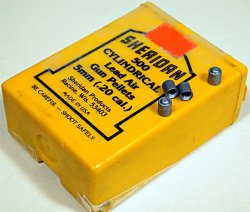 Sheridan introduced the .20 caliber pellet to the world in 1947. Even then they also referred to it as a 5mm.
In 1947, Ed Wackerhagen designed a multi-pump pneumatic air rifle that he called the Sheridan. He found commercial airgun ammunition of the time too inaccurate to work well in his rifle, so he created a proprietary caliber--the .20. Of course, this also meant that his company had to supply all ammunition. While that sounds like a good way to make more money, it can also backfire and destroy the entire marketing plan. If shooters feel they may not be able to purchase an odd-sized caliber in the future (consider the Remington 5mm rimfire that can now cost a dollar a round), they might not buy the gun.

The .20 caliber/5mm got off to a somewhat tenuous start, but Sheridan remained in production and by the mid-1970s, nobody gave it much thought. However, no other airguns were made in that caliber until Robert Beeman requested Feinwerkbau to make up five special model 124 rifles for his company. That project never went anywhere, but within a few more years Weihrauch, the German maker of all the Beeman R-series guns, began making 5mm guns. The market blossomed from there.

America has been the leader in .20 caliber/5mm airguns, but Europe is producing more of them all the time. The pellet makers are also making more designs of pellets in this caliber. There are still fewer choices in .20 caliber than in .177 and .22, but the gap is narrowing.

Many shooters consider .20 caliber to be a good compromise between .177 and .22. Robert Beeman promoted it that way in his catalogs for many years. Actually, .20 is a little closer to .22 than it is to .177 in terms of the cost of the pellets and pellet weight.

While some British ads promote the .20 as a long-range pellet that's superior to the .22, they're looking only at the very specific instance of Crosman Premier pellets in that ad. The .22 has a great number of pellets that are better for long-range shooting than any .20 caliber pellet, though there's nothing wrong with shooting a .20 at a great distance.

Get a .20 caliber gun for general shooting and for hunting or pest elimination. The pellets cost about as much as .22 pellets, but there are fewer styles to choose from.

.22--the hunter's choice
The .22 caliber pellet grew out of the .22 rimfire, which, at the start of the 20th century was the choice for most small shooting jobs such as pest elimination. But, a .22 caliber pellet is no longer the same diameter as a .22 rimfire bullet, nor will a rimfire barrel work well for pellets. The rimfire barrel is sized 0.222" to 0.223" across the grooves, while the airgun barrel is sized 0.217" to 0.218".

Twenty-two caliber was the most popular airgun caliber in America until the late 1960s. That's why more airguns of that caliber exist among the vintage and antique guns made in this country. The .22 caliber pellet is definitely the choice of the hunter and pest eliminator. It hits harder and also transmits more of its energy to the target than the smaller .177. A .177 pellet traveling at high-velocity is small enough to pass completely through the body of a small animal, leaving no visible signs of trauma if a vital organ or bone is not hit. Even a chipmunk can be "acupunctured" in this way. Of course, the animal is in extreme pain, but since animals don't act the same as humans, it appears to simply run off. Usually, it will die several days to weeks later, after suffering increasingly greater pain.

The same thing CAN happen with a .22 pellet, but, because of the larger size, it's much less likely. Speaking of high velocity and hunting with pellet guns, let's clear up a misconception. In firearms, a high velocity bullet does so much damage to its target that much smaller calibers can be used to hunt big game. This began with the introduction of the .220 Swift in 1935 and grew very popular through the promotion of Roy Weatherby.

But, pellets are not centerfire bullets. They don't travel 3,000 f.p.s. and faster. Even at a top speed of 1,200 f.p.s., a pellet is going WAY too slow to have a similar hydraulic shock effect on game. So a "fast" pellet is of no advantage to a hunter unless it also carries a large amount of energy that it can successfully transfer to the animal. That's why the .22 is the king of the hunting calibers.

As far as general shooting goes, the .22 caliber is just fine. The pellets do cost more than .177s and the velocities of the guns are usually slower, but a good shot will have no problem with a .22. It's the second most popular airgun caliber.

The big .25
To many shooters, "Bigger is better." So the .25 caliber has to be the best - right? Perhaps, but learn all the facts before making up your mind.

The quarter-inch bore is somewhat older than the .177. It existed in smoothbore airguns at the end of the 19th century, and BSA made it popular in 1906 with the first rifled smallbore air rifle to use .25 caliber. In those days, and on up until around the 1980s, all .25 caliber air rifles were low-powered and slow. Velocities were in the 300 to 400 f.p.s. range.

It wasn't until the 1990s that the emergence of powerful rifles made this caliber truly viable and brought it fully back to life. The funny thing is, some guns that OUGHT to be great in .25 caliber don't fulfill their promise, and others that SHOULD be too puny to do well are surprisingly good! The RWS 48/52 is one of the most popular spring guns ever made. In .22 it is very powerful for a spring rifle, yet in .25 the power drops off a bit. On the other hand, the lightweight BSA Supersport Magnum, which is a delight in .177 and .22 and ought to be a dog in .25, seems to defy logic by also handling the big caliber well.

In the precharged rifles, .25 caliber doesn't deliver much of an advantage. That's because the new solid .22 pellets are already so heavy that there is no clear advantage for a .25. Yes, there are solid .25 pellets that are even heavier than the heaviest .22s, but they take away some velocity, which makes long-range shooting that much more difficult.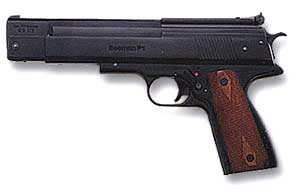 The Beeman P1 is considered a very powerful air pistol. Even so, at just six foot-pounds, it's not powerful enough for small game hunting.
Air pistols
All we've talked about so far is air rifles. Where do the pistols fit in?

For starters, air pistols are MUCH less powerful than air rifles, as a rule. The magnum spring pistols top out at about 6 foot-pounds, while the rifles get up to the low 30s. In the precharged guns, air pistols in the four smallbore calibers we're looking at get up to 12 or even 14 foot-pounds, but the rifles get up as high at 80 foot-pounds! There are a few specialty pistols made in the Orient that get 30 to 50 foot-pounds, but these airguns are as large and heavy as small carbines.

This difference in power between pistols and rifles makes .177 caliber almost the universal choice for an air pistol. When people ask about hunting with a pistol, we tell them that unless they have a 12 foot-pound pistol, they really shouldn't hunt. Yes, it's possible to kill certain pests like rats and mice with an air pistol, but it's almost never a sporting choice for a hunter.

As long as you keep the power level in mind, there is absolutely nothing wrong with owning and shooting a .20-, a .22- and even a .25-caliber air pistol. Just knowing about the big power difference between air pistols and air rifles will help you decide what to get.
BBs: Are they the same as .177?
No! The BB is smaller than .177. In fact, it's a completely different caliber. When it was first created in 1886, a BB was a type of shotgun shot sized 0.180" in diameter. Through the years, the size became smaller, until todays steel BB is 0.172" to 0.173'.

Some airguns can shoot either BBs or pellets. What's the deal there? The deal is that they're designed with some kind of compromise bore that will not be damaged by steel BBs, yet a lead pellet can also be shot. These guns are seldom as accurate with either ammunition as regular pellet-only guns, though some of them do a pretty remarkable job at short ranges.

NEVER shoot steel BBs in a gun designed to shoot only pellets! Pellet gun barrels are softer, and the undersized steel BB will damage the rifling (if there is any) as it rattles down the bore. If the gun is smoothbore, there's no rifling to ruin, but a .177 bore is still oversized and will give poor performance.

A good way to shoot round balls in a pellet gun is to use a round lead ball. These are sized the same as lead pellets and won't harm your barrel. A few manufacturers make round balls in .177. .22 and .25 and a few other calibers.

Summary
The four main airgun calibers give you a lot of choice. You have to think about what you want to do with your airgun, then pick an appropriate pellet and try it out. Like anything else in life, the final answer to what's the best caliber or best pellet lies with you. Hopefully, this article has helped you understand the most important fundamentals.