Field Target - Part 1: Starting a club (March 2007)
by Tom Gaylord
Exclusively for PyramydAir.com. Copyright © 2007. All Rights Reserved.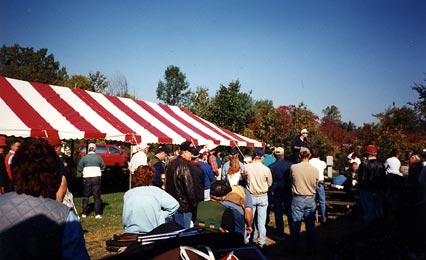 Field target matches draw a large crowd. This three-day event is a world championship.
No shooting sport captivates airgunners as much as field target. Even those who do not compete and have no plans to ever compete still make a large percentage of their choices to purchase based on this sport. They quote specifications and demand equipment that is field-target ready, even if they will never use it for that purpose.
I thought you might like to learn a little about the sport. I competed for several years and was a co-founder of the Damascus, Maryland, Isaac Walton League of America Field Target Association or DIFTA. When we started the club, there were only four of us, Phil, Ed, Jim and me. I owned a few targets, and I was the only one who had shot field target before, so we had to do almost everything from scratch.
Getting started
We contacted the American Airgun Field Target Association (AAFTA) and joined as the DIFTA club. They sent us their rule book, which we all read. The Isaac Walton League, which sponsored us, gave us the use of about 10 acres of woods on their 100-acre property. In the past, there had been a 25-yard handgun range there, so we turned it into a sight-in range. The woods were the actual field target matches were shot had been a 3D archery range.
Phil, Jim and Ed bought some lumber and built several sturdy shooting benches for the sight-in range, and together we marked out 12 lanes of fire in the woods. An overgrown path ran straight into the woods, so we used it as the baseline for the 12 firing positions. Lanes radiated out from that path into the woods. Two wooden stakes marked the firing position for each lane, and they were numbered so everyone knew where they were. When firing, your barrel had to be somewhere between the two stakes for your lane.
A field target lane is a sector of land in which the targets are placed at distances between 10 and 55 yards. The firing position forms the baseline for the lane. Most lanes are not more than 15 feet wide, and they can be narrower than that.
I had been shooting field target with Trooper Walsh down in Virginia for several years, and I knew that his club had some old targets they weren't using any longer. We borrowed 20 field targets from that club and made plans to buy more targets as we grew. In those startup days, we had no money, nor could the club give us any because all their funds were already earmarked for other projects, so each of us chipped in and bought things like wood and paint. When we did get money later on, Phil made sure we were reimbursed for our expenses.
We had worked on our range for about a month when we decided to hold a test match in November 1997. I told Trooper about it, and he recruited several shooters from Virginia and Maryland, plus we put out the word at the Isaac Walton League. I guess we had about 12-14 shooters for that first match. I was the match director because the others thought I knew more about the rules. I didn't, but the rule book is easy to learn.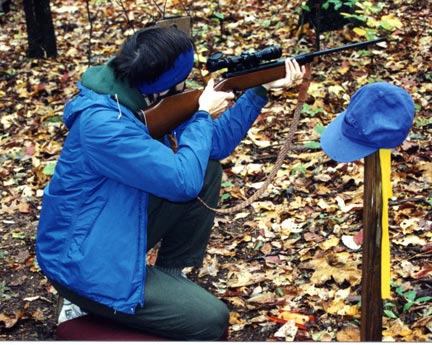 We shot everything in our early days, like the FWB 124 sporter this kneeling shooter holds.
Test match
We decided to run the first match for free but told everyone that there would be a fee for future matches. We charged $10 per shooter and gave discounts to anyone who helped in some way, or who was a member of the Isaac Walton League. The money went to purchase new field targets and to buy other nice things for the club, but I'm getting ahead of myself.
The first match went well, though we all learned several important things, like the need to have properly working targets before the match starts; the need to repaint targets at the halfway point; the need to have some kind of food for the shooters or to make them bring a picnic lunch (the better way); the desirability of computing match scores as soon as the match finishes (everyone wants to know); and posting match results on the internet soon thereafter (shooters want to see where they fall in the whole group).
First season
The following March, we started our first match season with eight scheduled monthly matches. We ran them on Saturdays because of work schedules, but I soon learned that it was best to set the targets out the evening before. We were now bringing in money, so we started buying targets. Before the year was half finished, we had 30 targets - the original 20 we borrowed plus 10 of our own.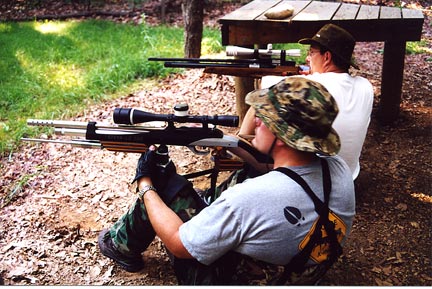 Although we had plenty of benches to shoot from, many shooters preferred to confirm their zero from the AAFTA seated position. Near shooter wears a bracing harness to hold him in the seated position.
Our course had 12 lanes with two and sometimes three targets on each lane. We had the shooters shoot each target twice, and two times 30 targets is a 60-shot match. That's a pretty normal number for most non-championship matches. With the 20 shooters we now attracted, a match started about 10 a.m. and finished at 2:30. Given an hour for lunch, that's about 3.5 hours per match.

As I said before, the targets were positioned anywhere from 10 yards to 55 yards to fit the AAFTA rules. If we erred, it was in having a couple targets closer than 10 yards. Before long, we learned to position the targets behind vegetation so the shooters would have to stand or at least kneel to see several of them. That sometimes didn't take into account individual height differences. So, later on, the club made certain targets mandatory offhand shots without regard to where they were positioned.
Our club continued to grow and reach out. By the second full year, we sometimes had as many 24 shooters show up for a match. Many traveled from several hundred miles away, so we had to stay on the published schedule at all times. In the three years that I was match director, I remember canceling only one match for inclement weather, but even that was bad since two shooters had driven over 400 miles to be with us. In that second year, the club bought a target I had been testing for The Airgun Letter. A full-sized tom turkey hiding behind a log, we set him out at 55 yards on our longest lane. His one-inch kill zone was a real challenge so we nicknamed him Long Tom. He was the only target whose distance was never in question. I don't think I ever got him two times in a row!
Awards
At first, there were no awards. We published only the ranking of shooters, but some of them asked about trophies. We tried certificates and dropped them soon after leaning that most people don't care for them. Then, one of our founders came up with a wooden trophy that looked like a field target. They were easy to make and the shooters liked them, so that's what we gave from then on.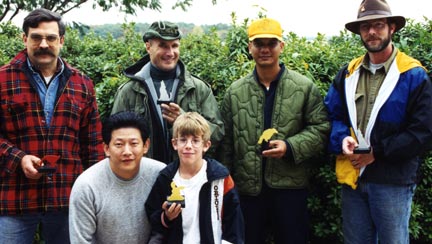 We had awards for the winners. One of our founders made up trophies that resembled field targets!
Damascus Airgun Show
To raise more money for both our field target club and our junior air rifle team, we started holding an airgun show in August of each year. It grew to be the second most heavily attended airgun show in the U.S. and was the leader when it came to new and modern used airguns. Because of this, we attracted more shooters than collectors to our show - sort of the reverse of other airgun shows. Some of the club members gave field target classes and demos at the show, which recruited even more new shooters.
By the third full year of matches, we knew what we were doing. We now owned all our own targets and had returned Trooper's with profound thanks. We moved the sight-in line back to 50 yards and built a shelter over the benches. This range was also used for BR50 matches when it wasn't being used for field target, so it was heavily utilized. Club members could use it any time it wasn't used for a match, so the club got its money's worth.
Several fathers and uncles brought kids to shoot with us. We squadded them together and the men made sure the kids kept up with the pace of the match. In fact, we had more slowdowns from fiddly adult shooters than from kids. Some of the kids were pretty good shots and kept the rest of us on our toes.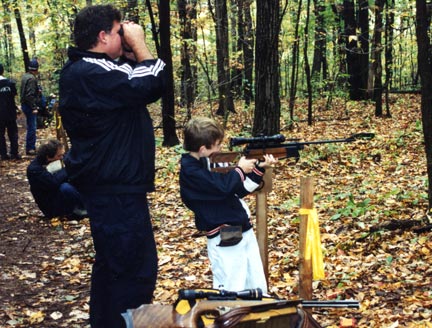 Dad spots for his boy. Spotting isn't legal in formal matches, but we never cared when it was for kids.
We got most of our good ideas from the shooters who came to compete with us. For example, a bunch of shooters requested a match with no scopes and silly rifles such as Benjamin pumps and open-sighted R7s, so we did that. A bunch of us oldsters hosted an over-50 match. Youngsters could still shoot with us, but only the over-50s were in the running for prizes. I still got waxed!

Gary Barnes, who lives nearby, used the matches to prove his smallbore rifles. He competed with us, plus he supplied his rifles to others who shot them. I shot a Barnes Ranger - the first ever made - for a whole year. Gary also drew a representation of Long Tom for a t-shirt stencil, and we had a DIFTA t-shirt made up. The club was very strong.
Maryland State match
We eventually held a Maryland State match at the end of one of the seasons. It was open to all shooters - not just those who were Maryland residents. For this match we enlarged the course to 16 lanes, and the number of shots increased as well. Even so, the shootoff for top honors was a drawn-out affair. Too many great shooters were in the running.

DIFTA always used AAFTA rules when I shot with them, but some other clubs had hunter classes, as well. Hunter class means that all shots are fired offhand, usually with a scope that magnifies no more than a certain fixed amount, like 6x. In some of our later matches, certain lanes were designated as offhand shots, making the competition harder.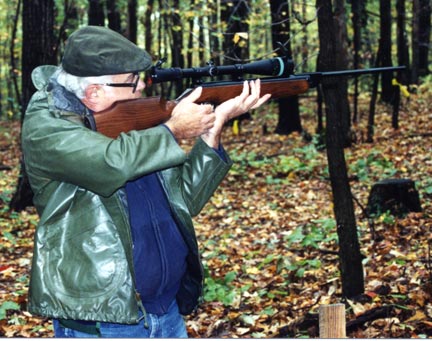 Shooting offhand is much harder because a standing body tends to move more.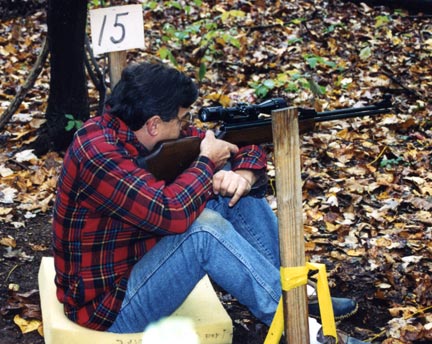 Co-founder Jim uses the classic AAFTA seated position in the Maryland State Championships.
Eventually, I was happy to turn over the match director's position to others. DIFTA was blessed with wonderful guys who could pick up the slack without missing a beat, so the club continued to prosper and grow.
DIFTA is still going strong today. Some of the old-timers are still there, though there's a lot more young blood now. The club is viable and fresh and a wonderful place for people in the Maryland/ DC/northern Virginia area to learn about field target.