How to hold an air pistol for greatest accuracy (September 2009)
by Tom Gaylord
Copyright PyramydAir.com ©2009. All Rights Reserved.
You can grab a pistol any old way if all you want to do is hold it while you pull the trigger, but if you want the BANG to mean something, then read this short article, watch the video and follow along.

And, who am I to tell anyone how to hold a pistol properly? I'm not a former Olympian, I hold no titles in pistol shooting. What gives me the right to write about this subject? Well, I'll tell you, and you decide if you want to listen.

When I was in the Army in the 1970s, I ran a lot of ranges. That's one of the extra duties that officers are assigned, and to tell you the truth, I didn't mind it that much. One day I was running a .45 pistol range at Fort Lewis, Washington, and my squadron commander, LTC Bonsall, showed up. He wanted to shoot with us, and as a first lieutenant under his command I was not about to argue. We had all the 1911A1s from our B-Troop arms room at this range, so I asked Colonel Bonsall to select a pistol from those lying on the table and join the line in the next rotation. He did, and that was the last I thought about it because I had 20 shooters on the line at a time.

I watched the 10 non-commissioned officers who each had two shooters to watch. I was responsible for announcing all the commands on the range, and my NCOs watched each of their shooters to make sure they complied. My troop training NCO was walking the entire line, watching for things that escaped the eyes of the line NCOs. In other words, there was a whole lot of watching of the shooters. Let me tell you why.

On a pistol range, bad things happen quickly. If a shooter has a malfunction and fails to follow the procedures we told him to follow, which is to remain in place with the muzzle of the pistol pointed downrange and raise his non-firing arm for assistance, he can turn his body in an instant. The muzzle of the pistol will go with him and will probably by pointed at the shooter next to him, the nearest NCO or, heaven forbid, me!

I've seen shooters do things like that on occasion. More frequently, I've seen the dust kick up six feet in front of a shooter once the command "commence firing" has been given. It's scary, because we don't put the targets anywhere near that spot.

So, everybody who isn't shooting is watching everybody who is. Therefore, when my training sergeant walked over and mentioned that the Colonel was doing very well, I was surprised. Like everyone else, I was only watching to see where all the muzzles were. When I stepped to where I could see his target, a silhouette at 25 yards, I was shocked to see a tiny hole in the area of the heart. He put 50 rounds through that hole. The other shooters were lucky to get 25 of their 50 rounds anywhere on the sillhouette.

Col. Bonsall hadn't been in the squadron that long, so nobody knew much about him, but after this day we all started learning real fast. He wore a gold medal on the breast pocket of his dress uniform that signified he was a Distinguished Pistol Shot. Because I was interested in shooting, I asked him about that, and he told me about the program and the fact that he had reached the level where he could have tried out for the U.S. Olympic team. He never did, but when I told him how surprised I was at the shooting performance he demonstrated on our range with non-accurized guns, he volunteered to teach me how to do it.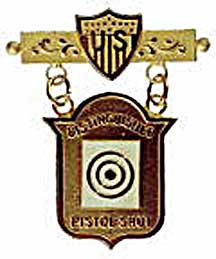 Distinguished Pistol Shot badge
At the next pistol range, he showed up and I gave him my personal 1911A1 that I had gunsmithed to my tastes. He was surprised by the 1.5-lb. trigger-pull, because he was used to a 4-lb. competition pull. He liked the stippling I did on the front strap and the mainspring housing, because the gun gripped him back aggressively. And, he liked the target sights and the tight bushing that aligned the barrel on every shot. He managed to shoot an incredibly tight group with that pistol, then he showed me how to do it. It was all in the grip.

He told me to grasp the grip with my middle finger only, pulling the pistol straight back into the web of my hand. Let the other fingers and the thumb just wrap around the grip lightly and put no pressure on it. When bringing the pistol up to fire, roll the shooting arm as far to the right (for right-handers) as possible, to lock the elbow.

Finally he told me that the real secret of good pistol shooting was to not care what happened when the gun went off. "Let it surprise you," he said. I had read that before, of course, but hearing it from a man I had watched put 50 rounds from an arms-room pistol through a two-inch hole at 25 yards had greater impact. Col. Bonsall started me on the path to good shooting offhand in the same way that Elmer Keith had taught me how to shoot a rested handgun.

So, no, I'm not a pistol champion. But, I learned from one. And, I have enough experience to know that his way was right, even if I can't take it as far as I would like. Col. Bonsall taught me a valuable lesson back in 1972, and I'm passing it along in his honor.
Now, watch the video and let it sink in!