By B.B. Pelletier
Today is a fun day. Imagine you work at the Daisy Manufacturing Company around the year 1960. It might have been a few years earlier, but probably not much later.
You're cranking out BB guns by the million each year, and the monotony is getting to you. So you decide to do something different.
In another part of the plant they make true toy guns that don't shoot anything. These are for the smaller boys and girls who aren't yet ready for the responsibility of a real BB gun.
To hold their interest, these toys are painted with bright colors that contrast vividly with the almost black finish you put on BB guns. So your idea is to paint a few real BB guns with some of the bright toy colors. Blue and pink are especially attractive, having been blended to suit the marketing department's brainstorm that kids want their guns to be gender-specific.
In the injection-molding department, you get the guys to make a special short run of white plastic stocks, similar to the real Annie Oakley and Space Ranger stocks they recently made for the marketeers. Those guns never sold well, but you won't be selling the guns you're about to make, so it doesn't matter.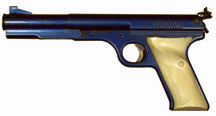 Daisy Targeteer pistol


Daisy number 25 pump rifle
The guns you chose to doll up this way are Daisy's number 25 pump gun and the Targeteer pistol. Both familiar icons of American youth, they look positively other-worldly in electric "Toy Blue" with white styrene stocks.
Once they are together, you decide these guns look so special that they are presented to some person (or persons, because nobody knows for sure how many were made) who is in favor at Daisy.
A few guns also make their way into the hands of some of the old-time Daisy employees who collect what the company makes. In 50 years, they have all changed hands and all that anyone can remember is that a few were made for one reason or another.
Obviously, they were made because you see them here. One man owns both these BB guns and has little motivation to part with either one. The number 25 pump gun is in nearly new condition, only with evidence of handling and storage. The Targeteer pistol has more wear but still shows a lot of the original paint. The white styrene on both guns is yellowing, but not as much as it appears in these pictures.
Though they are at least 45 years old, they use the same BBs as today's airguns. If they aren't shooting hard when you get them, a little gun oil in the right place brings them back most of the time.
These unique airguns and others like them are what keep many collectors young at heart. You never know when you'll encounter a strange item like one of these (or both!). Go to the airgun shows and watch the gun auctions and you'll run across something strange sooner or later.
Now, the title of this article is incorrect. You've seen these two guns, right here!