by B.B. Pelletier
A reader asked for information about his Crosman Single-Action Six. Since you guys seem to like oldies, I thought I'd review the gun.
The Single-Action Six, or SA-6 as it was also known, was a .22-caliber CO2 revolver made from 1959 to 1969. It has medium-gray plastic grips that are supposed to simulate stag. It was one of the early Crosman lookalike airguns of which they produced a bundle.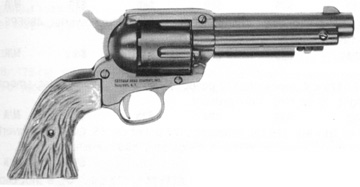 Crosman Single-Action Six was a realistic .22 pellet revolver.
The whole cylinder revolved when the hammer was cocked.
The best and worst of the gun
The best thing about this gun is that the cylinder actually revolves – not just a thin slice of it, like most CO2 revolvers. The chambers were loaded from the front instead of the rear and the pellets were put in tail first. A coiled spring around the cylinder held all six pellets in place until they were fired.
Another nice feature was the weight, which is pretty substantial. Because the gun is all metal, it feels very balanced in your hand.
The CO2 powerlet was installed externally – where the ejector rod housing on a Colt Single-Action Army might be. Because the powerlet is larger in diameter than a Colt ejector housing, Crosman supplied a split piece of matte-finished black plastic tubing to cover up the powerlet when it was on the gun. They also had a fake ejector housing in the correct place to complete the disguise.
The worst thing about the SA-6 was its use of gas. While modern CO2 pistols get 45-60 shots per powerlet, the SA-6 gets only 35 good shots on a warm day. Usually, you're lucky to see shot number 30. At the time this model was contemporary, powerlets were known as leakers. They had bottlecap ends that didn't seal worth a darn. You'd be lucky to get four out of five to work – in a gun that used them up in no time.
An inexpensive addition to your airgun collection
Crosman made plenty of other revolvers at the time such as the Hahn BB gun, the Crosman model 36 and the Crosman Shiloh. There were also real leather holsters for all these guns. They were very prolific in their day, and none of the Crosman revolvers are particularly hard to find today. An SA-6 in shooting condition is worth about $50, and one that's new in the box should bring about $100.
If you're a collector of vintage air pistols, this is a good place to get started with Crosman because the prices are still in the affordable range. In a future posting, I'll mention some places where you can get these old guns repaired and resealed.