by B.B. Pelletier
Many of you like vintage airguns, and you like reading about them here. Today, I thought I would share a rare collectable that was being sold as recently as 2001. The Kalashnikov BB gun!

Just as real as it looks. The Kalashnikov BB gun was made on a genuine firearm frame.
It was made from a REAL AK-74!
Like the Makarov BB pistol I covered on August 8 (Just like a REAL gun!), the Kalashnikov BB gun was also made from a firearm. It's made of steel and feels very heavy and solid in your hands. The AK feeling is so pervasive that you feel as if you're holding an assault rifle instead of a BB gun. Mind you, I'm talking about a real steel BB gun, not a 6mm airsoft gun.
It's made by the same company that makes the firearm
It should be real – it was made by Izhmash, the same folks who make Kalashnikov firearms, as well as the Makarov pistols. That may have lead to the early demise of the gun in the U.S. The Makarov pistol was already on the list of airguns made from firearms that our government would no longer allow for sale in this country. They claimed that it is fairly easy to convert a Makarov air pistol into a firearm. Coming on the heels of that ruling, the Kalashnikov didn't stand a chance.
They were called Junkers!
No kidding! A Junker (pronounced "Yunker" in Russian) is the lowest rank of commissioned officer, or perhaps they are not yet commissioned. On that point I'm not clear, but I do know that Junker is one heck of a bad name for anything sold in America! (It's kind of like when Chevy tried to sell their Nova in South America, where "no va" means "no go" in Spanish.) These guns were to be priced at $365, which is a lot of money for a BB gun but not bad for the super-rare collectable it turned out to be.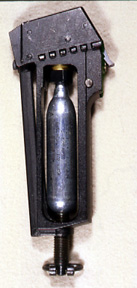 The CO2 cartridge and spring-loaded BB magazine are housed in this firing mechanism, along with the firing valve. It tucks neatly out of sight in a banana magazine shell.
Powered by CO2
Like the Makarov, the heart of the gun was a CO2 all-in-one firing mechanism and magazine hidden inside the banana magazine. The rest of the gun was a housing and trigger/hammer for this mechanism. One CO2 cartridge and 20 steel BBs were held in place by this mechanism. Velocity was mid-range – about 250 to 350 f.p.s. – because the barrel was short and no attempt was made to maximize power. The gun sold on the coolness factor alone.
It disassembled like the real deal
Because it was made from a firearm, this BB gun came apart just like any other Kalashnikov. Soldiers and Marines who served during the Vietnam War should have no difficulty popping one apart in under 20 seconds with a little practice. Once you got it apart, you could appreciate why the gun was banned from importation. There wasn't a lot of difference between the BB gun and the firearm, except that on the BB gun most of the parts served no functional purpose.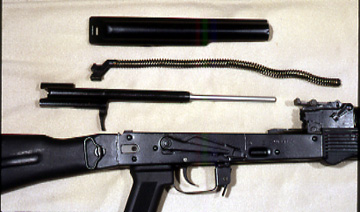 It strips for cleaning in seconds. Of course, because it's a BB gun, there's nothing to clean!
And, the moral of the story is…
Not all collectables were around before you came into airgunning. Sometimes, you just need to be in the right place at the right time. Pyramyd AIR was going to sell these BB guns before the ban was imposed, so all of you would have been insiders! Perhaps, the AK is not your cup of tea, but who says the next rare airgun won't be? I missed out on this one, too, but this story inspires me to keep on looking! How about you?