Just in time for Christmas, three new Crosman airguns!
The Nightstalker is here!
I held off reporting on this new rifle until it became available, because I didn't want to disappoint anybody with something they couldn't buy. The Nightstalker isn't just a new model – it's a completely revolutionary TYPE of air rifle! Crosman bills it as the world's first true semiautomatic pellet rifle, but of course there are a few others, such as the Drulov DU-10 Eagle, and all the biathlon target rifles made by Steyr and Haenel. But the Nightstalker is affordable! That's the news. Although the suggested retail price is higher, Pyramyd will have them for just $109.99!
True semiautomatic airguns are very special, because lead pellets don't like being fed through mechanisms. Even the manual bolt-action repeaters get jammed sometimes, so imagine what can happen when gas does the feeding in milliseconds! Crosman is an innovator in semiautomatic feeding, though. Their model 600 pistol is a classic airgun! I feeds so smoothly that you can't tell it's happening. That frees up the trigger to be lighter and crisper. Unfortunately, the 600 went out of production in 1970, so I hope they carried the idea forward into the Nightstalker!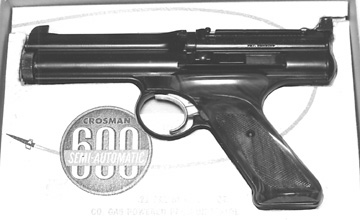 Crosman's 600 semiauto .22 pellet pistol fired 10 shots as fast as you could pull the trigger. No wonder they bring $200 to $300 on the used market today!
Isn't the Crosman 1077 a semiauto?
The venerable Crosman 1077 looks like a semiauto and does shoot 12 shots, each with just the pull of the trigger, but it's really a run by a clever revolver mechanism. Each trigger-pull has to also advance the cylinder, and that makes the trigger-pull longer than it would be if all it were doing were releasing the hammer. (Read about it in the post Expand you hunting opportunities with this great CO2 rifle!) That's what makes the new Nightstalker so exciting.
I haven't tested one yet, but Crosman is supposed to have a Nightstalker on its way to me. When I get it, you will hear my take on a remarkable new rifle that could potentially set the airgunning world on its ear!
The Commemorative 760 Pumpmaster
The 760 Pumpmaster was created in 1966. It is based on the powerplant of the famous 130 pistol that I reviewed for you on September 19 (see the post Another oldie – Crosman 130). Airgunners love their 760s and many of you grew up with this being your first gun of any kind. I read comments from older men whose eyes still mist up when they speak of their first love. Now, you can get a commemorative edition of the famous 760 that marks the 11 millionth rifle sold! Only 1,500 will be made, so for gosh sakes don't miss out!
Pyramyd AIR won't get them all, so get yours ordered before the rest of the world discovers it. I know Daisy sells out of their commemoratives in months and even weeks, and they sometimes make 2,500 of them! Crosman announced a list price of $99.95, but Pyramyd has them for just $79.99. Buy several and speculate like the collectors do, but act quickly!

A brand new Remington rifle from Crosman. The Summit is beautiful, powerful and comes packed with features.
The Remington Summit
Here is a new model from Crosman. It carries the Remington name and it comes with a wood stock, adjustable sights and trigger, AND a scope! It should be available for the holidays, though I believe it will take a little longer than the other two guns. It offers 1,000 f.p.s. velocity in .177 and retails for $250.
Well, there you have three new airguns to dream about. This IS the start of dreamin' season, isn't it?