by B.B. Pelletier
Today, we'll finish the Desert Eagle story.
Sights
The sights are a ramp-type square post in front and a wide square notch in the rear. The rear sight adjusts laterally for windage by means of a single jam screw. Loosen it and slide the sight in the direction you want to move the pellet. The manual says the front sight is set up for shooting at 10 meters, and that's exactly what I saw. A 6 o'clock hold on a standard 10-meter pistol target at 25 feet netted me a score of 45, for five nines clustered around the center.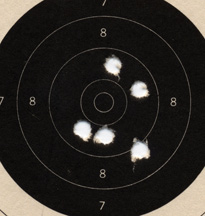 All five shots from 25 feet landed in the nine ring. I used Gamo Match pellets.
Trigger action
This pistol is both double- and single-action. If you pull the trigger with the hammer down, it cocks and releases the hammer, which is double-action. When the slide blows back, it cocks the hammer, allowing a single-action pull. Double-action breaks at 7 lbs., 10 oz., and single-action breaks at 3 lbs., 9 oz. read more